The future has arrived — it's just not evenly distributed ©. Apparently, Apple Worldwide Developers Conference is one of places where future already arrived. Lots of various disruptive products and technologies put itself on the map on this legendary conference. Hence, Apple users and developers worldwide looking forward to an every new event.
Developers get ready for optimization and corrections of their products for the next OS and new features they get after release. Users – want to know how their updated operation system looks like, how they can be more productive, chat and communicate. This year we have seen Apple Watch, MacBook 12′, IOS 9 & OS X El Capitan, etc.
We will focus on a last listed – new version of OS X. El Capitan is available only in beta for Apple registered developers. As usual it will be downloadable for everyone from the AppStore and all users will be able to upgrade for free.
New system font
First you'll notice – changes in fonts. Starting from its origins Apple always was quite pedantic in details due to Steve influence. Especially, it is related to fonts. That's the reason why Apple Computers caught the fancy of designers, editors and web developers. We can only image how it was hard to make a decision to replace a main font; and probably it was an epic battle while it was created!
So, our old pal Helvetica Neue will be changed on novice San Francisco. We cannot say that the new font is better in several times due to previously mentioned fact that all Apple fonts are awesome. Nevertheless, some nice changes are discernible. It's even more minimalistic, it consists of simpler lines and figures, overall more perceptible as letter distance is bigger. Thus it's more readable and just nicer. Apple still can improve something that considered to be perfect. In any case – you are to judge. Below you can compare them and make your personal choice: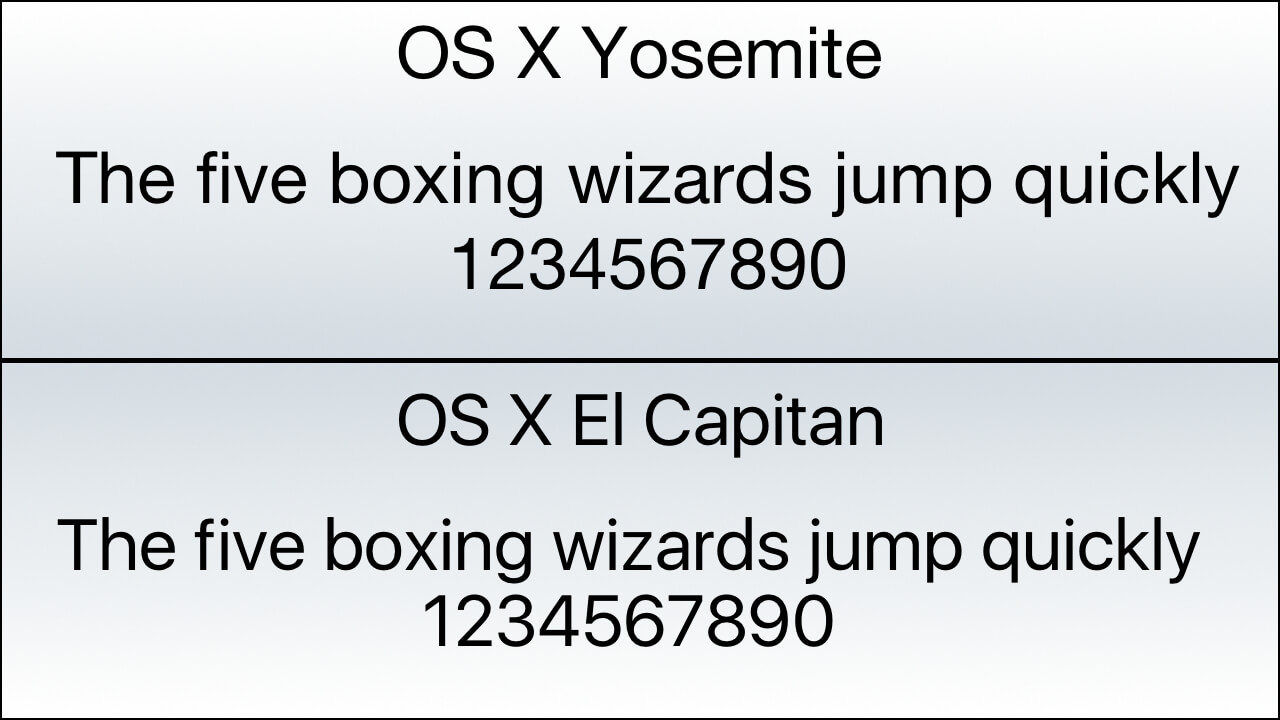 Split View
Second main big thing is a split view. If you you are not Apple only addicted, you may have seen it somewhere on Windows (beginning from Windows 7). Of course, on El Capitan it works much better, more precisely and intuitive. We all know that Apple just takes someone's technology and make them shine bright. Screen is splittable in ratio 1:1 or 3:1.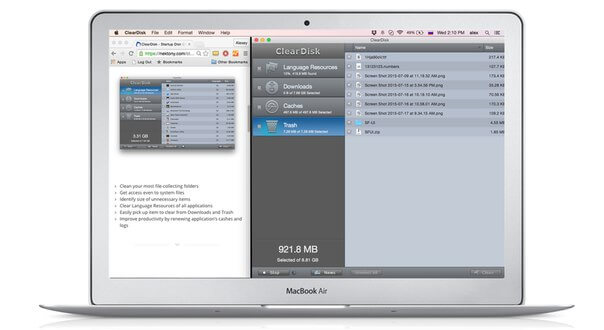 Some useful features
Also such pleasant features were added like: pinning of tabs or disabling sound on other tabs except one that is active. Safari also gained improved bookmarks, now comparable to iOS, etc.
Also it's time to be happy for those who work on several displays or devices. If you lost mouse pointer, you can quickly move mouse or trackpad and the pointer will be large enough to be noticed.
Overall, in this update Apple put much affords on improving performance and productivity for the ones who have many opened tabs, apps, etc. Icing on the cake we choose better grouping of apps' previews in Mission Control.
New system has many minor improvements and added functions. The most interesting will be covered in our next articles. Stay tuned!
---
Prepare your Mac for El Capitan
with Nektony utilities.