Get Disk Expert and analyze your disk usage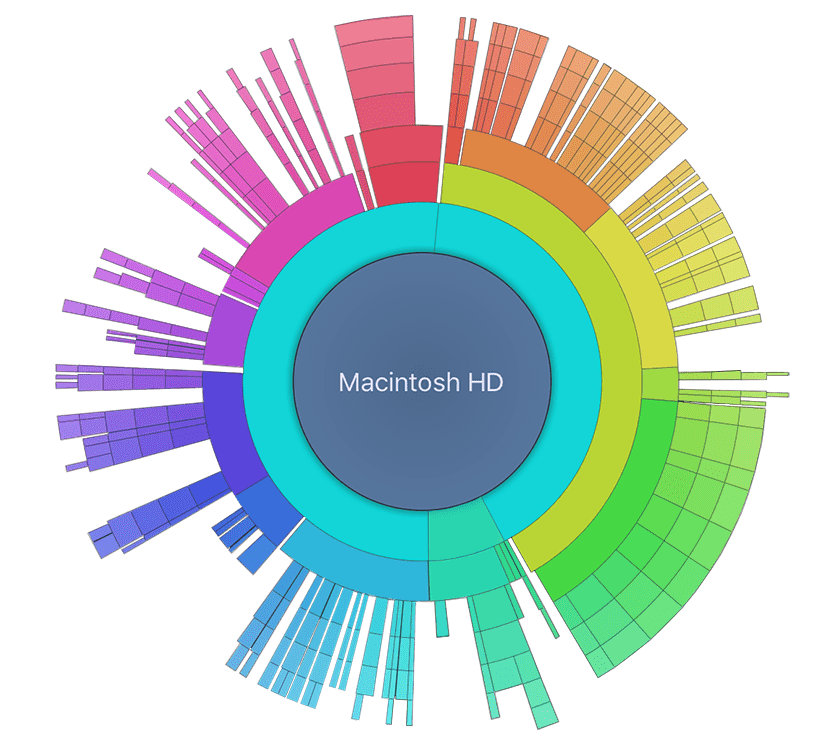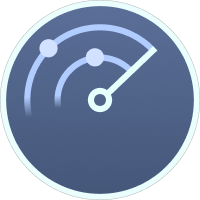 Disk Expert
A powerful disk usage scanning and reporting utility for Mac. Disk Expert allows you to find the bulkiest content and free up Mac hard drive space.
Disk Space Visualizer & Disk Cleaner Utility
Disk Expert is a disk space analyzer which helps you to quickly free up space on Mac when your Startup Disk is almost full.
The application scans any hard drives and even hidden system files, and shows you what is taking up the most space on your disk.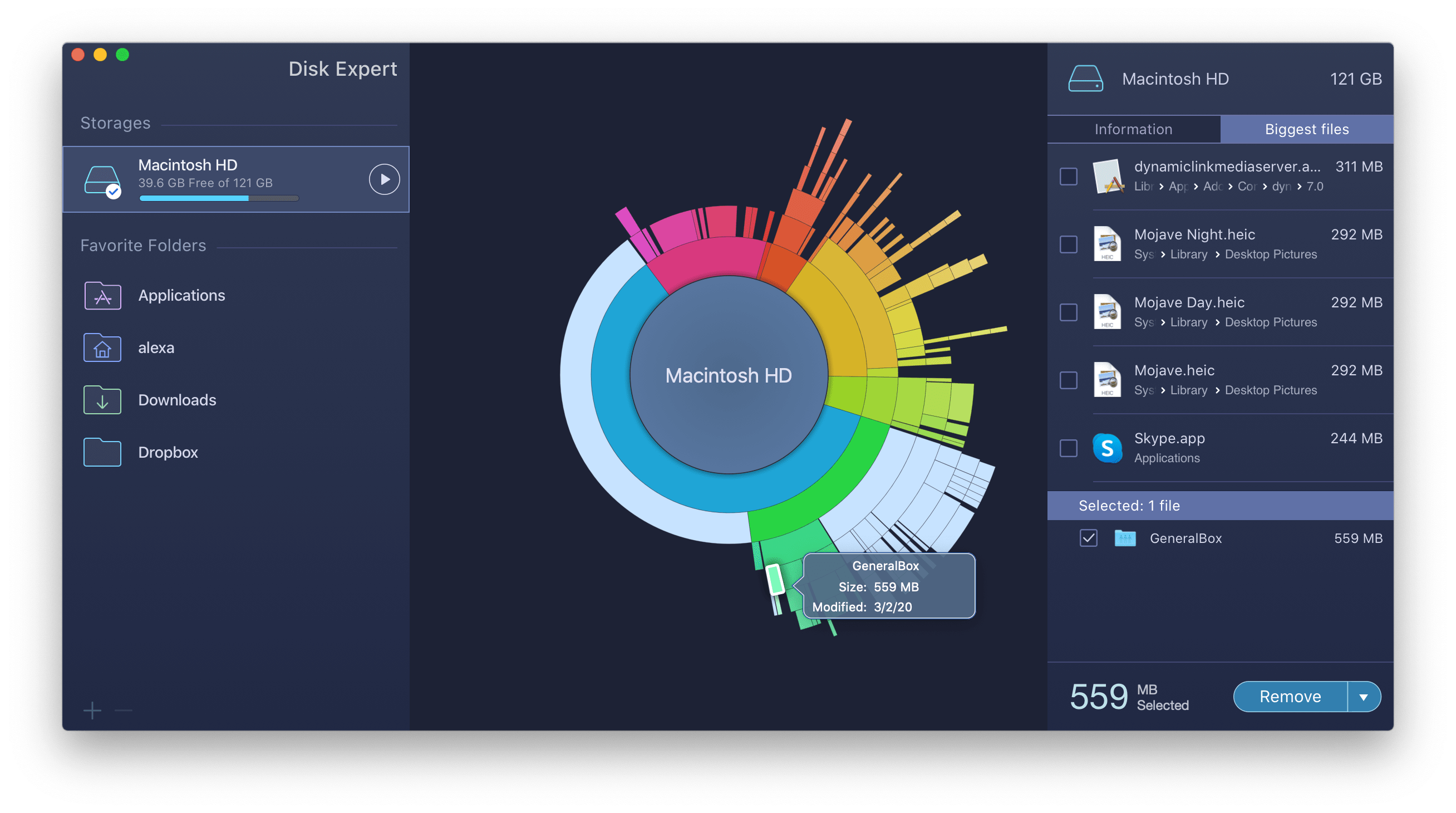 Disk Expert visually displays your disk space usage as a sunburst diagram, discovers the bulkiest content,
and generates a list of the biggest files and folders on your disk.
Disk Expert – The Best Disk Cleanup Tool for your Mac

Fast Scanning
Get ready to be impressed by the fast scan speed of the app. Scan your drive and get the results in less than a minute!

Largest Items
View the list of 25 of the biggest files and folders on your disk. Make it simple to clear storage space with Disk Expert.

Hidden Files
Find even hidden debris on your disk, such as logs and caches of apps, browser data and so on.
storages

Drop Lists
Add files to the special Drop Lists for further removal or transmission to external storages.
storages
How to Free Up Disk Space on Mac
1. Launch the app and click to scan your disk or separate folders.

2. View the space usage distribution and identify the biggest items.

3. Get rid of old unused items which occupy useless drive space.
Disk Expert is an essential software tool to help you get out of low disk space. The application is especially helpful when your Mac startup disk is full so that you can quickly detect and handle your "memory eaters" to get more free space.
What our users say about the Disk Expert hard drive cleaner
[one_sixth valign="top" animation="none"]
[/one_sixth]
[two_third valign="top" animation="none"]
[carousel coin_nav="none" direction_nav="standard" autoplay="standard"]
[carousel_item]

Vla
For the trip, I wanted to leave as much free disk space as it was possible. This app indicated the files which take a lot of disk space and I backed them up. Now I have enough free disc space for 2 trips 🙂
[/carousel_item]
[carousel_item]

Avihu
This app is incredibly fast at building a map of where storage is occupied on your drive, and the visual display of it is very comfortable. You can really find space hogs fast and easy.
[/carousel_item]
[carousel_item]

Lifesaver
As a graphic designer and mom, I never have a room for new kid`s pictures and all my large design files. This app makes it easy to delete useless and old files that are just taking up all the room I need!
[/carousel_item]
[carousel_item]

by MadAlf
I have used many disk apps to visualize the disk; this works very well and presents a clean user friendly interface, which a stable of my tool kit.
[/carousel_item]
[carousel_item]

Sloppypoolegg
This app visualizes your disc in a most logical way and lets you remove files with ease. I would highly recommend it even just to take a look at your os structure.
[/carousel_item]
[/carousel]
[/two_third]
[one_sixth_last valign="top" animation="none"]
[/one_sixth_last]
Frequently Asked Questions (FAQ)
What types of volumes can Disk Expert scan?

Disk Expert supports HDD volumes, CD and DVD disks, removable USB drives, mounted DMG images and even folders with FireVault protection.

Is it safe to  delete hidden items?

No, some hidden items are vital for system operations. Nevertheless, some of them simply occupy your precious disk space.
What are system requirements?

Disk Expert is  compatible with Mac OS X 10.10 and later.

Can Disk Expert scan my Dropbox?

Yes. You can scan DropBox and any cloud storage folder as well.