Upgrade Mac Cleaner to App Uninstaller
Uninstall all Applications completely, even executive files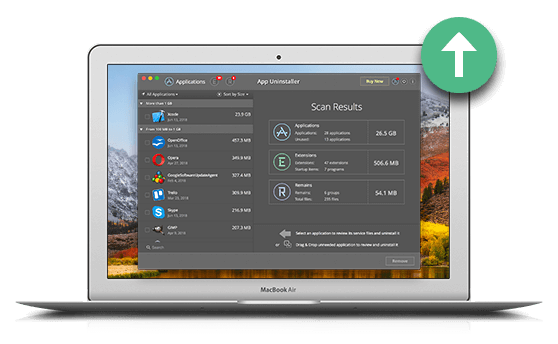 Due to specific rules application available in App Store cannot request root access to your drive.
Thus applications cannot be uninstalled completely. FastSpring version is free of such limits.
Executables

Service Files

Remains
File Types you can delete with App Uninstaller
Growl: notifications by Growl notification system.
Caches: data that can be regenerated if needed.
Containers: directories for sandboxed apps.
Executables: application's program files.
Plugins: components that are shared various features between application.
Library: app-specific data & support files shared with other apps.
Shared: service files that are shared between users.
Application Support: folders that contain data related to app performance and user-app interaction. Such folders may contain gigabytes of data.

Preferences: various user preferences files.
Logs: log files for the console and system services.
Cookies: data files for web browser cookies.
Crash Reports: history files for all crashes.
Preference Panes: plugins dynamically loaded to System Preferences for customization.
Login Items: agents, daemons and items in the System Preferences to start the app at logging in.
Dock Icon: alias to the application in the Dock bar.
Supported Document Types: file types supported by the application.