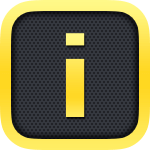 Informer
Discover Secrets of Your iPhone and iPad
Hardware: device type and series, RAM, additional modules (accelerometer, magnetometer, geolocation capabilities, etc.).
System: memory and hard drive usage, device's name, address book information and upcoming events.
Communication and Networking: Internet connection status, MAC address, IP address, carrier information.
Location: current location of device location on the map, coordinates and attitude.
About Informer

One of the valuable things about the iOS devices is that they do not bore you with pop-ups and other notifications about technical matters. However, there are times when you need to know more about the status and activity of your device.
For many users, it is important to know how certain apps affect the performance and especially memory constraints of the device's entire system. Informer allows you to do all these things in a simple and intuitive manner.
Informer
Discover Secrets of Your iPhone and iPad