China National Tourism Administration stated that, in 2016, inbound tourist trips amounted to 138 million. It's no wonder that, in this age of globalization, we are traveling more across the world. For example, flights from New York to Beijing take only 13 hours 30 minutes. But, before you plan a journey, you should learn about the traditions, culture, cuisine, behavior rules and laws of China. If you are accustomed to using social media every day, you'll be surprised at the number of foreign websites banned in China.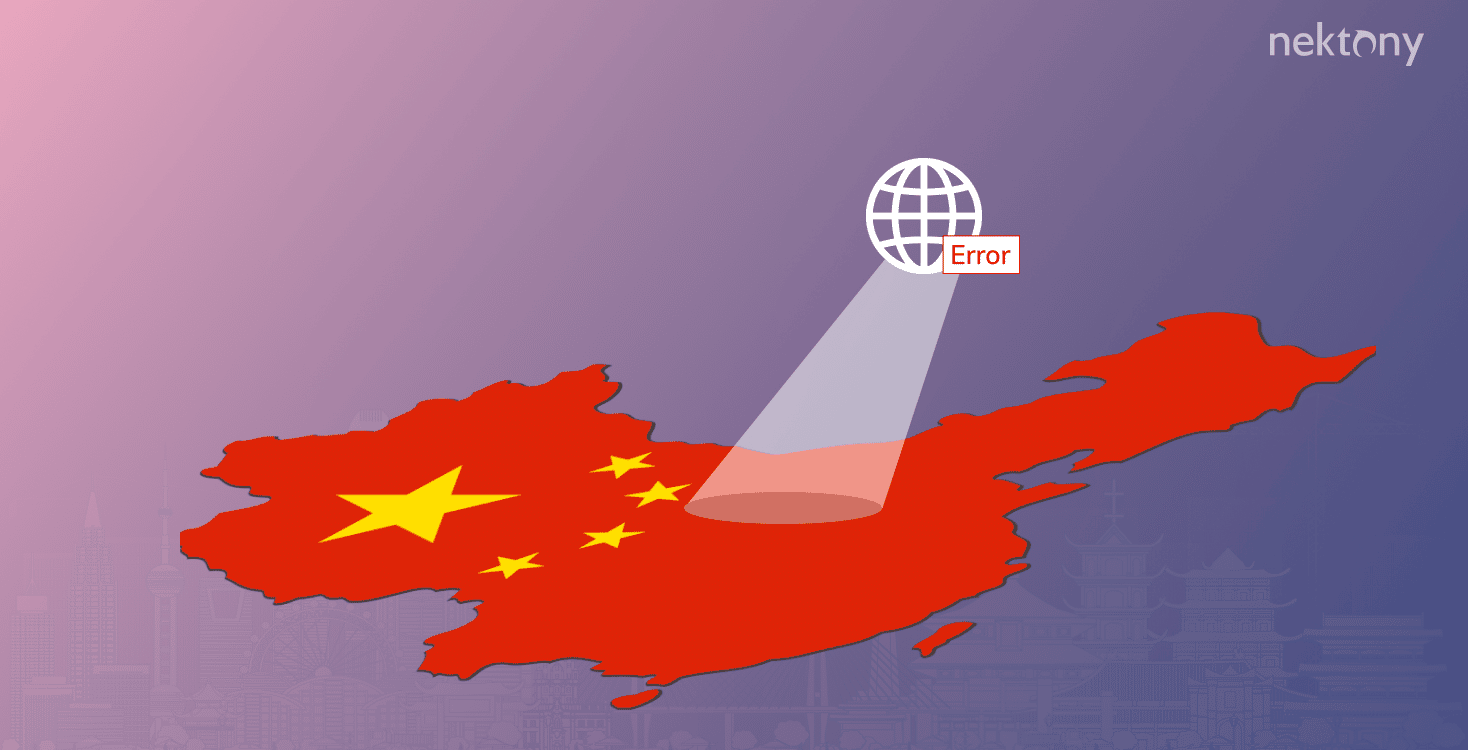 ---
What web services are blocked in China?
The government of China has a censorship and surveillance project, called The Great Firewall of China. It intends to block information which is considered inappropriate by the Chinese authorities. As a result, core internet services such as Google, Facebook, Twitter, YouTube and other social media are banned in China. Four authoritative Chinese internet corporations, Baidu, Alibaba, Tencent and Sina provide local social media. Each of them has hundreds of millions of active users and meets the government requirements.
What are these social media platforms?
The most popular online services in China are Baidu, QQ, WeChat, Weibo and Youku.
The analog of Google in China is Baidu. This search engine provides online services at Google such as news, photos, videos, music, maps. It also has forums and an encyclopedia. 
The analog of the Facebook messenger in China is QQ. This software allows you to send voice messages, texting, and make calls.
The analog of WhatsApp in China is WeChat. Initially, it was quite a good replica of WhatsApp but its functions now include not only messaging and calling but also paying for things, online shopping and games.
The analog of Twitter in China is Weibo. There you can get your thoughts out in 140 characters. It is much more in Chinese than in English, and it looks like micro-blogging.
The analog of YouTube in China is Youku. It allows you to download your video and watch TV shows online.

These online platforms offer not only the same functions as their Western analogs but most of them provide even more features, like online shopping and streaming. But the price their users pay for using them is that all information is controlled by and shared with the government.

---

How to check if a web service is blocked

Before your visit to China for business or a vacation, it's better to check if a needed website is blocked because China's restricted internet rules can disrupt your plans. You can find a list of blocked websites on the Internet. At websites like greatfirewallofchina, you can check if the hostname is accessible from within mainland China.

---

How to unblock websites in China

No matter how good the Chinese websites are, they will not help much if you want to be in touch with your friends on global social networks. However, don't worry that there is no Facebook in China because you can change this situation. A Virtual Private Network (VPN) is a software app which can give you an access to all internet resources anywhere. The main reasons why more and more people have started using a VPN are:

A VPN app creates a secure tunnel, which goes through an ISP server to a VPN server to the Internet. In this way, a VPN server changes your real IP address. So, you can hide your real location and stay away from prying eyes.

Connect to geo-located resources

A VPN app provides a list of servers from different countries to connect to. You can choose one location after another depending on your needs. That gives you the opportunity to use websites blocked in China.

Protect your personal data

The working principle of a VPN is based on a 256-bit key, also known as AES-256 (Advanced Encryption Standard). This encryption process makes your traffic unreadable to third parties. That means that your emails, credit card details, browsing history, and all other personal information are secured.

To unblock websites in China, you can use one of the trusted VPN applications, like VPN Client, on your Mac computer. There are only 3 steps to using it:
Download the application from the App Store on your Mac. 
Launch the app and create an account, using your email. 
Select one of the 90 servers from the list and click Connect button. 
Now you can open Facebook, YouTube, Twitter or start using Google in China freely. A VPN Client app offers a 7-days free trial, so you can try it right now. Also, it provides different subscription plans, starting from $3,99.