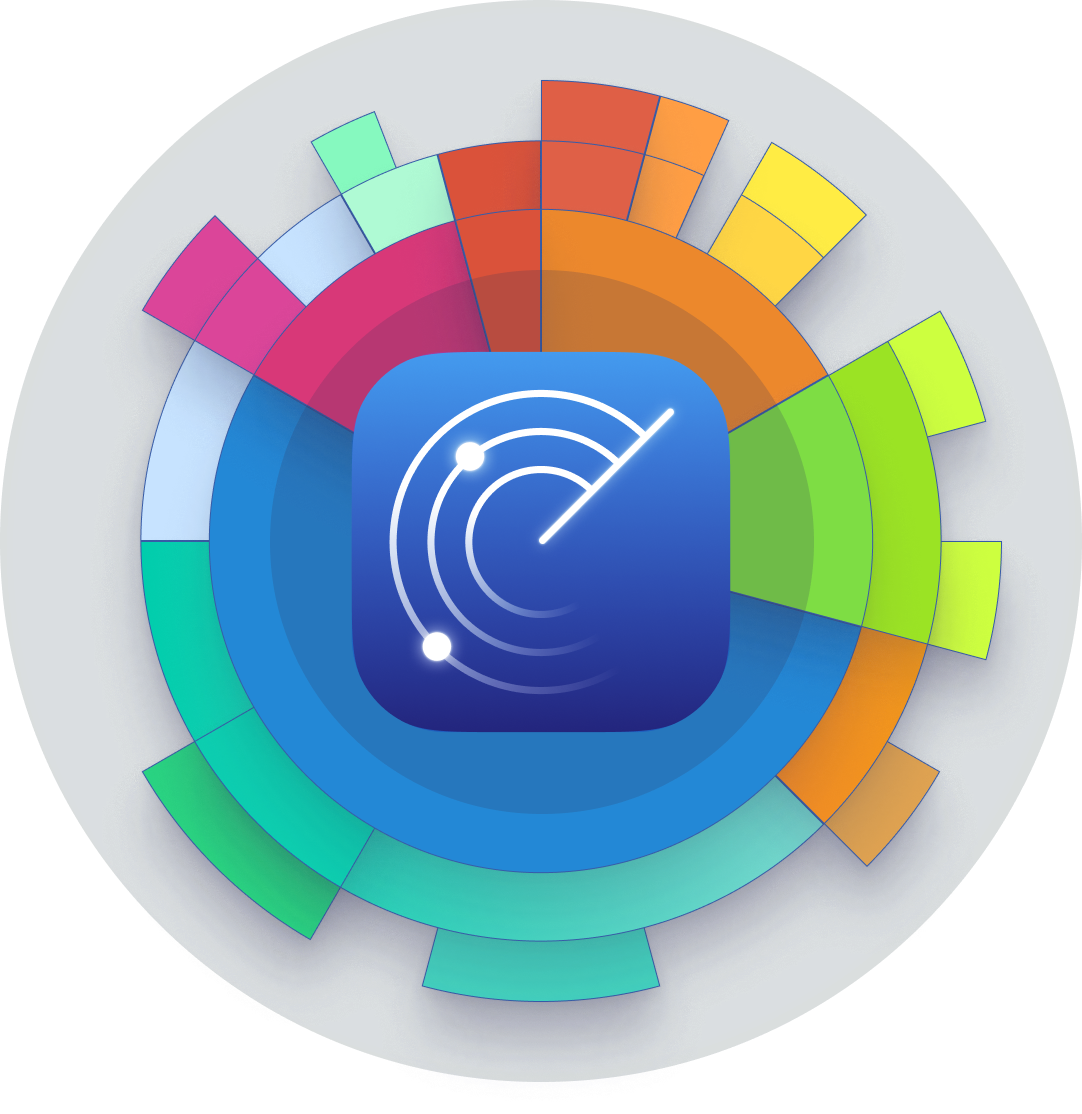 Disk Space Analyzer
A powerful disk space analyzer for Mac. Analyze your disk usage, find large files, and free up disk space.

4.6/5 star rating in the App Store

Notarized by Apple

2+ Million downloads
See what is taking up space on your hard drive
Analyze your Mac disk usage; check disk space of any cloud storage or external hard drive.
Get a convenient disk space visualization as a sunburst diagram; see file directories, and folder treemap.
Find large and old unused files that take up useless space on your disk; get a list of the bulkiest items.
Manage disk space on your Mac by copying, moving or removing unneeded files and folders.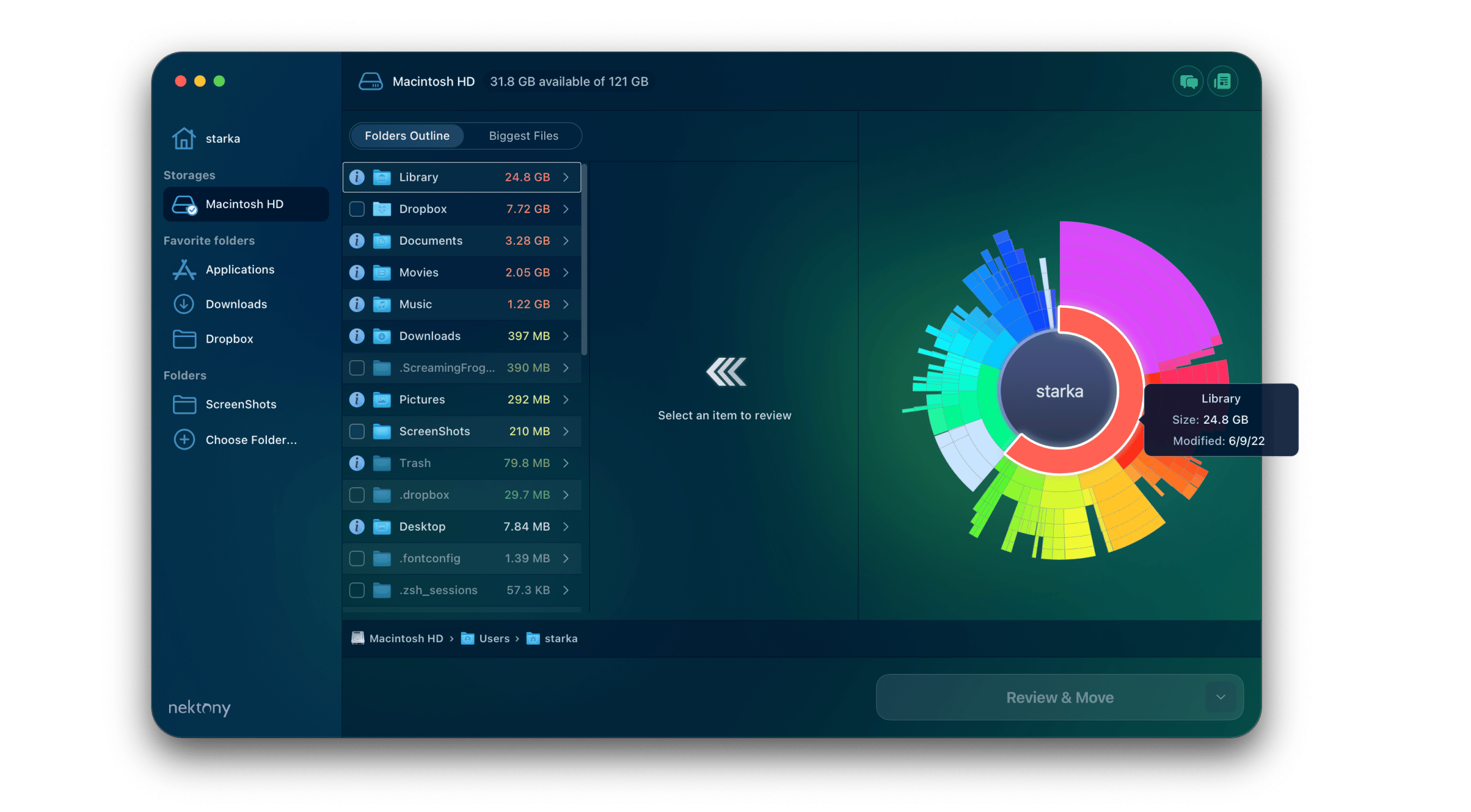 What is Disk Space Analyzer?
DISK SPACE VISUALIZER
FOLDER SIZE EXPLORER
DISK CLEANER
How to free up disk space on Mac with Disk Space Analyzer
Scan your disk
Click to scan your Mac hard drive, separate folders, or add an external disk for scanning.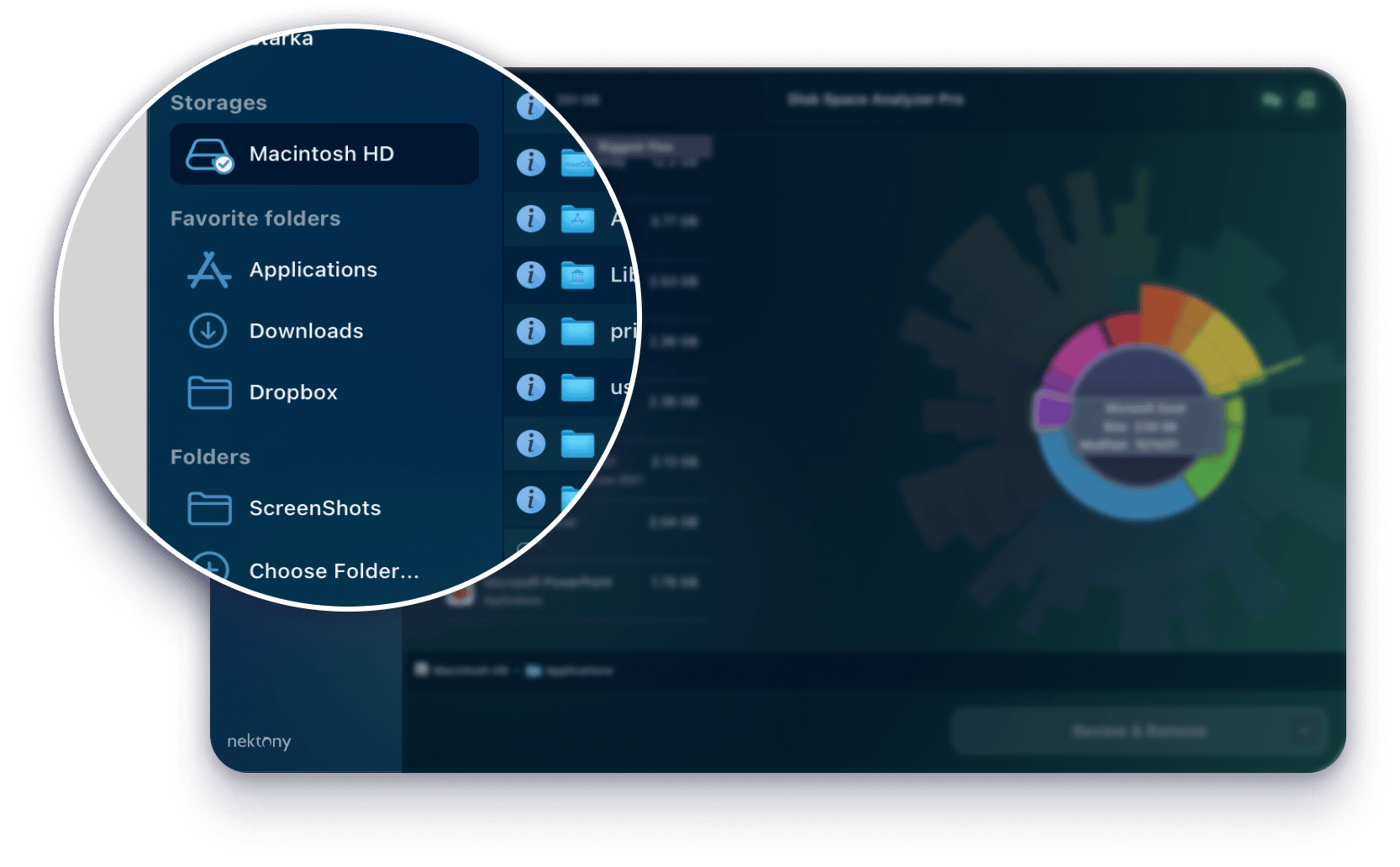 Find out what is taking up the most space on your disk
View the disk space usage diagram or take a look at the list of the largest files.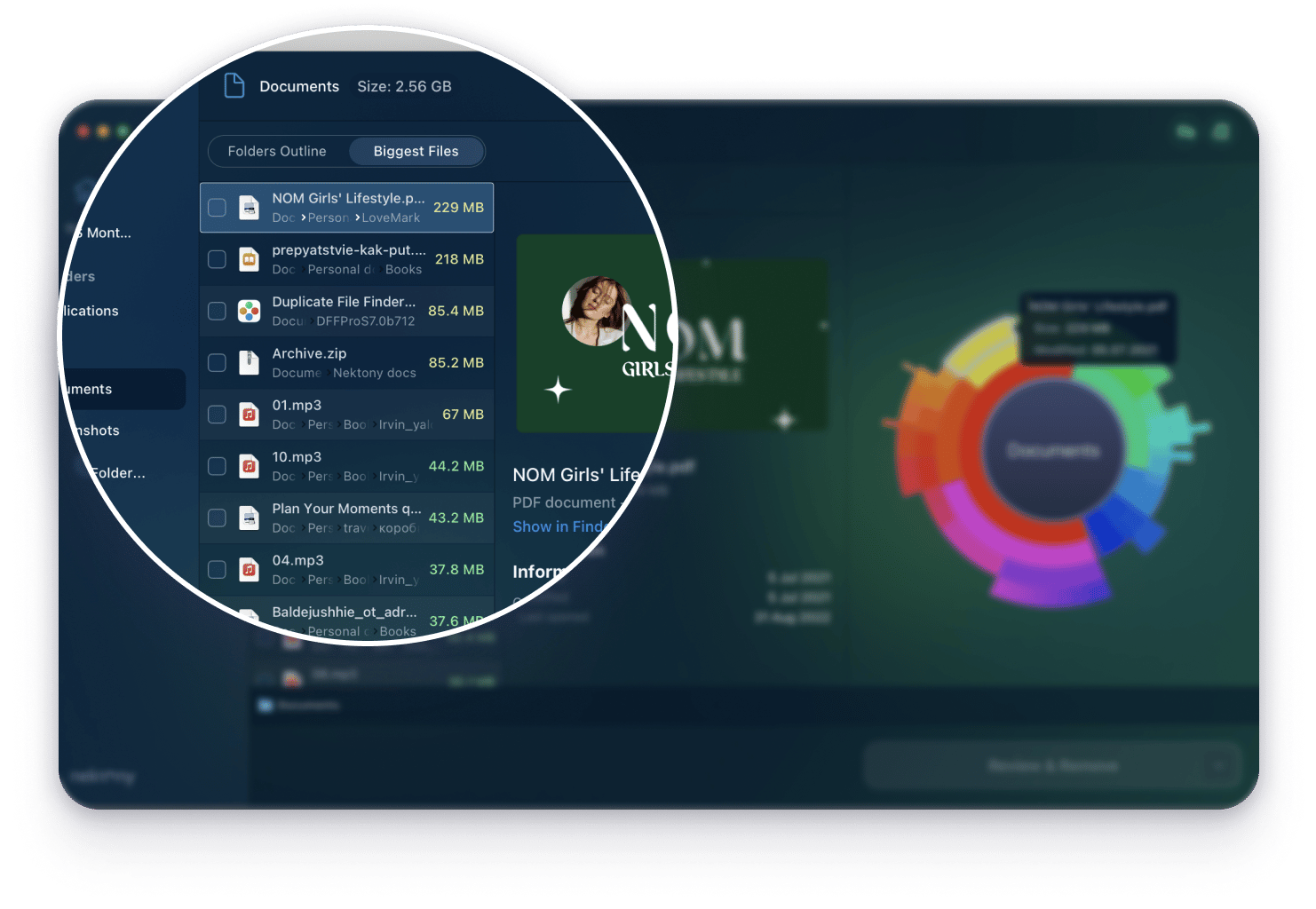 Manage bulky content on your disk
Select old unused items that occupy useless drive space. You can copy, move or remove selected items to free up space on your Mac.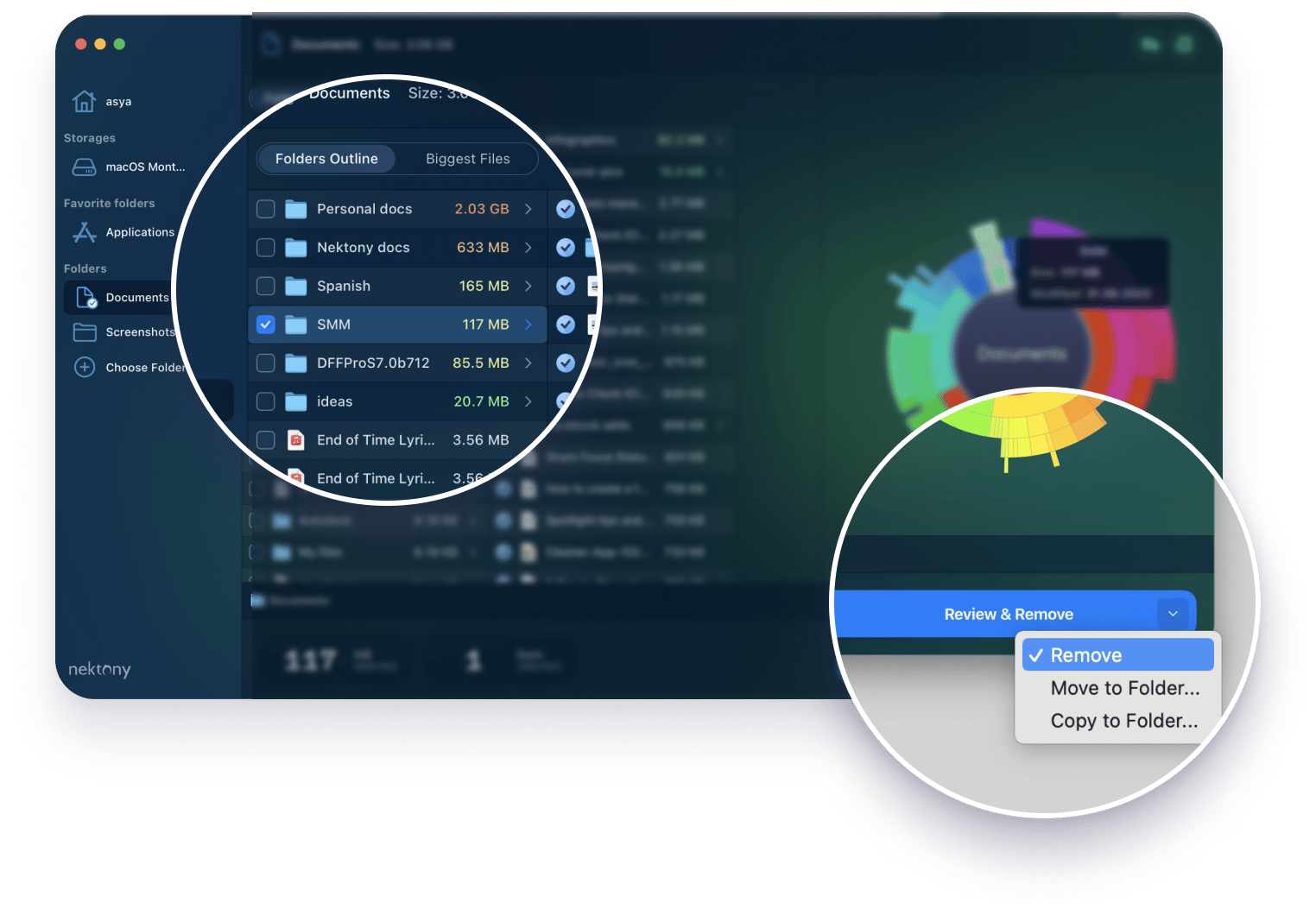 See and reclaim purgeable space on your Mac
Get some more free space when needed by clearing the purgeable space on your storage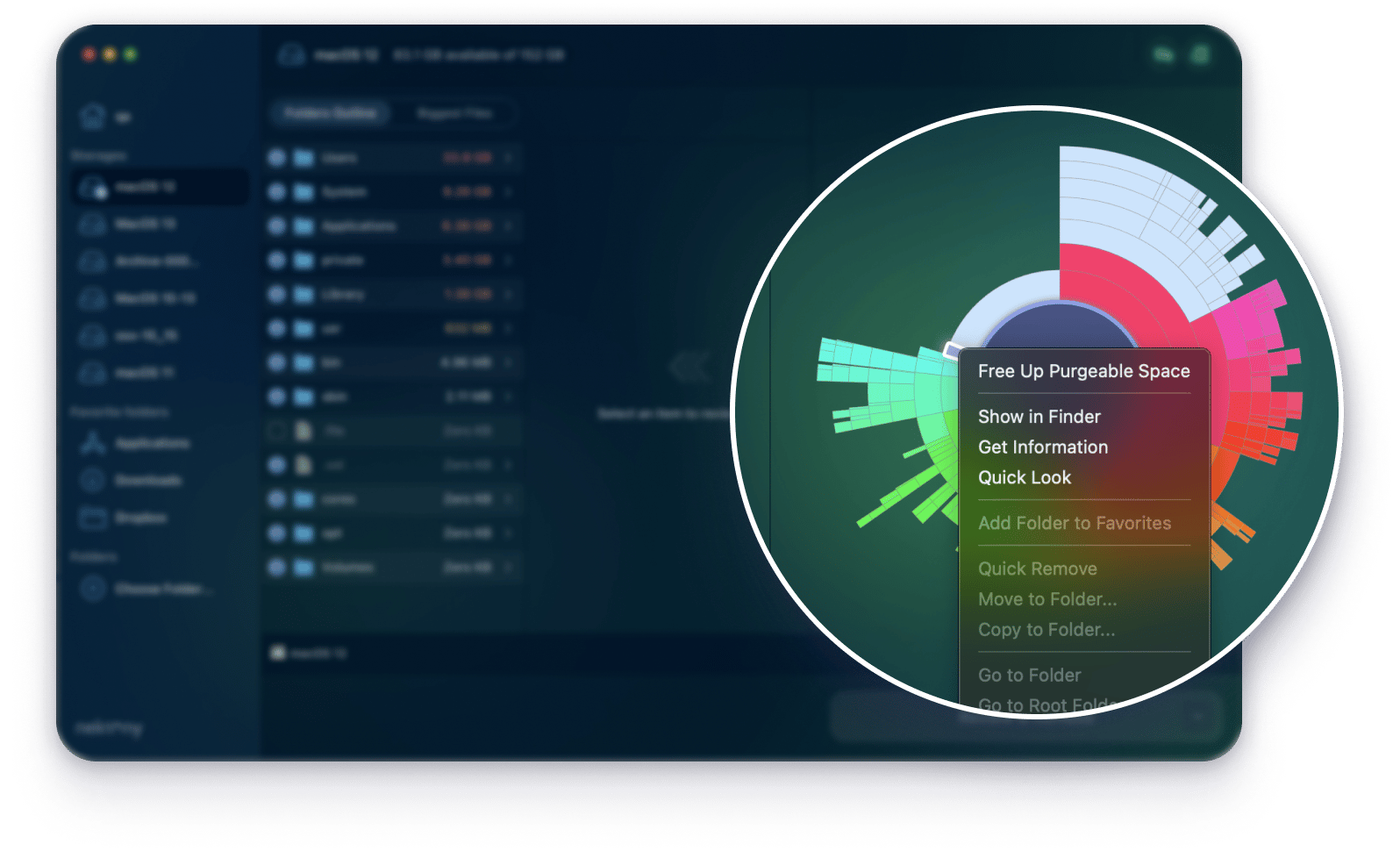 Why Disk Space Analyzer?
Fast scanning
Get ready to be impressed by the fast scan speed of the app. Scan your drive and get the results in less than a minute!
Different volumes support
Scan HDD volumes, CD and DVD disks, removable USB drives, mounted DMG images, and even folders with FileVault protection.
Hidden files detection
Find even hidden debris on your disk, such as logs and caches of apps, browser data, and so on.
Disk cleanup
Besides analyzing, you can add files to the special list for further managing. Move or remove unneeded files and recover valuable disk space on your Mac.
Apple-notarization
Disk Space Analyzer is Apple-notarized. It's proven to be safe and free of malware. Additionally, the app is regularly updated and optimized for the latest macOS systems.
Clearing purgeable space
When you turn on optimizing storage, Mac creates a so called purgeable space. Disk Space Analyzer displays purgeable space and allows even clearing it.
Frequently Asked Questions about Disk Space Analyzer
Can I check the hard drive space on my Mac with Disk Space Analyzer?
Can Disk Space Analyzer scan my Dropbox?
Can Disk Space Analyzer help me when my Startup Disk is almost full?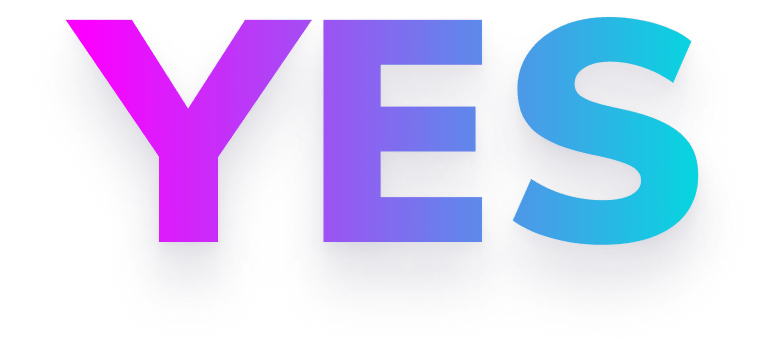 Disk Space Analyzer displays the occupied size and free size on your disk. Just click on the center of the diagram to switch on or switch off the display of free disk space.
You can scan and analyze the disk usage of DropBox, Google Drive, and any other cloud storage.
You can use Disk Space Analyzer as a hard drive cleaner. Scan your Mac Startup Disk, detect the bulkiest unneeded files, and then remove them or move them to an external drive.
User voices about Disk Space Analyzer
Avihu (Israel)
This app is incredibly fast at building a map of where storage is occupied on your drive, and the visual display of it is very comfortable. You can really find space hogs fast and easy.
Lifesaver (US)
As a graphic designer and mom, I never have enough room on my memory for all my pictures of my kid and all my large design files. This app makes it easy to delete useless and old files that are just taking up all the room I need!
Sloppypoolegg (US)
This app visualizes your disc in a most logical way and lets you remove files with ease. I would highly recommend it, even just to take a look at your os structure.
Disk Space Analyzer
Analyze disk space usage and remove bulky content on your Mac
macOS 10.13-14
Version: 4.1.6 (29.09.2023)
2-day evaluation period