Free Visio® Viewer for macOS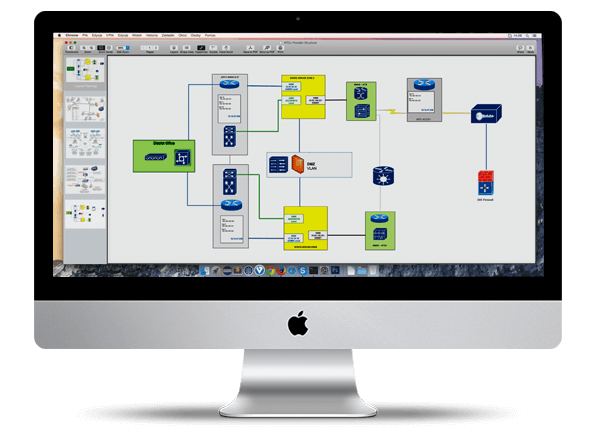 View Visio® files on Mac
VSD Viewer is a free-to-try MS Visio® Viewer for macOS.
The application allows to preview .VSD, .VDX, .VSDX file formats of Visio® drawings on your Mac.
Download the viewer to get started.
Preview Drawings
Show hidden layers
Shape Data
Visio® Viewer Options and Capabilities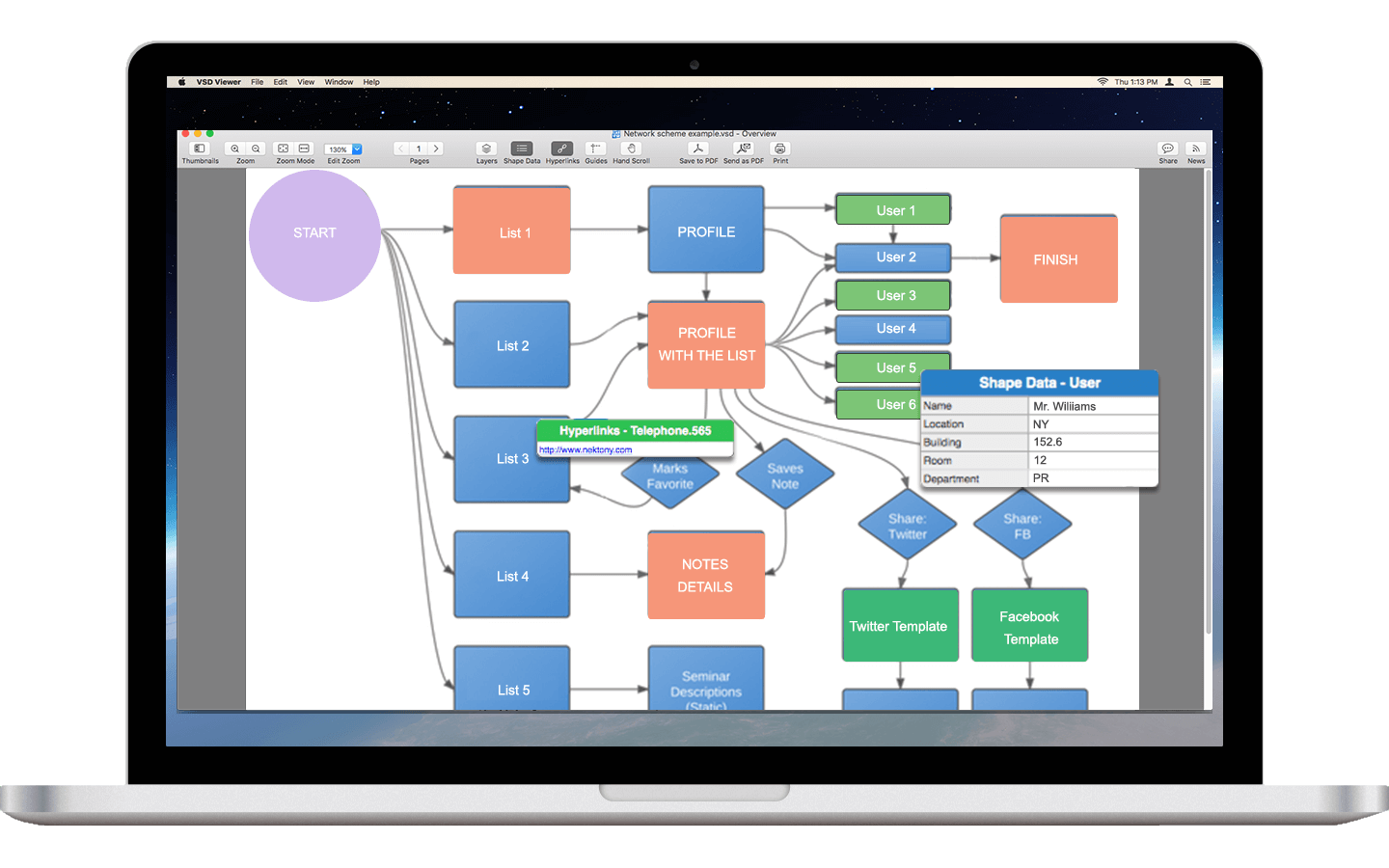 Show hidden layers to preview all needed details.
Enable Shape Data to show user-defined data of objects.
Drawings with even themes are displayed exactly like in Visio®.
Preview drawings with custom page sizes & backgrounds pages.
Object's dimensions for drawings are displayed in original units.
Text with frames, tabulations and tables are supported.
Preview drawings & stencils of VSD, VSDX, VDX, VSDM, VDW, VSSX, VSSM, VSX, VSS file formats.
Visio files with metafile images (EMF and WMF) and even embedded OLE-objects.
Operate Visio® Drawings on Mac
Preview Visio® drawings with a full content and all details, including Hidden Layers, Shape Data and Hyperlinks.
Show Hidden Layers
Switch layers visibility of Visio® files. Choose which parts and shapes of the complete drawing you want to view and concentrate on specific databases. You can show or hide layers simply by tapping one button. The objects, that belong to disabled layers will be excluded when you print or convert Visio® files to PDF.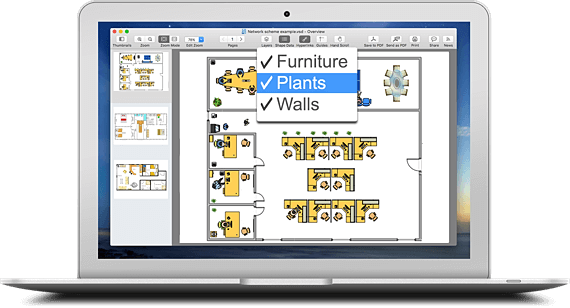 View Object's Shape Data
Shape data contains important information about each drawing's object. With VSD Viewer you can view Shape Data, which is extremely useful when you need to determine trends across all your process steps. With just one click you can enable Shape Data and make checking Visio® diagrams and charts more meaningful.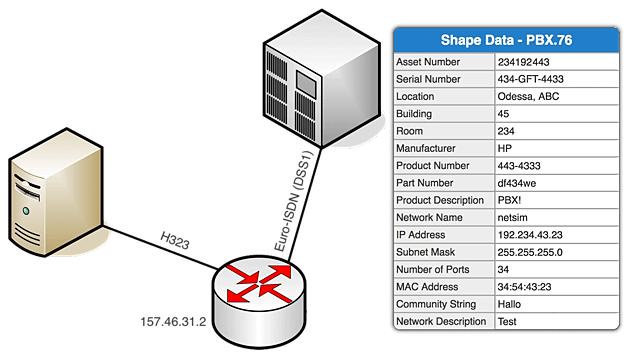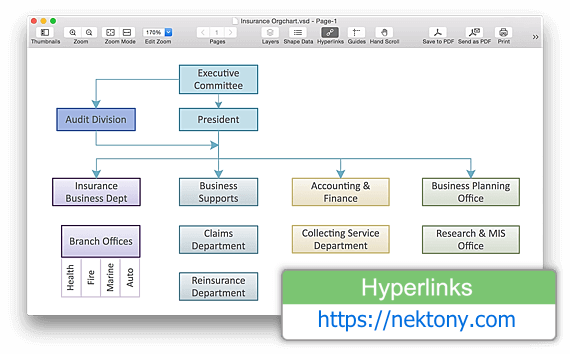 Preview Hyperlinks
Hyperlinks in Visio® are often helpful, when you need to link Visio® objects to a specific web page with a related information or to another Visio® page. With VSD Viewer you can view and follow hyperlinks, created in MS Visio®. Just click the hyperlink and your browser will open a new window and display the destination Web site.
 – offline rendering
– No data sent to internet
– Free tech support on demand
Share Visio® Flowcharts
Preview and convert Visio® file to PDF for sharing with a team.
Create PDF documents with actual Layers, Shape Data and Hyperlinks displayed.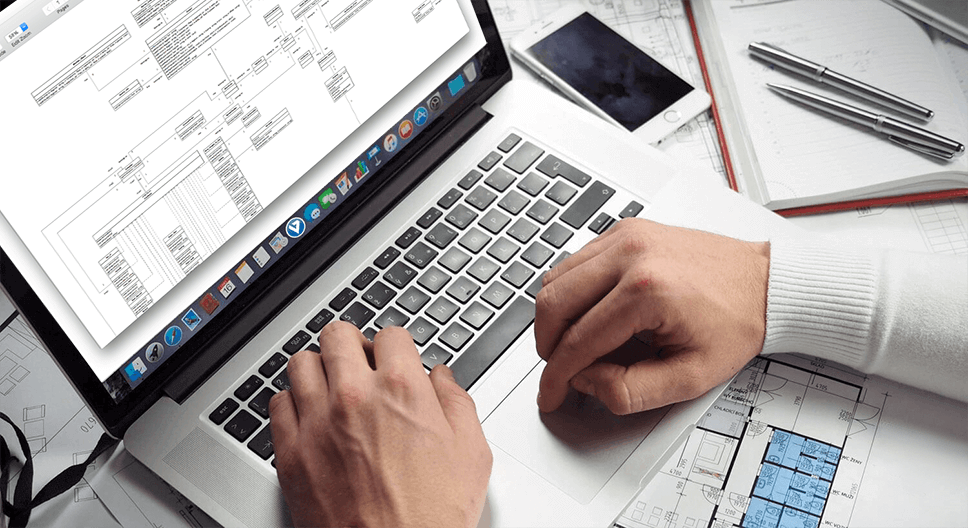 Convert Visio® file to PDF and send via email
Save Visio® files to Adobe PDF file format just in one click. Decide if Shape Data and Hyperlinks or which Layers you want to show and get your PDF file in seconds. Make it easy to work on Visio® drawings with your team members, colleagues or customers by sharing the file in a more common extension and in a smaller file size via email. With VSD Viewer an online file converter is no more needed.
Print MS Visio® drawings on a Mac
VSD Viewer lets you print your Visio® diagrams, flowcharts, mind maps and other drawings with a single button. You can print the file either with all layers or with a specific layers data, either with Shape Data and Hyperlinks or without them, either all pages of multi-page documents or a singular page.

Download Visio
®
Viewer for Mac
Download free VSD Viewer to view Visio® drawing on macOS.
Try a full-featured evaluation version for free.
Basic features
• Open any MS Visio® 2000 – 2013 drawing of VDX/VSDX file formats
• Scroll, zoom and navigate documents
• Navigate multipage documents
• Preview documents with backgrounds
• View objects with formatted texts
• View drawings with themes
• View text frames and tab stops
• View documents with hidden objects
• View objects outside page boundaries
Advanced features
• Preview drawings with layers
• Show hidden layers
• View documents with embedded OLE-objects
• View documents with embedded metafiles – EMF and WMF
• Print and Save to PDF your drawings
• Preview objects' Shape Data
• Enable Shape Data mode to preview assigned data
• View original dimension units
The application is optimized for macOS Mojave
Additional Information

☑

Application Category – Business

☑

Operating System – OS X 10.12 or later

☑

Processor Requirements – 64-bit processor

☑

Performance Language – English

☑

File Size – 3.5 MB

☑

Price – 14.99 USD
Consider VSDX Annotator App to preview, annotate and convert Visio® drawings on Mac