If you've been using your Mac for some time now, there is a high chance that you have accumulated duplicates even without knowing it. Duplicate data might occupy significant space on your Mac. This article will show you the two methods how to find and remove duplicates on your Mac.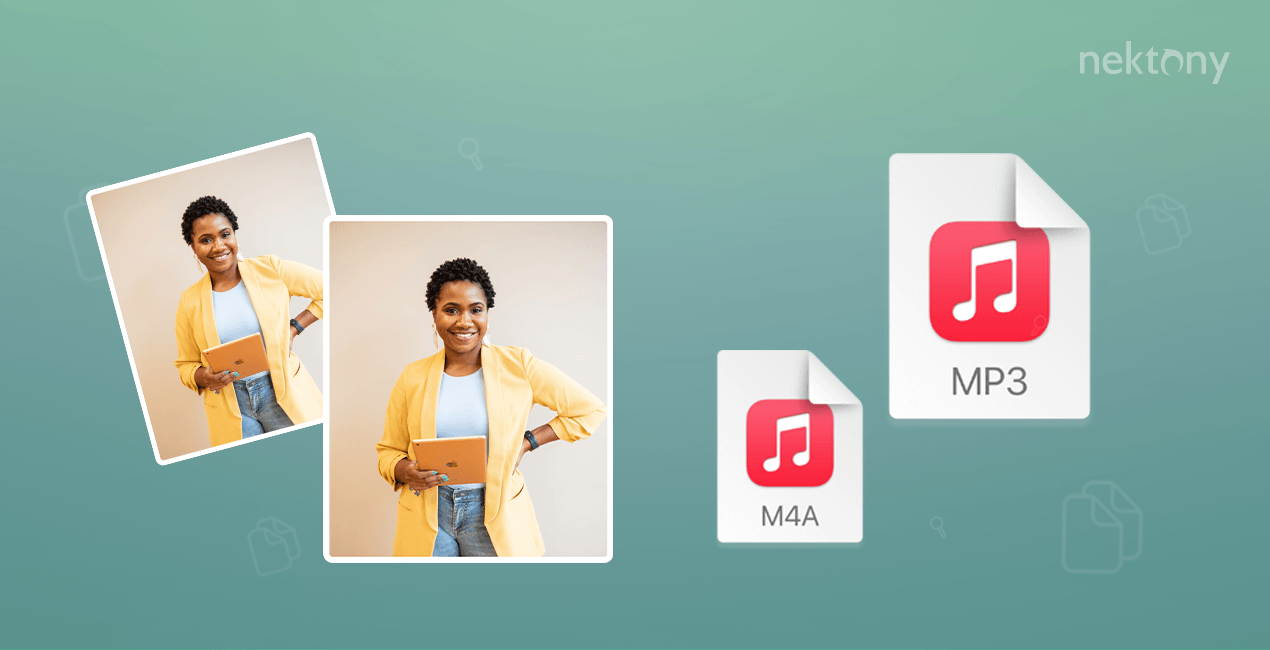 Contents:
The quickest way to find duplicate files on your Mac
If you need a fast solution to easily find and remove duplicates on your Mac, use a free
Duplicate File Finder
software Nektony. The tool automatically finds all types of duplicates in minutes and provides a wide set of options to
merge your folders
and organize your files. The application supports external drives and Photos and Music libraries on Mac.
Duplicate File Finder
---
Video Guide: How to findf duplicates with Duplicate File Finder
---
Why are there so many duplicate files on my Mac?
Every Mac user might have duplicate files. If duplicates are located in different folders, this usually goes unnoticed. However, if you scan your hard drive with a duplicate finding tool, you would be surprised by the number of them.
Duplicates might be created due to the following activities.
Downloading the same file multiple times (from the Internet, from e-mail messages).
Making a backup of the same device multiple times.
Transferring the same photos from your mobile device to your computer multiple times.
Copying files accidentally.
Saving a file from applications multiple times with different names.
Actually, there are dozens of reasons why you might have duplicates on your Mac. The question you should ask is how to find and remove duplicate files from your Mac. Keep reading this article to learn how to do this.
---
Find duplicate files on Mac manually
To manually find duplicate files on Mac, you can use the Smart Folder option in Finder. Before we start explaining how to search for duplicates files on Mac with Finder, note, this is usually time-consuming, and you will have to manually compare every file that seems to be a duplicate. Using Duplicate File Finder from Nektony can do this task for you easier and quicker. However, if you prefer to locate duplicates without using any third-party tool, follow the guide below.
How to use Smart Folder to find duplicate files on Mac:
Open Finder.
Go to Finder menu → click on File → select New Smart Folder.
Click the Plus button in the top right corner and select Search parameters: Kind, Date, Name, File type, and other parameters.
You can find more parameters for searching and sorting files by clicking on Other and adding new search filters with the Plus button. For example, if you want to search for duplicate photos, set up Kind – Image, Extension – .png, .jpg, .tiff, or other. Add as many filters as you need and see the results. Such a list will let you take a look at all possible duplicate files, focusing on the size, extension, pixel size, name, and other parameters.
Now open each file that has the same name or size and check their data whether they are duplicates.
Well, as you can see, Finder's Smart Folder helps a little, though not much. If you are not willing to spend a lot of time on a manual search for duplicates, we recommend using a fast way – Duplicate File Finder. Just rely on this software and it will automatically find duplicates of any type of file in any folder you wish to scan.
---
How to find and remove duplicate files automatically
An effective and time-saving solution to find duplicates on Mac is to use a free application Duplicate File Finder. The application has a complex search algorithm that automatically identifies exact duplicate photos, videos, music, documents, and other common types of files. Also, the application finds similar folders, similar photos, and similar audio files, helping you to clear all unneeded copies. Download Duplicate File Finder and follow the steps below to clean up your Mac from dupes.
Steps to delete duplicates on Mac with Duplicate File Finder:
Launch the duplicate finder.
Choose the folders and click to scan for duplicate files.
Once the scan is completed, switch to the Duplicate Files tab.
Select files for deletion.
Click on Review & Remove and confirm the action.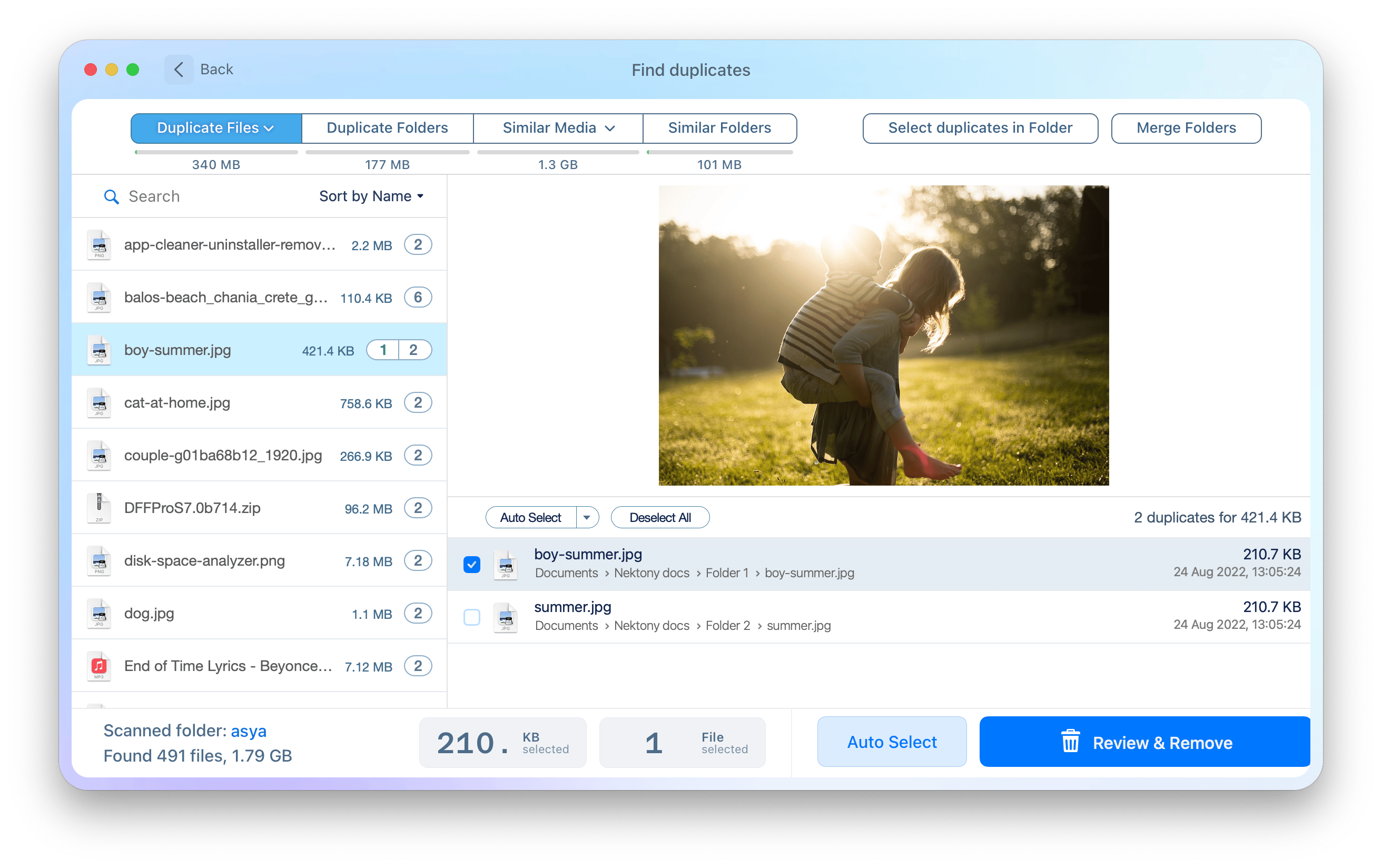 Note
You can use Cleanup Hints in the application to quickly clean up significant space on your Mac. Also, you can use the Auto Select button to automatically select duplicates. The application will leave only one copy in each set of duplicate copies.
A little more about handy features of Duplicate File Finder:
Use the Select Duplicates in Folder option to quickly select duplicates in a particular folder. For example, when you have duplicates in multiple folders and you want to remove files only from the Downloads folder, this option will help you to do this easily.
Use the Merge Folders option when you want to organize your folders. For example, you have two folders with duplicate photos and you want to create one big folder with all these photos but without duplicates. In this case, you can merge these folders and move only unique files from one folder to another.
And once again, Duplicate File Finder is available for Free on the App Store.
Download the app and see how it is easy to declutter your Mac from duplicates.
---
How to find duplicate pictures in Photos Library
Please note, when you import photos from your Mac's hard drive to the Photos app, you automatically create duplicates. In this case, the system does not move the photos, it creates copies in the Photos library. So depending on the way you prefer to organize your photos (using the Photos app or using folders in Finder) delete pictures copies from one of the locations. Here is how to do this:
Open the Photos app and sort all your pictures by date.
Open Smart Folder in Finder and set up a filter to show you all your pictures.
Sort pictures in Finder by date.
Once your pics in Finder and in Photos are listed almost in the same order, you need to carefully look at groups of pics created the same date in both locations and detect duplicate files.
Note, if you remove duplicate photos in the Photos app, by default, the system does not remove them to Trash, it moves them to the Recently Deleted folder in Photos. So, don't forget to empty this folder for complete removal. Also, before removing any photo in the Photos Library, make sure it's a duplicate copy. For this, look at the Get Info panel for the file information (size, kind, date created, date modified, and so on.)
Remember, that with
Duplicate File Finder
this task again can be done automatically within a few minutes. The application can scan any storage, including Photos Library, and find all duplicate and similar photos in scanned locations.
How to find duplicate and similar photos in Photos Library with Duplicate File Finder:
Launch Duplicate File Finder.
Click Duplicate pictures in the sidebar.
Add Photos Library in the Choose folder window.
Click the Start Scanning button.
Сheck the Duplicate Files and Similar Media tabs and select all unneeded files.
Click on Review & Remove and confirm to delete duplicate files on Mac.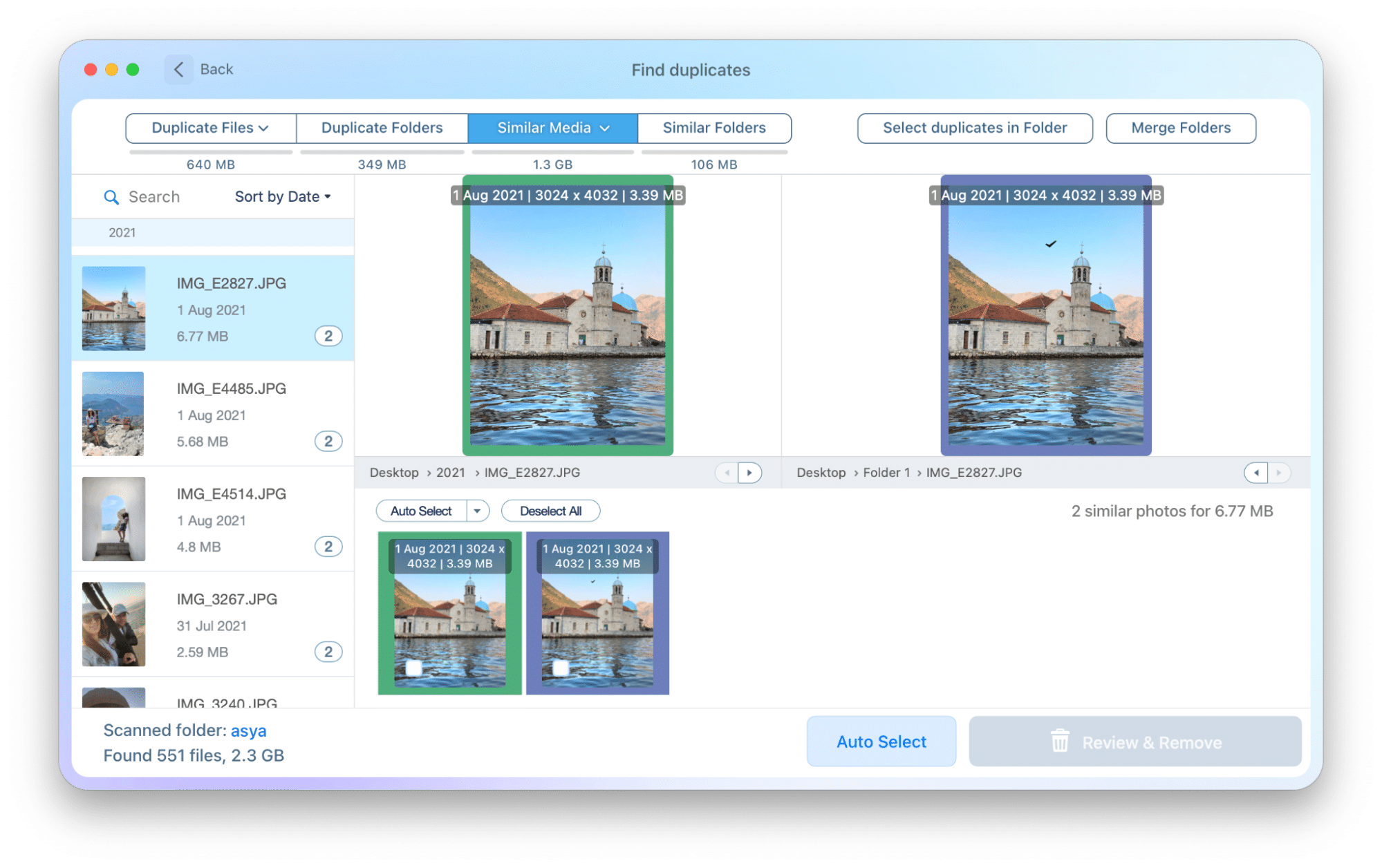 ---
How to find duplicate Mail downloads
By default, when you open a file or document from Mail attachments, the system automatically saves it to the hidden Mail Downloads folder. This folder can be found in the system Library → Containers.
However, when you click to download and save this file in any folder on your Mac, as a result, you have two copies of the file on your hard drive. Well, you hadn't saved the file twice, but the system had done this for you. If this happens often, your disk might be cluttered with duplicates in the Mail Downloads folder. Learn how to find duplicates (folders and files) and remove them.
Open Finder.
Press Shift+Command+G and you will see the Go to Folder search field.
Copy and paste the directory below and press Enter.
~/Library/Containers/Mail.mail
In this folder, you can find all Mail attachments. Find the downloaded file and remove it.
---
How to find duplicate songs in iTunes (Music app)
No matter if you have an old version of macOS and use iTunes or the Music app, the steps for finding duplicate songs in both versions are the same.
Launch the Music app or iTunes.
In the menu bar, click on File → Library.
Click on Show Duplicate Items. You will see the list of duplicate music.
Note, in this case, the Music app might show you the same songs but from different albums. If you want to find exact duplicates in your Music Library, press and hold the Alt key on your keyboard, and you will see the option Show Exact Duplicate Items.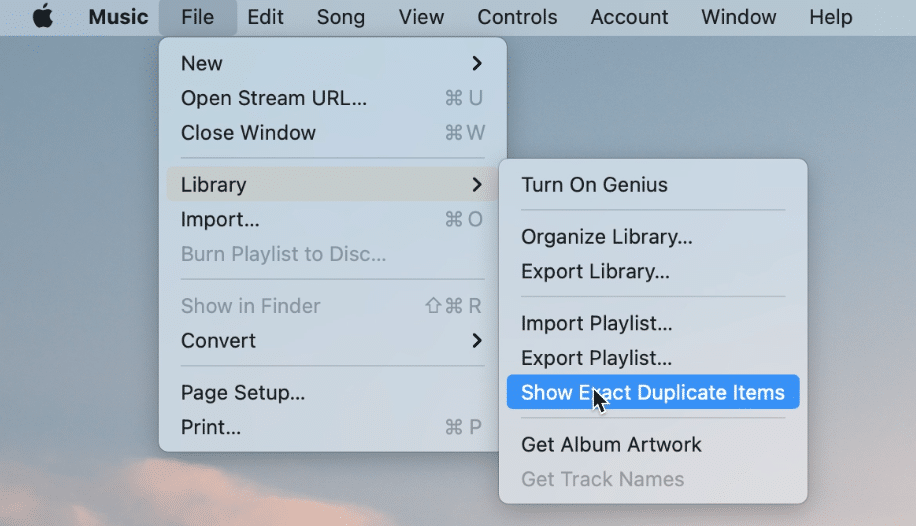 Important!
Please, don't automatically select and delete all files which iTunes shows as exact duplicates. If you do this, you will remove all copies. iTunes is showing all files and you need to manually skim them and decide which one you want to remove.
Read more: How to delete duplicate songs in iTunes.
Another quick way to find exact duplicate music files and similar audio files is to use a duplicate finder.
---
Conclusion:
Actually, using a duplicate finder is the best way to clean up Mac duplicate files. The application supports any storage, including external cloud storage and external hard drives. It's easy to use, it's fast and safe. The best thing about the app is that it's free to use. The in-App purchase is required only if you need additional Pro options for organizing your duplicate files.
---
---
Frequently asked questions
Does Mac have a duplicate finder?

Apple doesn't provide any default tool to locate duplicate files on your disk. However, you can use a free software tool from Nektony called Duplicate File Finder.
What is the Duplicate command on a Mac?

You can create duplicates on your Mac using the context menu. Right-click the file and select the appropriate option to create a duplicate copy. Alternatively, you can use the Option key. To select a file in a particular folder, press the Option key → click on the file, and drag the file within this folder.
What is the best free duplicate finder?