No time to read? Quick solution
Do you still uninstall apps on your Mac by just moving their icons to the Trash bin? We hope you don't. But if you keep doing that, you should know that in this case, the applications remain all their service files on your disk. To completely uninstall apps from your Mac, you need to find and remove their remaining files.
In this article, we will tell you three ways to delete apps on Mac correctly without their traces remaining.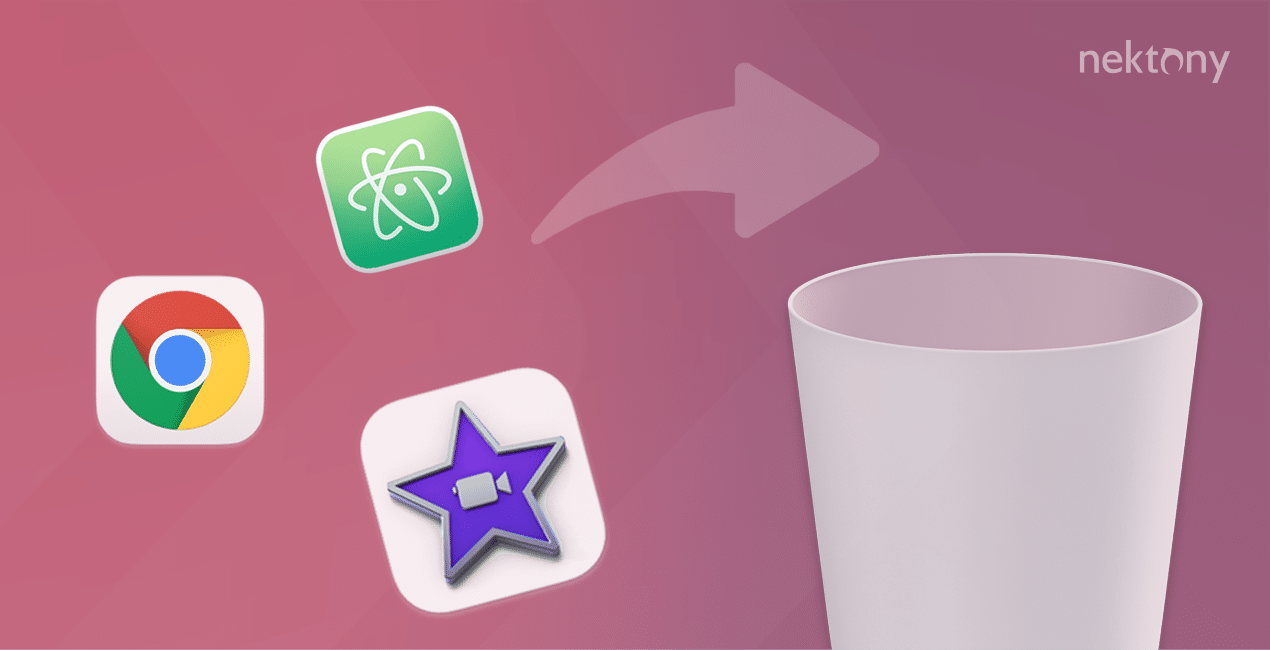 Contents:
---
Video guide: How to quickly uninstall apps from Mac
Important notes about uninstalling apps from Mac
If you want to uninstall apps from Mac completely, you need to find and remove all of their support files.
By default, applications store their service file in the Library folder. However, some applications might spread their service files all over your disk.
We will explain how to find applications' service files from Mac manually and automatically.
You should be careful when manually removing applications' support files from the Library. Deleting important macOS service files may damage your system.
No matter which way you use to uninstall apps from your Mac, you can check your disk for their remaining files with App Cleaner & Uninstaller from Nektony.
---
The easiest way to uninstall apps from Mac

The first way of uninstalling apps is to use a special software App Cleaner & Uninstaller. We recommend this way to most of our readers, and here's why.
App Cleaner & Uninstaller is a special application designed especially to remove programs correctly and completely.  It is easy to use and it allows you to uninstall apps with several clicks. App Cleaner & Uninstaller supports 1000+ Mac apps for removal. In addition, it has extra features that you can use to reset apps, clean up broken service files, and even manage user and system extensions.
Steps to uninstall apps from Mac with App Cleaner & Uninstaller:
Download and launch App Cleaner & Uninstaller.
Select the app that you want to uninstall from your Mac.
Click the Uninstall button to delete an app.
Confirm the removal.
Once again, App Cleaner & Uninstaller is a special uninstalling tool for macOS. Read more about its features or go to a quick user guide on how to get started with the app.
---
Uninstall applications manually
The second way to completely remove apps is to do it manually. It requires understanding the macOS catalog system which takes a bit more time. If you are a new Mac user, we highly recommend that you first learn about the hidden Library folder and then use this tutorial. You should be careful not to remove extra files by accident, which may damage the macOS system's work.
Ok, let's learn the manual way to uninstall apps. Here are the steps you need to follow:
Open the Finder → go to the Application folder and move unneeded applications to Trash.
Now you have to remove the service files of the deleted app. They are stored in the Library folder. By default this folder is hidden. Learn three ways to open the system Library folder .
Check the subfolders for the apps' remains and remove them. Here is list of the most common system file storages:
~/Library/Application Support
~/Library/Caches
~/Library/Logs
~/Library/Preferences
~/Library/Containers
~/Library/Cookies
Don't forget to clear the Trash after uninstallation.
Also note that besides removing apps from the Applications folder, you can remove them in the Launchpad.
How to remove apps from the Launchpad on a Mac:
Open Launchpad from the Dock panel.
Press and hold the Option key.
You will see "X" icons on the applications' icons.
Click the X icon of unneeded apps and confirm the action. Click Delete for this.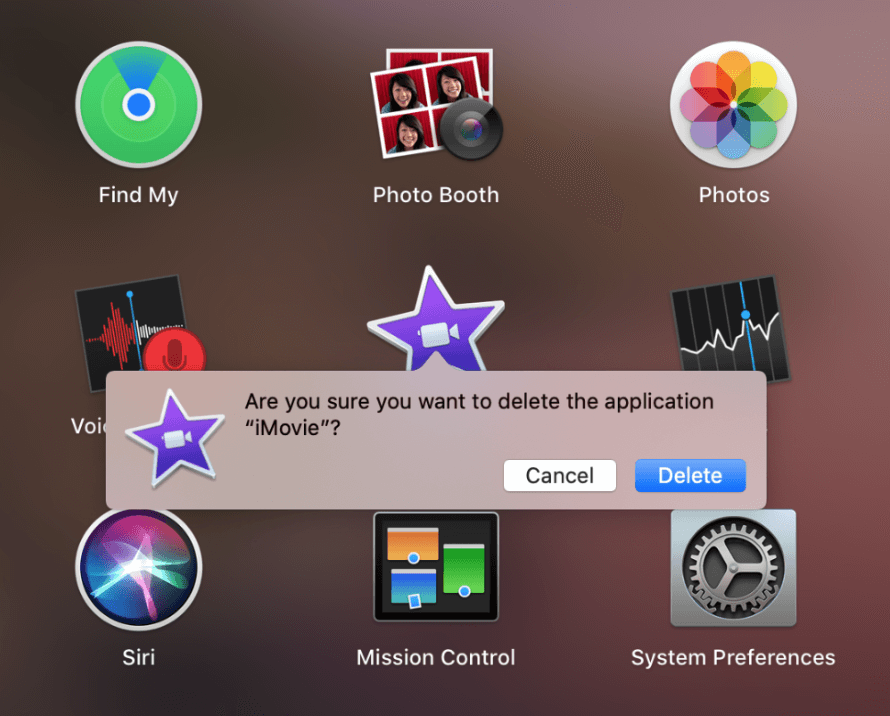 In this way, you can delete an app downloaded from the App Store. Applications that have been downloaded from websites cannot be removed from the Launchpad.
Removing apps from the Launchpad also doesn't remove apps' service files. You will need to manually find and clean up them from the Library folder.
---
Use provided uninstallers
Some developers provide special uninstallers for their apps. These uninstallers are only for apps downloaded from the Internet and used mostly if special preferences and drivers are needed.
Usually, the native uninstallers should be stored in the Applications folder in Finder but they don't appear in Launchpad. If your application has such an uninstaller, find it in Finder (or use Spotlight) → launch it → follow the steps provided by the uninstalling process.
Take a look at the screenshot example. Here is what an uninstaller for Adobe Photoshop looks like. Each application has its own uninstalling steps and removal tool interface.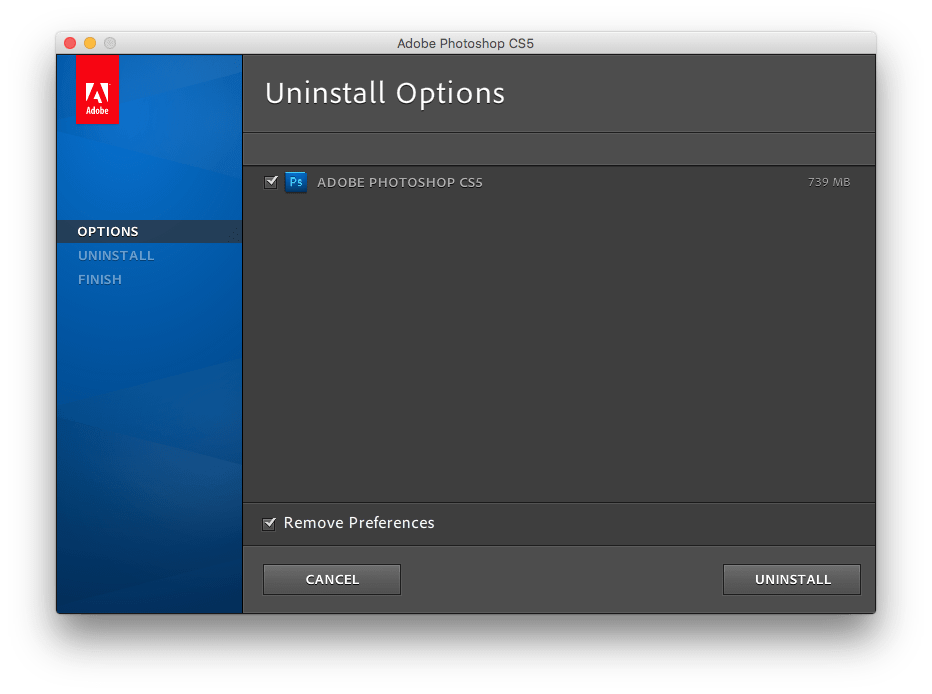 It may happen that you remove an uninstaller item accidentally. In this case, you can check the developer's website to download it again or use one of the app's removal ways as shown above.
---
Comparison chart of ways to uninstall apps
Use App Cleaner & Uninstaller
Remove an app
manually
Use app's native uninstaller
Cost
Free
Free
Free
Support of Apps
to uninstall
1000+
Manual for each app
1 app
Time of process
Little

(up to 10 sec)

Significant

(from 2 to 5 min depending on the number of service files and folders where they are stored)

Little

(it may take time to find the uninstaller item or download it from the official website)

Knowledge Requirements
Doesn't require any specific knowledge; intuitive in use and user-friendly.
Requires understanding Files/Folders directory system in macOS
Doesn't require any specific knowledge
Reliability
Reliable; finds and removes absolutely all service files
If apps are not sandboxed, they may store their service files in a chaotic manner. As a result, it's hard to find all the service files and remove the traces
Some apps may leave files and extensions on your Mac for marketing purposes and notifications
Extra features
– Finds old application traces and broken service files

– Allows you to disable Mac startup items & launch agents

– Allows you to remove system extensions

No extra features
No extra features
In the above table, you can see that the easiest and most reliable way to uninstall applications on Mac is to use App Cleaner & Uninstaller.
App Cleaner & Uninstaller supports 1000+ Mac apps for removal. It takes several clicks or up to 10 seconds to remove an application. Finally, it's easy to use and doesn't require you to be a computer geek to do the job.
Podcast: How to completely uninstall apps on a Mac