By default, the Library folder on Mac is hidden from the user. Apple keeps Library invisible in order to protect users from accidental deletion or modification of important files stored there: application settings, caches and other system files needed to run the programs.  However, sometimes you may need to open Library on Mac, for example, to clear cache or uninstall apps completely. Let`s locate Library on Mac.
---
How to open Library in macOS Sierra, Mojave, Catalina
Open Finder window.
Click Go → Go to Folder in a Menu Bar.

Type ~/Library and click Go in a dialog window.
Immediately after that, the required Mac Library folder will be shown.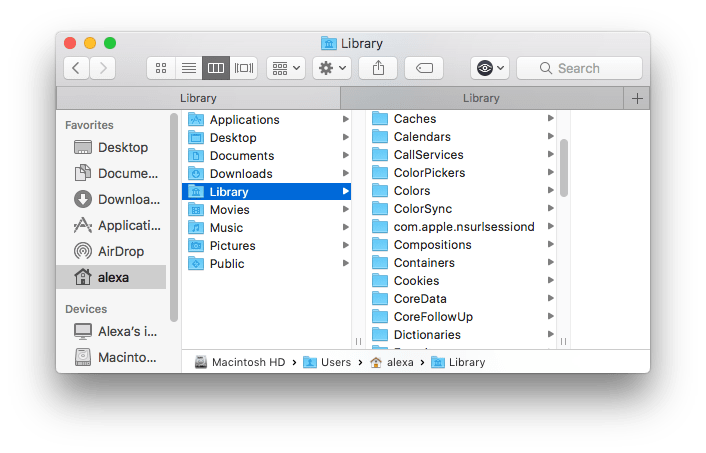 Also you can straightaway jump to the ~/Library directory from the Finder menu bar. For this, click Go and hold the Option key to reveal the Library folder in the drop-down list and select it.
If you need to access the Library folder quite often, here's how you do it quickly and easily. Just drag its icon to the sidebar. Thus, it will be possible to open the item in one click.
---
Show Library folder on mac with Terminal in El Capitan and earlier versions
Launch Terminal from Spotlight or Launchpad.
Type in the window the next command

 chflags nohidden ~/Library/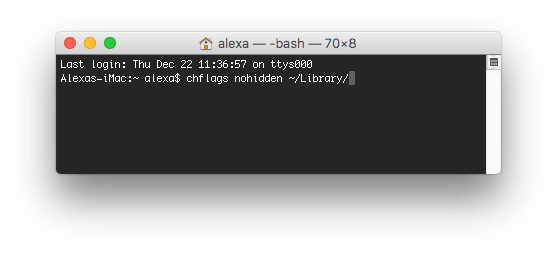 The Folder Library will become visible in Finder. To hide it again enter the command:
          chflags hidden ~/Library/
Read in our previous article more about Mac Terminal.
---
Show User Library folder with Funter
Funter is a small utility designed to show hidden files on Mac. You can use this app to quickly get access to the Library folder or view any other hidden file and folder. When you launch Funter, it integrates with Finder, so you can change file visibility directly from a Finder window or from Toolbar.
Download Funter by

link

and launch it.

In a Finder window click the Funter icon → Show hidden files.

The Finder will be relaunched automatically and you will see the hidden Library folder. If you want to hide it again, repeat the action and click Hide Hidden Files. If you want to know more about hidden files, take a look at the article 3 ways to show hidden files on Mac.
Once again, if you are a new Mac user and don`t know much about the architecture and functions of macOS, it is highly recommended that you be careful and not remove important files from Library.
---