You can find cache files in the Mac Library folder and remove them from there manually. Alternatively, you can use special cache-cleaning software. In this article, we will explain why you should clear your cache, how often you should do this, and what is the quickest way to remove the cache on your MacBook.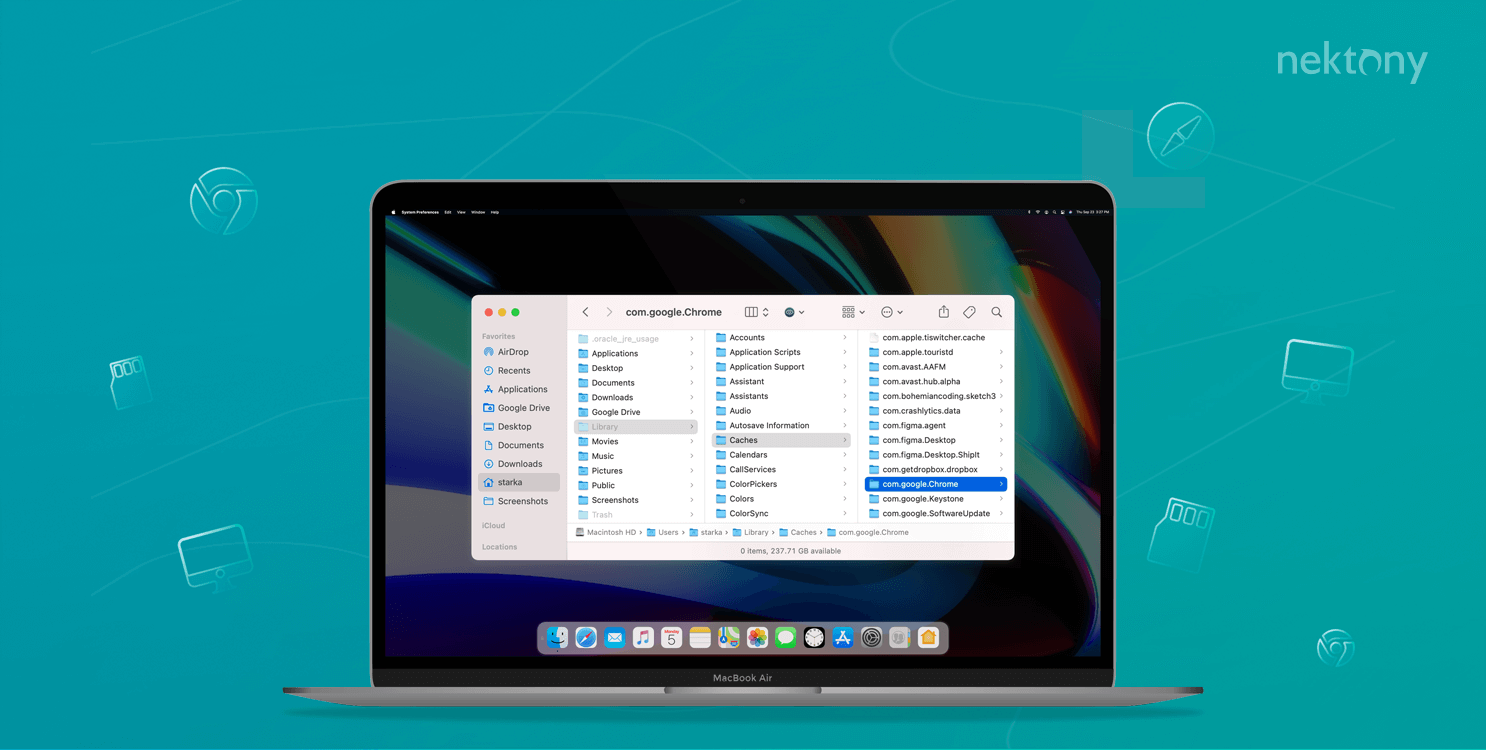 Contents:
#1 Tip to quickly clear cache on a MacBook
If you don't have time to explore how to manually clear cache on a Mac and need to do it quickly, use the special software tool:
MacCleaner Pro
.
Just launch the application, select caches, and click to clean up them. MacCleaner Pro will help you clean up all types of junk files and speed up your Mac in less than a minute.
MacCleaner Pro
*This article is based on our expertise in understanding the file system of macOS and cached files clearing. We've been working for 10+ years on developing special disk cleanup utilities for a Mac. We regularly update our apps and the articles according to the changes in the macOS system. For any related questions, contact us by email.
Video Guide: Easy cache clearing with MacCleaner Pro
---
What is cache
Cache files are temporary files that are stored on a computer's disk space and reused when needed in order to provide a faster and more efficient performance of the system.
There are different categories of cache files:
browser cache
system cache
user cache
For instance, when you visit a website, the multimedia content, such as images and video, are being stored automatically on your MaсBook. Consequently, the next time you visit this website, the cached files are re-used for faster performance. A similar process occurs when you use software on macOS. Some supporting files are stored on the disk and re-used to provide proper function for a Mac.
Сache files are helpful temporary files. However, over time, they can be unnecessary and may take up too much space on your MacBook disk. Therefore, you should periodically clear the cache on your MacBook. We will share two methods on how to clear them: manually and via special Mac cleaning software.
---
Is it safe to delete cache files on Mac?
Clearing cache on Mac is safe if you follow some important steps before attempting it. First, quit applications and close running processes before you clear their cache. This will prevent any issues. Also, if you are working with some files or using any app, save your important data before closing the app and clearing its cached files.
You can safely remove the remaining caches and other service files of the applications you have already uninstalled.
If you decide to clear cache manually, make sure to be accurate with the folders inside the Library. You need to understand what files you are removing. We recommend that you use special software, for example, MacCleaner Pro, which does this work safely and with just two clicks.
---
Why delete cache on Mac?
Generally, it is not always necessary to clear system and application cache. Cache files are needed to make the system load faster. However, clearing cache data on your Mac can sometimes be helpful in improving its performance and freeing up storage space.
You should periodically clear system cache files and user cache files. Here's why to delete cache on Mac:
If the number of cached files increases greatly and takes up too much space on your disk, your Mac may start running slowly.
Separate application cache files take up a small amount of space, but altogether they could require hundreds of megabytes. When your disk is full, clearing the cache is the first must-do step to free up space on it.
If you remove applications on Mac by just dragging and dropping them into the Trash, their caches, now entirely useless, remain on your disk.
Over time, some cache files might become corrupted and affect the stability of the software.
Old caches load outdated content on web pages.
You should remove caches and cookies if you want to delete your personal data stored by websites and applications.
---
How to clear browser caches on a MacBook
Depending on how much you use your browser, you can clear hundreds of megabytes of time-expired cache files on your MacBook. Follow the instructions below to clear Mac browser cache.
How to clear Safari cache on MacBook
If you use the official Mac web browser, Safari, complete the next steps to clear caches:
Open the Safari browser.
Select Preferences in the Safari menu.
In the Advanced section, enable the option "Show Develop menu in the menu bar."
Go to the Safari menu → click on Develop → select Empty Caches (or press Shift+Command+E shortcut).
Close the window to finish Safari browser cache clearing.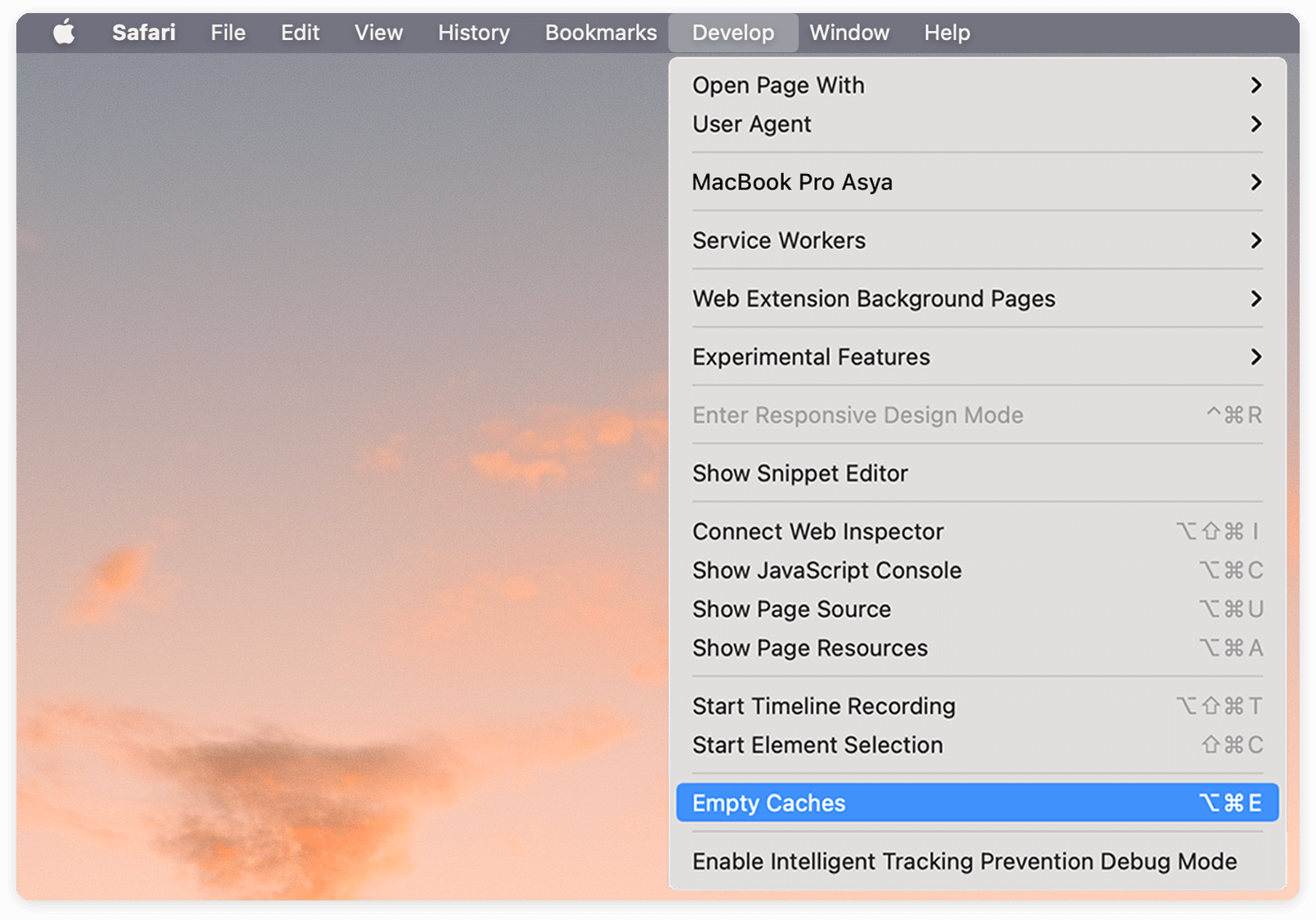 Clear Chrome caches on MacBook
If you use one of the most popular browsers, Chrome, follow the next steps to delete browser cache:
Open the Chrome browser.
In the Chrome menu, go to Preferences.
Click on Privacy and Security from the sidebar.
Click on Clear browsing data.
Check the types of data you want to clear (cookies, cached images, etc.) and choose the time range.
Click the Clear Data button.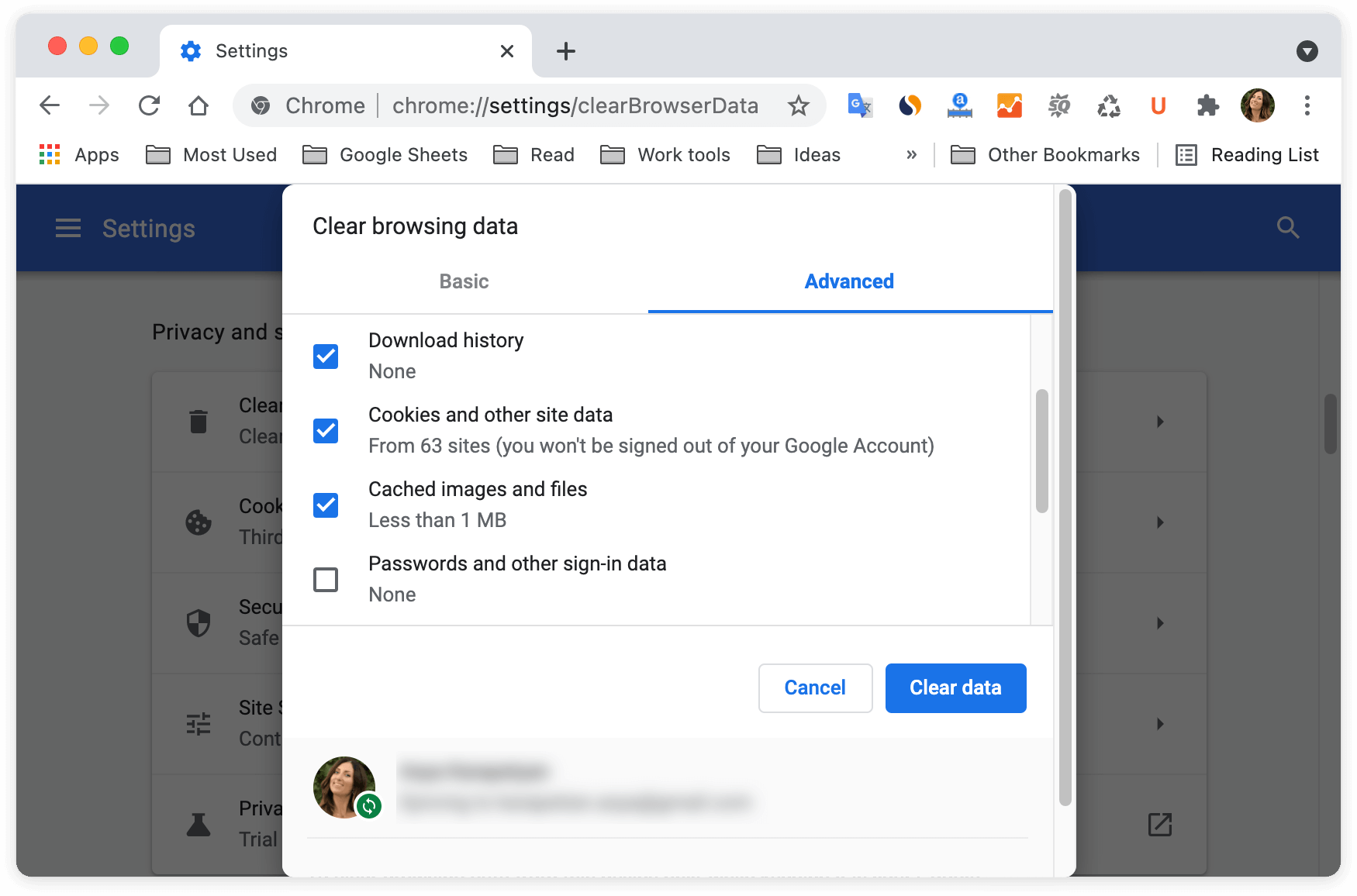 Clear Firefox caches on MacBook
If you use Firefox, take the following steps to clear caches of the browser:
Open the Firefox browser.
Go to the Firefox menu → click Preferences.
Click on Privacy & Security from the sidebar.
Scroll down and find the Cookies and Site Data section.
Click on the Clear Data button.
Confirm clearing the Firefox cache data.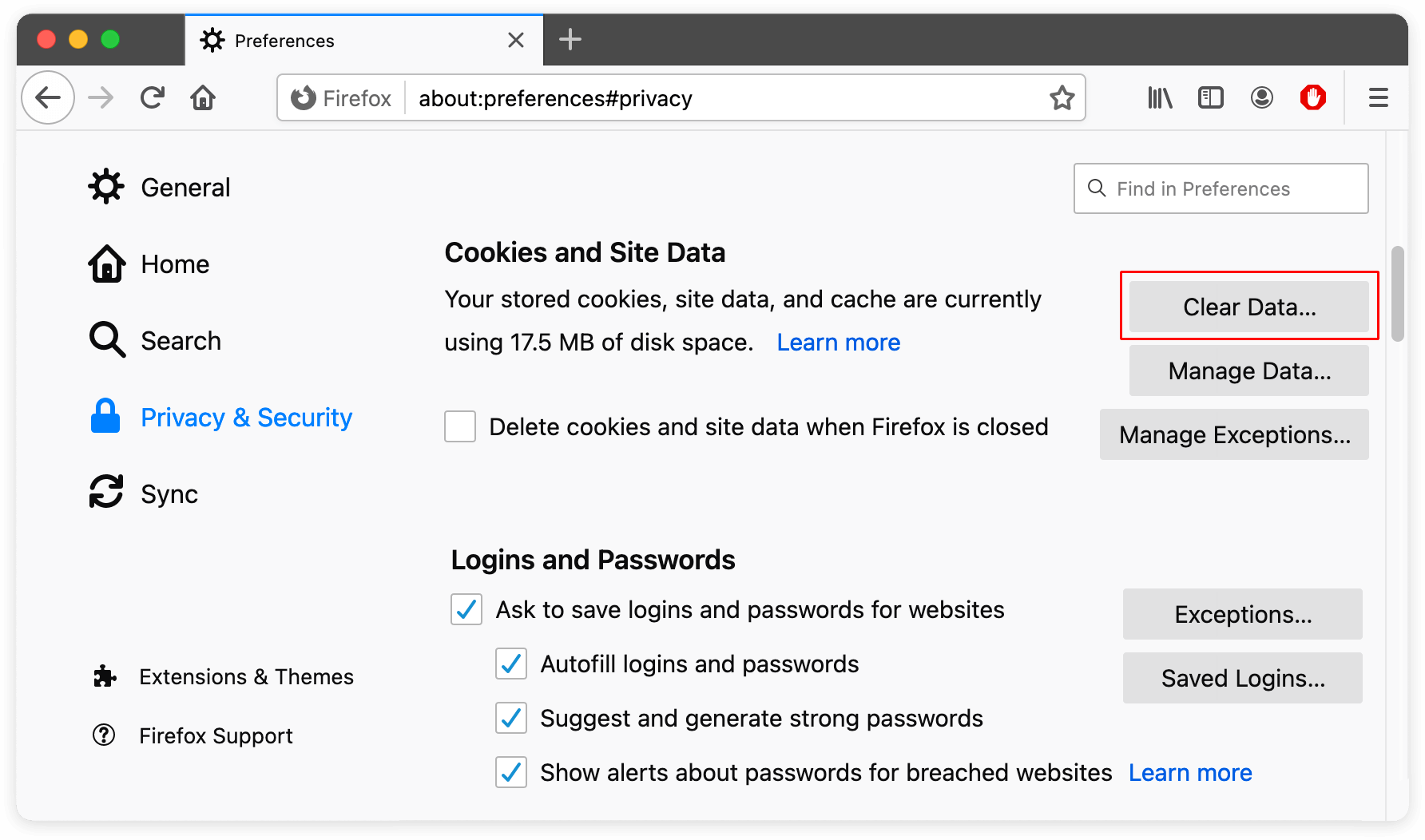 Continue reading to learn how to delete the cache of any application or browser in just two clicks.
---
How to manually clear system and user caches on MacBook
Every browser provides an option to clear its cached data. Things change when it comes to other applications' caches and system caches. System caches are related to the daily operations of your macOS. By default, Apple stores all Mac caches's cached files in the Caches folder in the Library. We will explain how to find this folder and clear the caches of particular applications inside this folder. Follow these steps:
Quit all running applications on your Mac.
Open Finder → go to the Finder menu → select Go → Go to Folder.
Type ~/Library/Caches in the window currently displayed and click Go.
Here, in the Cache folder, find the folders related to a specific application and remove files inside to the Trash.
Please note that it is better to remove cache files in each folder rather than the cache folders themselves, in order to avoid any errors. You have to go to the folders one by one and remove caches of the appropriate applications. Also, you must be very careful not to remove system cache folders (those which have the com.apple words in the names.)
---
How to quickly clear any caches and cookies on MacBook
If you are looking for the fastest and safest way to delete cache and other junk on your MacBook, use a cleaning utility from Nektony – MacCleaner Pro.
MacCleaner Pro is an easy cache cleaner. The app allows you to complete a MacBook cache reset with just a few clicks. Besides caches, it also allows you to wipe out all other types of junk files from your Mac, such as language resources, logs, downloads, installation files, screenshots, and other unnecessary items. This Mac cache cleaner also helps to speed up your Mac, optimize RAM usage, and easily manage disk space. Here is how to use it:
Launch MacCleaner Pro.
Go to the Clean up section.
Select all the cache files.
Click the Review and Clean Up button.
Confirm the removal of selected cache files on your MacBook.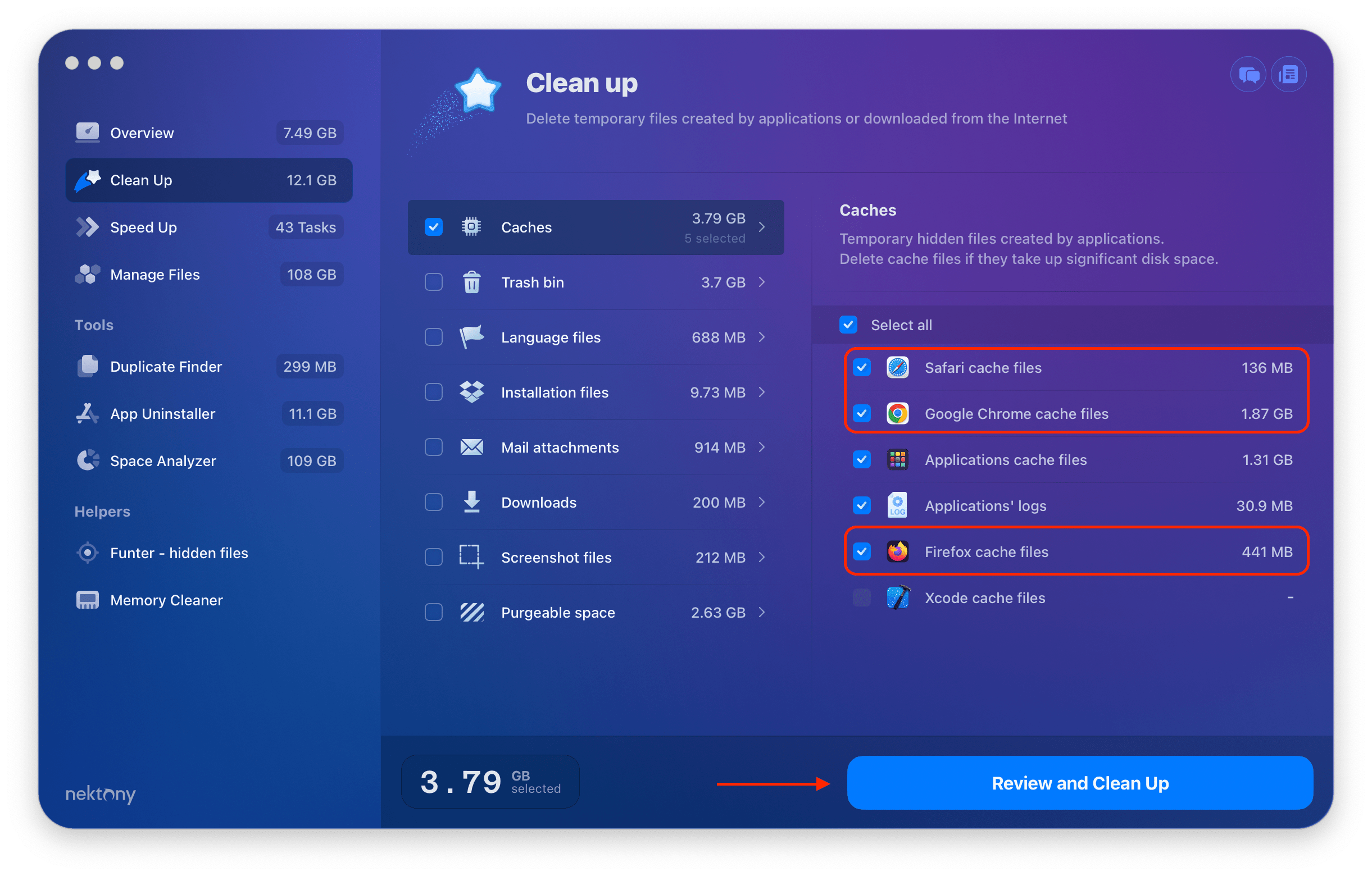 If you wish to clear the cache for a specific web browser, click on the Cache category and select which cache files you want to remove.
As you can see, it takes just a few minutes to remove caches with the MacCleaner Pro. You can download a free trial of the MacCleaner Pro application from the official website, or purchase it right now.
Podcast: How to clear cache on Mac

---
To sum up
Now you know how to clean MacBook from cache files. Please note that you should be careful when manually deleting cache files on Mac. Also, the manual cache clearing of each app will take a significant amount of time.
Alternatively, a quick and safe way to clear the cache is to use MacCleaner Pro. Its simplicity, user-friendly interface, and efficiency make it the best Mac cleaning software among other applications for MacBook disk cleanup.
---
---
Frequently asked questions
Does clearing the cache on my Mac improve its performance?

Caches are not the only reason for a slow Mac. However, if your system is running poorly, you should try clearing the cache as it can significantly help your Mac run more efficiently.
How often should I clear my cache?

Generally, you can clear cache files whenever you want. There is no strict rule. You can do this once a month or whenever you feel that caches accumulate and make your Mac run slowly.
Will clearing cache mess up my computer?

No. Clearing cache is safe, and it shouldn't mess up your system files. However, if you do it manually and remove caches from the Library folder on your Mac, you should be careful not to remove other important service files. Deleting system files can damage your system.