If you need Mac cleaning software to remove junk files and boost the performance of your Mac computer, you are on the right page. While there are many Mac disk cleanup tools in the market to let you do this, not many handpicked storage cleaners are safe and worth considering.
This article will provide the list of the most popular paid and free Mac cleaners and a comparison table, helping you choose the best app to clean your Mac.
Best Mac cleaner app – comparison table
Features
MacCleaner Pro
CCleaner
CleanMyMac X
MacKeeper
Cleaner One Pro
Free version
✔
(free for 2 days with unlimited features)
✔
(free for limited features)

✔
(free for cleaning up to 500 MB of junk)
✔
(free for limited features)
✔
(free for limited features)
Price

$29.95/year

$29.95/year

$39.95/year

$61.80/year

$14.99/year

Delete cache files
✔
✔
✔
✔
✔
Delete browser cache
✔
✔
✔
✔
✔
Uninstall apps
✔
✔
✔
✔
✔
Find and remove duplicate files
✔
✔

–

✔
✔
Remove language files
✔
✔
✔
✔

–

Get rid of screenshots
✔
✔

–

✔

–

Find and remove installation files
✔
✔
✔
✔

–

Manage startup programs
✔
✔
✔
✔

–

Find hidden files
✔

–

–

✔
✔
Clean up email files
✔

–

✔
✔

–

Analyze disk space usage
✔

–

✔

–

✔
Auto app updater

–

✔
✔
✔
✔
Virus and malware scanner

–

–

✔
✔

–
Video: Best Mac cleaner software
---
1. MacCleaner Pro review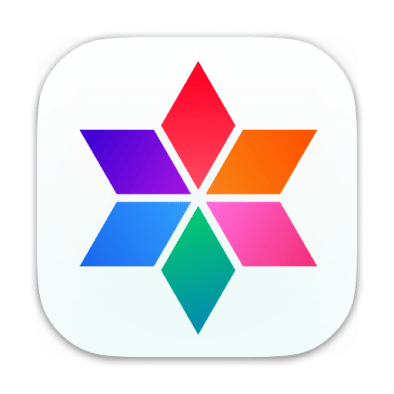 Cost: $29.95 per year
Compatibility: macOS 10.13 or later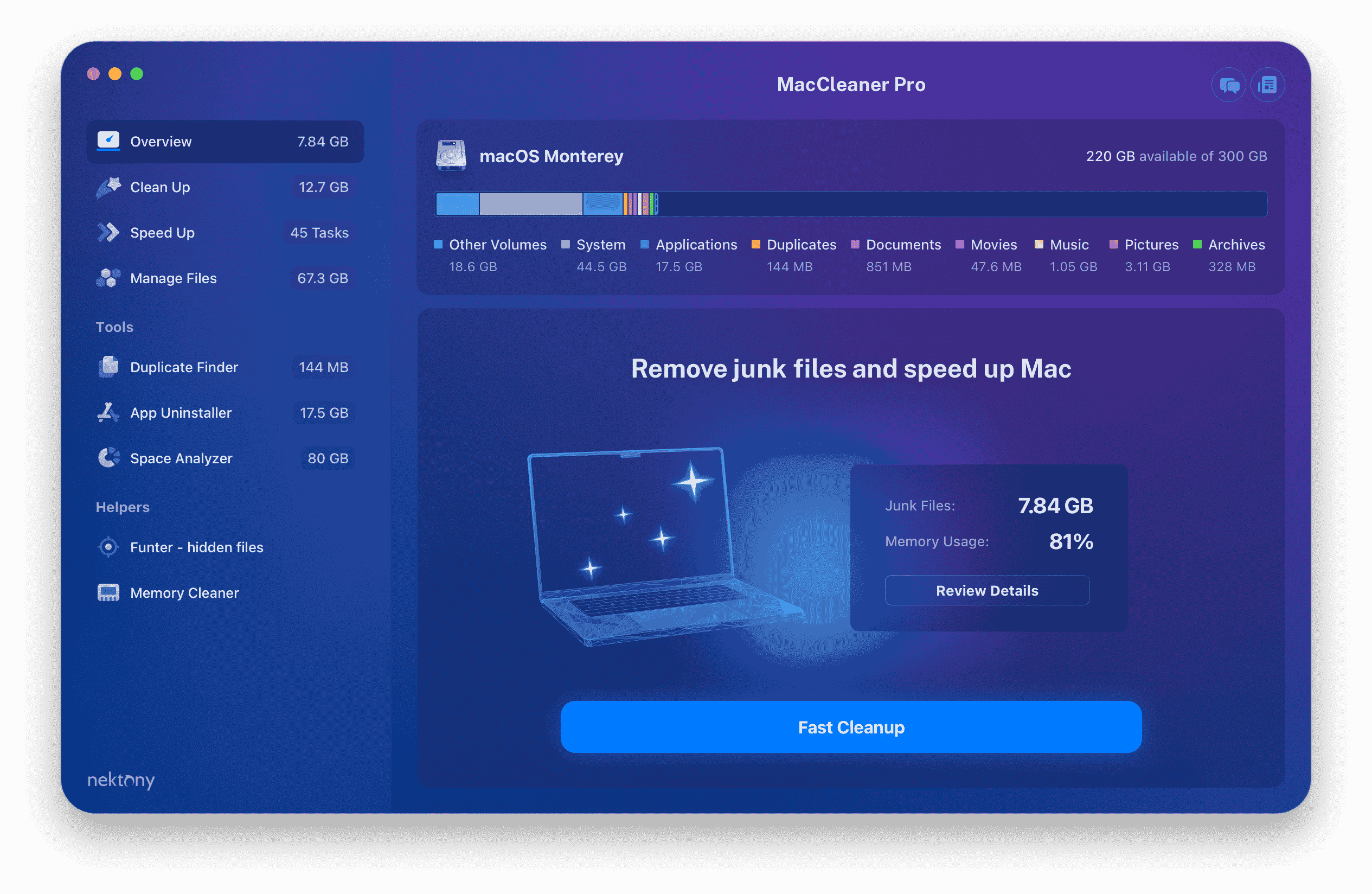 If you've ever looked up on the Internet for a Mac cleaning tools, you've likely come across this app called
MacCleaner Pro
. This is one of the best Mac cleaning software that will help you keep your computer always fast, clean, and organized. The Mac Cleanup section will help you remove gigabytes of
junk files
, including caches, language files, installation files, etc.
Deleting temporary files isn't the only way to clean up a Mac and the developers behind this tool already know that. Therefore, this Mac cleaner provides you with a function to find and delete duplicate files, folders, and similar photos within the Find Duplicate Files section.
Another useful built-in tool called Disk Space Analyzer will display you what is taking up the most storage space on your Startup disk. So you will be able to quickly get free space by deleting the largest unneeded files. In addition, the MacCleaner Pro bundle allows its users to fix all possible issues to speed up Mac, such as clearing inactive RAM, disabling startup programs, and many others.
Pros:
✓

Duplicate Files Finder
Regardless of how and why duplicate files were created, this program helps you find these duplicate files and helps you remove them all with a click of a button. When it comes to photos, the app is capable of finding images that look similar.

✓

Disk Space Visualizer
One thing that most other cleaner tools lack is a detailed disk space visualizer. With this feature included in MacCleaner Pro, you can find out exactly what's occupying space on your disks.

You get the disk usage data in an interactive design which makes it easier for you to digest the given information.

✓

Clear Browser Cache Files

It's a headache to go into each browser on your Mac and remove the cache. This Mac cleaner provides a cache removal feature, that helps you remove all your caches from all your browsers in a few easy clicks.
Cons:
𐄂

One day trial period
The only downside of this program is that it only offers a one day trial period. However, this should be enough for most Mac users to decide whether they want to go ahead with this tool.
---
2. CCleaner review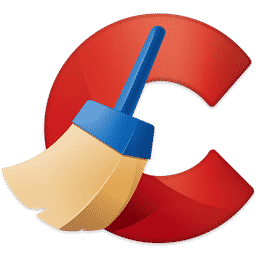 Cost: $29.95/year
Compatibility: macOS 10.10 or later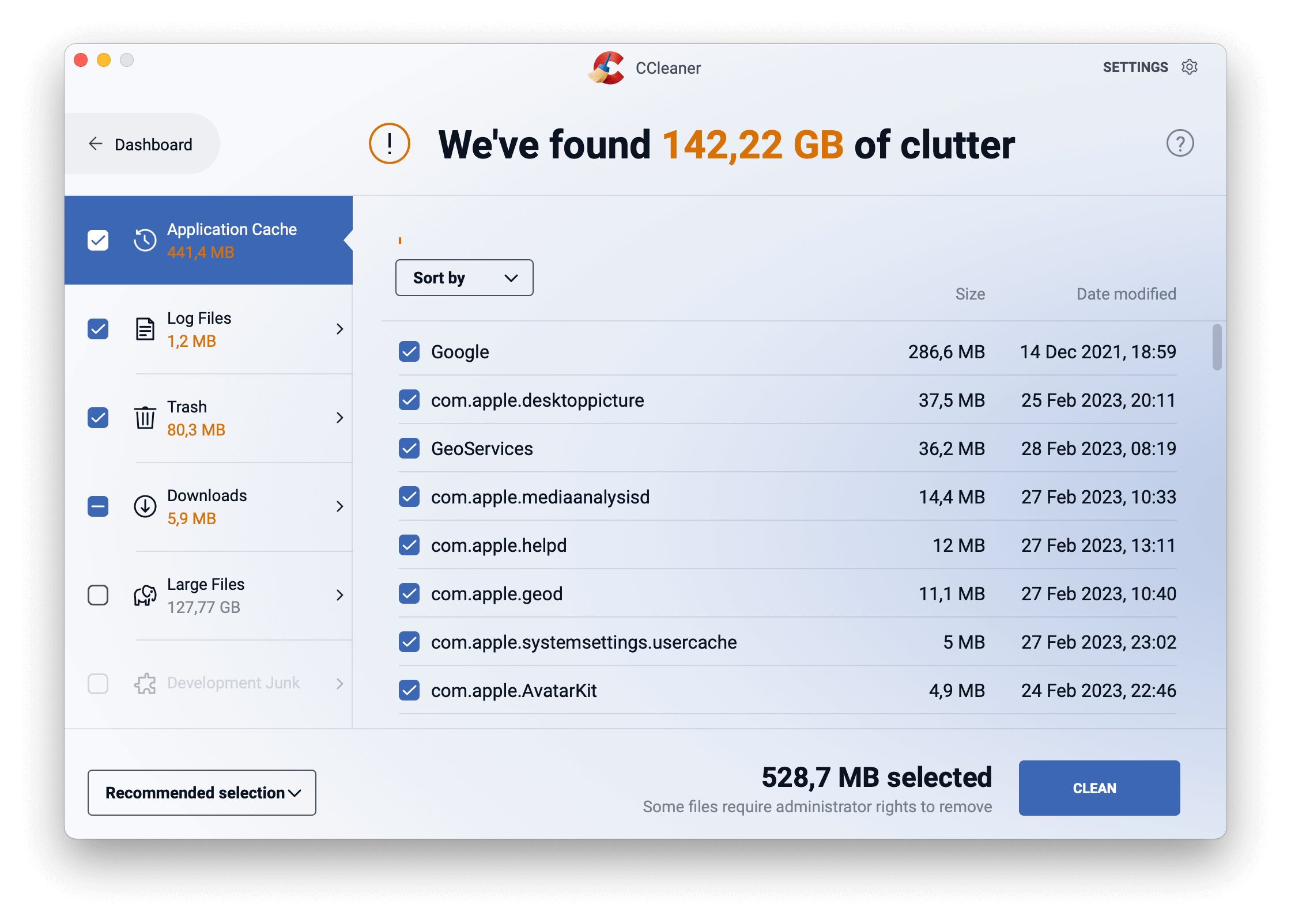 CCleaner
has been around for many years and it is known for all the free Mac cleaning features it offers. In the early days, this was the only Mac cleaner most people used to get rid of junk from their Mac computers. If you've ever had to delete unwanted files from your Mac in the past, it's highly likely you've used this application before.
With CCleaner, you can remove many types of unnecessary files from your Mac. This includes your application data, browser data, and any other files that the tool thinks is not of any use to you. Obviously, the app will find these unnecessary files for you and you won't have to manually dig for them.
In case you can't find the time to run a scan, the app offers a scheduling feature. This automatically runs a clean scan at your specified time without your input.
The newer version of the app includes a Health Checker. This checks the health of your Mac and offers recommendations on how to improve it. This is a pretty good way to find some of the underlying issues and fix them on your Mac.
Pros:
✓

Automatically Update Software

A possible reason your Mac runs slower is that you have too many obsolete apps on your machine. CCleaner includes a software updater that finds your old apps and updates them for you.

This way, you don't need to manually hit up the App Store to find and install app updates.

✓

More Privacy in Web Browsers

If you're concerned about your web browsing history, CCleaner includes a feature that cleans up your history after you've finished with your web surfing.

This way, you're assured the other people using your Mac won't see what websites you've visited.

✓

Improve Boot-Up Time

CCleaner includes a startup programs manager to help you improve your boot time. Using this option, you can specify what apps are allowed to launch when you turn on your Mac.

You can disable the apps that you don't want here and your Mac will boot up faster.
Cons:
𐄂

No Comprehensive Cleaning Suite

A major downside of this tool is that it doesn't include a comprehensive cleaning option. You need to use a cleaning option for each of your files, instead of having a single-button that finds and removes all the junk stuff with a single-click.
---
3. CleanMyMac X review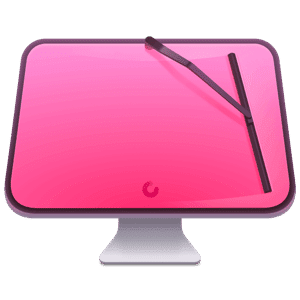 Cost: $45.44/year
Compatibility: macOS 10.10 or later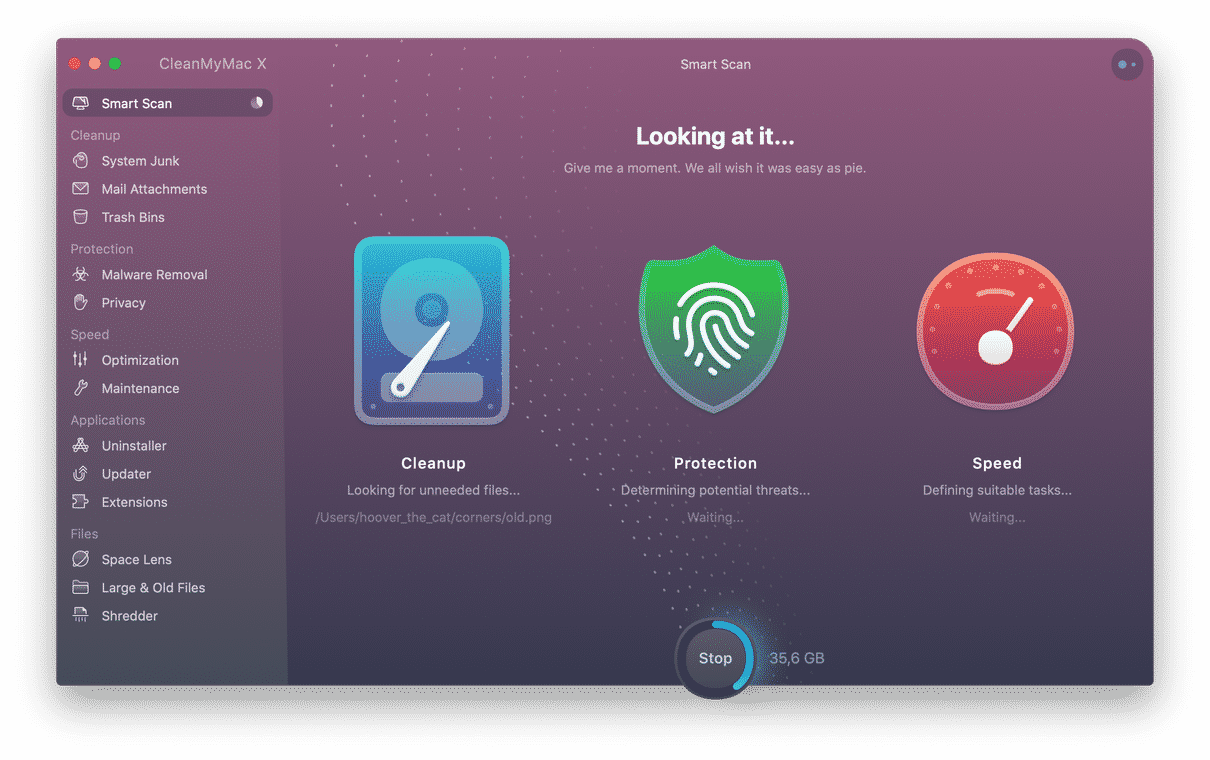 CleanMyMac X
is a modern and feature-loaded Mac cleaner that you can use to rid your Mac of junk files. CleanMyMac X is a safe Mac cleaner that comes with a really user-oriented interface that makes finding and using various features easier.
Like other macOS disk cleanup tools, this application ensures you can find and remove all unneeded junk on your Mac automatically by clicking a button. There's not much manual interaction required for this task. The software is capable of finding both visible as well as hidden files on your Mac. It treats both files equally and you can remove either of them like how you normally would.
The storage cleaner offers a space visualizer that tells you what's using what amount of space on your Mac. This is extremely useful and you can get to know about your disk usage in a few seconds. It has various other features as well such as the ability to optimize your Mac for performance. You might want to use these features if you find your Mac is running slower than usual.
Pros:
✓

Mass Remove Junk Files
If your Mac has lots of cached data, it's a pain in the neck to find and remove all those unnecessary files from your computer. Luckily, this Mac cleaner includes a mass junk remover that deletes all your redundant files with a few clicks.

This means, even if you have thousands of junk files, the app will delete them all in a single-click.

✓

Malware Prevention

Many cleaning tools don't offer a virus and malware scanner but this one does. You can use the scanner to scan your Mac, find any virus or malware, and get help to remove them from your Mac.
Cons:
𐄂

No Duplicate File Finder

Unfortunately, the app misses the duplicate file finder feature which is a must-have for a Mac cleaning tool. Without this, you can't find and delete files that are the replicas of each other.

𐄂

Too Costly

Many Mac users might find the price to be a bit on the high side, and it actually is. You can find many other Mac cleaning software for much less on the market.
---
4. MacKeeper review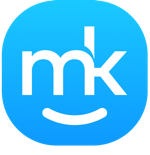 Cost: $14.95/month
Compatibility: macOS 10.11 or later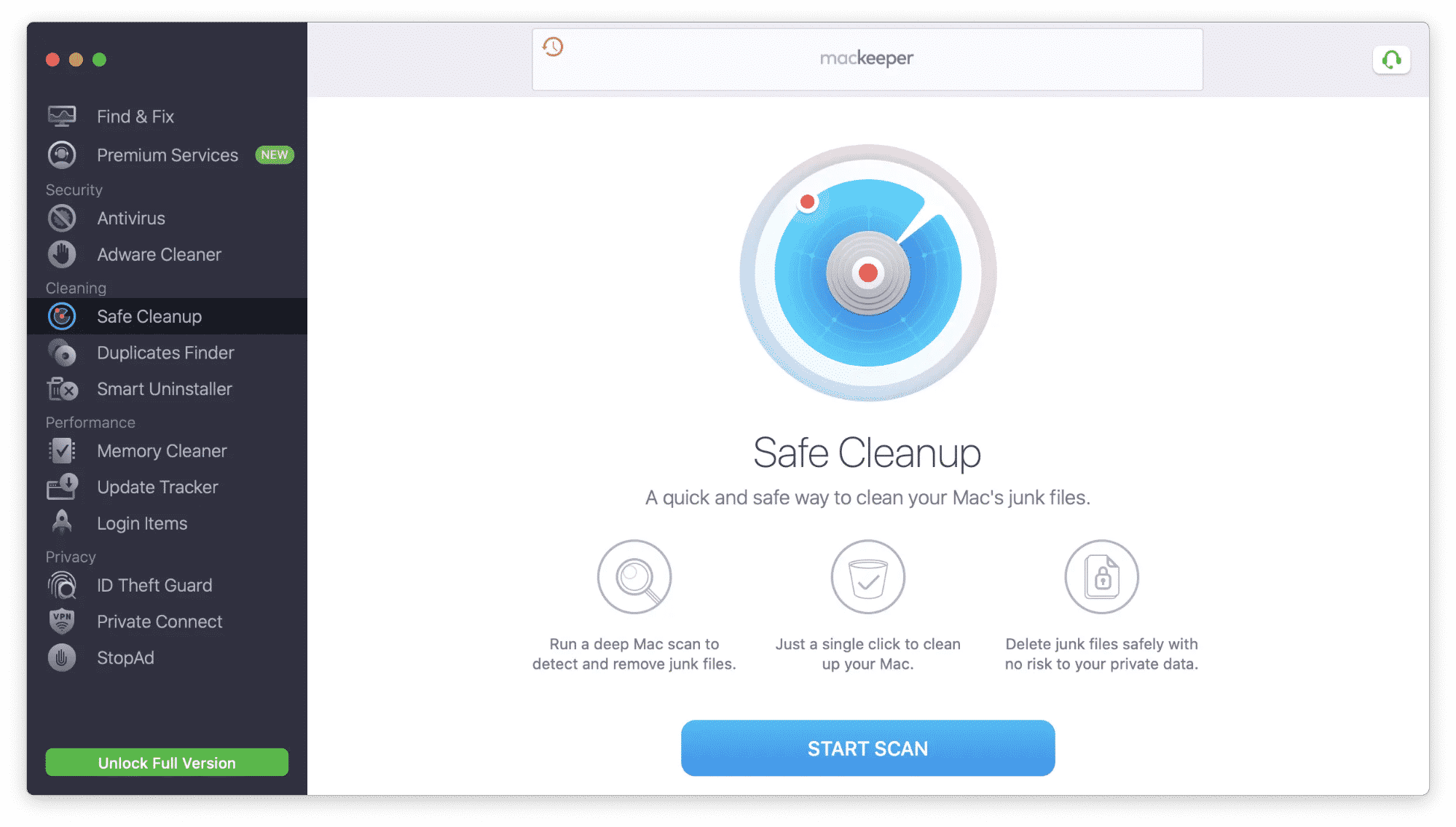 It's hard to search for Mac cleaning tools and not see MacKeeper in the search results.
MacKeeper
has been around for quite a long time, and it has a famous (or infamous) history of its existence. You've probably heard of all of the things it does and does not do to your Mac.
In general, MacKeeper is a pretty good tool you can use to remove junk content from your Mac machine. While the Mac disk cleanup tool has many other options to keep your Mac in good shape, we'll only be focusing on the cleaning part as that's what we're comparing here with its rivals.
This program comes with loads of cleaning tools to ensure your Mac is free of any useless files. It offers a deep scanning feature that deeply scans your Mac to find and remove redundant content. You then need to give your consent to actually remove unneeded files.
While removing support files, the app ensures the files that your installed apps need to function are not removed. It intelligently senses the required associated files and it doesn't delete them.
Pros:
✓

Duplicates Finder

It is often the case that many apps fail to find and remove duplicate files from your Mac. MacKeeper specifically includes the ability to find duplicates of your files, and you can remove these duplicates in a few easy clicks.

Obviously, you get to see what duplicates the app finds, and you can review and manually delete them if you want.

✓

Smart Uninstaller

As you probably already know, when you remove an app from your Mac, there are still leftover files of that app that remain on your Mac computer. With the Uninstaller feature in MacKeeper, you can get rid of your unwanted apps as well as all of the files associated with them.

The feature also lets you view the most less-used apps, and this gives you a chance to find and delete apps that you haven't used in a long time.
Cons:
𐄂

Bad Reputation

MacKeeper has had a bad reputation and there have even been claims that this app actually infects your Macs with viruses. Due to the history of this Mac cleaner, people prefer to go for other similar Mac cleaners.

𐄂

Expensive

Compared to other similar cleanup tools, MacKeeper is a bit too expensive and many people might not shell out a huge amount of money to get this app. Most premium features are hidden behind a paywall and the price tag keeps many potential clients away from this app.
---
5. Cleaner One Pro review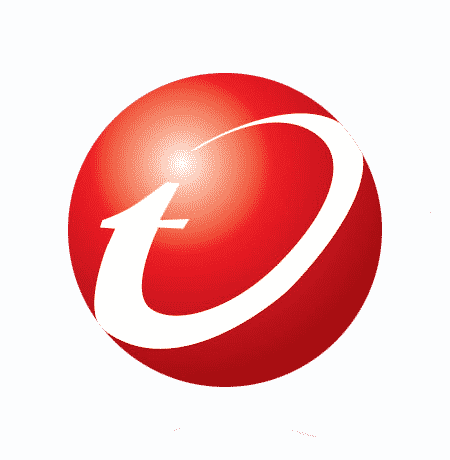 Cost: $14.99/year
Compatibility: macOS 10.12 or later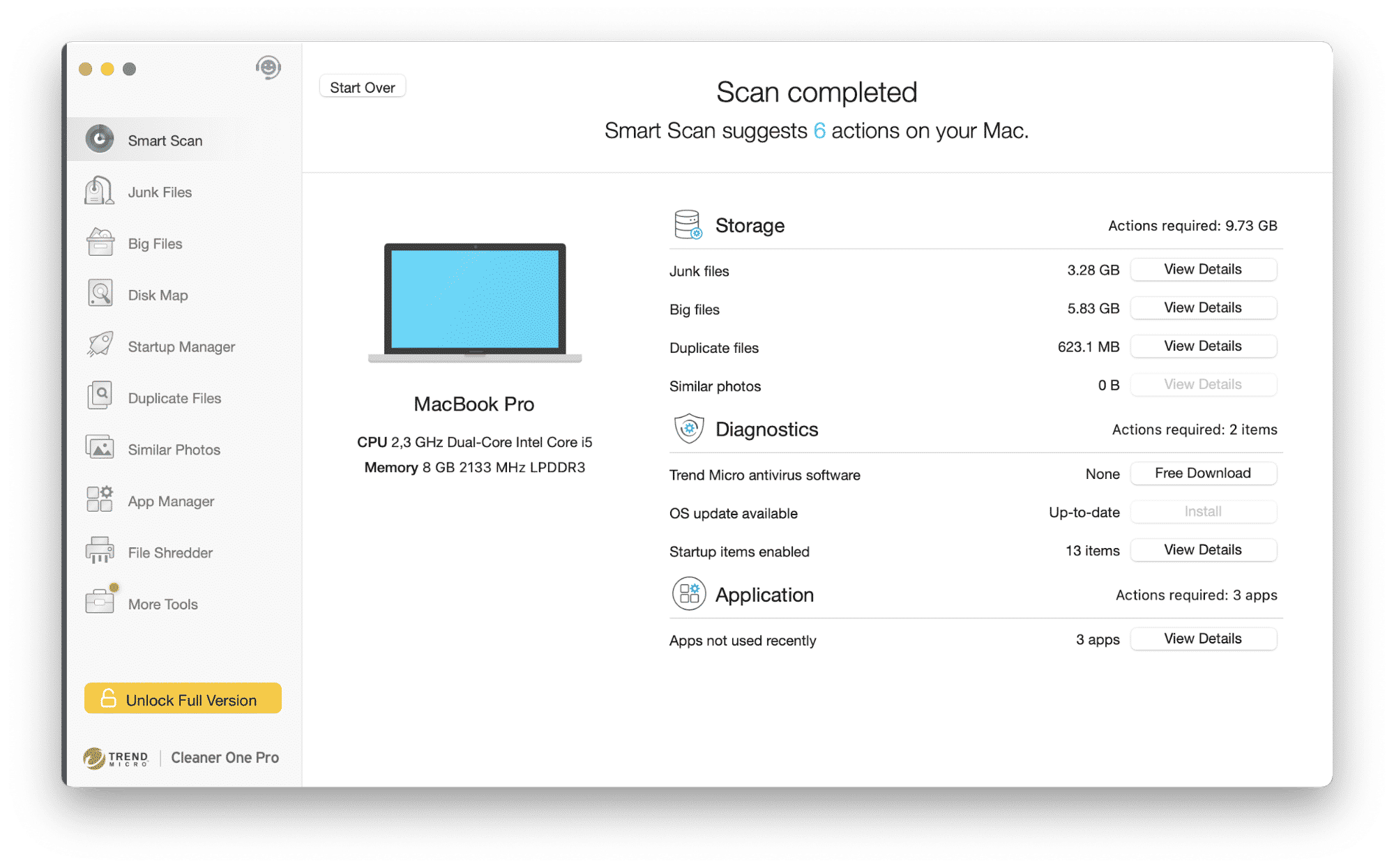 Cleaner One Pro
might not sound as familiar as other Mac cleaning applications in this guide but that doesn't make it any less significant. This cleaner has actually been developed by the famous security firm Trend Micro and the tool brings with it many features to clean and maintain your Mac computer.
Using this app, you can clean up your Mac by removing your app's leftover files, hidden files, and any other files that don't serve any purpose on your Mac. Before the files are deleted, Cleaner One Pro makes sure to get your consent. This way, you know exactly what is going to be removed.
The tool offers recommendations as to what to do when your Mac is filled up with junk content. This will give you an idea of what to do if you are clueless.
Pros:
✓

View All Statistics on a Single Interface

Cleaner One Pro shows all of your Mac's statistics on a single interface. This way, all the essential information that you need to know about can be easily viewed.

This statistics screen includes information like your CPU usage, network usage, the amount of space your junk files use, and your memory usage.

✓

Selectively Clean Files

If you don't want to remove all junk or other files, the app lets you selectively clean up your files. You can choose what file types you want to remove. For instance, you can click on Large Files to only find and delete files that are large in size.

There are various other options to play with in the sidebar.

✓

Clean Files for Good

The tool includes a file shredder that not only deletes your files but it deletes your files so they can't ever be recovered. When you use this feature, your files are actually gone for good and no data recovery software can restore those files at a later time.
Cons:
𐄂

Developers have a bad reputation
In August 2018, all apps developed by Trend Micro were deleted from the Mac App Store after researchers showed they were collecting browser history, and other users' data and sending it to a server located in China. This fact was described on various sources including Wikipedia.

𐄂

No Security Features

Although the app has been developed by a security firm, it doesn't actually have any security features. So, if you want to keep your Mac protected from viruses, you will need an antivirus tool.
---
Conclusion
Picking the best disk cleaner for Mac is extremely important as this decides whether your Mac will have a performance boost or it will stay the way it is currently. Our guide above should help you decide what is the best cleaning software for your Mac to remove any junk files and optimize your computer's performance.
---
---
FAQs
Does Apple have a free Mac cleaner?

No, Apple doesn't provide any built-in Mac cleaning app. However, you can use third-party applications for cleaning up your system. It's recommended to regularly perform a deep cleanup of your disk using special Mac cleanup software. This will ensure smooth system performance and help you maintain the health of your Mac.
How do I do a deep clean on a Mac?

To perform a deep cleanup of your Mac, you can use specialized third-party Mac cleanup software. Such apps allow you to easily delete junk files, identical files, remove unwanted apps and reclaim disk space to have a cleaner and faster Mac. Look at the comparison table above to find the best Mac cleaner apps.
Also, you can perform a deep Mac cleanup manually. Read the article "How to clean up a Mac" to learn how to do this.
How do I keep my Mac clean and fast?

To keep your Mac clean and fast, follow these basic tips:

Regularly delete unnecessary files, like caches, duplicate photos, large unused files, etc.
Keep your software up-to-date.
Monitor RAM usage by apps and quit memory-consuming apps.
Uninstall unused apps and delete their associated files.
Manage startup items and disable unnecessary login items.

You can use third-party cleanup software to quickly clean up junk files and free up space on your Mac.
How many times should I clean my Mac?

There is no fixed frequency of how often you should clean up your Mac. It depends on your usage habits, the volume of free storage space, and how often you notice a decrease in Mac performance. You can use third-party Mac cleaning apps to scan your disk and get recommendations to optimize your storage and make your system run faster.