In this article, we will provide a step-by-step guide on how to uninstall MacKeeper completely and safely so that it does not leave its leftover files in your computer system and does not show you annoying pop-up messages.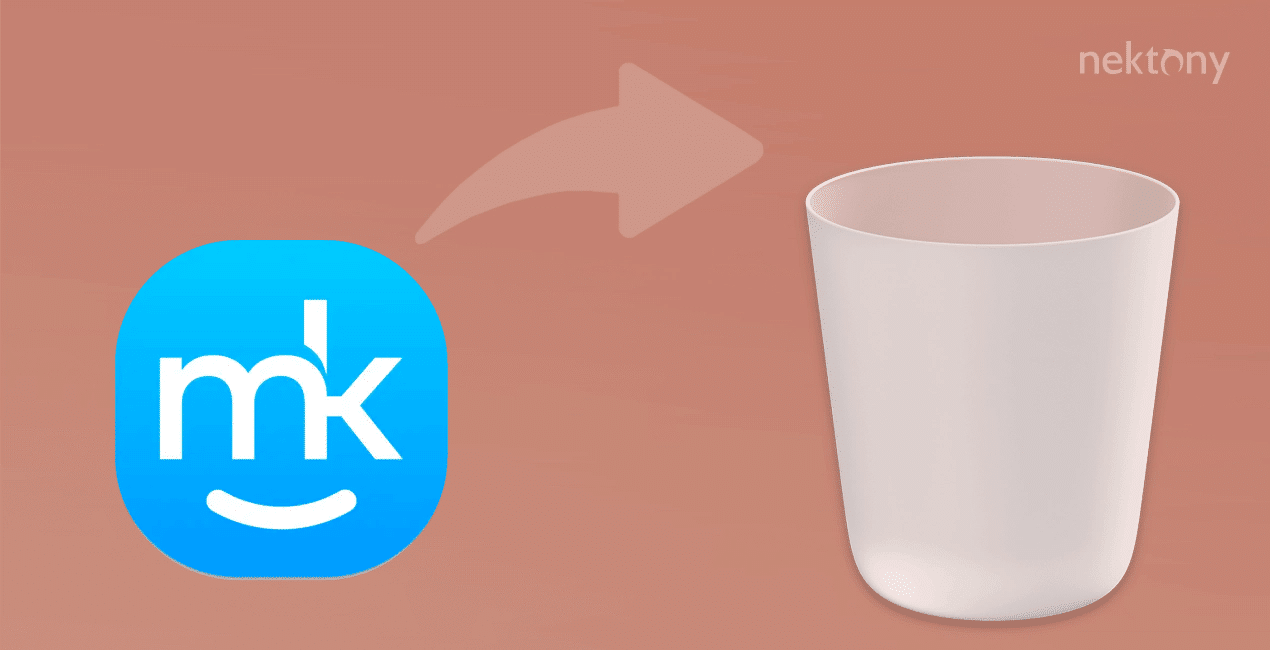 Contents:
---
What is MacKeeper and why remove it?
Almost every Mac user knows or has heard at least once about the MacKeeper app. MacKeeper is a Mac cleanup application that clears cache files and other junk on Mac's hard drive, protects Mac from viruses, and promises to make your system run faster. Well, that sounds great. However, the program is also known for its overly aggressive marketing strategy, hanging annoying ads everywhere and way too often. If you are one of the "lucky" ones who have installed MacKeeper and now want to remove it, follow this article. You will learn three ways how to remove MacKeeper completely from your Mac.
---
Uninstalling MacKeeper manually
The manual method of uninstalling apps completely requires that you first remove MacKeeper from the menu bar and the Applications folder, then find and remove its service files from your hard drive.
Step 1: Delete MacKeeper from the menu bar
The reason why it's not so easy to delete MacKeeper is that it doesn't provide any option to quit the app and close all its running processes. It has special scripts that protect it from being deleted by users. But don't worry; we know the way how to get rid of MacKeeper.
Launch the MacKeeper app.
Go to the MacKeeper preferences. For this, click the MacKeeper icon in the menu bar and find Preferences.
In the General tab, uncheck the option "Show MacKeeper icon in menu bar."
Press Cmd+Q to quit MacKeeper.
Step 2: Remove MacKeeper from the Applications folder
Go to the Applications folder and move MacKeeper into the Trash.

The system will require your administrator password to confirm the removal. Enter your password and click OK.
It may then show you two more pop-ups asking whether you are sure to delete the app and prompting you to fill out a marketing survey. You can ignore answering any additional questions, just confirm that you are sure to delete MacKeeper.
Step 3: Get rid of all MacKeeper associated files
Now you need to find and remove service files that MacKeeper left on your disk. By default, they should be stored in the system Library folder.
Open Finder and press the Cmd+Shift+G shortcut on your keyboard.
In a search field, type ~/Library/ and press Enter.

Within the Library folder, find and delete all the files and folders that have MacKeeper in their names. Check the following subfolders:

~/Library/Application Support

~/Library/Caches

~/Library/LaunchAgents

~/Library/LaunchDaemons

~/Library/Preferences

Once you remove all MacKeeper accosiated files, empty your Trash bin.
Restart your Mac. MacKeeper should be uninstalled from your Mac entirely.
Please note: If you still get notifications from MacKeeper even after its uninstallation, most likely that you haven't removed all MacKeeper files. Some applications may spread their service files all over Mac's hard drive and hide them in deep folder debris. That's why we recommend that you use a more efficient way to completely uninstall MacKeeper – using App Cleaner & Uninstaller.
App Cleaner & Uninstaller will help you completely uninstall the malware and stop getting any pop-ups from MacKeeper in the future.
---
A quick way to delete MacKeeper
App Cleaner & Uninstaller is a safe and Apple-notarized utility that helps to remove apps together with all their service files in just one click. It automatically finds all support files of removed apps. The developers regularly update App Cleaner & Uninstaller database, and today it supports 1500+ third-party apps for complete removal.
How to uninstall MacKeeper with App Cleaner & Uninstaller
Quit MacKeeper.
Download and launch App Cleaner & Uninstaller.
Select MacKeeper in the list of apps.
Click the Remove button and confirm the action.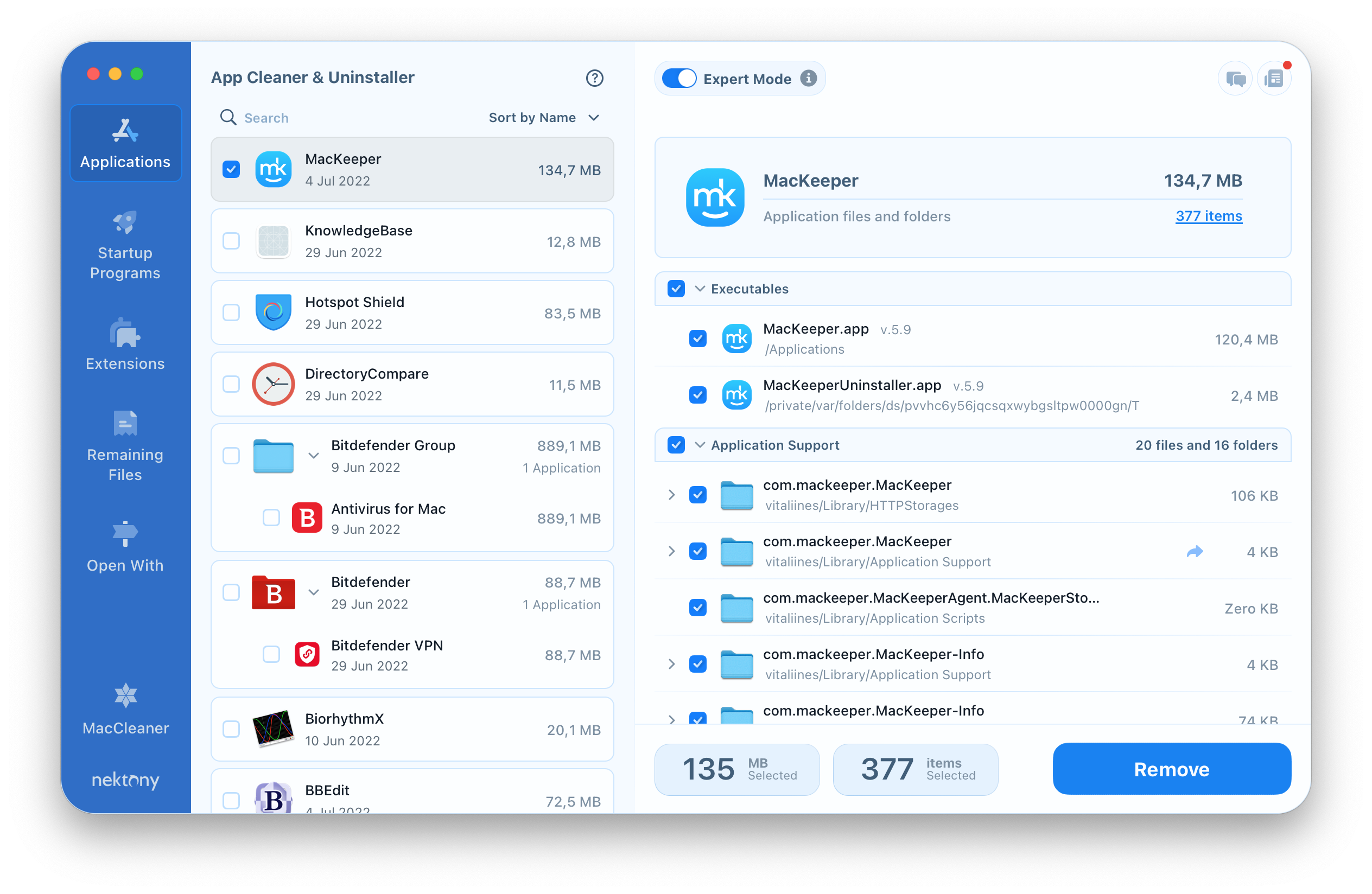 That's all. As we promised, it's easy and fast. In fact, you can use App Cleaner & Uninstaller to remove any application on Mac entirely.
Removing MacKeeper leftovers
Also, note if you have already manually removed MacKeeper, you can check your Mac for its leftover files. Just switch to the Remaining Files section in the sidebar. Here you will see a list of all remaining files of already deleted applications.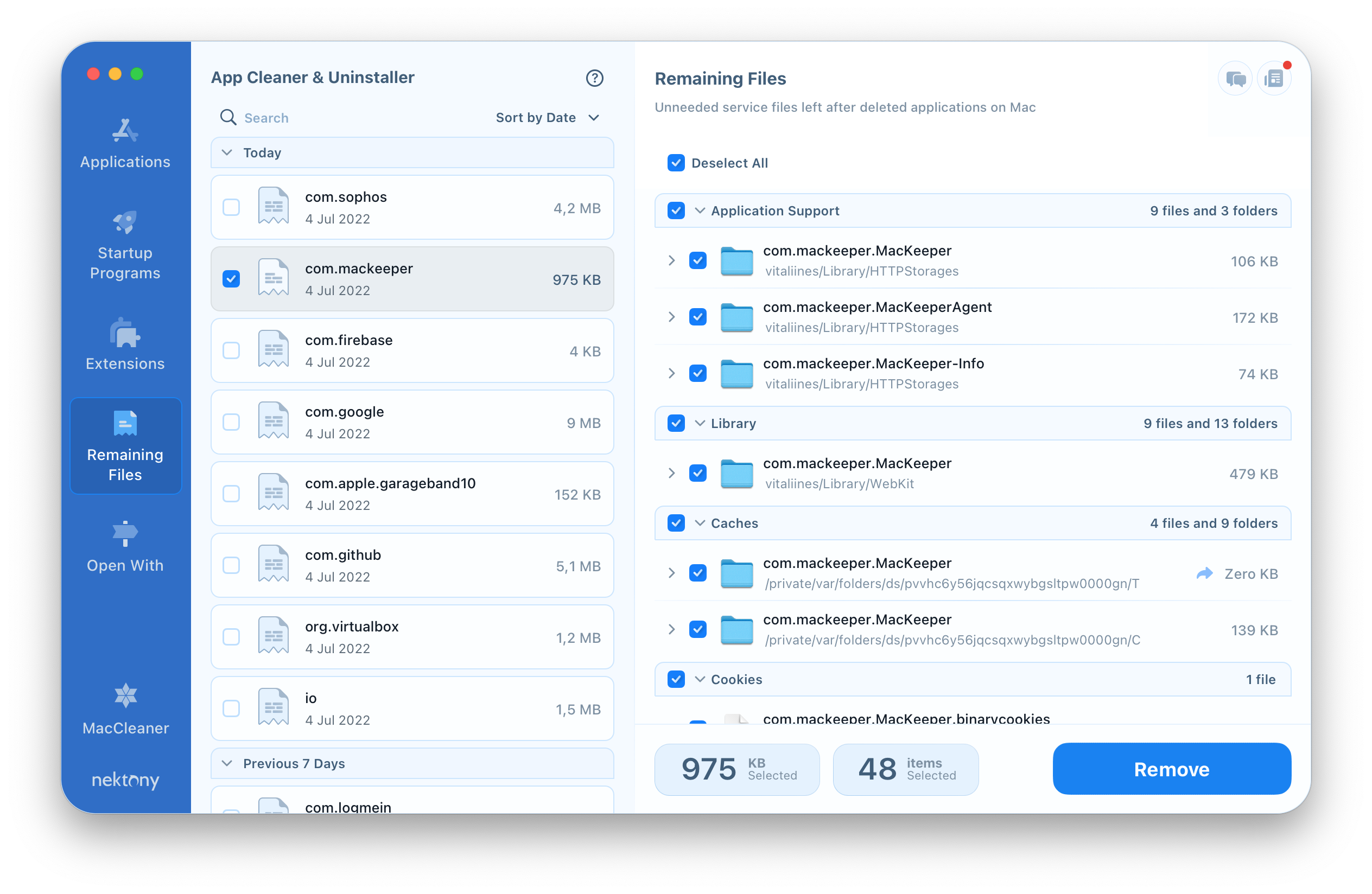 ---
How to get rid of MacKeeper pop-ups in Mac browsers
Stop MacKeeper pop-ups in Safari:
Open Safari and go to its settings.
Switch to the Extensions tab.
Here look for MacKeeper extension and any more extensions you didn't remember installing on your Mac and click to uninstall them.
Then switch to the Privacy tab and click the Manage Website Data button.
In the search field, type MacKeeper. If you find any cookies or caches related to the app, remove them.
Relaunch Safari.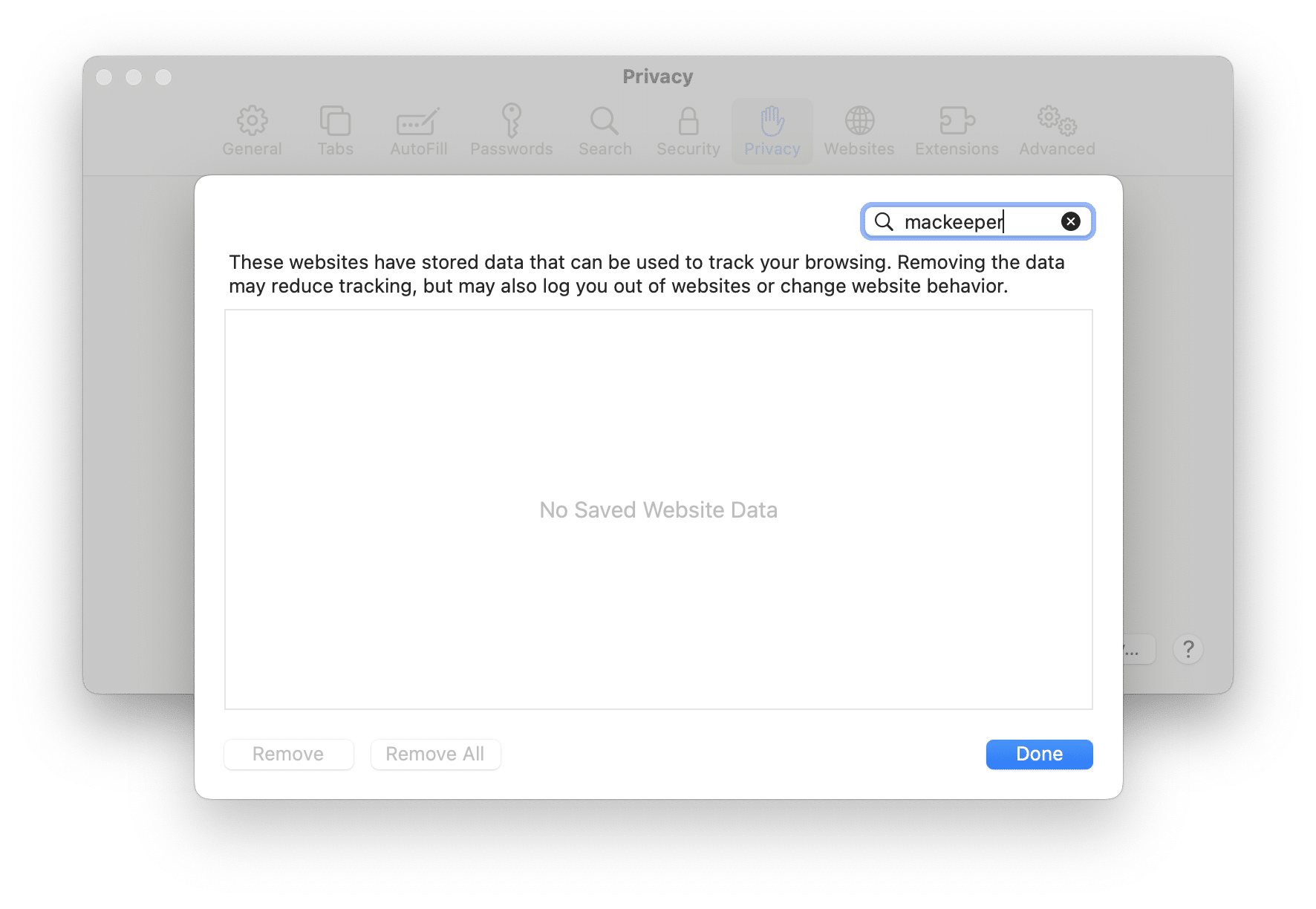 Stop MacKeeper pop-ups in Chrome
Open Chrome and go to its settings.
Click Extensions in the left sidebar.
Take a look at all extensions and remove the ones you didn't install.
Then go to the Settings window again and click Privacy & Security in the sidebar.
Click Clear data and choose to delete for All time range.
Relaunch your Chrome browser.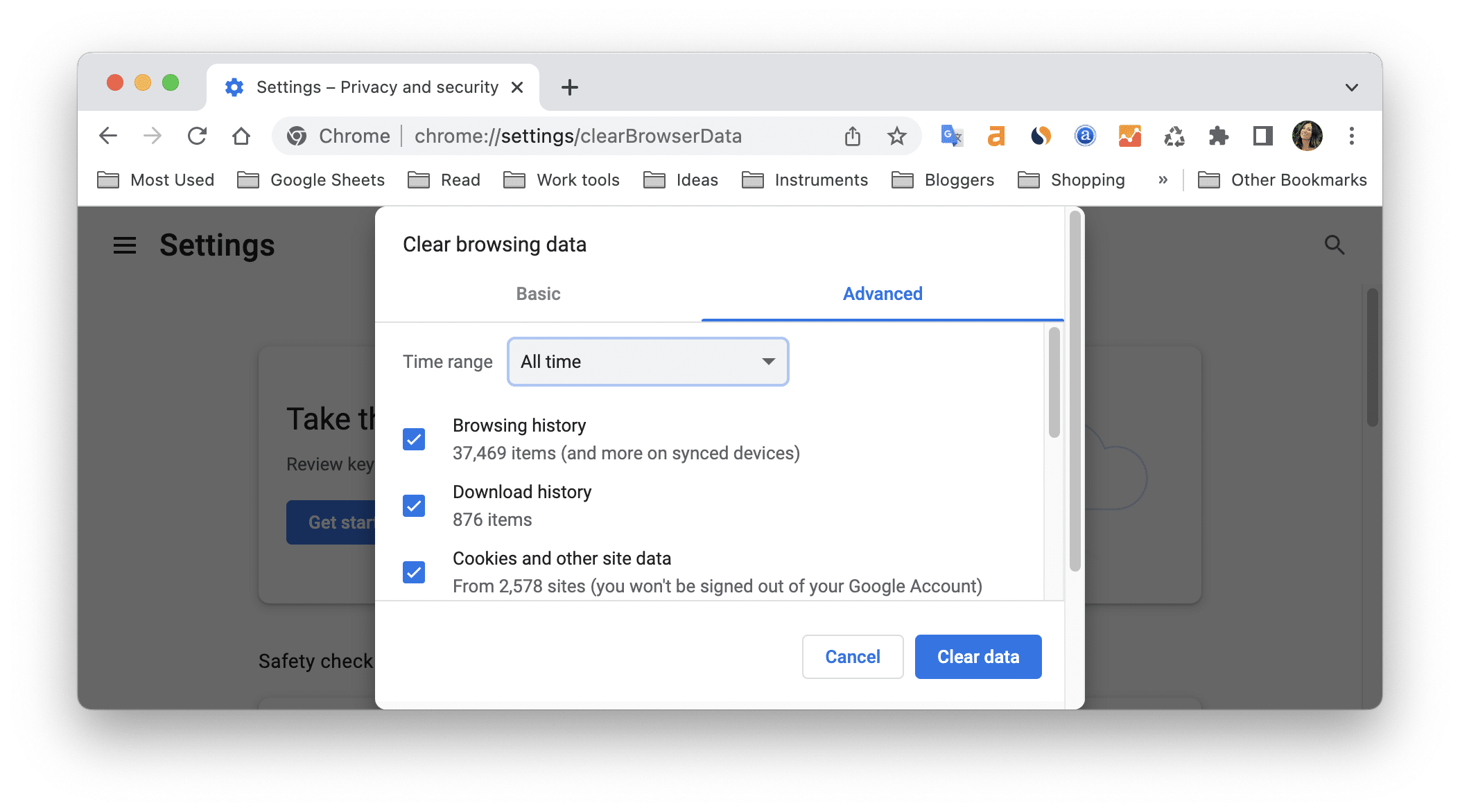 Conclusion
Uninstalling MacKeeper from your Mac can be a tricky process, as it often leaves behind residual files that can still show you irritating pop-ups. By following the steps in this article, you can ensure that you completely remove MacKeeper from your Mac, without leaving any leftover files behind. Also note, that with App Cleaner & Uninstaller, you can entirely delete MacKeeper or find its leftovers even if you have removed the app manually before.
---
---
FAQs
How do I close MacKeeper on my Mac?

To close MacKeeper and stop showing its icon in the menu bar, do the following:

Run MacKeeper and go to its settings from the menu bar.
In the General tab, uncheck the option of showing its icon in the menu bar.
Close the app's window.
What is the problem with MacKeeper?

MacKeeper is a software utility for cleaning up A Mac from hunk files and optimizing its performance. However, most users claim that the developers are using aggressive marketing tactics to convince them to purchase the app even after uninstalling the app.
What is better than MacKeeper?

We invite you to read a detailed review of the top best Mac cleaning apps, where you will find a comparison table of MacKeeper alternatives and find the best solution for you.