MacKeeper and MacCleaner Pro are two different software tools designed to help Mac users to optimize their system's performance and clean up unnecessary files. In this article, we'll analyze some key points of MacKeeper and MacCleaner Pro, compare the apps and find out which is the best Mac cleaning tool.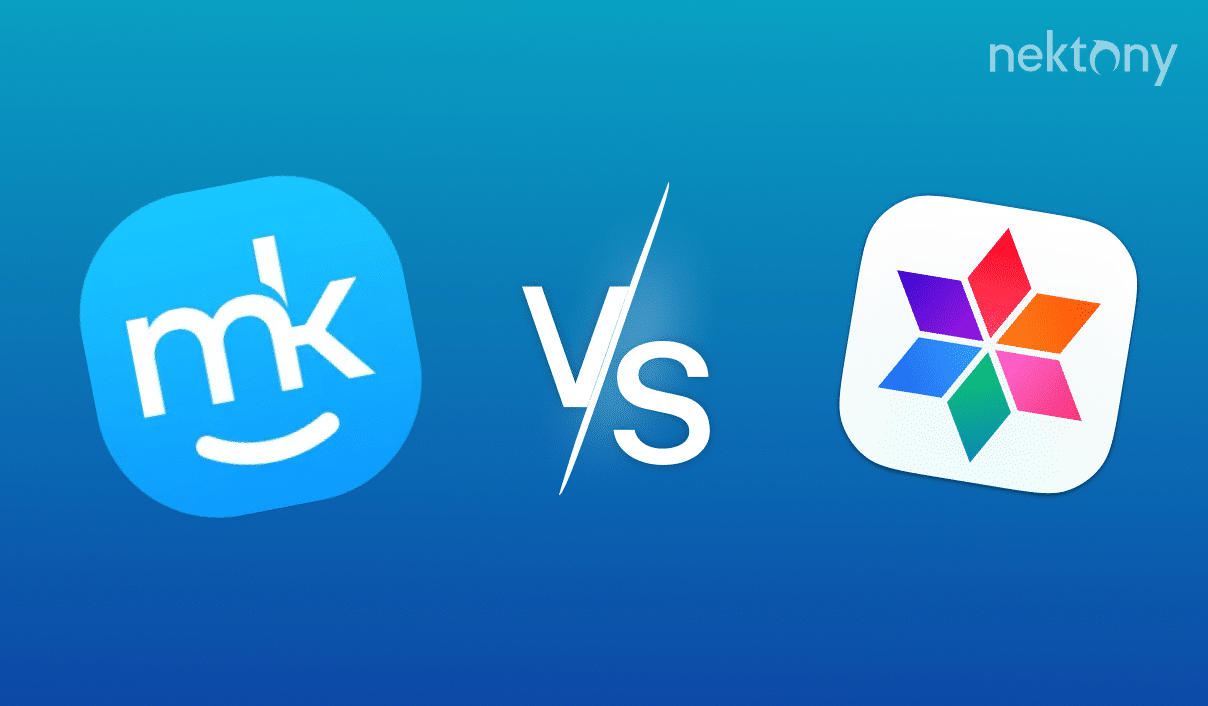 Contents:
---
MacKeeper review
Price: $95.40/year
Free trial: Yes, with limited features
Distribution: Available direct from the MacKeeper website
Requirements: macOS 10.11 or later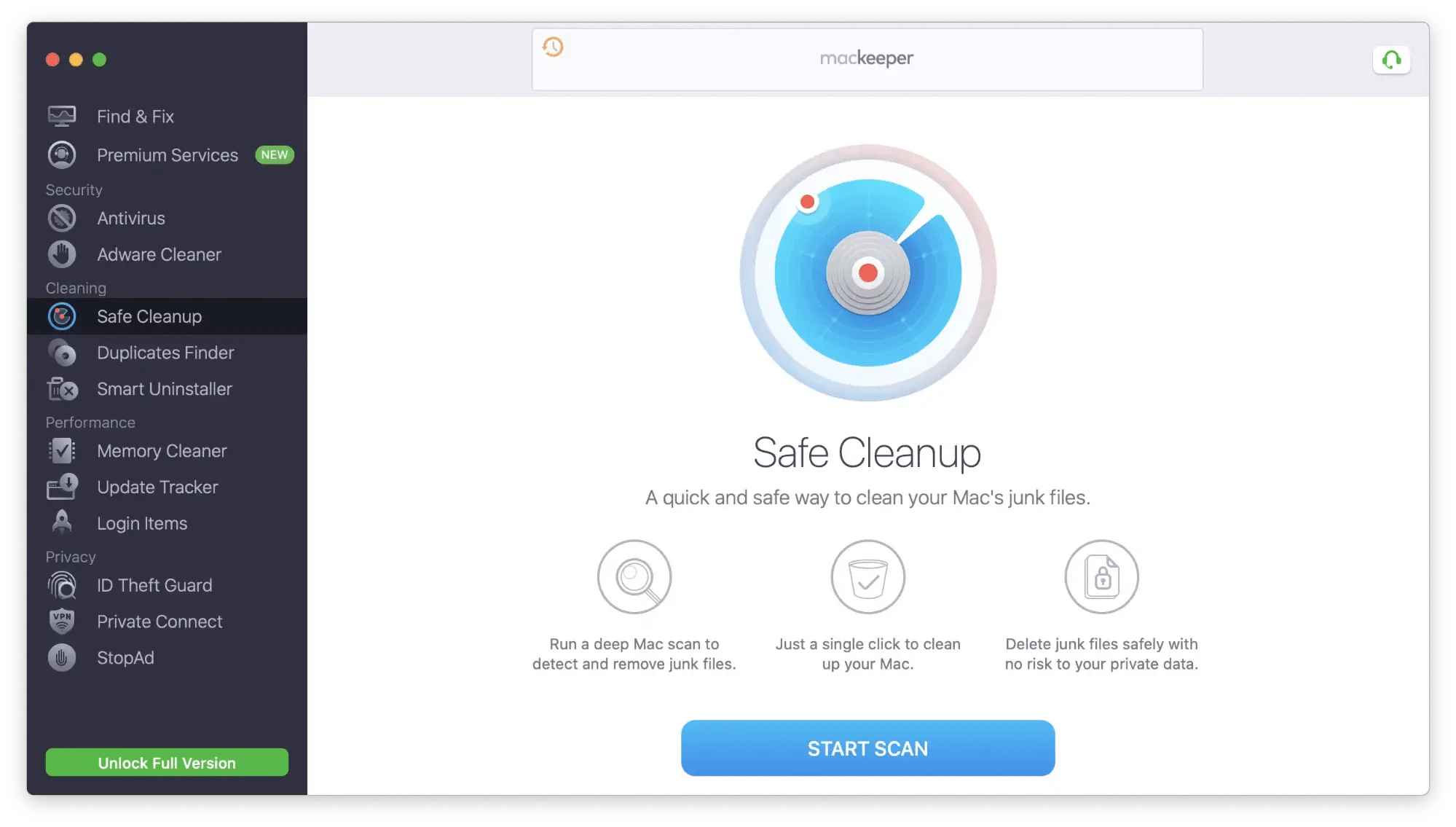 How does MacKeeper work?
MacKeeper is a software utility that provides a wide range of Mac maintenance and security features. To clean up unnecessary files on your Mac, start by using the "Fast Cleanup" option. Simply click "Fast Cleanup," and MacKeeper will search for system junk such as cache files, duplicates, and other unnecessary files. Once it's done, you can review the scan results and remove unneeded files. The Fast Cleanup option may help you free up a large amount of space on your disk.
MacKeeper has a user-friendly interface with a modern design. The menus and tools are well organized, making it easy for users to navigate the options and clean up unneeded files.
The best thing about this app is that it has a built-in instant chat support feature. Instead of navigating through support websites or waiting for email responses, users can simply initiate a chat session with the MacKeeper team from within the app.
Is MacKeeper safe?
MacKeeper is Apple notarized, which indicates that the app meets certain security standards for macOS. It helps to detect malware on a Mac and get rid of viruses. However, some people have had concerns about its safety. One problem is that MacKeeper uses aggressive marketing tactics, like showing lots of annoying pop-up ads. Another issue is that it can be difficult to completely uninstall MacKeeper from a Mac. These things have made many users unsure about how safe and reliable the software really is.
It's important to note that in the last couple of years, the company has made efforts to improve its practices and address customer concerns. So, you may want to give it a chance and try this Mac cleaning tool on your system.
Is MacKeeper worth it?
MacKeeper offers different pricing plans depending on how many Macs you want to use it on and how long of a subscription you need.
You can choose from a monthly or annual subscription. The cost is $95.40 for the annual subscription for 1 Mac and $14.95 per month. Additional discounts or promotions may be available at different times. Additionally, the company offers a good price for a family package of 3 Mac licenses.
MacKeeper also provides a free trial with limited features, so you can try it and see how it suits your needs before purchasing the app.
According to the company's Privacy Policy, users have a right to request a refund, which may take up to ten days to process.
MacKeeper offers a range of tools for system cleanup, malware protection, performance optimization, data recovery, and more. Taking this into account, these features provide good value for the cost.
MacKeeper key features
Deleting system junk, cache files, duplicates, temporary files of deleted apps, etc.
Real-time protection to help safeguard your Mac from malware attacks
Performance optimization tools: RAM cleanup, startup item management
Notifications of available updates and security patches for your installed applications
Pros
✓

Comprehensive feature set

✓

Malware protection features (antivirus and anti-malware options helping to keep your Mac safe from malicious software)
Cons
𐄂

Aggressive marketing tactics to push users to buy the app

𐄂

Mixed performance results (while some users report positive results and improved system performance, others have reported that the app negatively impacted system speed)
---
Price: $29.95/year
Free trial: Yes, the trial provides access to all features
Distribution: Buy and download from the official website
Requirements: macOS 10.13 or later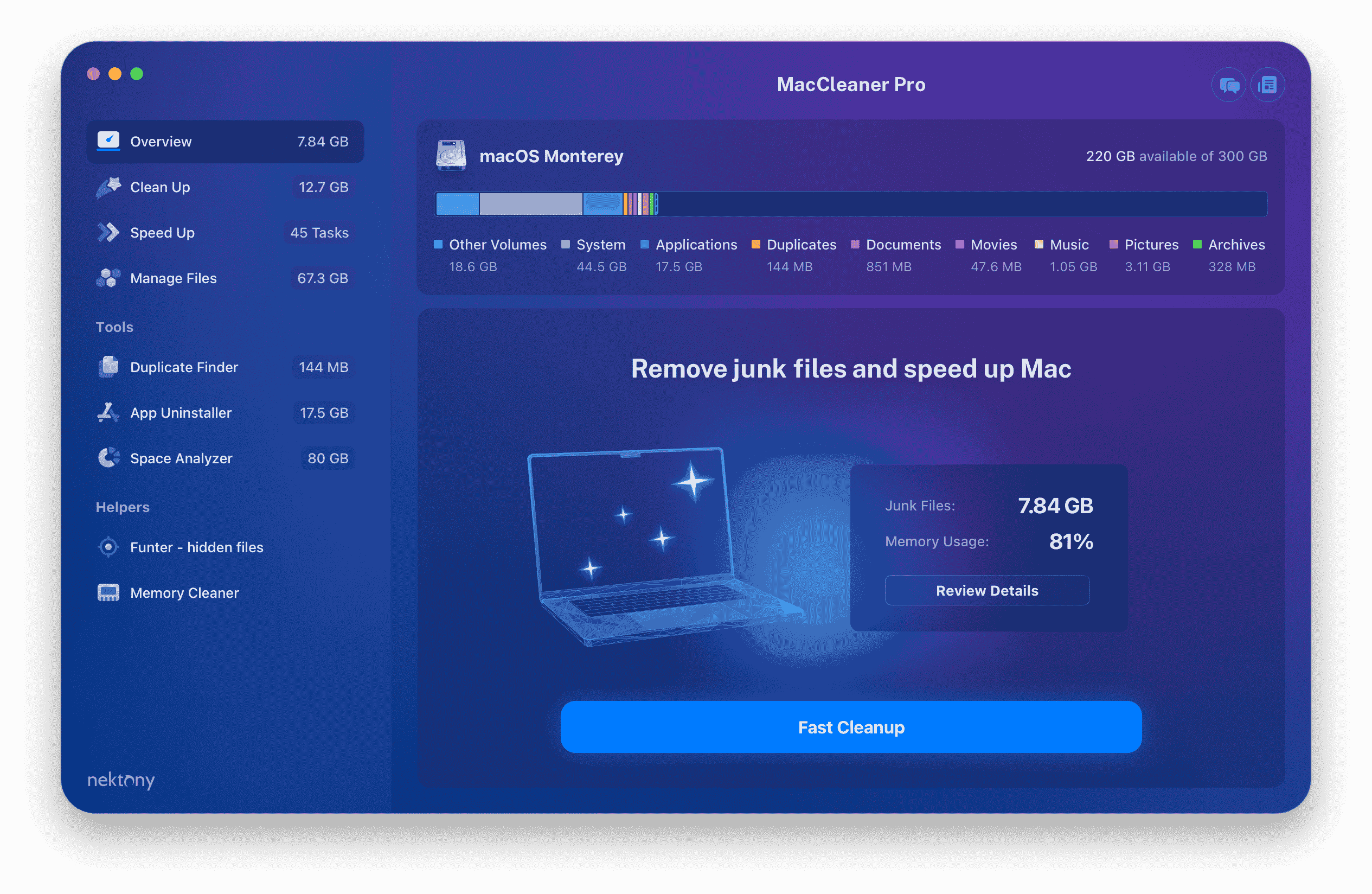 How does MacCleaner Pro work?
MacCleaner Pro offers a wide range of functions, including cache clearing, duplicate file deletion, application uninstallation, hard disk analysis, RAM cleaning, and more. As soon as you launch this Mac cleaning tool, it presents an overview of your disk, along with a breakdown of file types consuming storage space. In the left panel, you can choose whether you want to clean up your Mac, speed up your Mac or manage your large files.
MacCleaner Pro is a software bundle, and it offers various tools for those who want to dive deeper and take control of all aspects of their Mac's performance:
App Cleaner & Uninstaller
Duplicate File Finder
Disk Space Analyzer
Memory Cleaner
Funter (shows and finds any hidden files on your Mac, which Spotlight never shows)
Each app in the bundle allows you to professionally and seamlessly analyze your Mac and get rid of all unnecessary files. You simply need to select the tool from the left sidebar and click to launch it. With the tools from the bundle, you can perform a deeper cleanup of your Mac and find and delete more junk files.
Is MacCleaner Pro safe?
MacCleaner Pro was developed by Nektony, which started as a software development company in 2011 and has always specialized in Mac cleanup utilities. The company has gained a positive reputation in terms of safety.
MacCleaner Pro is Apple notarized, which means the app is safe and trusted, meeting all Apple's security standards. The software is regularly updated and optimized for new versions of macOS, which means great new features and design improvements are constantly being released. Additionally, Nektony has received good reviews on reputable platforms like Trustpilot. Overall, based on the available information, MacCleaner Pro and all of Nektony's applications are generally safe to use.
Is MacCleaner Pro worth it?
MacCleaner Pro offers excellent value at a price of $29.95 per year for one Mac license. For those who prefer one-time purchases, Nektony provides just such an option at a good price. The best thing is that you can try every feature in the app for free for two days before making a purchase.
MacCleaner Pro provides everything you need to keep your Mac clean and working smoothly. With such a comprehensive set of tools that cover various aspects of system health and maintenance, MacCleaner Pro comes highly recommended.
MacCleaner Pro key features
Modern user interface with well-organized options, making it easy to navigate and utilize its features
Detection of both duplicate and similar files. Additionally, it lets users merge duplicate or similar folders for better organization of your Mac storage
Disk space usage diagram to help locate and delete large files, freeing up valuable storage space
Different pricing options, including one-time payment and cost savings in the long run
Pros
✓

Six professional tools for a deep Mac cleanup

✓

Hidden files finder

✓

Good developer reputation

✓

Full-featured 2-day free trial

✓

High-star rating on Trustpilot
---
MacKeeper vs. MacCleaner Pro – Comparison table
| | | |
| --- | --- | --- |
| Clean caches and logs | | |
| Clean language resources | | |
| Clean Mail attachments | | |
| Clean DMG files | | |
| Disc space visualizer | | |
| Clear RAM | | |
| Uninstall apps | | |
| Manage startup items | | |
| Manage and remove web browser extensions screenshots | | |
| Find and remove duplicates | | |
| Find and remove similar media files | | |
| Merge folders | | |
| Find and remove screenshots | | |
| Find and remove screenshots | | |
| Find and remove hidden files | | |
| Remove malware | | |
| Shredder | | |
| Application reset | | |
| Free Trial | Limited set of features | All features available |
| Price | $95.40 per year subscription | $29.95 per year subscription |
Conclusion
If you're looking for a good Mac cleaning tool, choosing between apps with nearly identical options can be challenging. While MacCleaner Pro and MacKeeper share many features, they have different prices and different strengths. If you seek a practical and customizable solution for all your Mac cleaning requirements, MacCleaner Pro is the ideal choice. This application offers a comprehensive suite of tools to free up storage on your Mac, delete all junk files, and optimize your system's performance.