This article provides a comparison review of two popular apps for cleaning and optimizing your Mac: Avast Cleanup Premium and MacCleaner Pro. Although both apps are designed to help you free up disk space, remove junk files, and speed up your Mac, you may be wondering which is the best Mac cleaning software. Let's explore!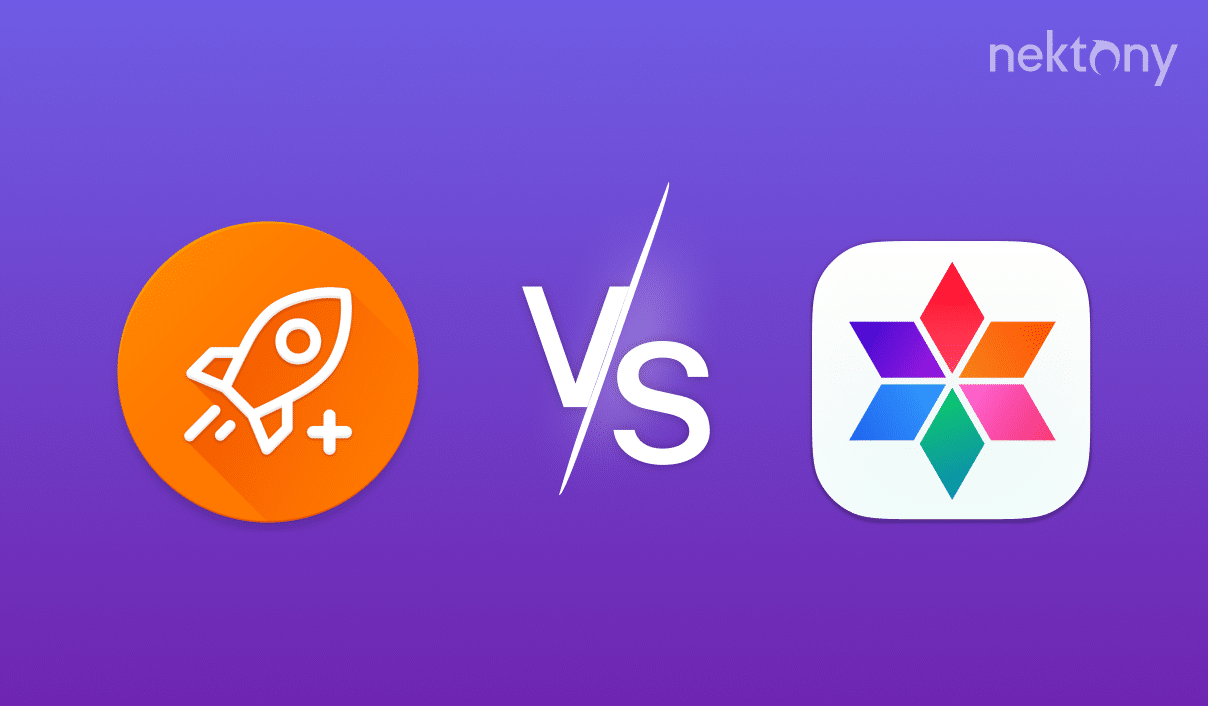 Contents:
---
Avast Cleanup Premium review
Price: $29,99 per year for a license for 1 Mac
Free trial: Yes, for 30 days
Distribution: direct from the Avast website
Requirements: macOS 10.12 and later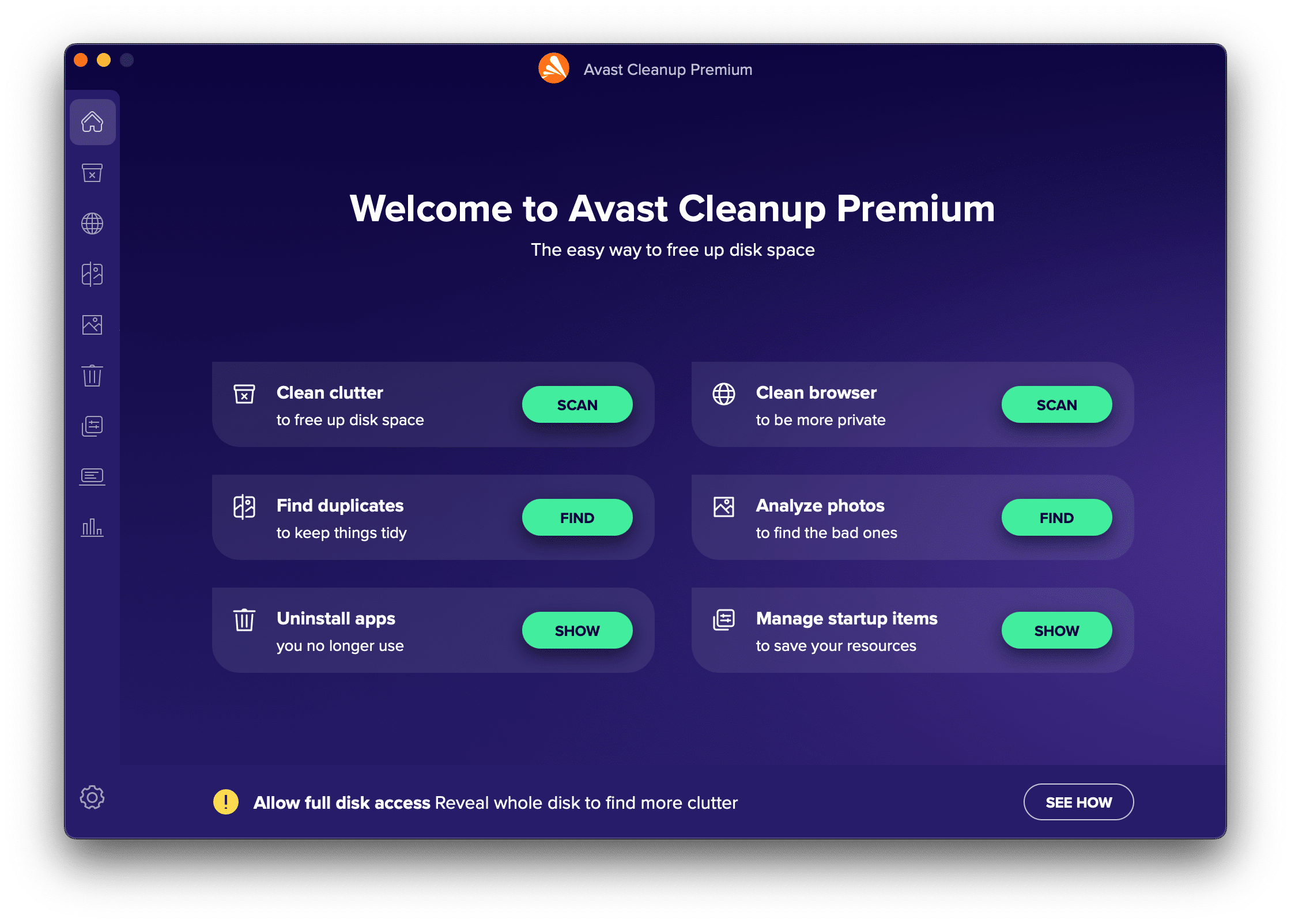 Avast Cleanup Premium overview
Avast Cleanup Premium was developed by Avast, a global leader in cybersecurity and privacy solutions for both macOS and Windows platforms. It's a powerful tool that helps you optimize your Mac's performance and free up disk space. It scans your Mac for junk or duplicate files, outdated apps, and other items that can slow down your system or take up valuable storage. You can either review the scan results and choose what to delete or keep or let Avast Cleanup Premium handle everything automatically.
Once you launch Avast Cleanup Premium, you can start with the Clean Clutter feature. This feature scans your Mac for unnecessary files that are taking up valuable space, such as cache files, logs, downloads, trash, and more. You can review the scan results and choose which files to delete with a simple click.
With the Duplicate Finder feature, you can find and remove duplicate files. You can choose which folders to scan and then skim different types of duplicate files, such as photos, videos, music, documents, etc. The app's preview panel helps you view files before deleting them.
Switch to the Browser Cleaner option if you want to clean up your browser history, cookies, cache, and other data that can slow down your browsing experience and compromise your privacy.
Avast Cleanup Premium also has an Uninstaller feature that helps you uninstall applications that are no longer useful for your Mac. You can see how much space they are taking up, sort them by size, name, or last used date, and select which applications to remove completely, along with their associated files.
Is Avast Cleanup Premium safe?
When deciding to download any app on a Mac, users rightly wonder whether it's safe or not. Avast Cleanup Premium has positive reviews from many users who have tried it and found it useful and effective. Its average rating on Trustpilot is 3.9. Avast Cleanup is also Apple-notarized, meaning that it meets certain Apple safety standards. Therefore, you can trust that Avast Cleanup is safe and reliable for your Mac.
Avast Cleanup Premium pricing policy
Avast Cleanup offers subscription plans for both individual users and businesses with multiple Macs. A license costs $29.99 per year for a single Mac and $34.99 for 10 Macs. If you want to test it out before subscribing, the developers provide a 30-day free trial with unlimited features.
Although Avast Cleanup Premium has numerous great Mac cleanup features, it does fall short in terms of accuracy in detecting clutter and duplicate files. We recommend that users carefully review some files that the app shows as duplicates before deleting them. Also, it doesn't find all junk files, like caches, files in Trash, etc. For example, the Avast Cleanup tool showed that there are no files in the Trash; however, we had numerous files in the Trash folder that could be cleaned.
Pros
✓

Free trial for 30 days

✓

Finding photos with a poor quality

✓

Statistics of user's cleanup tasks

✓

Sensors and battery monitoring
Cons
𐄂

It doesn't find all junk files

𐄂

It shows similar media files as duplicate ones
---
MacCleaner Pro review
Price: $29.95 per year for a license for 1 Mac
Free trial: Yes
Distribution: direct from the Nektony website
Requirements: macOS 10.13 and later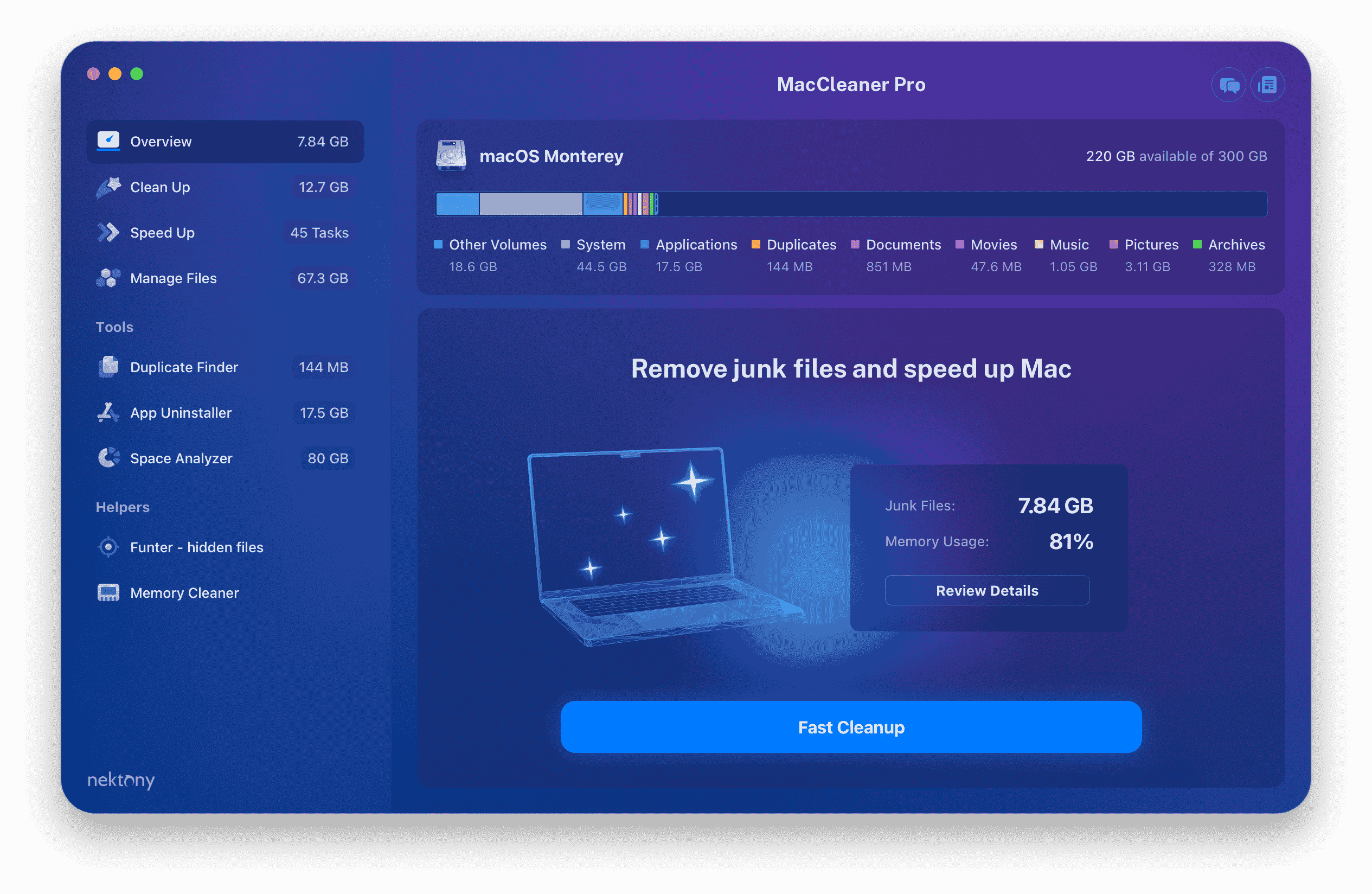 MacCleaner Pro overview
MacCleaner Pro is a bundle of apps that helps Mac users clean and optimize their systems. It was developed by Nektony, a company specialized in Mac cleanup software since 2011. The bundle comes with many features and tools to improve the performance of Mac systems. It can remove junk files, uninstall apps, manage extensions and startup items, find duplicates and large files, merge folders, optimize RAM usage, and more. In the bundle's suite, you will find 5 additional professional apps for a deep Mac cleanup.
When you launch MacCleaner Pro, the application will automatically start scanning your disk and display a bar chart showing what's taking space on your disk. In the Overview section, you will also see the Fast Cleanup option, allowing you to quickly get rid of unwanted junk.
The sidebar offers navigation options to explore additional functionalities:
Uninstall applications
Find duplicate files
Analyze disk space usage
Find hidden files
Free up RAM
Is MacCleaner Pro safe?
Nektony is a reputable company that provides high-quality software for Mac users. Among the impressive cleaning software lineup is MacCleaner Pro, a trusted application certified by Apple as both malware-free and reliable. The company's average rating on Trustpilot is 4.9. In general, users are satisfied and report about great customer support and the usefulness of the app in cleaning up their Mac and making it run faster.
Is MacCleaner Pro worth it?
MacCleaner Pro provides users with the flexibility to choose between a subscription or a one-time purchase option, ensuring a payment model that best suits their preferences. The pricing starts at $29.95 for a yearly subscription for one Mac, with additional discounts available during seasonal sales and loyalty programs.
MacCleaner Pro proves to be an excellent tool to clean up and speed up a Mac. In comparison with the Avast Cleanup app, MacCleaner Pro offers more features for Mac maintenance and disk space management. Its Duplicate File Finder shows the most accurate bite-to-bite results in comparing files, and it detects similar photos and similar music in iTunes. In terms of functionality, reputation, and positive customer reviews, MacCleaner Pro is worth its price.
Pros
✓

High-star rating

✓

A wide set of cleaning features

✓

Accurate scan results

✓

Disk space analyzing

✓

Merging folders for organizing files

✓

Hidden files finding

✓

Optimizing RAM
Cons
𐄂

Free trial for 2 days only

𐄂

No battery health monitor for a MacBook
---
Avast Cleanup vs. MacCleaner Pro – comparison table
| | | |
| --- | --- | --- |
| Rating in Trustpilot | 3.9/5 | 4.9/5 |
| Junk files clearing | (not accurate results) | |
| Disk space analyzing | | |
| Clearing RAM | | |
| Browsers extensions removing | | |
| Reindexing Spotlight and Mail | | |
| Duplicate files finding | (not accurate results) | |
| Merging folders | | |
| Similar music finding | | |
| Similar photos finding | | |
| Language files deleting | | |
| System monitor | | |
| Hidden files finding | | |
| Free trial | | |
| Price | $29.99 per year | $29.95 per year |
---
Conclusion
Both Mac cleaning apps seem to be helpful in cleaning and optimizing a Mac. However, when comparing the apps, we've found that Avast Cleanup Premium doesn't show accurate duplicate scanning results and doesn't detect all junk files. Despite almost the same price, Avast Cleanup Premium has fewer features than MacCleaner Pro. Therefore, if you are looking for the best Mac cleaner to keep your system running smoothly, we recommend choosing MacCleaner Pro from Nektony.