Looking for a reliable and efficient Mac cleaning app? This article provides a detailed comparative review of Cleaner One Pro from Trend Micro and MacCleaner Pro from Nektony. Both apps claim to offer a comprehensive set of tools to optimize Mac performance. We'll compare them in terms of features, ease of use, price, and customer support. Read on to see what's the best Mac cleaning software for your needs.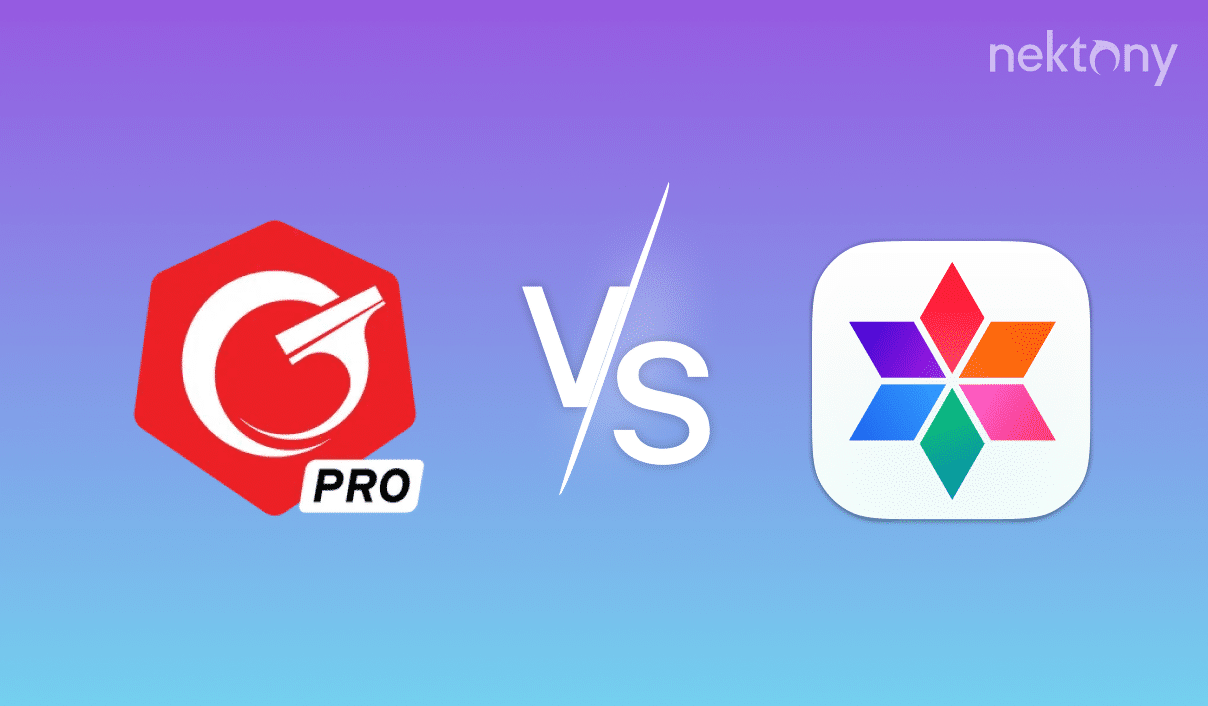 Contents:
---
Cleaner One Pro review
Price: $23.99 per year for 1 Mac
Free trial: Yes, with limited options
Distribution: Direct from Trend Micro's website or via the Mac App Store
Requirements: macOS 10.12 or later, 64-bit processor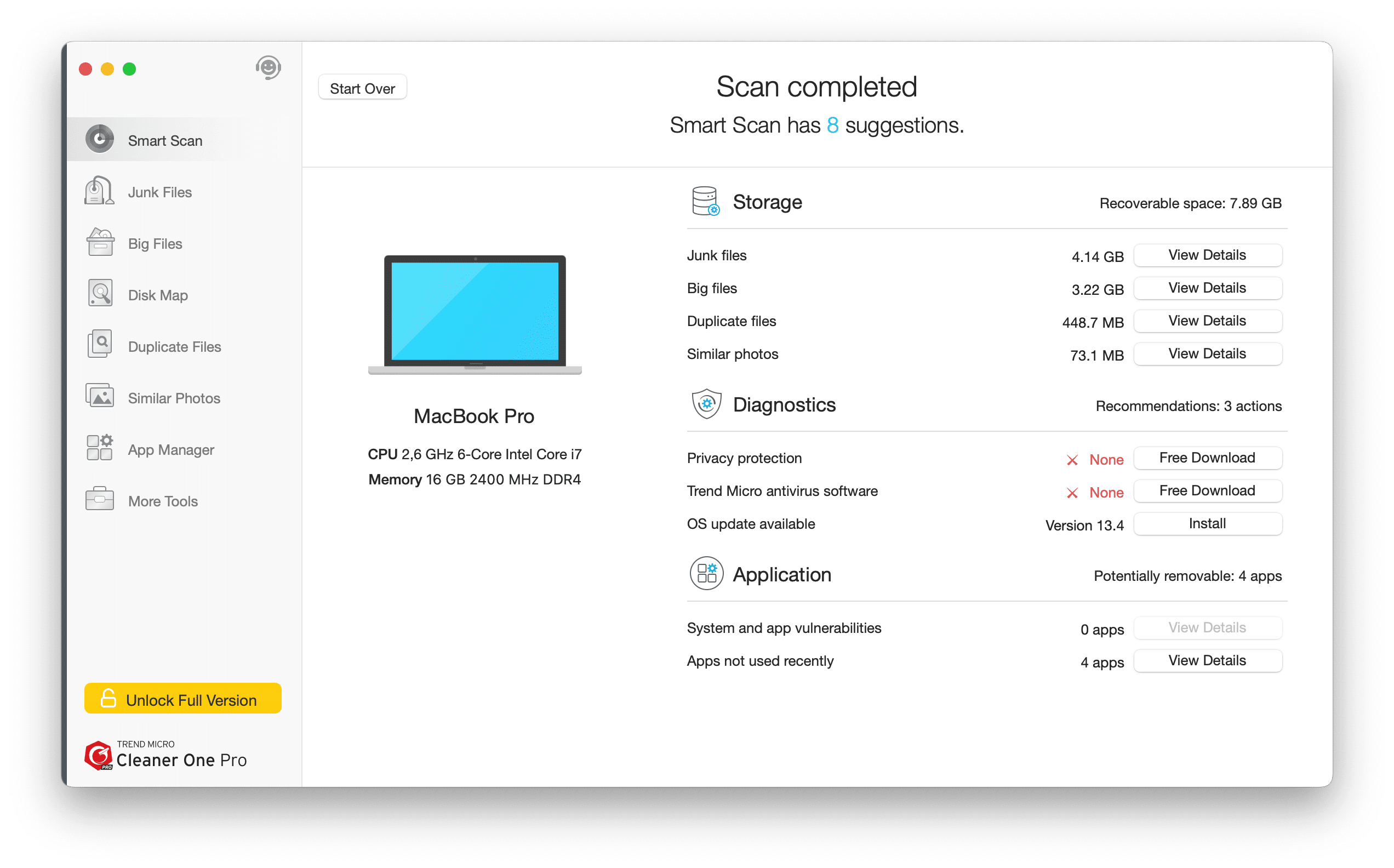 How does Cleaner One Pro work?
Cleaner One Pro is a software solution from Trend Micro that was launched in 2019. The app is designed to keep your Mac running fast and smooth by removing junk files, duplicate files, large files, and other unwanted items. You can review the scan results and delete the items you don't need with one click. Cleaner One Pro also has a disk map feature that shows you how your disk space is used and lets you manage your files to free up space.
Cleaner One Pro has a simple and intuitive interface that makes it easy to use. Once you install and launch the app, you'll see a window that lets you access a variety of features with one click.
Smart Scan
This feature gives you an overview of your disk usage, system health status, junk files, duplicate files, similar photos, and unused applications. You can click the Review button to view these categories of files in more detail. To delete unwanted files, simply select them and click the Remove button.
App Manager
If you want to uninstall apps from your Mac, choose this option from the sidebar. In this window, you'll see all your apps, and you can sort them by size or the date they were last opened to find and delete large unused apps.
Startup Manager
This feature helps you see which apps launch automatically when you start your Mac and how they affect your boot time. You can also enable or disable any startup item by sliding a toggle switch.
File Shredder
With Cleaner One Pro, you can securely delete sensitive and private files so they become impossible to recover.
Disk Map
If you want to see what's taking up the most space on your disk or in a particular folder, go to the Disk Map option. This feature helps you find and delete large files on your Mac that you no longer need. You can filter the files by size, type, or date to see how many large unused files you have and what can be deleted.
Performance Monitor
As soon as you open Cleaner One Pro, it automatically launches a system monitor, which you'll see in the menu bar. Here you can see how much CPU, memory, disk, and network resources your Mac is using and how you can optimize your system.
Is Cleaner One Pro safe?
Cleaner One Pro from Trend Micro helps your Mac run faster and smoother by cleaning up junk files, managing apps, and checking for security risks. However, the company has a bad reputation for gathering and sharing users' data without their consent in the past.
In 2018, the company was caught collecting browser history, passwords, and other sensitive information from Mac users who had installed some of their apps. This data had been sent to a remote server in China. Trend Micro apologized and removed the apps from the App Store, and since then, they have been working hard to change their policies and honor users' privacy and security.
Cleaner One Pro is Apple notarized, which means that Apple checked the app for being secure and free from malware. If you want to try this Mac cleanup software from Trend Micro, we recommend downloading it from the App Store only. This will reduce the risk of your data being stolen.
Is Cleaner One Pro worth it?
You can download Cleaner One Pro from Trend Micro's official website or from the Mac App Store. However, note that the App Store version has fewer features – for example, File Shredder and Startup Manager are missing. There's also a free trial version with a more limited set of features.
A Cleaner One Pro license for one Mac costs $24.99 per year. Trend Micro also offers a discounted family package of licenses for five Macs, which costs $35.99 per year. No one-time purchase is available for this storage cleaner app.
Pros
✓

Available to download both on the App Store and on the developer's website

✓

File Shredder option

✓

Smart Scan option

✓

App versions for macOS, Windows, and iOS
Cons
𐄂

Bad company reputation in the past

𐄂

No one-time purchase option

𐄂

No hidden files finder

𐄂

Necessity to scan different processes separately

𐄂

Limited-features trial
---
Price: $29.95 per year for a license for 1 Mac
Free trial: Yes
Distribution: direct from the Nektony website
Requirements: macOS 10.13 and later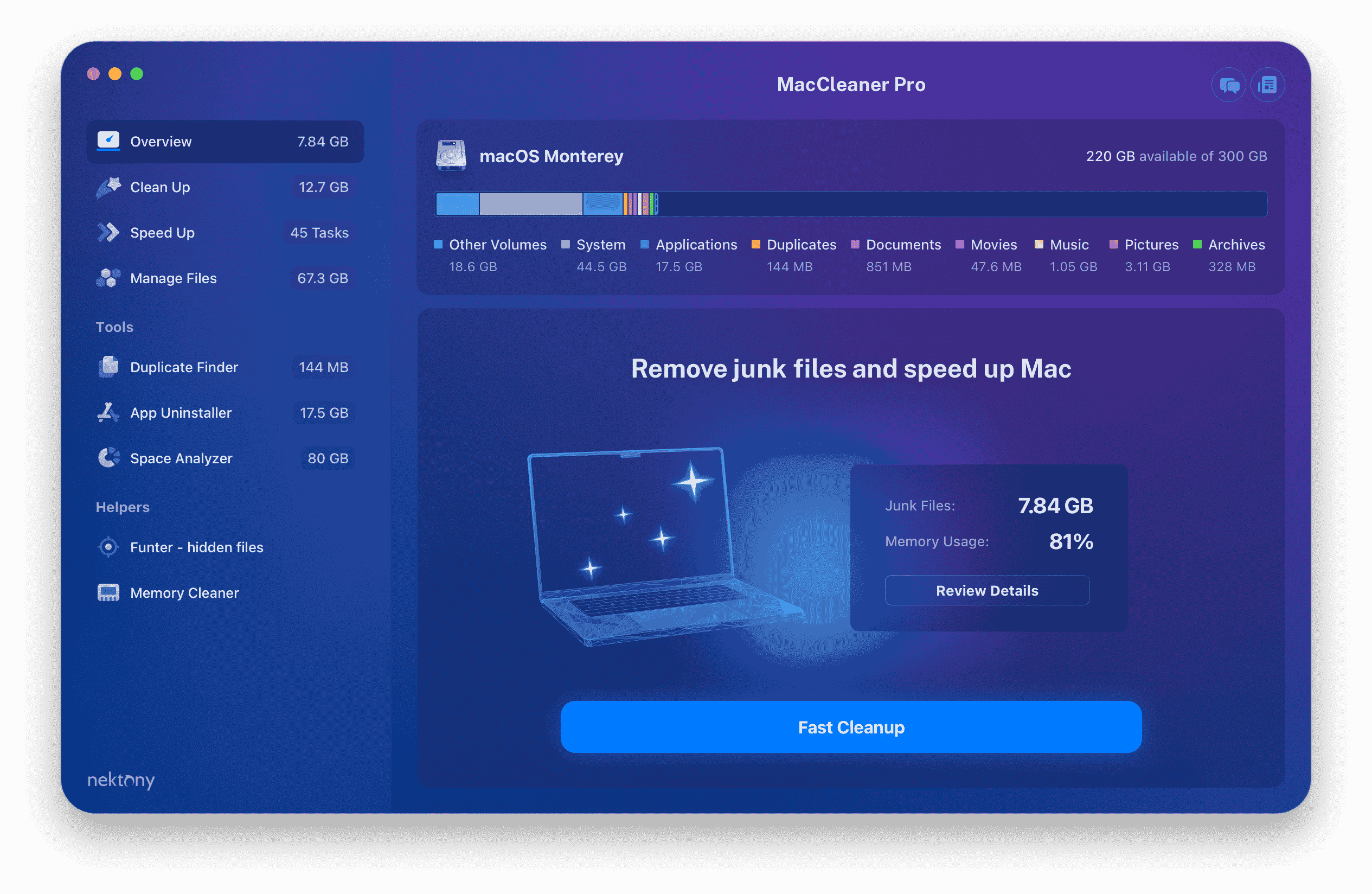 How does MacCleaner Pro work?
MacCleaner Pro from Nektony is a 6-in-one software bundle that helps you optimize and clean up your Mac. Once you launch MacCleaner Pro, it will automatically start scanning your disk for junk files and show you a bar chart with the categories of files on your disk and how much space they take up. Just click the Clean Up button to quickly get rid of all junk, including caches, logs, installation files, and files in the Trash. You can also find a variety of options to clean up or speed up your Mac in the sidebar. Those who want to find even more unnecessary files can launch additional professional apps to get more control over what's occupying space on their Mac and help it run more smoothly.
Here are some of the key features of MacCleaner Pro and how you can use them:
Clean Up
In the Overview window, you can see the volume of junk files and RAM usage. With a single click, you can reclaim valuable disk space and potentially improve system performance. If you want to dive into a deeper cleanup process and find more unneeded files, go to the Clean Up section, where you can take control of browser caches, applications' caches, language files, Mail downloads, DMG files, screenshots, and more.
Speed Up
Users suffering from a slow Mac can start making improvements right from the Speed Up section. MacCleaner Pro allows you to manage startup programs and extensions, detect heavy memory-consuming apps, reindex Spotlight and Mail, remove Internet plugins, and optimize RAM to make your Mac run like new again.
Duplicate File Finder
Duplicate files can accumulate over time and occupy unnecessary space on your Mac. The Duplicate File Finder tool from the bundle scans your system for duplicate files and provides options to review and remove them. This can help you recover storage space and keep your files organized. The tool can also find similar photos, music, and even folders, and it allows you to compare folders and merge them to organize your files.
App Cleaner & Uninstaller
MacCleaner Pro includes a component called App Cleaner & Uninstaller that allows you to easily remove unwanted applications from your Mac. It not only removes the application with its associated files, but also finds the remaining files of already-removed apps.
Disk Space Analyzer
This tool from the MacCleaner Pro bundle provides a visual representation of your disk space usage. You can see which files and folders are taking up the most space, enabling you to identify large files or folders that you no longer need. With this information, you can easily decide what to delete or move to external storage to free up disk on your Mac.
Hidden files manager – Funter
Unlike Spotlight, which never shows hidden files or files in packages, Funter from MacCleaner Pro lets you find any hidden files, as well as hide and unhide files on your Mac. However, be careful when selecting hidden files for removal or optimization. Carefully review the scan results to ensure you're not deleting any essential system files.
Is MacCleaner Pro safe?
MacCleaner Pro is developed by Nektony, a company that has a good reputation for offering safe and quality Mac software. The bundle is Apple notarized, which means it's free from malware and verified by Apple. It also has many positive reviews from satisfied users who have used it to speed up and clean up their Macs. All in all, MacCleaner Pro is a safe, reliable and trustworthy app for Mac users.
Is MacCleaner Pro worth it?
MacCleaner Pro from Nektony offers both a subscription and a one-time purchase option, making it easy for users to choose the payment model that suits them best. The prices start from $29.95 for a yearly subscription for one Mac. The app also provides seasonal sales and loyalty discounts for students, families, businesses, and users who have purchased other Nektony apps.
MacCleaner Pro is an essential tool for maintaining your Mac and freeing up disk space. It offers a wide set of features such as junk file removal, duplicate file finder, disk cleanup, app uninstaller, and other optimization tools. When comparing the app to similar software options like Cleaner One Pro in terms of functionality, reputation, and customer reviews, we can say that MacCleaner Pro is well worth the cost.
Pros
✓

Free trial with unlimited features

✓

Hidden files finder

✓

Mac extensions manager

✓

Option to merge folders and organize files

✓

High rating on Trustpilot

✓

Finds similar folders and media files

✓

Different pricing options, including subscription and one-time purchase

✓

Fast support responses
Cons
𐄂

No file shredder

𐄂

No malware scanner
---
Cleaner One Pro vs. MacCleaner Pro – comparison table
MacCleaner Pro

Cleaner One Pro

Cache and logs cleaning
Language resources cleaning
Mail downloads cleaning
Downloads folder cleaning
Disc space visualizer
RAM cleaning
Uninstalling apps
Managing startup programs
Managing and removing web browser extensions

only for Safari

Finding and removing duplicates
Finding and removing screenshots
Hidden files finding
Malware removal
Shredder
Merging folders
Confirmation window before running tasks and removing anything on Mac
Free Trial

(All features are available for 2 days)

(Limited set of features is available in the trial)

Price
$29.95


per year subscription

$23.99


per year subscription
To sum up: What is the best cleaning app for Mac?
MacCleaner Pro and Cleaner One Pro are both useful tools to clean up disk space on Mac. However, MacCleaner Pro has a higher rating from users, a reliable and trusted reputation, and more Mac disk cleanup features. Based on this, we recommend MacCleaner Pro as the better choice for most users.