Mac Startup Disk is Full? Guide on how to fix it.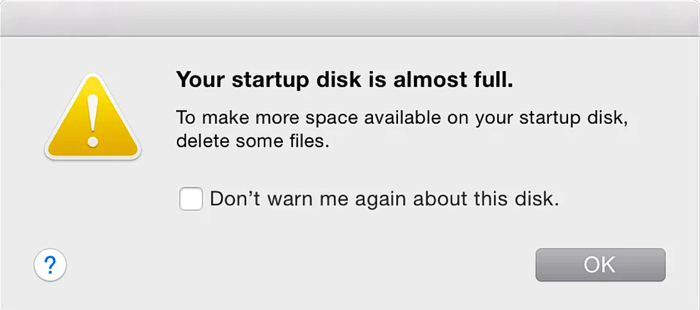 Last updated August 07, 2021
When the message "Your startup disk is almost full" appears, most users get lost. Our support team at Nektony got many emails from the users asking how to fix the full startup disk error. So based on 7+ years experience in safely cleaning Mac from junk files, we've decided to write a comprehensive guide about Mac startup disk.
Contents
1. What is a startup disk on Mac?
2. What does "Your startup disk is almost full" mean?
3. How does "Startup Disk Full" affect your Mac?
4. What to do if the startup disk is full on Mac?
5. Steps to clean up the startup disk on Mac.
#1 Tip how to quickly clean out the startup disk on a Mac
We have included a comprehensive guide below that describes how to manually clean a startup disk in 15 steps. Please note that this process can be time-consuming.
If you do not have time to manually clean up your startup disk, we recommend using MacCleaner Pro to both analyze disk space usage and free up disk space. When it comes to cleaning the system disk and preventing the "Startup Disk Full" message, this is the fastest solution.
Use the MacCleaner Pro tool to identify the largest files and remove junk files, unneeded downloads, duplicate files and folders, as well as unused applications.
What is a startup disk on Mac?
Startup disk is a Mac hard drive's partition where macOS is installed. By default, the Startup Disk is the disk named "Macintosh HD" and the user's applications, files, and any data are also stored on this disk. You can change that name but it would still be the startup disk of your Mac.
What does "Your startup disk is almost full" mean?
The warning message indicating that your startup disk is almost full appears when there is no longer enough free space on your disk. This is often due to having too many files occupying your Mac's hard drive, bringing free space to a dangerously low level. To resolve this issue, you need to free up some disk space.
Here is the message the users get when the startup disk is full: