Mac Startup Disk Full?
Calm down, there is a way to solve this problem
following all the instructions given in this article.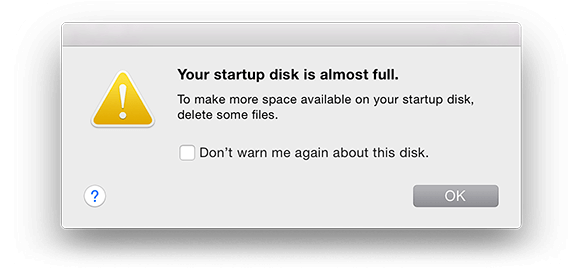 If you've got the unwelcome message "Your startup disk is almost full" then it's time to clean up your Mac. You should have at least 15% of a free space on the startup disk to run Mac properly. For this, delete useless files and from the system folders, find and organize the biggest folders on your drive. And here are some suggestions how to do that.
1. Cleanup the System Folders
Check you Trash

We frequently delete files, but do we empty Trash? If you do not empty Trash at least once per week, one day it may contain up to several Gb.
Delete Downloads

How many times have you downloaded files from the web? All of them stay unorganized in this folder. Several Gigabytes of free space as well.
Clear Caches

It is recommended to delete them once per month. Otherwise rather than speeding your Mac, they slow it down. Up to 2 Gb. Note: some apps even after removal leave cache files.
Remove Language Resources

The most misjudged space eater. Language Resources is the data stored by apps for different language localizations. So do you need iTunes translations for Vietnamese? You may have up to Gb of completely wasted space.
All these operations can be easily done by ClearDisk application. Simply press Scan button, then delete all unnecessary files.
2. Find and move the biggest folders
Startup disk is full and you need even more space? In this case, we suggest moving user files to the external hard drive. For this, use the Disk Expert application. This tool is capable of scanning custom folders, identifying biggest files and collecting files from various folders into unified "drop lists" for further movement to external hard drive.
Moving files to external drives
Desktop

Sometimes desktop contains hundreds of unorganized files, some of them may be quite huge!
Check Documents, video & images containing folders

Even if you want to keep them as memory, there is no point to store them on your startup disk (that is performed by default).
Clear iTunes folders

Especially be careful with folders having audio & video podcasts, mobile applications and music. Do you now that iTunes automatically downloads updates and new series? Imagine how much space it may take.
---
Articles you may be interested in: