One of the reasons why your Mac's performance slows down is a lack of free space on your hard drive. In this article, we will share 5 tips that will let you clean your Mac and create more space on your hard drive.
How to Clean up Mac?
1.Delete DMG files
The Downloads folder contains a large number of .dmg files needed only for installation. It is preferable to get rid of them. To find and delete .dmg files, follow these steps:
Open Finder.
 Type "disk image" in the search field and select "Kind".
You will see the list of all .dmg files on your Mac. Just skim these files and remove all unneeded .dmg and .iso files that take up space on your hard drive.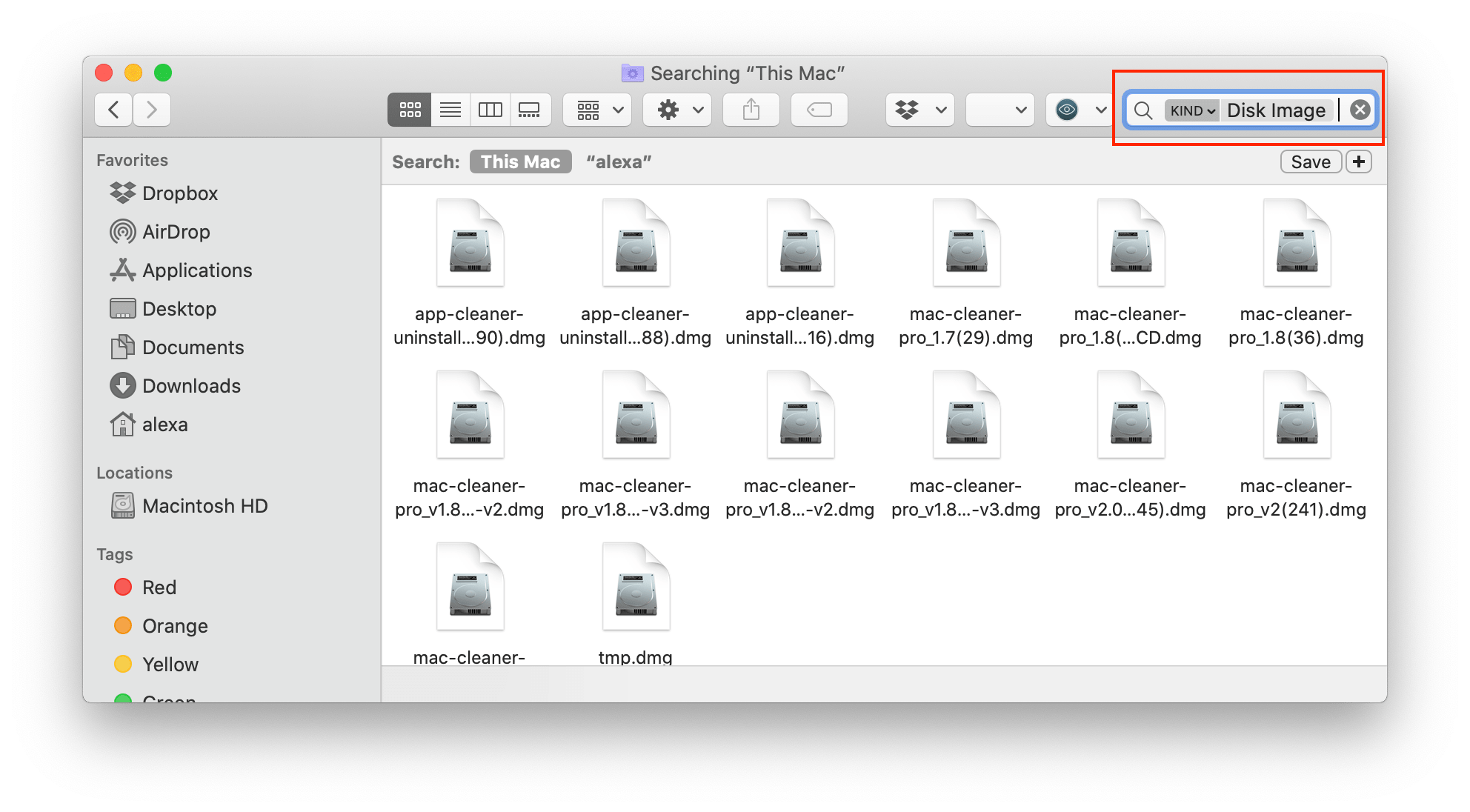 2. Remove email attachments
If you use the standard Mail application on macOS, you should know that the system saves all attachments in a separate folder on the hard disk. In just a few months of work with your mail client, the folder size can grow to several GB. The easiest way to find this folder is using the Spotlight search. In the search box, type "Mail Downloads".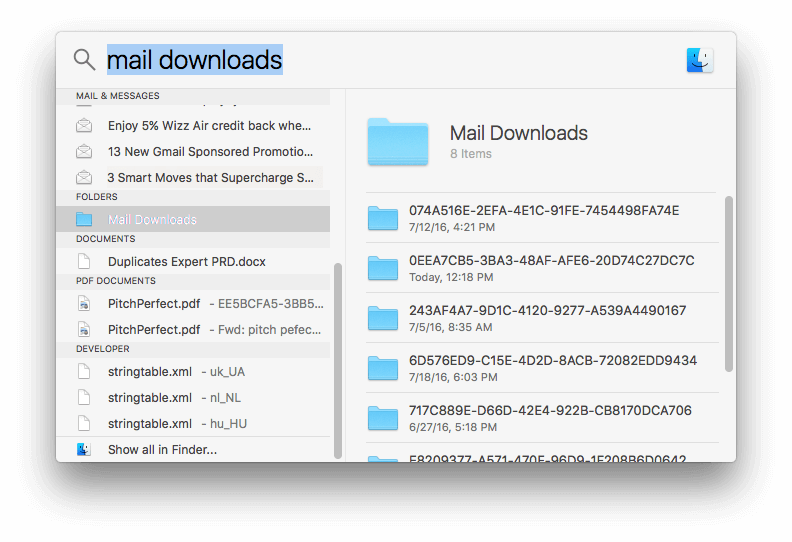 If this method hasn't delivered the desired results then use MacCleaner Pro, which allows you to find and remove Mail attachments.
Launch MacCleaner Pro.
Switch to the Clean Up section and enable the Expert mode.
Select Mail attachments and click to remove them.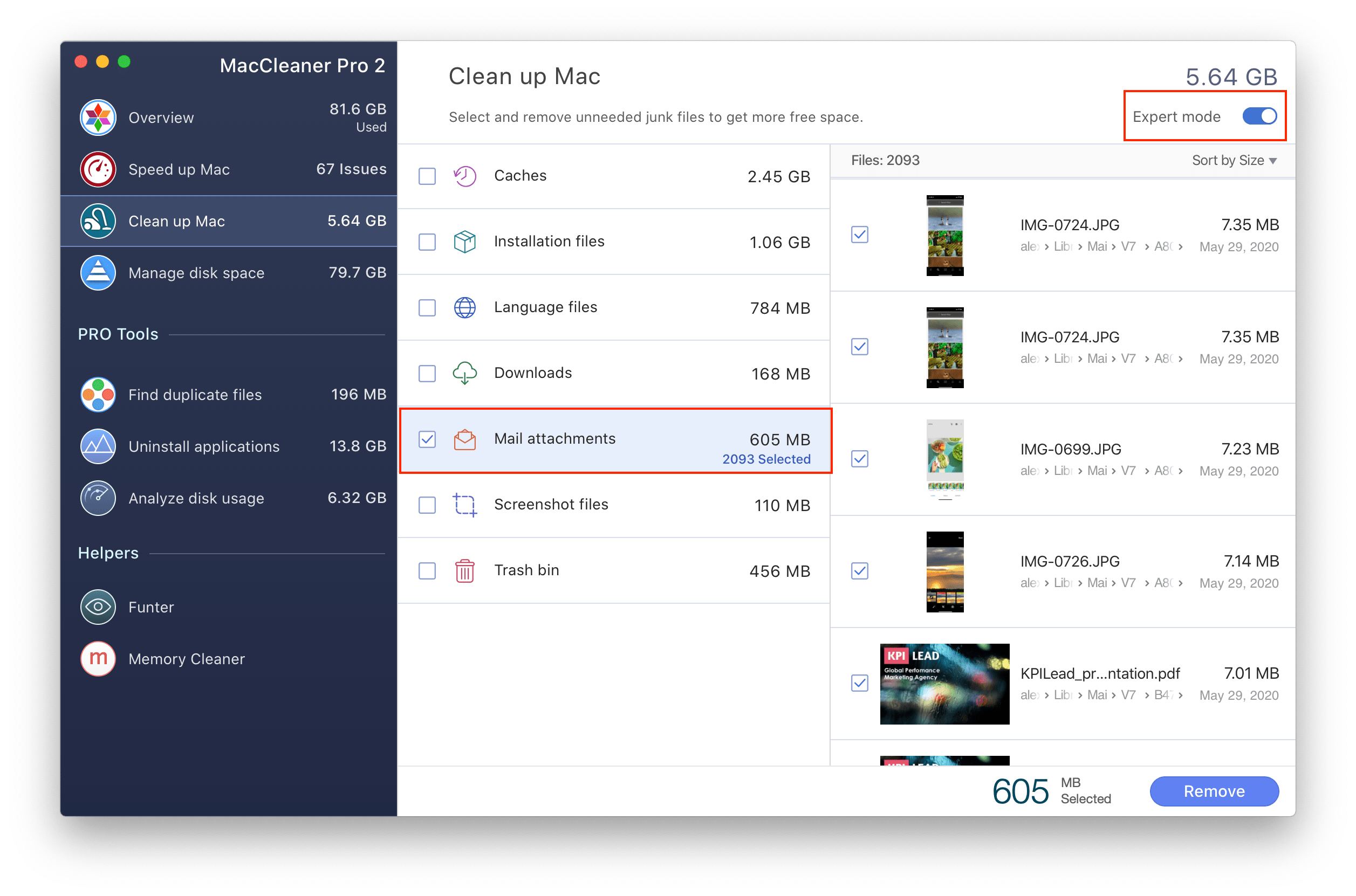 3. Remove the largest files on your Mac
You may have folders with large files, which you simply forgot about. To find them go to Finder (Macintosh HD → Users → YourName). Press Command + 2 to move to the file list display mode. Then press Command + J, click Calculate all sizes and click Use as defaults.
In the Finder, click the filter size and wait while the Finder calculates. Here is a list of files and folders sorted by size, where you can find things that take up the most space and delete unnecessary items.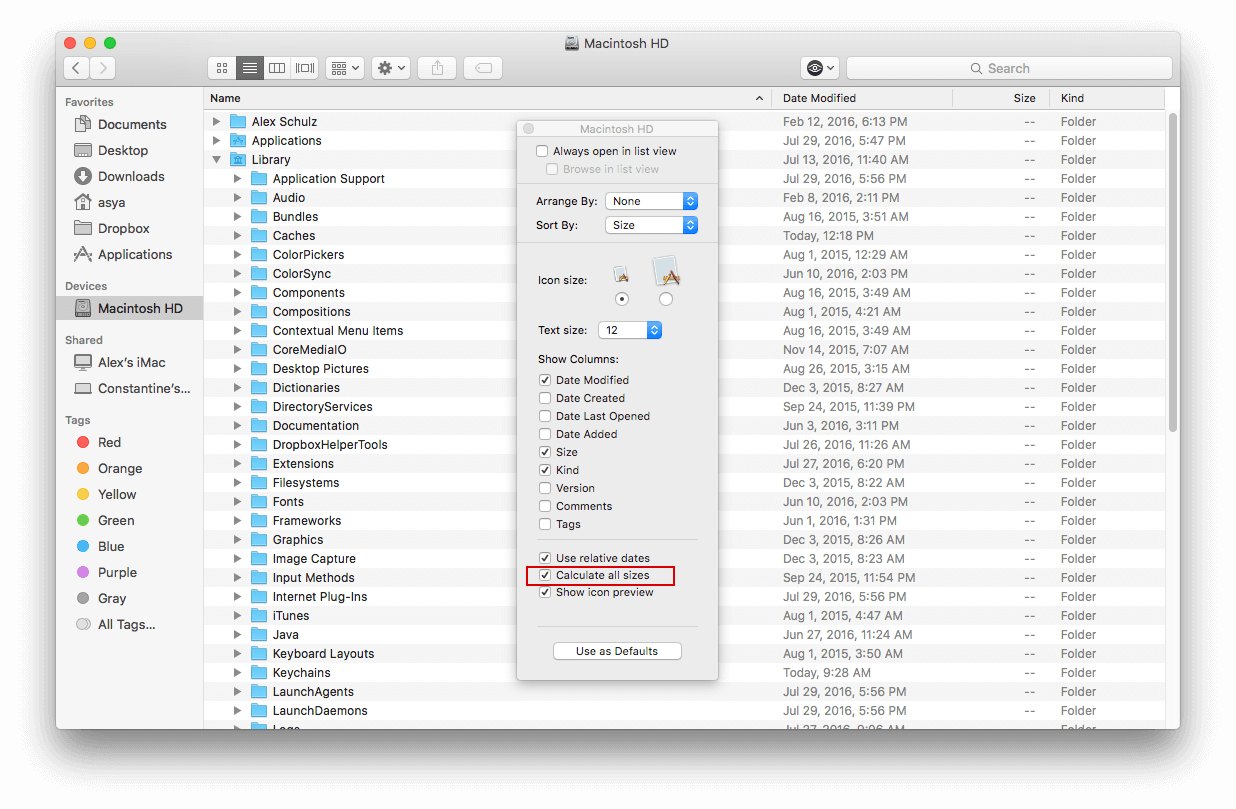 If you find this method too complicated, we recommend that you use the Pro tool from MacCleaner Pro bundle –  Disk Space Analyzer. The app allows you to analyze your disk space usage and find the largest files and folders.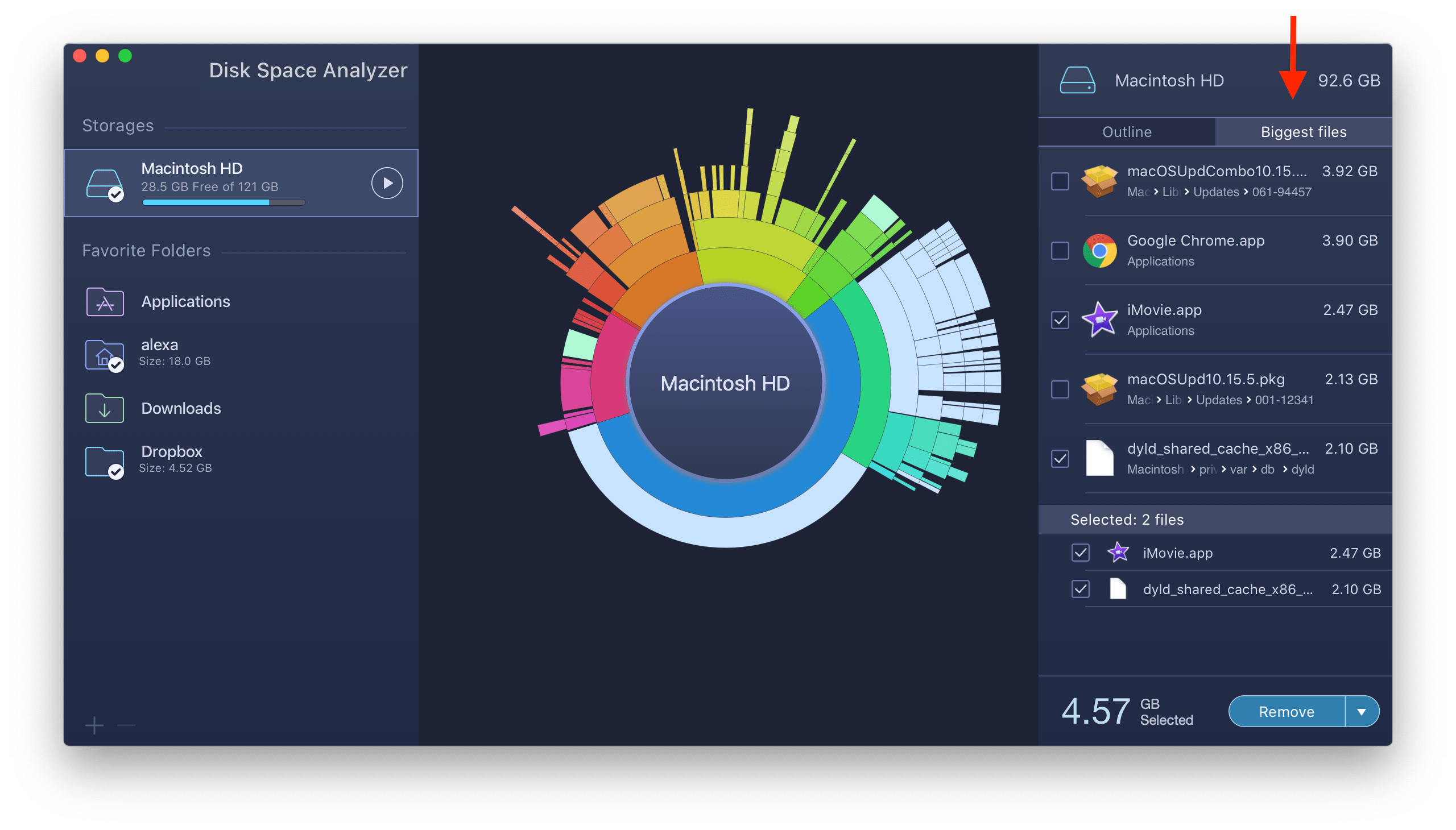 4. Clear caches and logs
macOS keeps a large number of cache files created not only by the browser but the system and applications. You can find all the cache files in the folder ~/Library/Caches folder. However, we recommend again using MacCleaner Pro for this task. The app allows you to remove cache files with a few clicks.
Launch MacCleaner Pro.
Switch to the Clean up Mac section in the sidebar.
Select caches.
Click to remove them.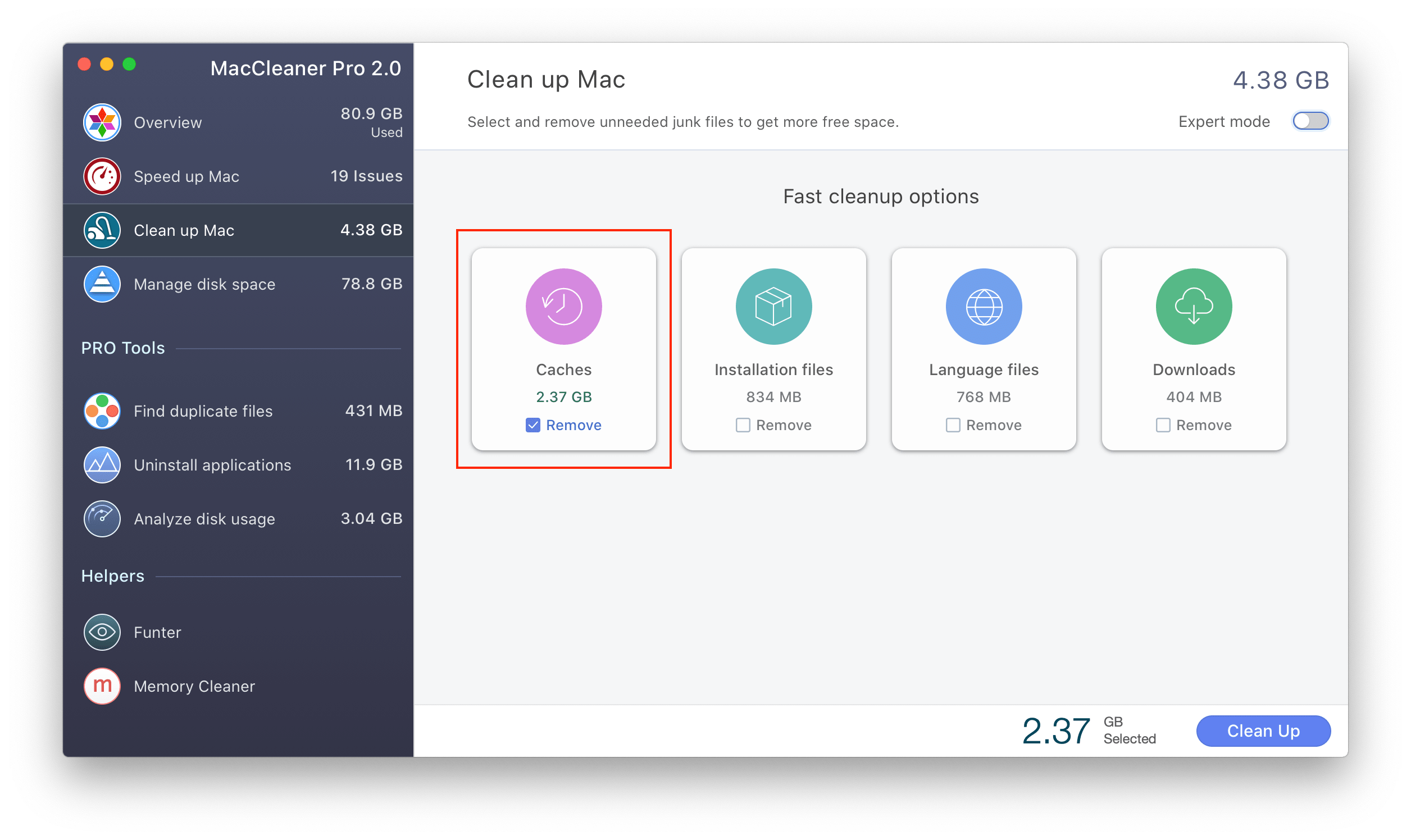 5. Uninstall unused applications
You may have a large number of unwanted and unused applications that eat up your disk space. Review them and remove unused ones. To uninstall applications correctly use a Pro tool from MacCleaner Pro bundle –  App Cleaner & Uninstaller. The app deletes all remains – service and temporary files, that can be left on a hard drive when you just trash the application.