If you check your Mac's storage usage, you may find that the "Other Storage" category takes up too much space on your drive. In this article, we will explain what this ominous storage space is, where it is located, and how to clear "Other" on a Mac.
Contents:
How to check Mac disk space usage
If you want to view storage space usage on your Mac, follow the next steps:
Click the Apple icon in the menu bar
Select About this Mac
Switch to the Storage tab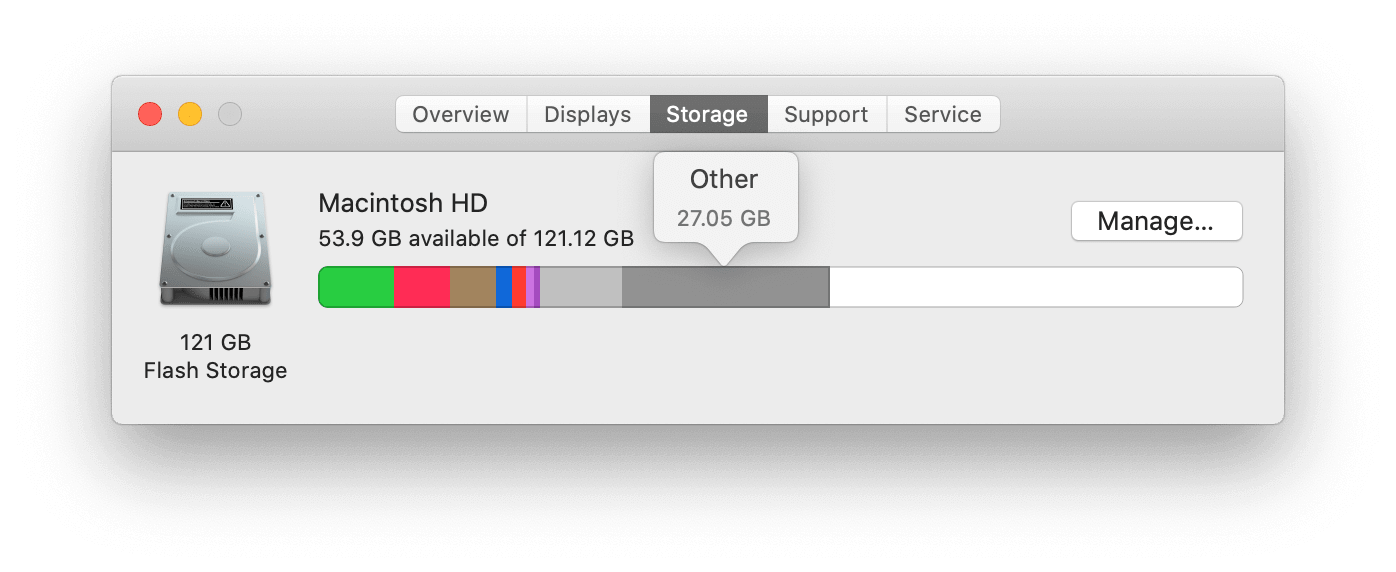 In our case, the Other Storage category takes up the most space in comparison with other categories of files.
If you have the same situation, don't worry! We are going to simplify your life and show you how to delete Other Storage. Just read on to see how easy it can be!
What is Other Storage on a Mac storage usage report
To understand what "Other Storage" means, we turn to the official Apple source, which explains this concept in the following way: "Other Storage" contains all the files that do not match the specified types on the chart, such as apps, movies, photos, audio files, or backups.
However, keep in mind that on macOS Catalina, Other Storage is not always garbage.
The "Other" category includes the following types of files:
System temporary files
macOS system folders
Archives and disk images (.zip, .iso, etc.)
Personal user data
Files from the user's library (Application Support, iCloud files, screensavers, etc.)
Cache files
Fonts, plugins, extensions
Hidden files
Other files that are not recognized by a Spotlight search
Where is Other Storage on a Mac
Most files in Other Storage are located in the hidden Library folder. By default, Apple keeps files from Other Storage hidden from users for security reasons. The hidden status is intended to prevent the deletion of important files, which can cause problems with applications or system operations. So please, do not touch files in the Library if you don't understand what they are used for.
You can get to the Library folder by following these steps:
Open Finder
Click Go in the Menu bar
Select Go to Folder
Navigate to the following directory: ~/Library
Here you will find all support files that we mentioned above, which are included in the "Other" category.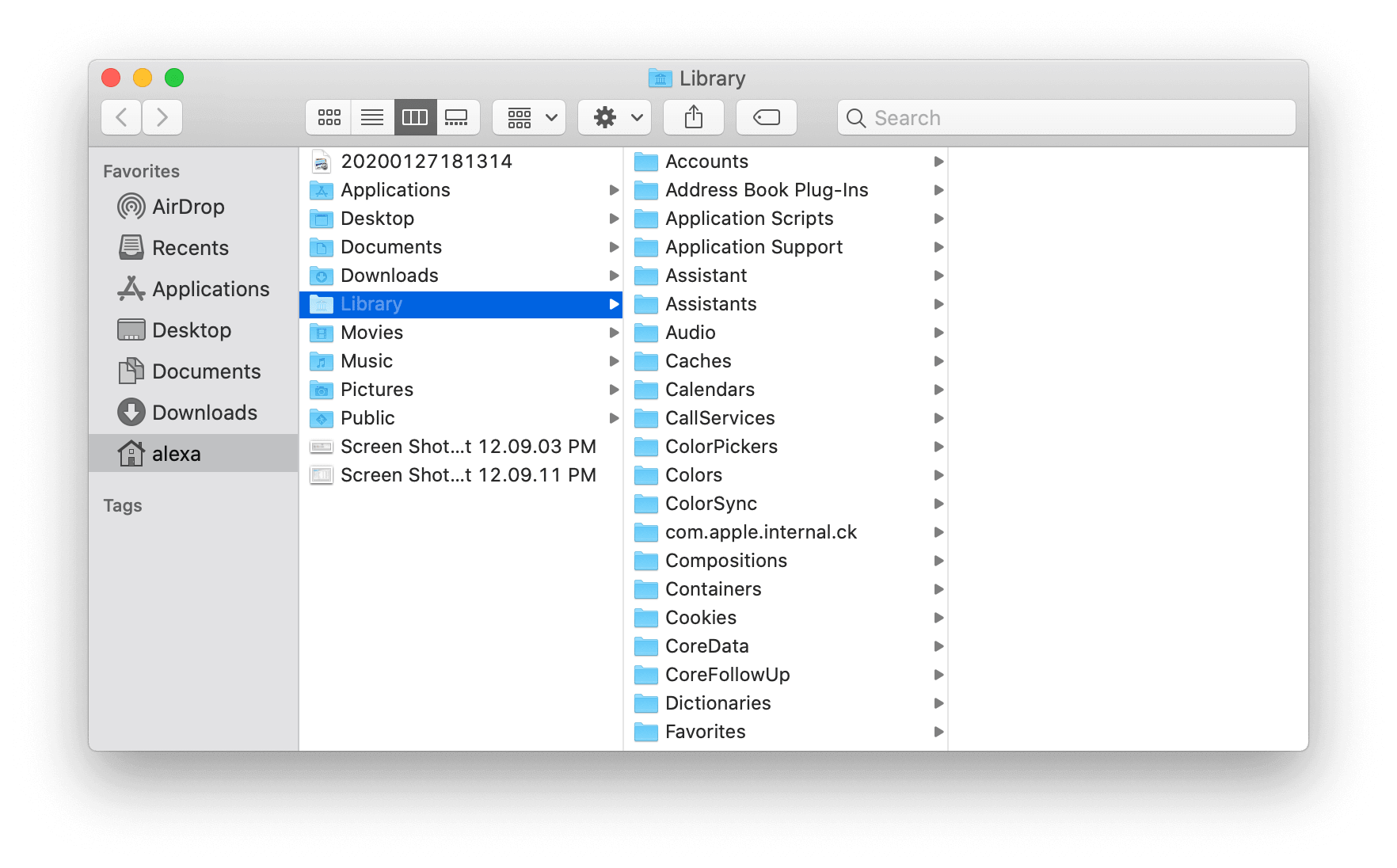 How to delete Other Storage on a Mac
Most files in the "Other" category are not wasteful in nature. They support apps and system processes to help them run efficiently. Over time, however, they can clog up your drive and make your Mac run slowly.
Now we will share some steps to clean up your Mac, clear unneeded junk files, and make it work smoothly again. You can choose the manual process or use the special software tool, MacCleaner Pro.
1. Clear cache from Other Storage
As we mentioned above, most files in the Other category are located in the Library folder. So let's navigate to this folder and find the cache. We will show how to remove them manually.
Open the Finder
Press ⌘Cmd + ⇧Shift + G
Copy and paste the directory ~/Library/Caches

Go inside each subfolder and remove cache files from your apps.

Also check the following folder for caches: /Library/Caches (without the "~")
2. Remove installation files
By default, all files downloaded from the Internet are stored in the Downloads folder. Most likely you will find installations, .pkg files, and .dmg files in this folder. Explore the Downloads folder and remove all unnecessary files from there.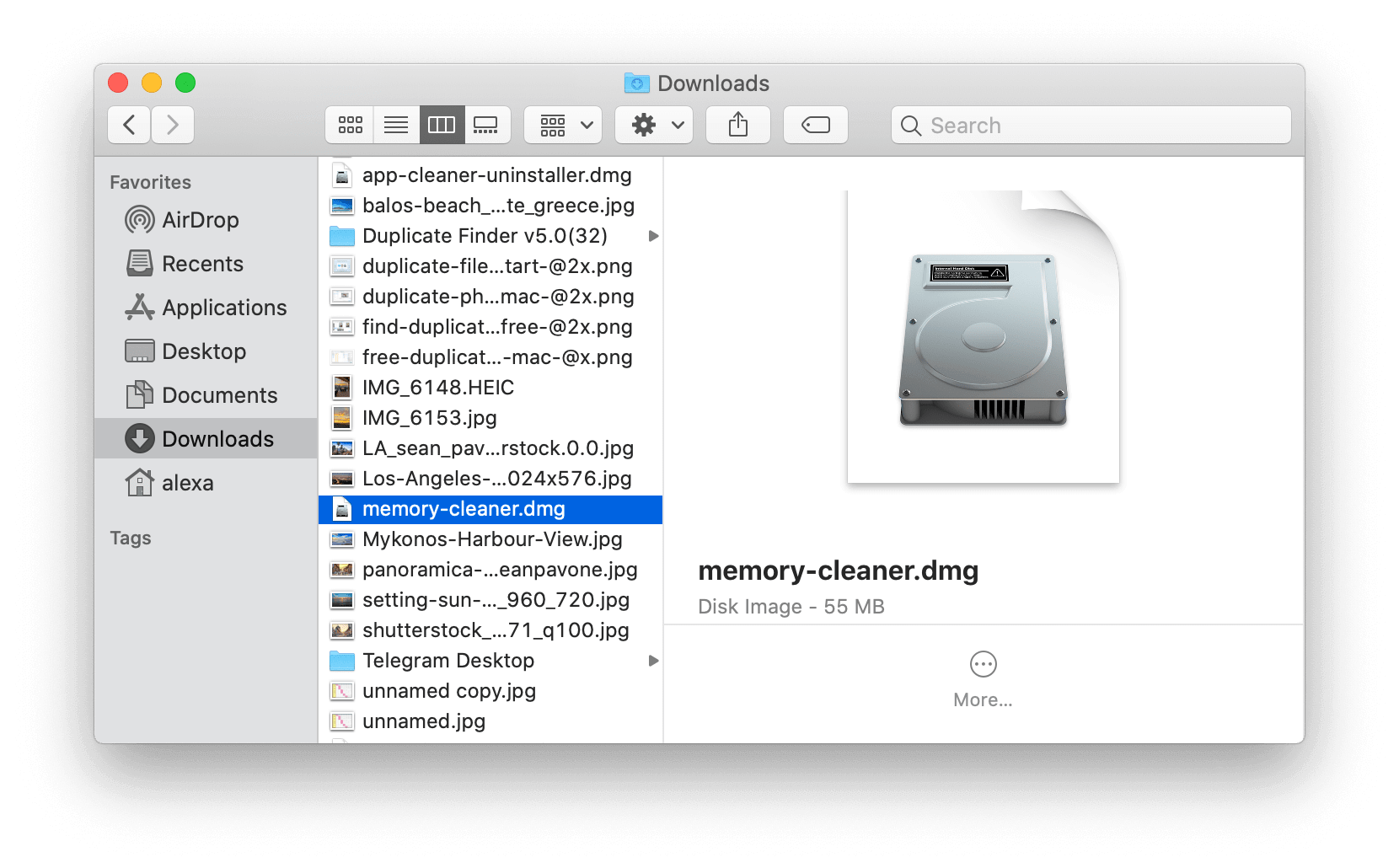 Note that the two tips above can be done in a quicker and easier way if you use MacCleaner Pro.
Launch MacCleaner Pro.
Switch to the Clean up Mac section. section.
Select Caches, Installation files and other types of junk files you would like to remove.
Click to clean up selected files.
3. Remove extensions from Other Storage
The extension files, such as plugins, installation files, screensavers and web browser extensions, take up useless disk space on your Mac. Moreover, some extensions may have a significant negative effect on your system, making it work slowly. We recommend finding and getting rid of them. Read on to learn how to remove different types of extensions.
Remove web browser extensions
Usually, each web browser provides its individual steps to install and remove extensions. Please read the articleHow to delete browser extensions on a Mac.
Remove screensavers
The screensavers usually don't take up much disk space. However, it is important to clear every unnecessary file from your Mac.
Here's where you can find and delete screensavers:
Open Finder
Click Command + Shift + G
Navigate to the subfolder ~/Library/Screen Savers and click Go
In this folder, you will see the screensaver files. Move them to the trash.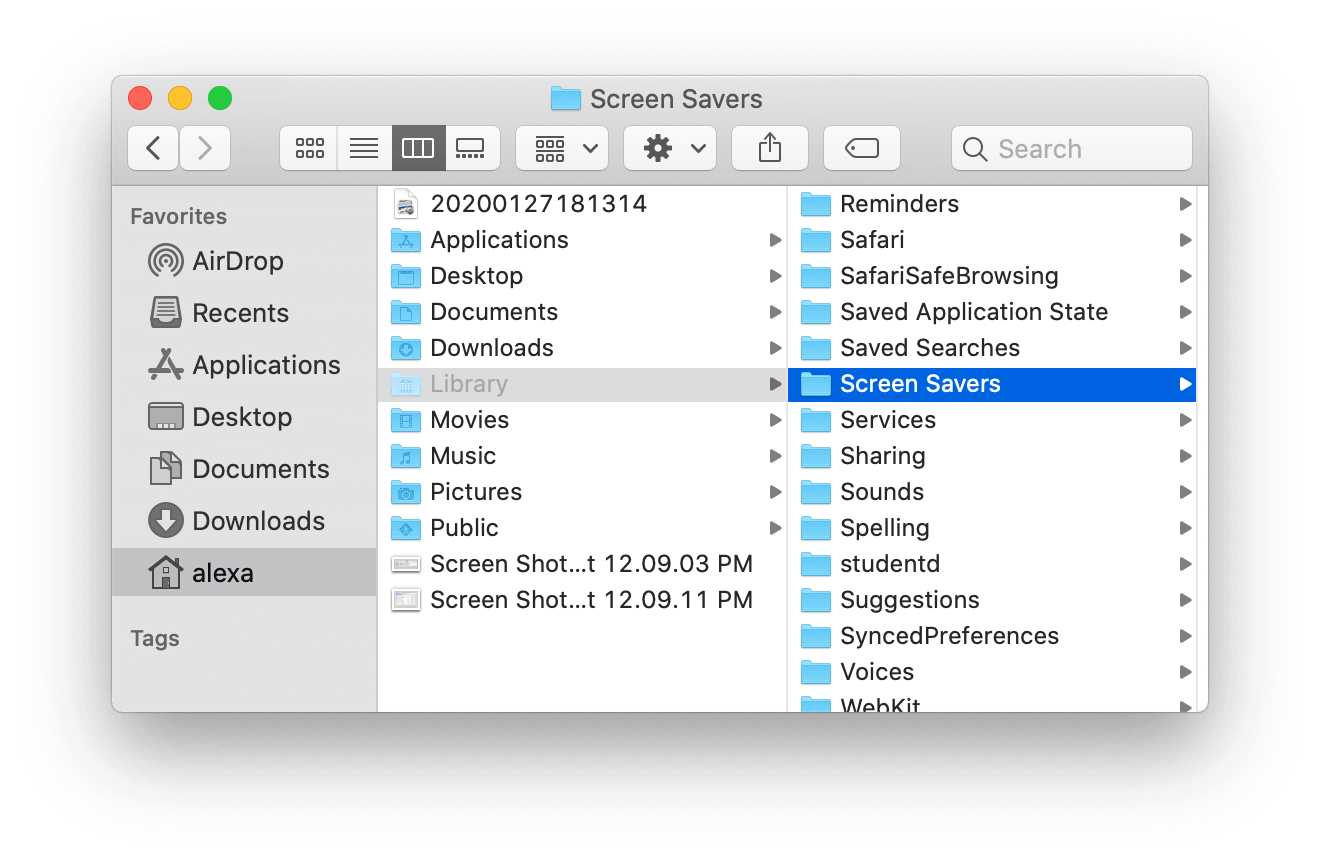 Remove plugins
Here is how to find and delete Internet plugins from Other storage:
Open Finder
Click Command + Shift + G
Navigate to the subfolder ~/Library/Internet Plug-Ins and click Go
Skim your plugins and remove unneeded ones.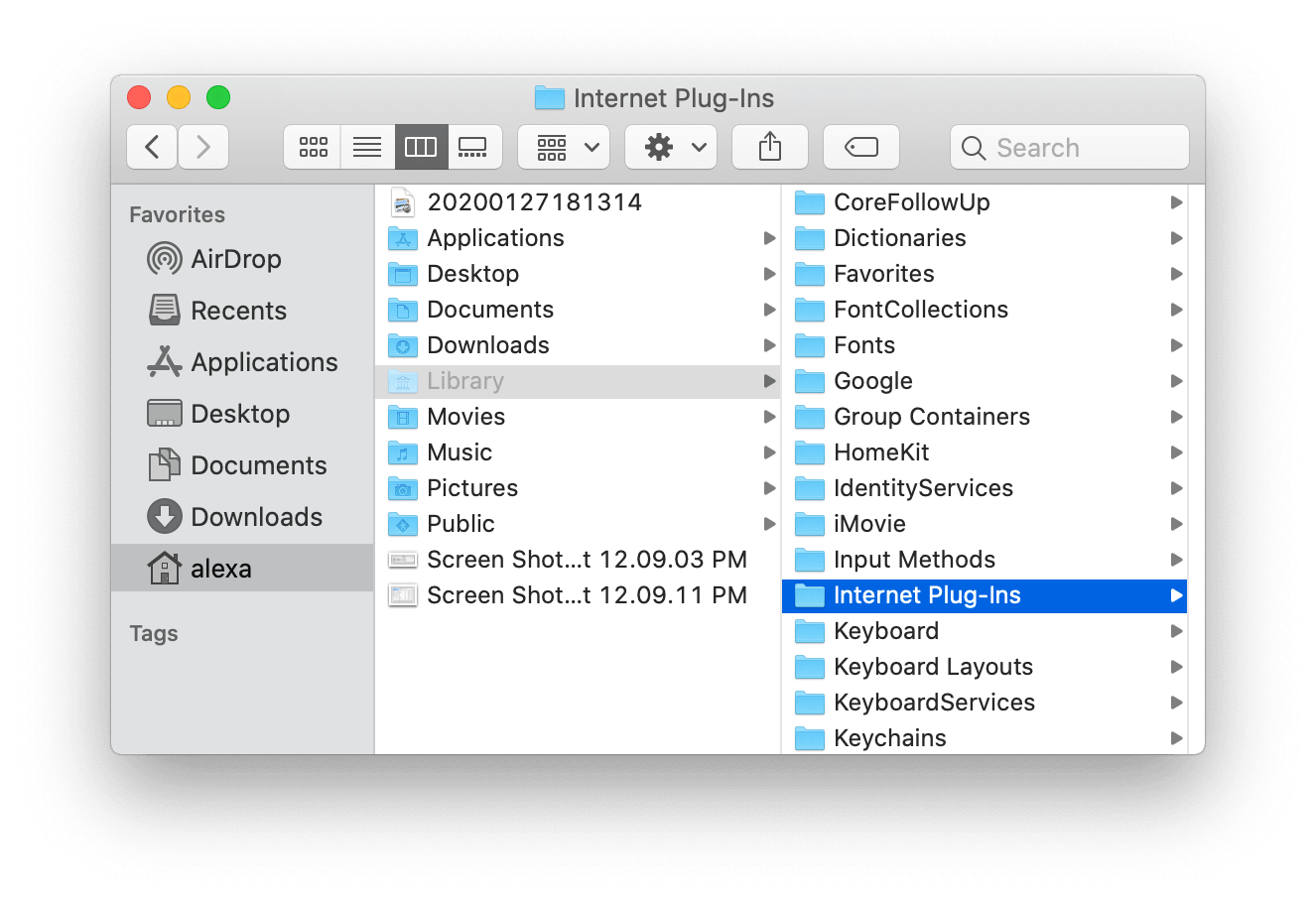 And again, instead of manually searching for extension files, we recommend using the appropriate tool from MacCleaner Pro. With this solution, you can automatically find all extensions and safely remove them.
Launch App Cleaner & Uninstaller from MacCleaner Pro.

The app will automatically scan your apps and extensions.
Switch to the Extension tab.

Select unneeded extensions.
Click to remove them.
4. Remove application support files
Besides caches, each application creates and stores other support files on your Mac hard drive, such as logs and preferences. The steps to find them are similar to finding cache files. Do the following to find and remove your apps' service files.
In Finder press Command+Shift+G key shortcut.
Navigate the following folders:

~/Library/Application support
~/Library/Logs
~/Library/Containers
/Library/Application support
/Library/Logs
/Library/Containers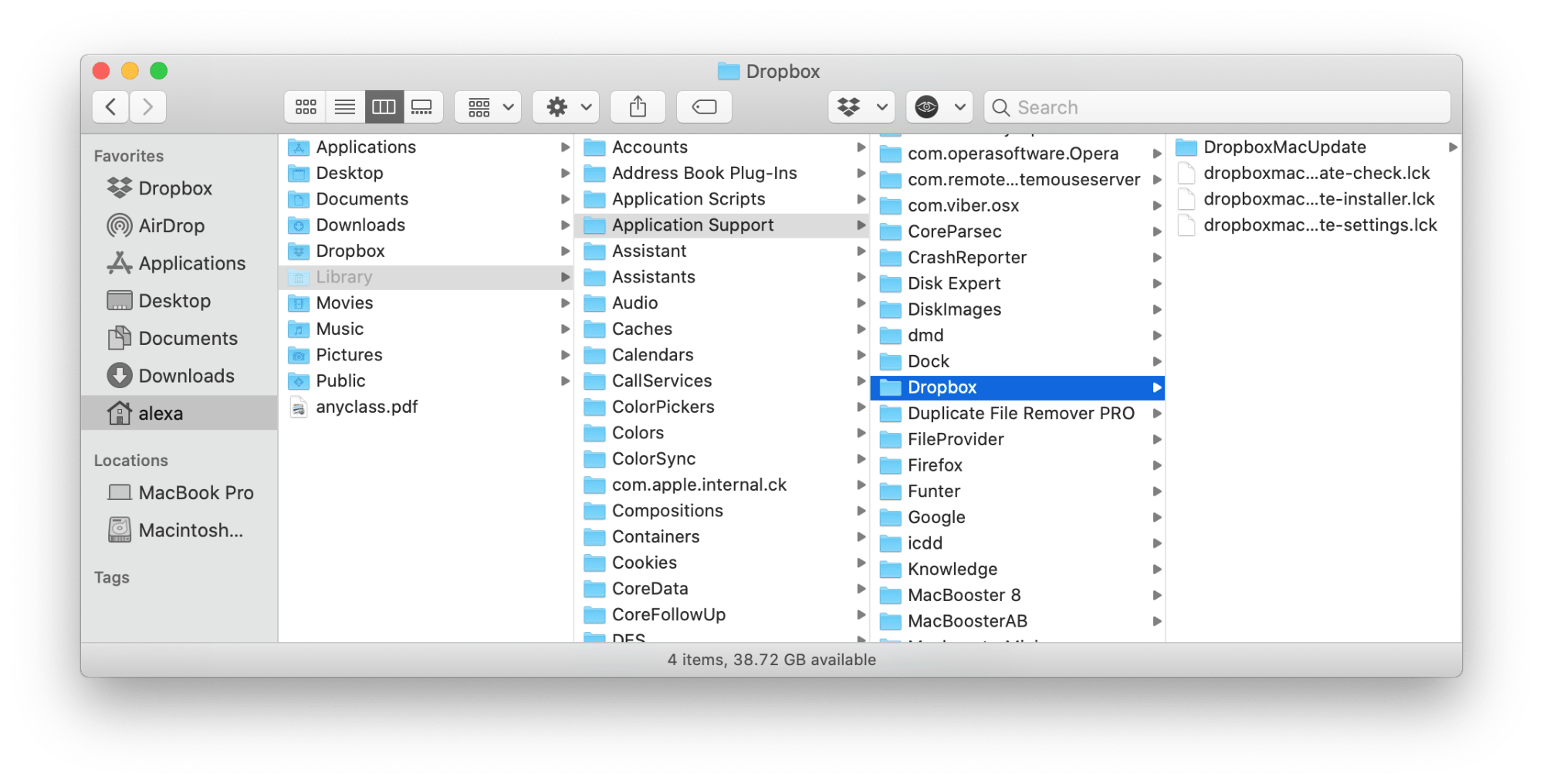 Note that with the App Cleaner & Uninstaller solution we mentioned above, you can find and remove service files with just a few clicks. The application automatically finds all support files for your programs and helps you to safely remove cache, logs, preferences and even leftovers of previously-removed apps.
Launch App Cleaner & Uninstaller and switch to the Expert mode.
Select any app from the list on the left and view all its support files in the right section.
Select all files except the executables and click to remove them.

If you want to find and remove the leftovers of previously deleted apps, switch to the Remaining files section.

5. Remove unneeded documents in Other Storage

Removing documents from Other Storage can be done through a Smart Folder Finder:

Сlick ⌘Cmd + F shortcut on the desktop
The search should be carried out in "This Mac"
Choose "Other" in the first dropdown menu

From the Attributes list, select File Size and File Extension. Click Ok

Specify the file size and type of extension. A list of searched files will appear

Delete the largest unneeded elements or move them to external storage to free up space on your Mac's hard drive

Fortunately, even in this case, you don't have to waste hours finding the bulkiest content on your Mac. Why use the manual method when there is an easy option? With the help of MacCleaner Pro tools, you can explore your hard drive in a more convenient and efficient way.

Launch the Disk Expert tool from MacCleaner Pro

Scan your Mac for the largest files and folders. It will visually display the disk space usage as a sunburst diagram and show the bulkiest content, including hidden and system files

Find files that take up the most space on your drive. Remove them or move to external storage

---

We have shared several ways to clean up "Other Storage" and get more free space on your Mac. You can manually delete files or download MacCleaner Pro to save time. If you want the fastest method, then we recommend trying MacCleaner Pro. Let us know your "Other Storage" cleanup results in the comments below.

The quickest way to clean up "Other" on Mac storage