Whether you want to make a personal project, a YouTube video, or a professional film, you need a reliable and powerful video editing app to help you achieve your vision. But with so many options available, how do you choose the best one for your Mac? In this article, we will review some of the best video editing apps on Mac, based on their features, cons and pros, and price.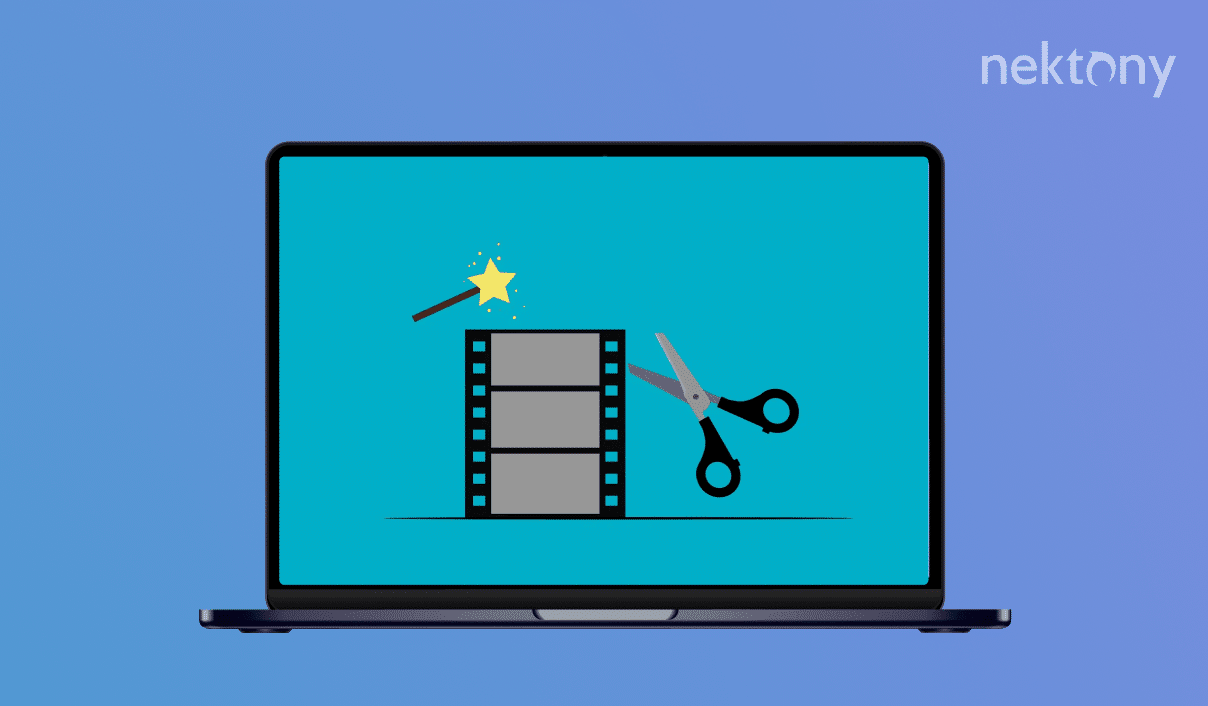 Contents:
Before we dive into the list of video editiing apps, we would like to remind you that, If you decide to test several apps, don't forget to uninstall unneeded ones. Video editor can take up significant space on your Mac and may slow down the system.
Use a free software
App Cleaner & Uninstaller
, which removes apps correctly and completely.
App Cleaner & Uninstaller
Movavi Video Editor
Movavi Video Editor is a video editing software that's perfect if you're looking to create and edit videos without the need for professional-grade equipment or expertise. It boasts an intuitive interface that is meant to be simple and familiar for Mac users, ensuring quick adoption and minimizing the learning curve for those who are used to Mac applications. The software is optimized for Mac hardware, allowing smooth performance and faster rendering times. It also integrates seamlessly with other popular Mac apps and supports various file formats commonly used on Mac.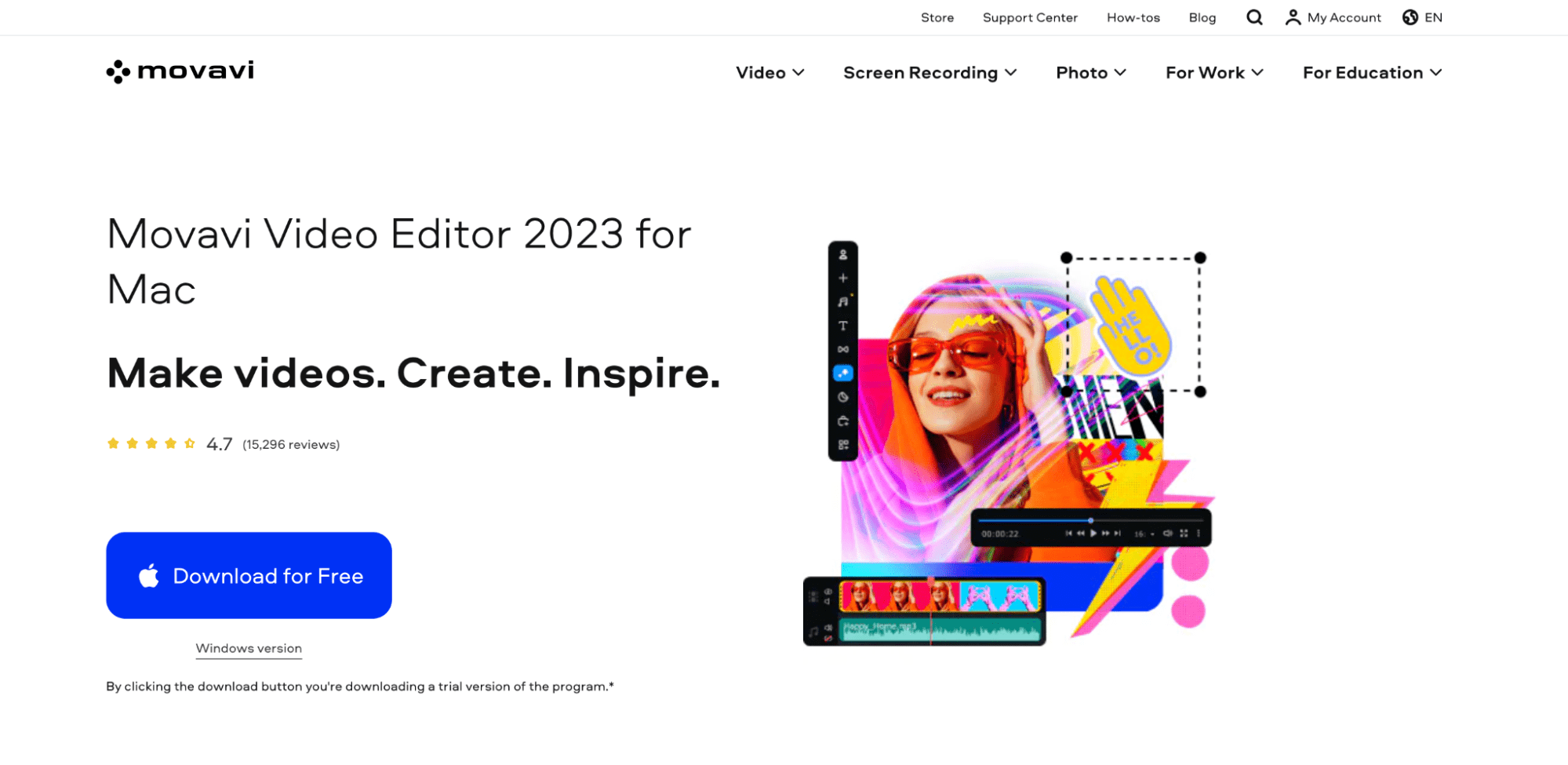 Pricing
Movavi Video Editor offers a free trial. However, to unlock its complete capabilities, you can purchase a 1-year license at $39.95 or opt for the lifetime license priced at $59.95.
Pros
✓

Compared to other professional video editing software, Movavi Video Editor is priced more affordably.

✓

The software comes with a robust library of effects, transitions, and titles that can be easily applied to videos.

✓

The software also offers video stabilization, which is a useful tool for enhancing shaky footage.
Cons
𐄂

While optimized for Mac, you might experience lags or crashes when using Movavi Video Editor if you have older hardware.

𐄂

The software's free trial version places a watermark on exported videos.

𐄂

If you're an advanced user, you might find the software's color correction tools to be less comprehensive.
---
Final Cut Pro
Final Cut Pro is Apple's own professional video editing software. It's part of the Final Cut Studio suite of digital video editing tools, which is a favorite among many creatives. Because it's developed by Apple, Final Cut Pro offers seamless integration with macOS, providing a smooth and efficient editing experience. It utilizes Apple's proprietary video codec, ProRes, allowing the video editor to produce high-quality video output with reduced file sizes and is particularly efficient for editing and post-production work on a Mac.
Pricing
Final Cut Pro could be purchased for a one-time fee of $299.99 from the Mac App Store.
Pros
✓

Final Cut Pro offers real-time effects preview, background rendering, and is optimized for Apple's hardware, leading to fast performance.

✓

The software has a magnetic timeline feature that makes editing more fluid and reduces the chances of errors in the timeline.

✓

It also has more advanced features like 360-degree video editing for VR content and multicam editing for switching between multiple camera angles.
Cons
𐄂

While Final Cut Pro offers a one-time purchase model, the upfront cost might be steep compared to its subscription-based competitors.

𐄂

The software has a unique interface, especially the magnetic timeline, which might be challenging if you're transitioning from other software.

𐄂

Although there's a growing ecosystem, you might find that Final Cut Pro has fewer third-party plugins available compared to other video editing software.
---
DaVinci Resolve
DaVinci Resolve is known for its advanced color correction and audio post-production features. Over the years, it has grown into a full-fledged non-linear editing system (NLE) used by many creatives, especially those in the film and television industries. DaVinci Resolve is also optimized for macOS, and it utilizes Apple's Metal API for enhanced performance, allowing smoother playback, faster rendering, and real-time effects processing. It supports multiple resolutions on different Apple devices (like iPhones, iPads, and iMacs), giving you the ability to optimize and export into many resolutions and formats. Additionally, the software also enables you to transcode media within the software, which can be especially useful when working with large RAW files on Mac systems.
Pricing
DaVinci Resolve offers a free version with core functionalities. For a broader suite of tools, effects, and features, consider upgrading to DaVinci Resolve Studio for $295.
Pros
✓

DaVinci Resolve works well with Mac hardware like the Touch Bar on MacBook Pros, offering intuitive touch controls.

✓

The software is like an all-in-one solution that combines editing, color correction, visual effects, motion graphics, and audio post-production all in one software.

✓

It integrates with Fusion, an advanced visual effects and motion graphics solution, further expanding its capabilities.
Cons
𐄂

Although it's unquestionably powerful, you might find DaVinci Resolve overwhelming due to its multitude of features if you're new to video editing.

𐄂

The software is hardware intensive. To use all of its features smoothly, especially in 4K or higher resolutions, a powerful system is recommended.

𐄂

Some users report occasional crashes or bugs, especially in new releases.
---
Frame.io
Frame.io is a cloud-based collaboration platform that's designed for video editors. It lets multiple team members review and comment on a video in real-time. These comments can be timestamped, so editors can quickly jump to the exact frame in question. The platform also integrates with popular editing software like FCP, DaVinci Resolve, and Adobe Premiere Pro, supporting seamless back-and-forth between the editing suite and Frame.io. It also has accelerated uploading technology that can make it quicker to upload large video files compared to similar platforms, as well as a version control feature that allows you to compare different versions of a video side-by-side quickly.
Pricing
Frame.io provides several plans tailored to your needs.
Free Plan: Enjoy basic features with 2GB storage at no cost.
Pro Plan: Suitable for up to 5 users, this plan offers 2TB storage at $15 per user monthly. Opt for an annual subscription and pay just $13 per user monthly.
Team Plan: Designed for teams of up to 15 users, it comes with 3TB storage for $25 per user monthly. With the annual subscription, the cost reduces to $22 per user monthly.
Pros
✓

Frame.io streamlines the review process by allowing multiple team members to provide feedback in real-time.

✓

Because it integrates with editing software, the platform eliminates the need for constant exports and uploads.

✓

It also has advanced playback tools such as frame-accurate comments, annotations, and range-based feedback.
Cons
𐄂

Frame.io can be costly if you have a large team or if you need advanced features.

𐄂

If you're working in an area with poor internet connectivity, real-time collaboration and uploading or downloading large files can be a challenge.

𐄂

Depending on the plan you have, there might be storage limitations, which can be a constraint if your team works with a large volume of high-resolution content.
---
Wondershare UniConverter
One of the primary benefits of the Wondershare UniConverter is its ability to convert videos into a plethora of formats. For video editors, this can be particularly useful if you're working with footage from various sources or needing to export in specific formats. It also allows you to compress videos without losing significant quality in cases when there's a need to share large files or work with storage or upload constraints.
Pricing
Wondershare UniConverter offers a variety of pricing plans tailored to your needs. Their Perpetual Plan allows you to make a one-time payment of $79.99 for 1 Mac, giving you lifetime access. For those who prefer shorter commitments, there's an Annual Plan priced at $49.99 for 1 Mac. For commercial users, the Commercial Plan is available at $374.96, providing access for up to 5 Macs.
Pros
✓

Beyond video conversion, Wondershare UniConverter offers functionalities like screen recording, DVD burning, and GIF making.

✓

The software provides conversion speeds up to 30 times faster than conventional converters.

✓

It supports the conversion of high-resolution 4K/UHD videos and over 1,000 video and audio formats, ensuring maximum compatibility.
Cons
𐄂

While Wondershare UniConverter offers a multitude of features, you might find it relatively expensive compared to other standalone converters.

𐄂

The software's editing capabilities are so basic, so if you're a professional video editor, you might still need a separate dedicated video editing software.

𐄂

If you only need a simple converter, you might find the range of features overwhelming or unnecessary.
---
Conclusion
There are many video editing apps available for Mac users, but not all of them offer the same features, performance, and ease of use. Depending on your needs, budget, and skill level, you may prefer to try several apps and choose the best that suits you. However, don't forget to uninstall unused video editors to keep your Mac clean and running smoothly. Use App Cleaner & Uninstaller from Nektony to uninstall programs completely and safely.