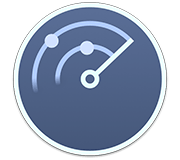 Disk Space Analyzer
Download will start in a few seconds, if not click here
Disk Space Analyzer scans your Hard Drive and visually displays the disk space usage as sunburst diagram, discovers the bulkiest content and generates the list of biggest files and folders found in a folder.
---

Why Disk Space Analyzer?
With the help of the app you can quickly explore hard drive content, easily find biggest files & folders, even hidden ones.

How to launch the app
Click on the downloaded .dmg file and transfer the app to Applications folder. Now you are ready to do some magic.