On the one hand, receiving notifications on your Apple Watch is convenient, as it saves you from having to take out your iPhone every time you get a message. On the other hand, a steady stream of messages can quickly get annoying, especially if you're in an important meeting or just trying to get some rest. In this article, we'll show you how to mute Apple Watch or set it to vibrate only.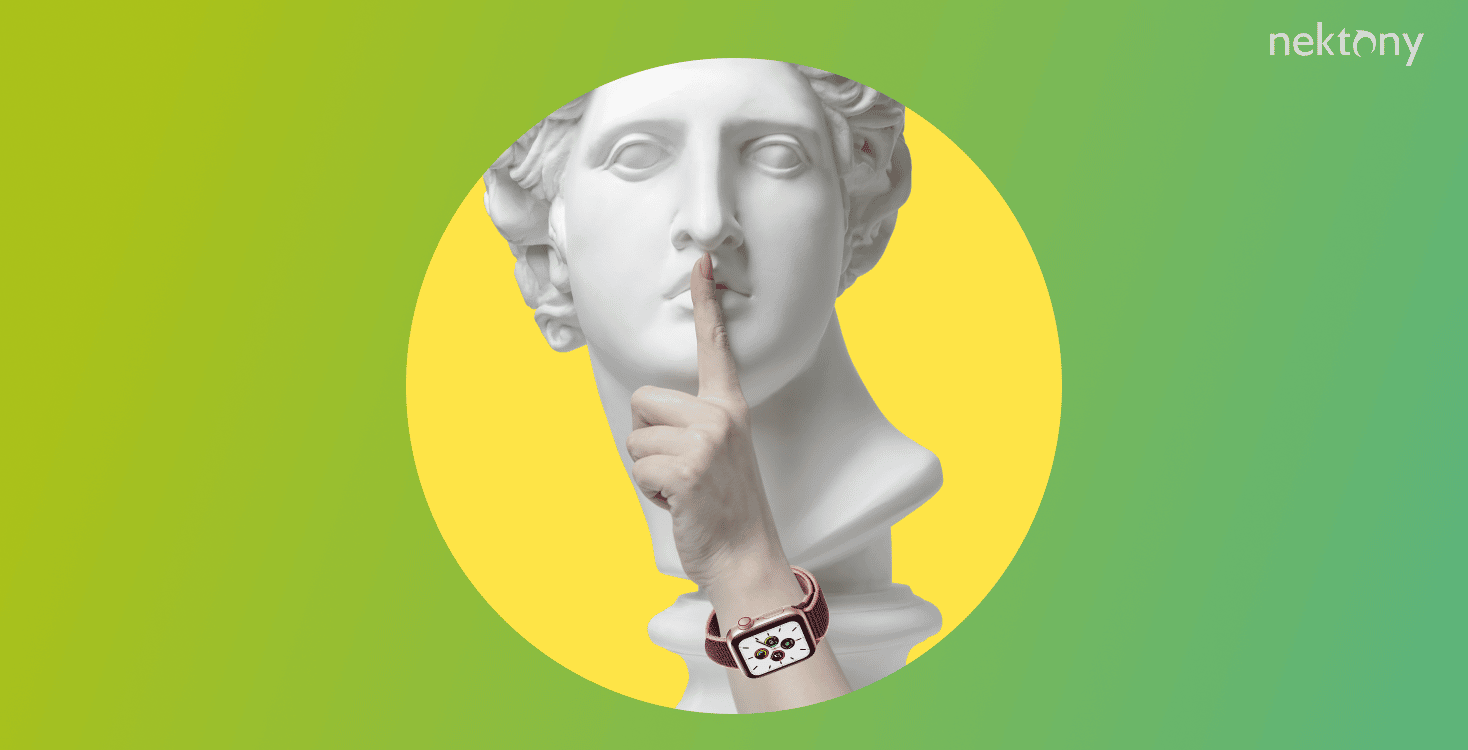 Contents:
If you're like most Apple Watch users, you have other Apple devices—like a Mac. So before we explain how to mute Apple Watch notifications, we want to mention a must-have application for every Mac user:
MacCleaner Pro
.
MacCleaner Pro is an all-in-one software solution for cleaning up and speeding up your Mac. It helps clear out junk files like caches, duplicate files, unused large files, service files from previously removed applications, and much more. It also detects memory-consuming apps and clears your Mac's RAM.
You can get access to all the features of MacCleaner Pro in a free trial.
MacCleaner Pro

The Apple Watch features a few different options to help you focus. Silent Mode mutes sounds only, while Theater Mode also prevents the screen from turning on when you lift your wrist. And then there's Do Not Disturb Mode, which turns off incoming calls and notifications. Below, we'll describe all three options and more so you can quickly mute Apple Watch notifications when needed.
---
How to put Apple Watch on Silent Mode
Method 1
You can put Apple Watch on silent using the Control Center. Here's how:
Slide up on your Apple Watch.
On the Control Center panel, tap the bell icon so that it becomes crossed out.
To check whether Silent Mode is enabled or not, you'll need to use the Control Center; you won't see any icons on the display.
If you want to turn the sound back on, tap the bell icon again. The sound on an Apple Watch works when this icon is not red.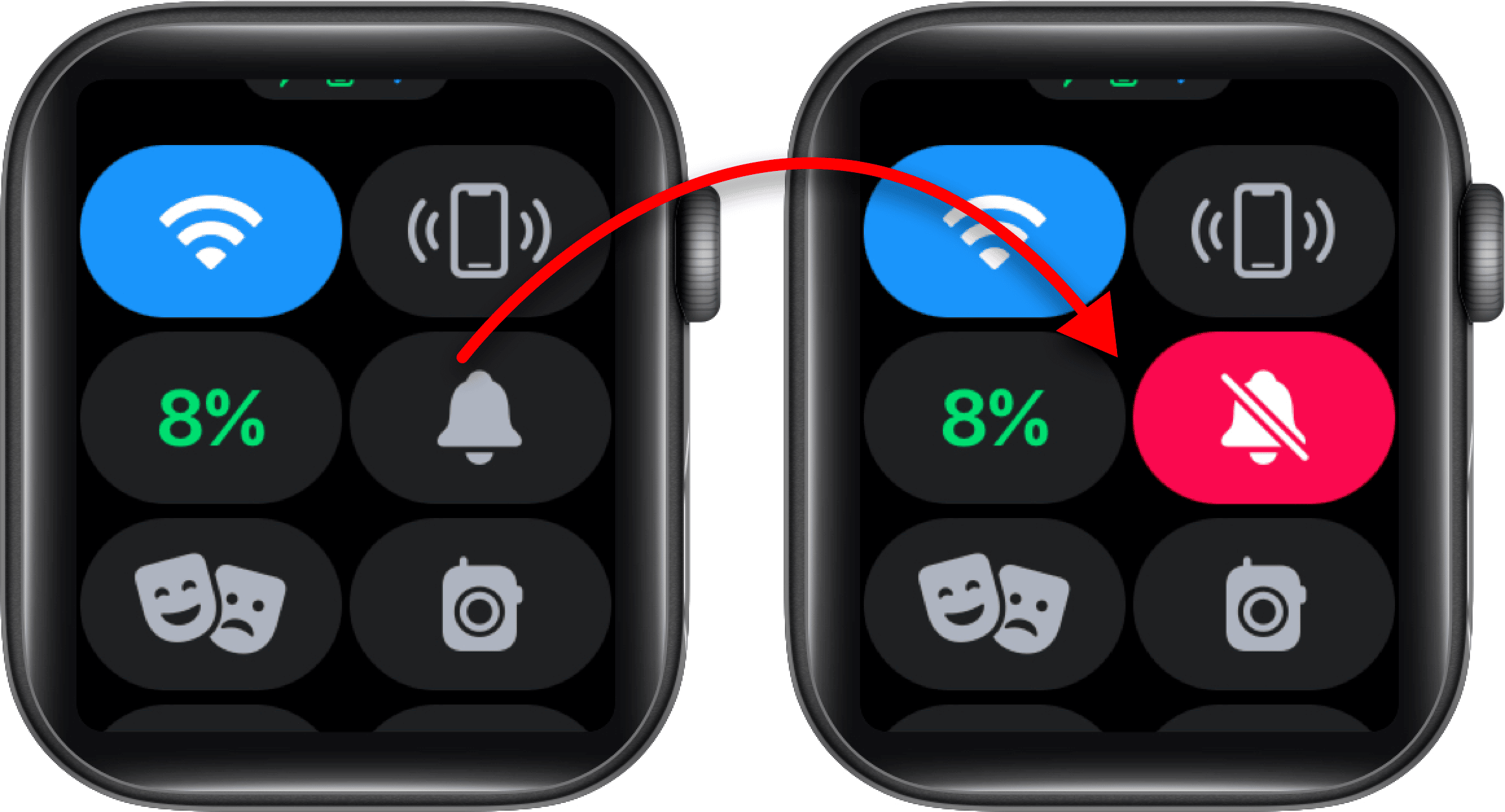 Method 2
You can also turn off the sound on your Apple Watch in its Settings. Follow these steps:
Open Settings on your Apple Watch.
Scroll down and tap Sound & Haptics.
Switch the toggle next to Silent Mode.

Above the Silent Mode toggle, you'll also see a volume bar for alerts. Tap the bell icon on the left or the right, depending on whether you want to decrease or increase the volume.
Method 3
Another way to turn the sound off on an Apple Watch is using your iPhone. For this, follow these steps:
On your iPhone, open the Watch app.
Scroll down and tap Sound & Haptics.
Turn on the toggle button for Silent Mode.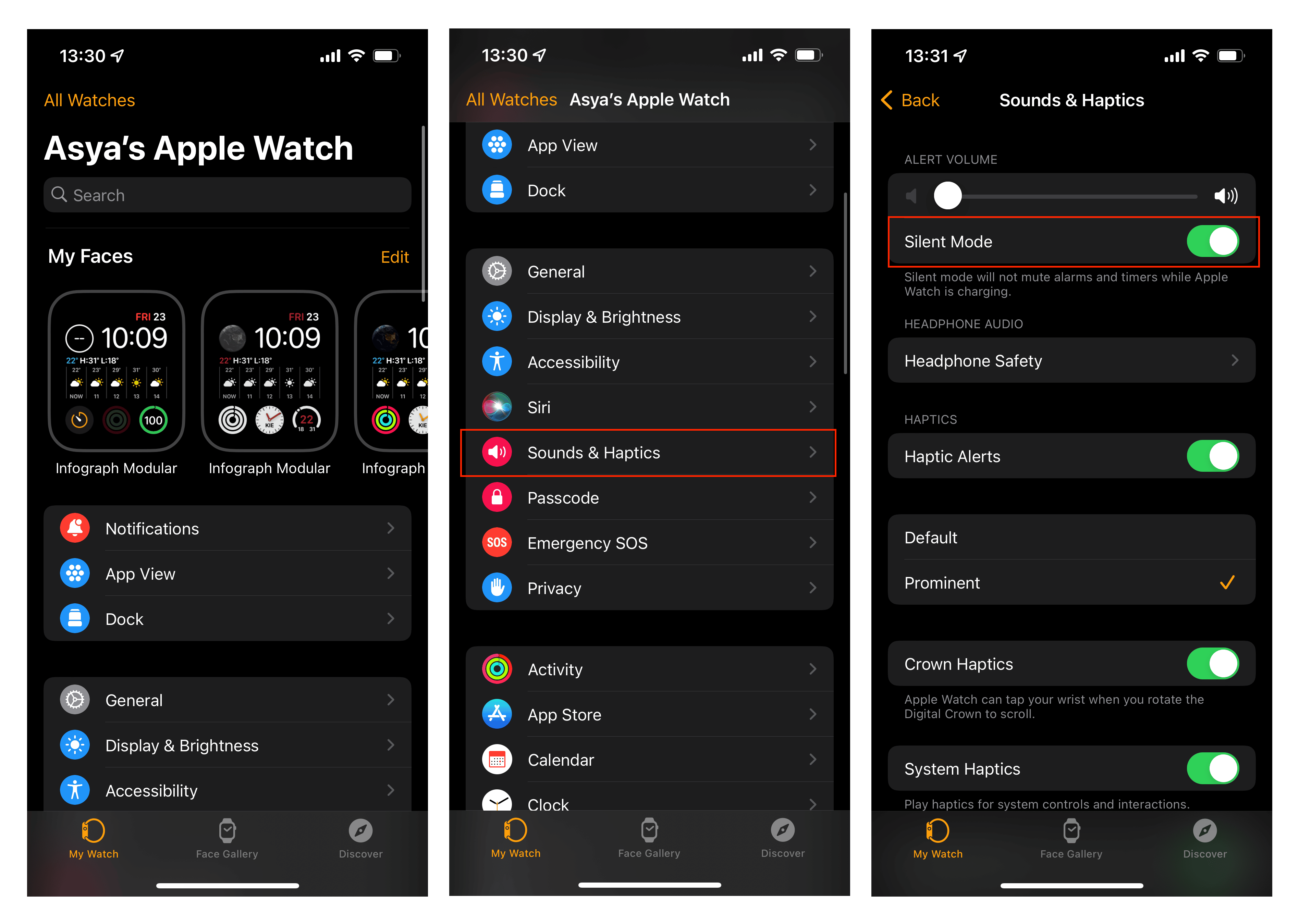 Here, you can also configure other ways to quickly shut off the sound for calls or other notifications, for example, muting the sound when you cover your Apple Watch. For this, do the following:
Open the Watch app on your iPhone.
Tap Sounds & Haptics.
Switch on the Cover to Mute option.
When this option is on, and you receive an alert, you can mute your Apple Watch by resting your palm on the display for at least 3 seconds and unmute it when needed.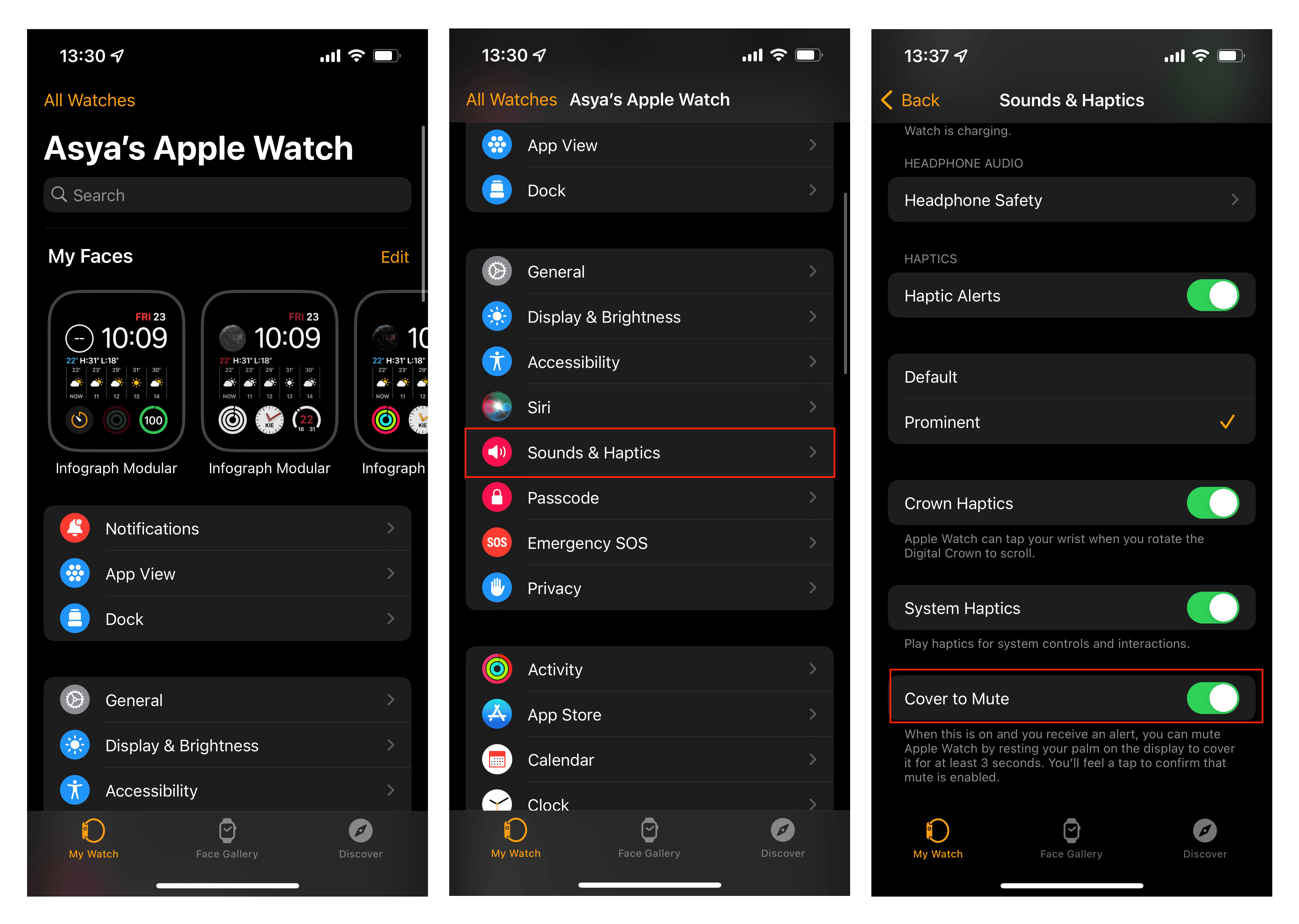 ---
How to turn off an Apple Watch
Here is how to turn off the iWatch:
A guide for watchOS 9
Press and hold the side button until you see power options on the display.
Tap the Power icon.
Drag the Power Off slider.
A guide for watchOS 8 or earlier
Press and hold the side button.
Press and hold the side button until you see the Power Off slider.
You see the Power.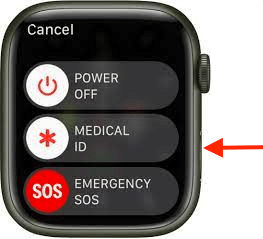 To turn your Apple Watch back on, press and hold the slide button again. Wait until you see the Apple icon on the screen. This means your watch is turning on.
---
Apple Watch Control Center
In addition to Silent Mode, there are two more modes that can off notification sounds on your Apple Watch.
Do Not Disturb Mode
If you don't want your watch to even vibrate—for example, during a meeting—you can use Do Not Disturb Mode. Here's how to turn it on:
Swipe up from the bottom of your Apple Watch screen.
Scroll down until you see the moon icon, which indicates the Do Not Disturb option. Tap the mood icon.

Tap Do Not Disturb and select how long you want it to be active for. You have four options:

On
On for 1 hour
On until this evening
On until I leave (this location)

The moon icon will change color from gray to purple, which means Do Not Disturb is activated and no notifications or calls will sound.

Theater Mode
Theater Mode is another way to turn off notifications, perfect for settings like the movies when you want your Apple Watch to be silent and not emit light. In this mode, not only will you not get notifications, but your watch's screen won't wake when you lift your wrist. Activating Theater Mode just takes two steps:
Unlock and swipe up on your Apple Watch screen.
Tap the icon with two masks.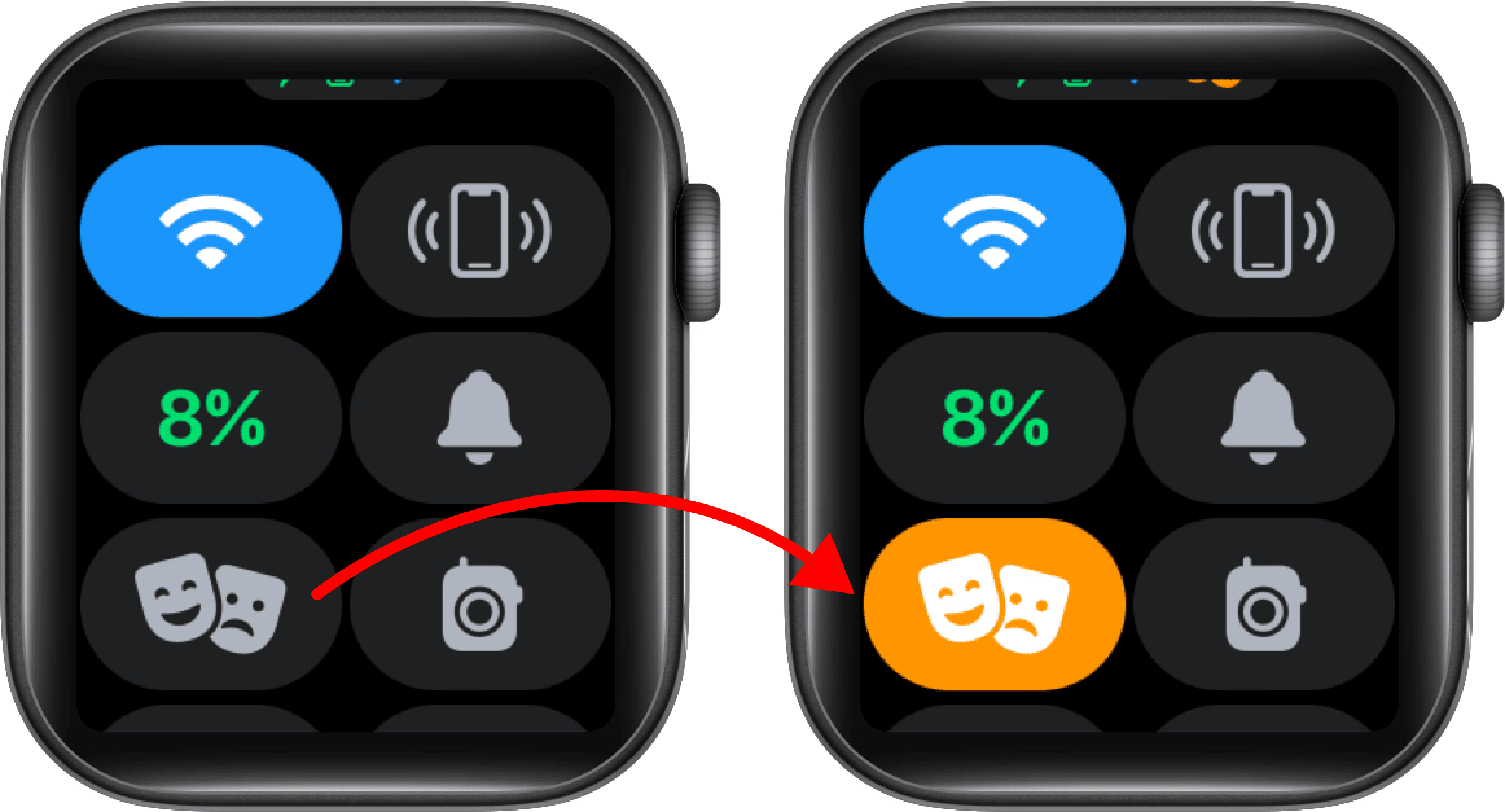 When Theater Mode is on, you'll still receive haptic notifications. To wake up your screen in this mode, simply touch the display, press the side button, or press the Digital Crown.
---
Conclusion
Before we go, let's take a moment to review the differences between the three different ways to silence notifications on your Apple Watch.
Silent Mode and Do Not Disturb Mode are not the same thing. Silent Mode only disables sounds, so haptics (vibration) will remain if they're enabled in settings. Silent Mode also doesn't turn off alarms or timers on the Apple Watch. Do Not Disturb Mode will turn off tactile sensations in addition to sound so that you won't be disturbed at all. Finally, Theater Mode is like Silent Mode, except it also prevents your watch's display from lighting up when you raise your arm.