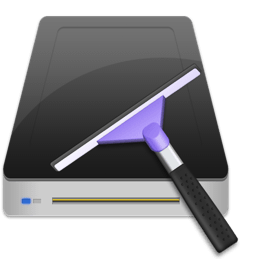 ClearDisk
Free up Space on Mac Hard Drive
Requires Mac OS X 10.8 or later
Have any questions about the app? Please contact us
Clean up Mac with ClearDisk

Clean your most file-collecting folders
Get access even to system files
Identify size of unnecessary items
Clear Language Resources of all applications
Easily pick up item to clear from Downloads and Trash
Improve productivity by renewing application's cashes and logs
Learn More – ClearDisk Help

• Clean your most file-collecting folders

• Get access even to system files

• Identify size of unnecessary items

• Clear Language Resources of all applications

• Easily pick up item to clear from Downloads and Trash

• Improve productivity by renewing application's cashes and logs
Immediate Disk Cleaning

ClearDisk works quickly and effectively because it closely inspects just the file categories that are commonly used for storage of unnecessary stuff.

Clear Space on Mac Startup Disk

ClearDisk will check how much space is wasted on your startup hard drive and increase the free space available on your primary disk without altering the hardware.
Speed up Your Mac

ClearDisk discovers the useless files and allows you to remove all unnecessary data really simply. Just in few clicks you'll get your Mac clean and running properly in the manner you expect.
Reclaim Hard Drive Space

ClearDisk enables you to Clear the HD of useless files. It removes unused language resources, unnecessary downloads, old caches and even clears Trash.

Maintain System Folders Clear

You can clean your Mac by a single click: all junk files (System Caches, User Caches, System Logs, User Logs, User Downloads, Trash, Internet Cache, etc.) will be removed immediately.
ClearDisk
Clean Mac Hard Drive
Additional Information

Application Category –

Utilities

Operating System –

OS X 10.8 or later

Processor Requirements –

64-bit processor

Performance Language –

English

Belongs to –

Mac Cleanup Suite

File Size –

1.6 MB

clear space on mac, how to clear disk space, clear disk space mac, clear startup disk, how to clean my mac, how to clean mac, how to clean macbook, mac hard drive space, how to clean hard drive, free up space on mac, clean mac, how to clean mac, how to delete downloads on mac

Have any questions about the app? Please contact us
Mawniegirl  

App took no time at all, only a few minutes to fully scan my computer. It makes it easy to easily delete your cache files, which I do once a month, in only one click.

Keegs  

This is a great app for clearing space on my hard disk, I love how easy it is to use and how fast it works! I was able to get back so much space on my SSD almost immediately!

Coolhotwings  

Honestly, before I had this app i didn't realize how much of my computer's memory was being wasted. Within seconds the app found that I haven't used within the last months.
More Apps by Nektony
Disclosure disk space usage

Find Duplicate Files on Mac

Free uninstaller on Mac