What is ClearDisk?
ClearDisk is an app for Mac OS X that helps to clear startup disk in a matter of minutes. It scans most overfilled folders: Downloads, Trash, Caches and Temporary Files as well app is able to clear Language Resources.
What are Language Resources?
Language Resources are specific localization files that translate the original app to your language, e.g. Korean or Vietnamese. Some large apps may contain more than 50 localizations, all together it could waste around 0.5Gb of completely unused space.
*Please note, the app doesn't remove language resources from the default Apple applications due to System Integrity Protection (SIP).
How often is it recommended to clear Caches and Logs?
It is recommended to perform cleanup temporary files once per month. If you are an active Internet user, during this period you may gather several GB of "quick access memory", that conversely will decline your performance.
What will happen after caches cleanup?
You will be required to enter your Internet-passwords once again. Don't be confused, they still will be stored in hard drive's memory. It may be required to load some Internet pages twice due to specific inner-browser issues.
How much space can I delete using ClearDisk?
Clear Disk is a cleanup utility that helps you get rid of gigabytes of unneeded files on your Mac. Language resources, Downloads, Caches and Trash just waste your disk space. It is recommended that you clean your Mac regularly. With the help of Clear Disk, you can free up as much space as you have in your Trash folder, Downloads folder, more than 500 MB of Language Resources and several gigabytes of Cache files.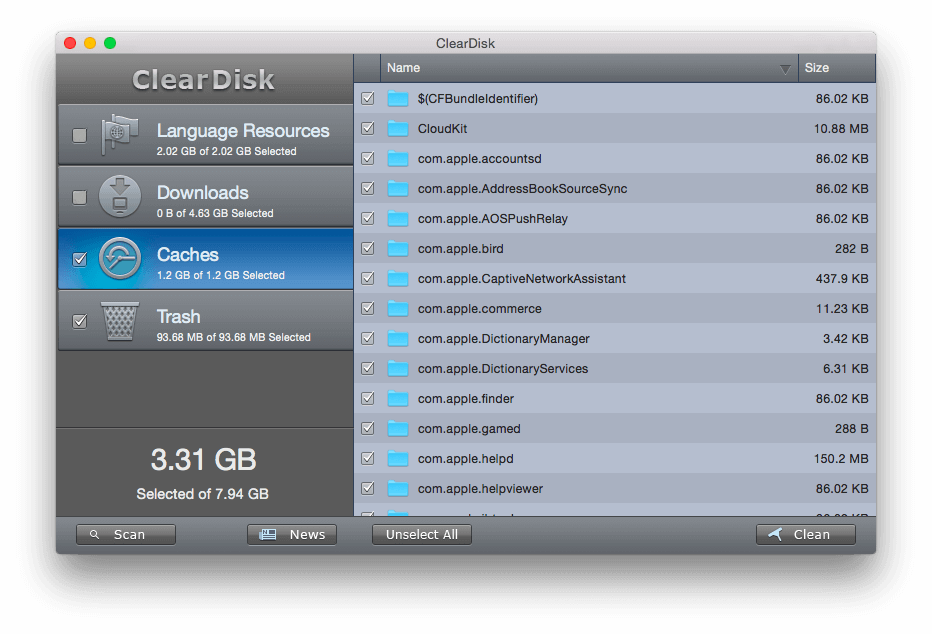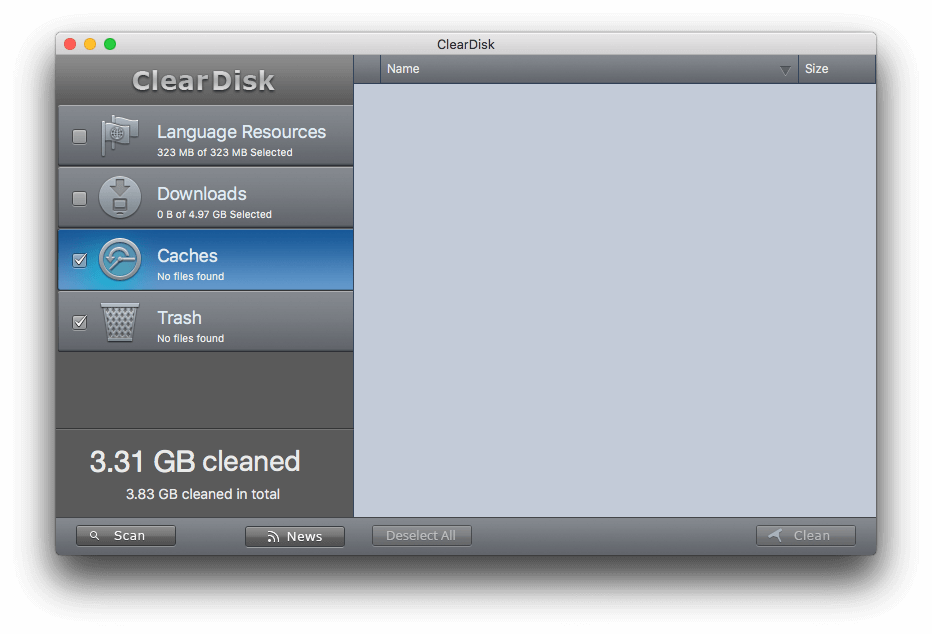 Why are some language resources locked?
It is because of system's Applications folder privacy, read this article to enable ClearDisk access into this folder.
What are system requirements?
It takes only 1.6Mb of hard drive space, OS X 10.9 or later and 64-bit processor.
How to uninstall ClearDisk?
ClearDisk is an application, which allows you to clear the HD of useless files. However, if you want to uninstall it on your Mac, take these simple steps:
Quit ClearDisk.
Open Finder → Applications → find the ClearDisk.app file → drag and drop it to the Trash Bin.

In the Finder's menu bar, click Go → Go to Folder → in the window that appears, type ~/Library, and hit Go. Within the Library folder find and remove ClearDisk service files in the following directories:

~/Library/Application Support/ClearDisk
~/Library/Caches/com.nektony.cleardisks
~/Library/Preferences/com.nektony.cleardisks.plist
~/Library/Cookies/com.nektony.cleardisks.binarycookies

Empty the Trash Bin to remove ClearDisk from your Mac entirely.
Note: You can use ClearDisk whenever you need it in the future. Just download the app, enter your license key, and launch ClearDisk to free up disk space on your Mac easily.