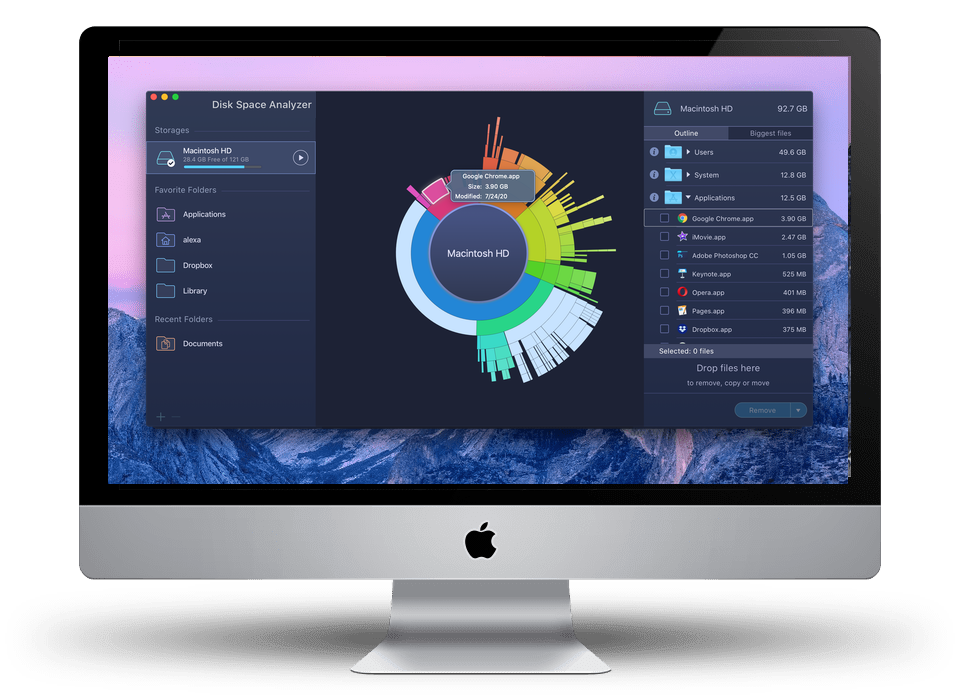 Disk Space Analyzer – is an app which displays disk space usage of Mac hard drive or of any external disk. It shows the bulkiest content so that you can quickly remove the biggest files and folders and free up the disk space.
Release date: Oct 21 2020
Here is a list of reviews for the Disk Space Analyzer app
from the users across the world
★ ★ ★ ★ ★
by MadAlf (

– UK)
I have used many disk apps to visualize the disk, this works very well and presents a clean user-friendly interface, it is a stable of my tool kit
★ ★ ★ ★ ★
by HappyCustomerCleanComputer (

– US)
This app does exactly what it says and is very easy and simple to use. The app scanned my hard drive and showed me an interactive graphic of all of my files. On the right, it listed the largest files, and I was able to get rid of many things that I didn't need. Definitely worth the cost!
★ ★ ★ ★ ★
by Cha_sil (

– US)
As a graphic designer and mom, I never have enough room on my memory for all my pictures of my kid and all my large design files. This app makes it easy to delete useless and old files that are just taking up all the room I need!
★ ★ ★ ★ ★
by ClausKlein (

– Germany)
I had problems with a full Disk. With Disk Space Analyzer, is was easy to find the biggest files. Suddenly it happens, that with each deleted big file, the free disk space becomes less, not more. It was caused by MobileBackups (local backup of time machine). The hidden dirs on the root disk is neither counted nor shown by Disk Space Analyzer! It would be nice to show the /.MobileBackups directory and other hidden contents. At least their disk space should be counted and shown. Nice is that the top twenty of big files are shown for each selected directory.
★ ★ ★ ★ ★
by Da Dolph (

– US)
I manage my data across 4 Macs: office desktop, home desktop, travel air, and a Mac Mini which I use for media. Second to Dropbox, this is the second most useful data management app that I use. It's fast, intuitive, and generally well thought out.
★ ★ ★ ★ ★
by njk42490 (

– US)
Seriously awesome app. I downloaded it when my hard drive was filled up to 490 gigs out of 500. 10 minutes later I have 200 gigs free. I have been struggling to find files on my own to delete and free up space, but this app has made it a cinch!
★ ★ ★ ★ ★
by Katie the Magnificent (

– US)
The simple design and quick performance really make this my go-to data management app. I work in video production, so with only 500 GB of hard drive space, I end up filling it up quick with flies well over 10GB in size. This app makes it easy to pinpoint the "culprits" and allows me to Open in Finder to either delete or down-convert to a smaller size. I wish they made the same thing for Windows because I use both Mac and Windows for my work, but from the quick scans to the list of the largest files to the easy-to-explore way it organizes data, this app seriously has transformed how I see data, and also how I manage it. So far this is my favorite app on the Appstore. If you need a great way to manage data, get this one. It's awesome.
★ ★ ★ ★ ★
by XabaMe (

– Singapore)
On of the best Disk Utility Apps I have ever used. Gives a clear picture of where disk space is being used. Within 10-15 minutes I identified & cleaned more than 15GB of disk space, most of it, files I had no idea they exist and eating up so much space. Good Job!
★ ★ ★ ★ ★
by DahveedGR (

– US)
If you have a new MacBook Pro, and you are, well, a Pro… most likely you will sooner or later run out of disk space. This tool is the best one out there to quickly map and identify the biggest culprits among your files, and inform which, where and what… so you make educated choices on what to keep or what to let go. Did you know that iTunes does not always get rid of those heavy movies you rent, even after they disappear from your playlist? Did you know you keep a useless copy of every single installed .dmg file on your downloads folder? Did you know that cloud storage systems like Dropbox keep a copy of everything in your computer? Disk Space Analyzer will visually and clearly show you how so you can then make the call to delete or keep on an external drive. Nope, I am not associated to this app in any way… I am just an extremely happy customer.
★ ★ ★ ★ ★
by TheDanchez (

– US)
Wow….I don't know what to say except that if you need something to find EVERYTHING that is just eating up your drive without a hitch in just a minute (probably because I have a Retina MBP with Mountain Lion 10.8.2 and a 500GB SSD), this thing is the tool to get. Holy crap thumbs up all the way. Great UI and great everything. Kudos to the developers! You will NOT be disappointed with this app guys!
★ ★ ★ ★ ★
by Barr Harbick (

– US)
This is exactly what you want if you're looking for a utility to quickly do a scan of your drives, tell you exactly what's taking up all the space, then allowing you to selectively delete. Worth twice what you will pay for it.
★ ★ ★ ★ ★
by scoot_001 (

– Australia)
I had something similar to this in Windows XP a couple of years ago – it was very handy. As my 1TB drive is almost full, I was thinking about writing a script to go through my drive and work out where all of my largest files are – but after remembering the XP program, I thought I might look in the app store. I purchased this app and in half an hour I had located about 80GB of data that I no longer require. This app is pretty quick when it scans the drive, and I found it to be very intuitive to use. Good work developers! I'd love to see the Modified date/time also show the most recent modified timestamp of any files in the subdirectories too … that would be nice. I am happy to recommend this app to anyone.
★ ★ ★ ★ ★
by gaustin468 (

– US)
My MacBook Pro was low on disk space (25GB free on a 160GB drive. I also found a few big files and emptied out my Downloads folder. I managed to free up 50GB between the Trash (66k items in less than a year!) and other files.
★ ★ ★ ★ ★
by vla_78 (

– US)
For the trip I wanted to leave as more free disk space as it was possible. I managed to back up high-capacity files that I had no need to take with me. A program indicated the files which take a lot of disk space and I backed them up (old documents and videos). Now I have enough free disk space for 2 trips 🙂
★ ★ ★ ★ ★
by fabbrikator (

– Turkey)
I purchased this app to free up some space in my MacBook Pro with 120 GB of HDD. It scans very fast and you can expand the detailed map of every folder. I hesitated to buy when I saw the price, but the job it does deserve it. Thanks for this great app.
★ ★ ★ ★ ★
by Martin2012Martin (

– US)
I want to congratulate you that you do this huge and excellent work with Disk Expert. The most amazing is picking up the Drop Files. In short as a Mac expert: I love it!
★ ★ ★ ★ ★
by mashbery123 (

– US)
My hard drive was a complete mess, I needed to do some serious cleanup or have to buy the new HDD, It is the best tool, I've ever used.
★ ★ ★ ★ ★
by Kfortune (

– US)
Was looking for a program to see where my space was being sucked up. This fit the bill in a beautiful way.
★ ★ ★ ★ ★
by WliiamF (

– US)
I'm using 429 Gb of 1Tb and it took only a few minutes to show me my file map. Very helpful. Now I know where the large files are.
★ ★ ★ ★ ★
by Idadoc (

– US)
I have tried many other apps to visualize my cluttered hard disk, but found them all awkward and basically useless. But Disk Expert gives a fresh look and paradigm making it easy to probe my disk. I have found long-lost files, cleared unexpected deadwood in a fraction of the time simply because of the very intuitive and LOGICAL interface. But, aside from that, application is extremely fast, and now allows you to do all the basic file manipulations you would need, e.g., backup, delete, move. Highly recommended, best of class!
★ ★ ★ ★ ★
by DahveedGR (

– US)
Thanks to this app I can easily discover the memory hogs in my system… Who would knew those long-forgotten subscribed-to podcasts were automatically downloading new content on a regular basis and eating away 24GB of my precious hard drive real estate??? Thanks to Disk Inspector I easily spotted the wide radius in my circumference of data. Beautiful. I would give them 5 stars once they put a little more love in their UI layout and detailing.
★ ★ ★ ★ ★
by Dragon376 (

– Canada)
I used to be on PC and always had a similar program to manage my disk space. Disk Space Analyzer is a well-designed app that will let you see at a blink of an eye where all you disk space is being used. It is an essential tool that I use regularly. You can't guess where your disk space is going until you have a program like Disk Space Analyzer.
★ ★ ★ ★ ★
by Sarah-Patron (

– US)
Oh, just helped me to clean up my Dropbox folder. I was lost with all my stuff inside it. Now I removed some of them, got almost 4GB extra free space in Dropbox
---
We'd love to hear about your experience with Disk Space Analyzer!