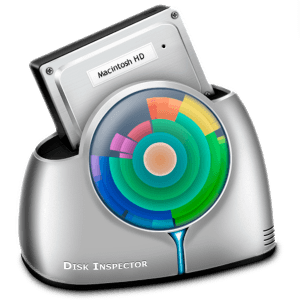 Disk Inspector
Disk Space Analyzer for Mac
Requires Mac OS X 10.6 or later
Have any questions about the app? Please contact us
Manage photo collections
Organize video and music collection
Keep storage free of unused files
Organize data you need rarely
Prepare for backup or files remove
Navigate easily through folders hierarchy
Learn More – Disk Inspector Help
Find Biggest Files and Folders
Disk Inspector is a great tool for a quick disk usage review. After scanning your files and folders will be represented as a set of sectors and subsectors on a round diagram. Size of sectors calculated respectively to total drive's size. Thus you can easily identify content wasters for further file management.

Every folder could be navigated the same manner as a drive's root. This approach without any additional efforts gives you clues to biggest files and folders. After spotting a "space waster" click the right button to inspect it.
Scan Various HD Types

Disk Inspector is able to scan various hard drive types: HDD volumes, CD and DVD discs, all types of removable flash drives (USB, MS), mounted DMGs and even SMB disk images.

Application's Usability

After operating in background mode, your disk items will be filled in different colors to simplify recognition. Navigation through folders takes no time regardless to how many layers were skipped.
Purchase Disk Inspector – $7.99
Visualize Disk Space Usage on your Mac
Have any questions about the app? Please contact us
• Find biggest files and folders
• Scan various HD types
• Visual presentation of disk space usage
• Find rarely used folders
• View volumes presented in system
• Navigate easily through folders hierarchy
More Apps by Nektony
Disclosure disk space usage

Find and Remove duplicate files

Free uninstaller for Mac