CleanMyMac is a popular and trusted Mac cleanup utility. The application has a subscription distribution model and costs $34.90 per year. However, this price might be too costly for many users, and so they are looking for CleanMyMac alternatives.
In this article, you will find the CleanMyMac equivalent software tools list and so you can choose the best Mac cleaning software for your budget and needs.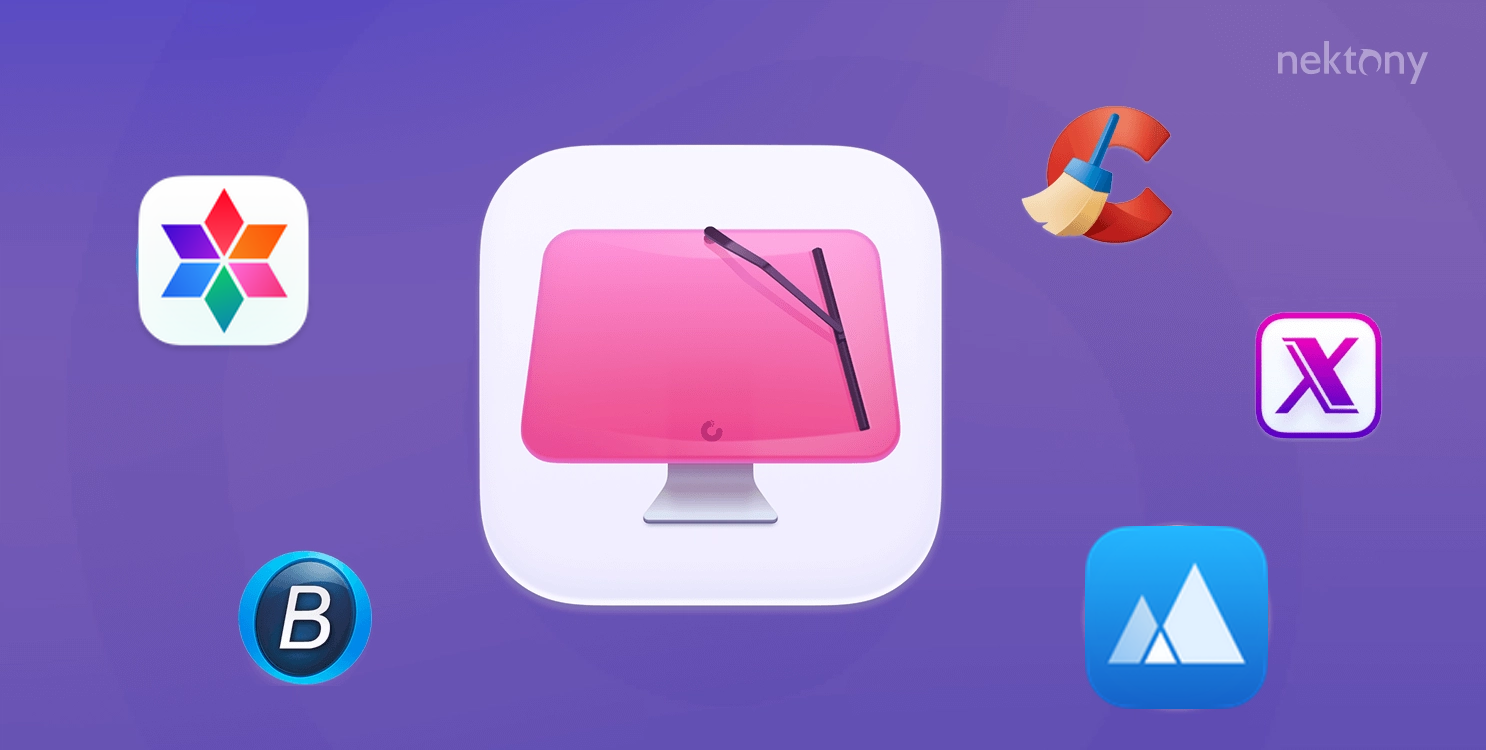 Contents
Important notes and methodology used to find the best CleanMyMac alternative application
When searching for CleanMyMac alternative apps, we paid attention to parameters such as being Apple-notarized, having high-star reviews, and providing many features to remove all junk files.
We will provide a short description for each of the reviewed applications, which includes price, rating, compatibility with macOS, pros and cons, etc.
Nektony's team has been developing Mac cleanup utilities for 10+ years. We are experts in all questions relating to finding junk files on Mac. If you have any questions, feel free to contact our support team.
Is there a free alternative to CleanMyMac?
CleanMyMac is an application from MacPaw Inc. that can complete various tasks to make your Mac work just like new. The application removes system junk from your Mac, deletes temporary files, browser data, uninstalls unneeded applications, detects malware, and much more.
There are many reasons why users abandon CleanMyMac and switch to an alternative solution. Firstly, the price for the app is quite high. Secondly, it has a subscription model that must be renewed yearly. Of course, the application provides a free trial and allows the users to clean up to 500 GB of files for free.
Fortunately, many Mac cleanup software applications on the market are excellent alternatives to CleanMyMac. You can either find them in the AppStore or perform a Google search and download them directly from the developers' websites. However, we understand that not all the applications are trustworthy and do their job perfectly.
That's why we've prepared the following list of CleanMyMac alternative applications that are safe, Apple-notarised, and provide all the features you will need to optimize your Mac.
---
Top CleanMyMac alternatives
MacCleaner Pro
Price: 29.95/year
Trial: Yes
Compatibility: macOS 10.13 or later
Rating: 4.6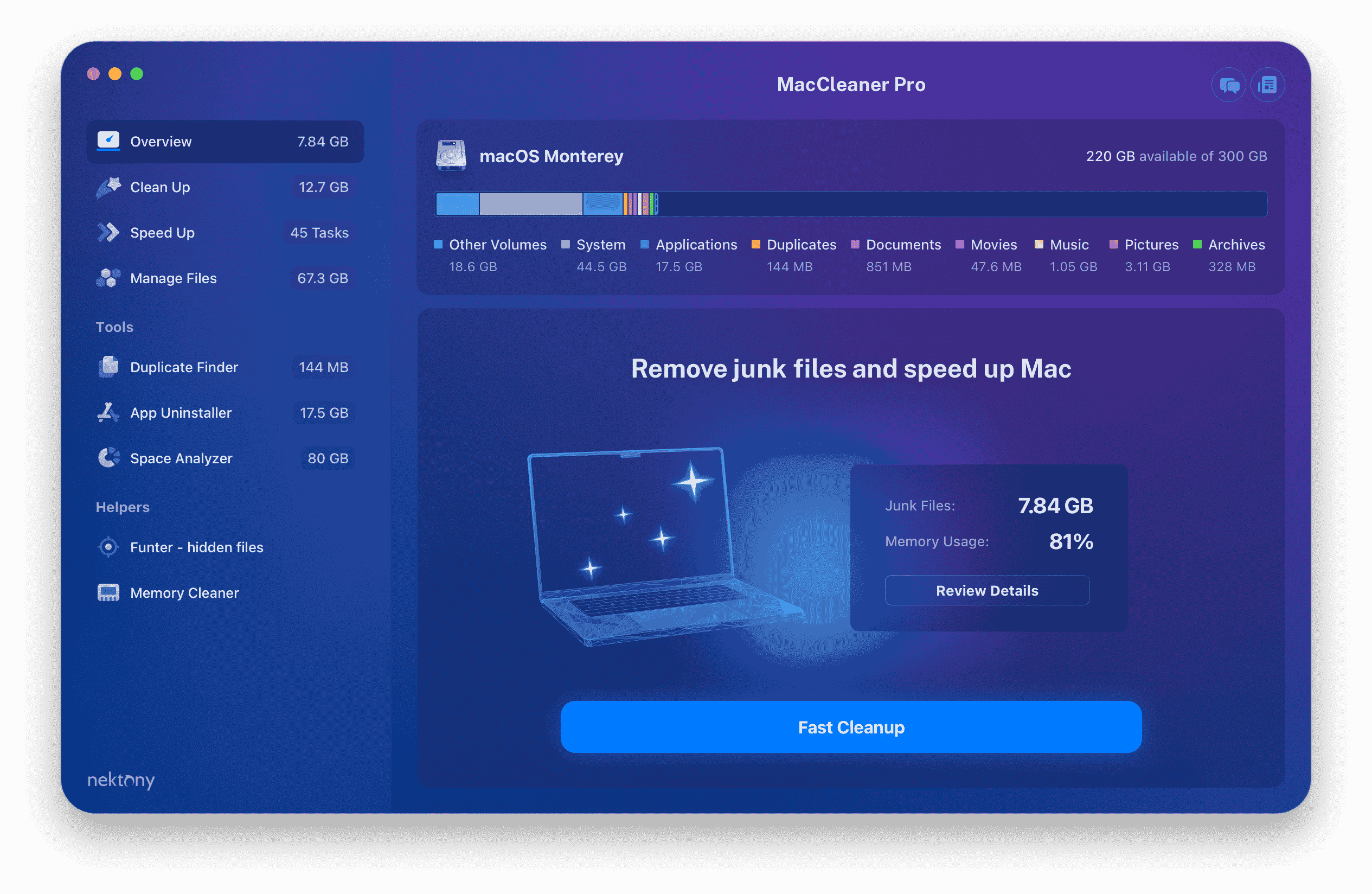 MacCleaner Pro is an application from Nektony that was first introduced in 2015, and it has since been downloaded millions of times. The application is approved by Apple, which means that it is safe and free from malware.
MacCleaner Pro provides in its bundle additional professional tools for a deep Mac cleanup: App Cleaner & Uninstaller, Disk Space Analyzer, Duplicate File Finder, Memory Cleaner, and Funter (for searching for hidden files on Mac). All these applications can be launched and used separately.
MacCleaner Pro provides a free trial and has no limitation on how many files you can clean up during the trial period. The cost is $29.95 for the license 1 Mac. There are different options: you can choose a subscription or one-time payment.
Pros
✓

Provides additional applications for a deep Mac cleanup.

✓

Finds duplicate files.
Cons
𐄂

It might be complicated when using the tools from the bundle
---
App Cleaner & Uninstaller
Price: $19.99/year
Trial: Yes
Compatibility: macOS 10.10 or later
Rating: 4.7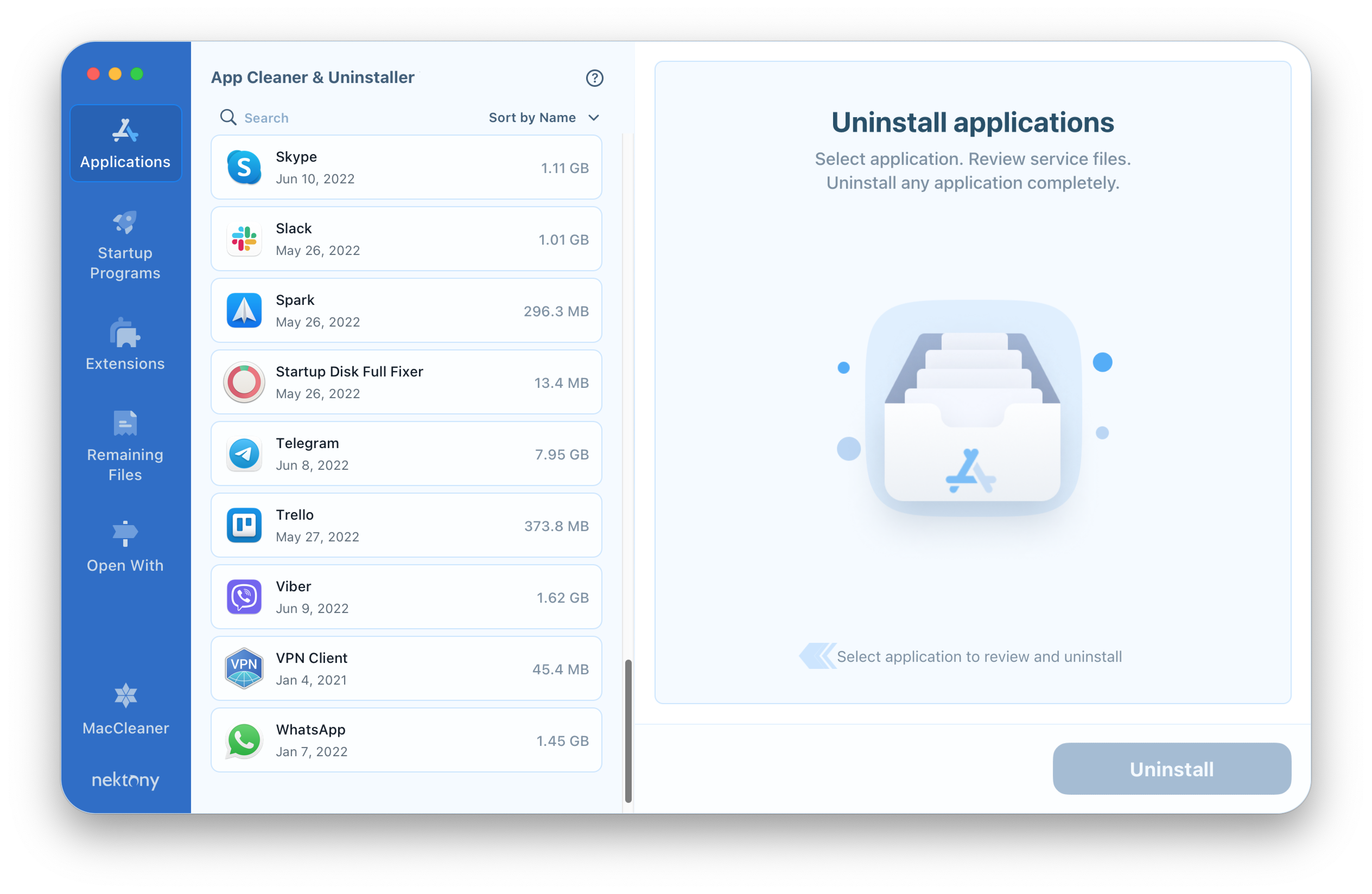 If you're using CleanMyMac just to uninstall applications on Mac, then App Cleaner & Uninstaller will be the best alternative for you. According to users' reviews, App Cleaner & Uninstaller finds even more service files of applications and effortlessly finds and removes all of the remaining files of already removed applications. It is Apple-notarized and has a 4.7-star rating.
Besides uninstalling applications from Mac, the software allows you to manage all types of extensions, disable or enable startup programs, remove browser extensions, and much more, all of which can significantly speed up your Mac.
Pros
✓

High-speed scanning

✓

Finds all support files

✓

Provides a free trial with unlimited features

✓

Low prices
---
MacBooster
Price: $49.95/year
Trial: Yes
Compatibility: macOS 10.9 or later
Rating: 3.7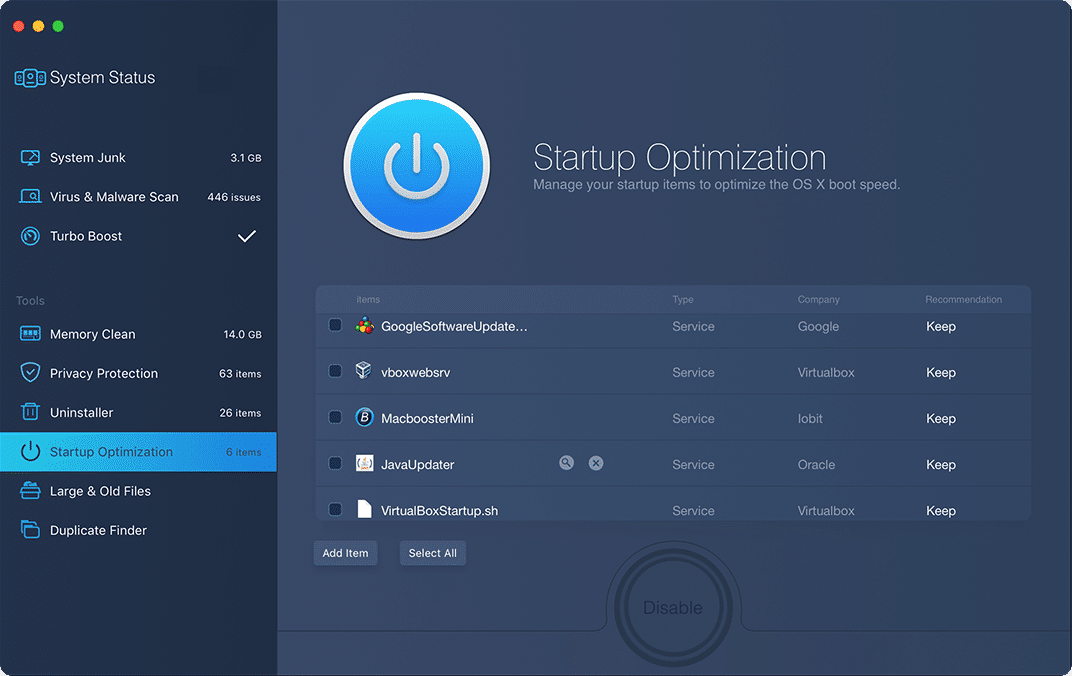 MacBooster is software from IObit that is designed to speed up and protect a Mac from viruses. Most users choose MacBooster due to its antivirus features. However, the application also provides many of the same features as CleanMyMac, namely: clearing RAM, uninstalling applications, finding large and old files, and ridding the system of junk files.
MacBooster has an intuitive interface in dark colors. It has a Turbo Boost option which is an alternative to CleanMyMac's Smart Scan. It allows you to quickly optimize your disk space and Music and Photo libraries.
Pros
✓

Scans a Mac for viruses and malware.

✓

Has a duplicate finder.

✓

Provides options to protect your online privacy.

✓

Finds duplicate files.
Cons
𐄂

Low rating

𐄂

Subscription plan
---
CCleaner
Price: $19.95/year
Trial: Yes
Compatibility: macOS 10.10 or later
Rating: 4.2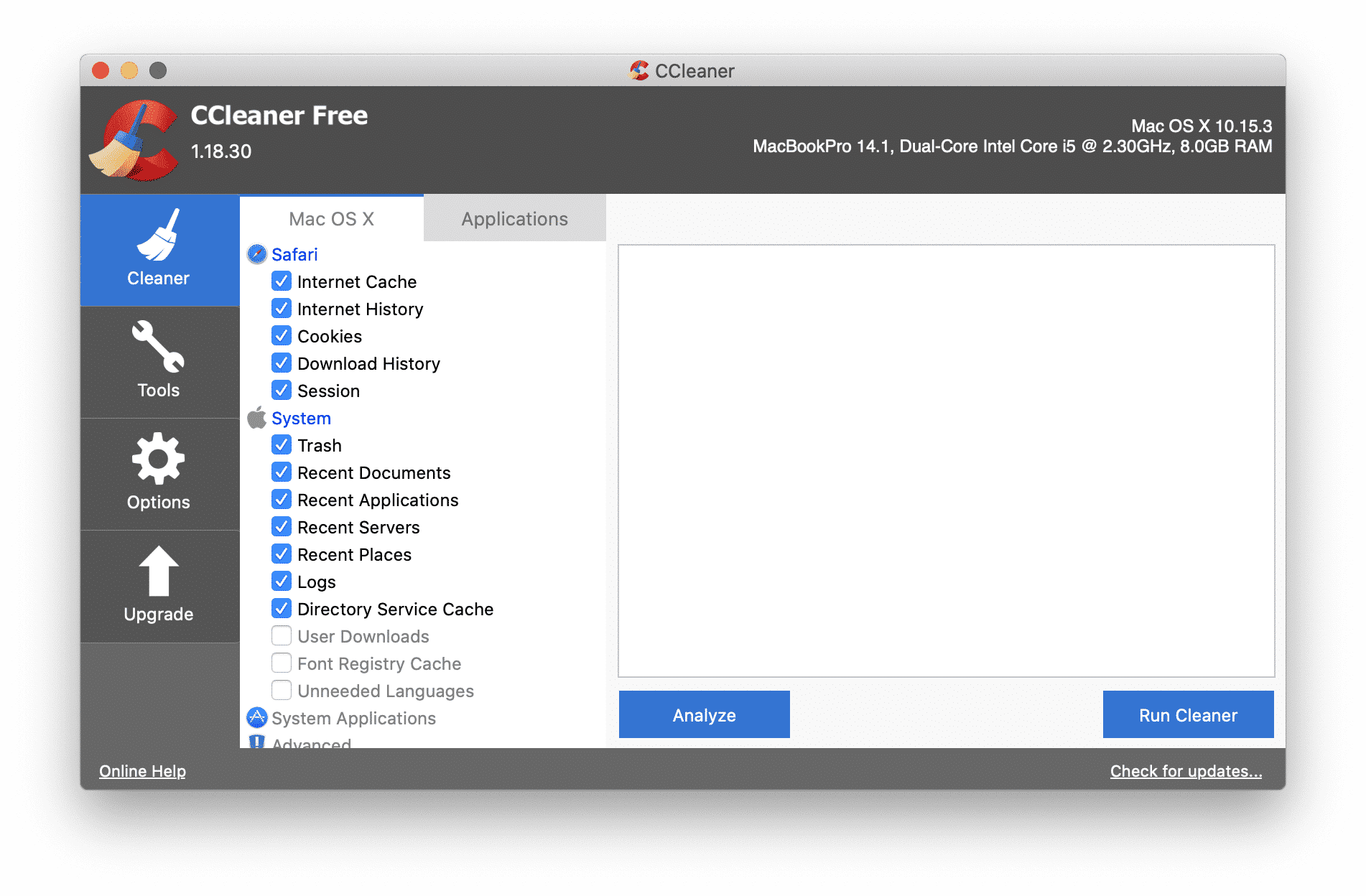 When looking for a CleanMyMac alternative, CCleaner cannot be overlooked. CCleaner supports both Macs and Windows-based computers and is more popular among Windows users. However, Mac users can also benefit from this app to clean up and speed up macOS.
CCleaner is developed by Piriform and has been on the market for many years. It is Apple-notarized, has a good reputation, and is effective for optimizing a Mac computer. The application provides a set of disk cleaning tools, such as clearing browser cache, download history, applications' support files, and other junk.
CCleaner has both a free and a professional version. The free version provides standard tools for privacy protection and junk file cleaning, whereas the professional version provides more features, like applications and drivers updater, detecting internet trackers, keeping browsing history private, and more.
Pros
✓

Protect your privacy.

✓

Detects and updates outdated applications.

✓

Inexpensive.
Cons
𐄂

Lack of comprehensive set of cleaning tools for Mac hard drive
---
OnyX
Price: Free (donationware)
Trial: Yes
Compatibility: macOS 10.2 or later
Rating: 4.0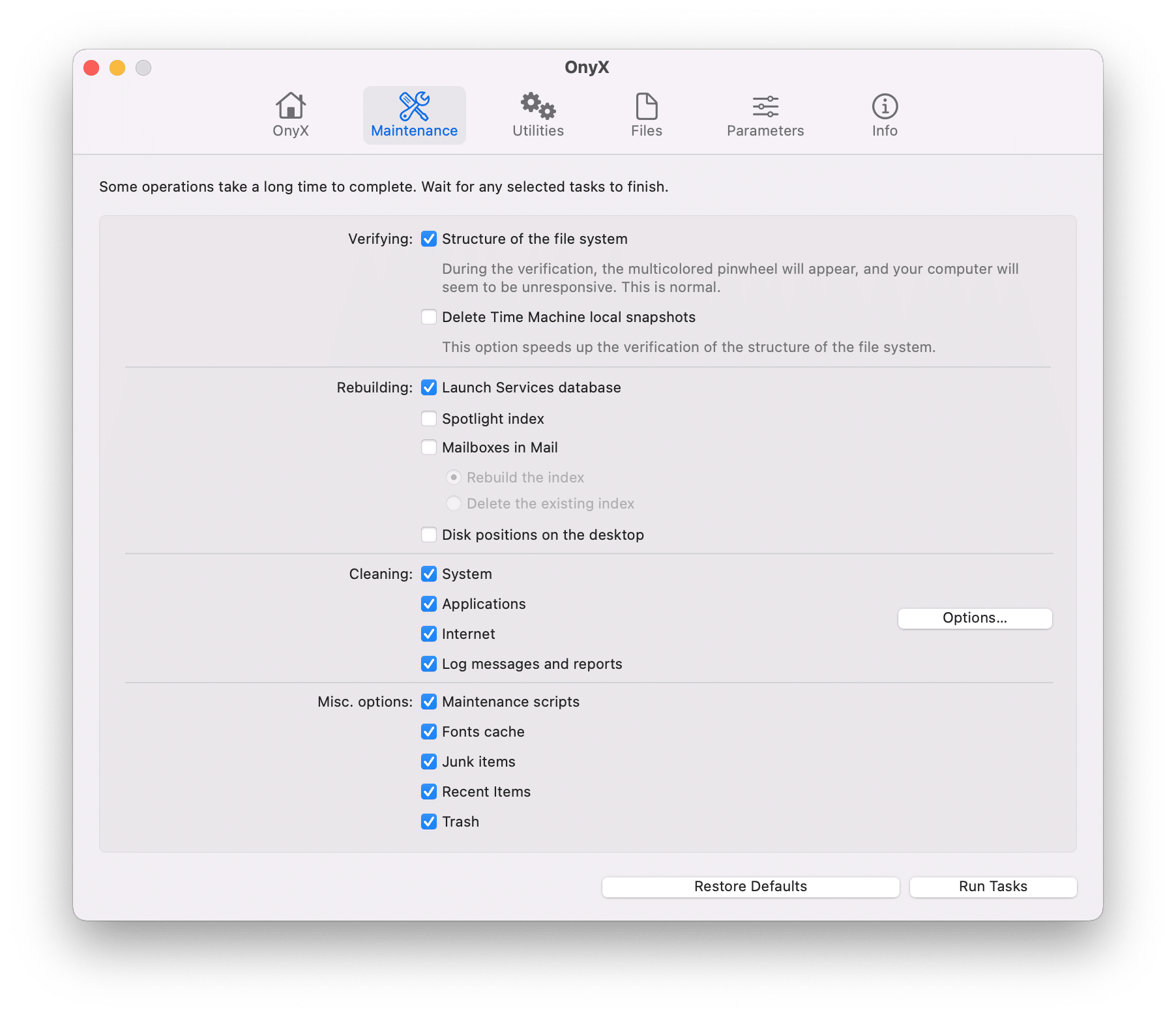 OnyX is a utility that allows you to run cleaning tasks on your Mac. The interface looks very different from other CleanMyMac alternative applications. Instead, it looks more like an application preferences window where you need to mark the tasks you want to run. For example, you can select clearing caches and then click the Run Tasks button. Also, you can click Options and customize which types of caches you want to remove.
When you download OnyX, you should be attentive and download the version that suits your macOS. Once you upgrade your macOS, you will have to download another version of OnyX, as this application can't be updated in the usual way.
Generally, OnyX has a complicated interface and most users may get confused about how to use it. However, if you are looking for a free CleanMyMac and open-source alternative, this application may suit you. It is free to download, but a donation is welcome.
Cons
𐄂

Complicated interface, which makes it better suited to experienced Mac users
---
Conclusion
We provided the list of CleanMyMac similar applications. Many of the applications we listed above are excellent alternatives to CleanMyMac and are cheaper. Even if you are looking for free software to clean up your Mac, you can find a solution from this list. The best application for you will depend on your needs!
---
FAQ
Is CleanMyMac notarized by Apple?

Yes, CleanMyMac is Apple-notarized and is a trusted application to use on a Mac.
Does CleanMmyMac do anything?

CleanMyMac provides a comprehensive set of cleaning and optimizing tools for Mac. It can also scan a Mac for malware and detect viruses. However, unlike Nektony's MacCleaner Pro, CleanMyMac doesn't have a duplicate finder.
What cleaner does Apple recommend?

All recommended by Apple applications are marked as Apple-notarized.

You should check on the developers' website for this information. Apple approves the following apps for being safe and free from malware: MacCleaner Pro, CleanMyMac, App Cleaner & Uninstaller, and CCleaner. Also note that many large companies, like Microsoft, recommend using App Cleaner & Uninstaller for removing programs from Mac. For example, Greg Carmack (​​10-year award winning Windows MVP, specializing in Installation, Performance, Troubleshooting) recommends resetting or uninstalling Outlook with App Cleaner & Uninstaller on the Microsoft support page.