If you want to remove Outlook from your Mac or just need to reinstall the program, read this article to learn how. We will explain how to uninstall Microsoft Outlook on your Mac correctly and safely.
Contents:
The quickest way to uninstall Outlook from Mac
If you don't have time to read this article and learn two ways to remove Microsoft Outlook, use
App Cleaner & Uninstaller
from Nektony. This uninstaller will safely and completely remove Outlook with just two simple clicks.
App Cleaner & Uninstaller
What is Outlook and when to uninstall it
Microsoft Outlook allows you to work with corporate emails, create notes, filter them by attributes, save messages, and much more. The service also allows you to perform various other kinds of corporate tasks. With Outlook, you can coordinate events, create conferences, use other people's calendars, and create meetings. It should be noted that, although Outlook is popular, there are a ton of similar services on the market that are also more successful and more popular than this email client.
If you haven't been using Outlook for a long time, we recommend that you don't store it on your Mac computer. Unneeded applications take up a lot of your disk space, and a cluttered disk usually leads to various problems with your computer, including slowing down the Mac's performance. Therefore, it is better to uninstall unnecessary applications in a timely manner. Also, if you encounter any problem in the Outlook application, reinstalling can help you solve this. In this article, we'll show you how to completely remove Outlook from your Mac.
Important notes about uninstalling Microsoft Outlook from Mac:
Before writing this guide, we checked the information provided by Microsoft's support page regarding uninstalling Outlook, which says that you can delete the browser by dragging and dropping it into the Trash. However, if you only do this, all its leftover files will still remain on your Mac and take up your disk space.
All applications that are installed on your Mac create lots of service files, which are located in the hidden Library folder and are occupying your disk space. When you delete an app by simply dragging and dropping it into the Trash bin, all of its system files are still left on your computer. To completely uninstall any application from Mac, you have to find and delete all its service files as well. In this article, we will explain how to uninstall MS Outlook completely.
We recommend that you follow the manual way only if you understand how the file system on macOS works. If you remove important service files by mistake, it can damage your system.
If you do not have time to explore the manual way of uninstalling Outlook from Mac, you can use a special tool called App Cleaner & Uninstaller. This is a special uninstaller that will help you to completely uninstall any application from Mac along with its caches, logs, login items, preferences, and browser extensions.
Using App Cleaner & Uninstaller to remove or reset Outlook is also recommended by awarded Windows MVP specialists. You can check it on the Microsoft community page.
---
How to uninstall Outlook on Mac manually
Any applications running on a Mac create special support files for proper and fast work. So when you decide to remove an app from your Mac, you should remember to remove its service files as well. The same goes for Microsoft Outlook (2010, 2011, or other versions).
Follow the instructions below to completely uninstall Outlook on your Mac, including its cache, logs, preferences, and other service files.
Quit Outlook.
Launch Activity Monitor.
Close processes related to Microsoft Outlook by clicking the "X" button
Go to the Applications folder and move Outlook to Trash.
Launch Finder, click Go in the menu bar and select the Go to Folder option.
Type ~/Library/ and press Enter.

In the Library folder, find the service files of Outlook and remove them. In our case, we found service files in the following directories:

~/Library/Application Support/com.microsoft.Outlook
~/Library/Containers/com.microsoft.Outlook
~/Library/Application Scripts/com.microsoft.Outlook
~/Library/Caches/com.microsoft.Outlook
~/Library/Preferences/com.microsoft.Outlook
After deletion, we decided to check if there were more Outlook files in other subfolders. We used a free application called Funter for this task. On the screenshot below, you can see that there are lots of Outlook service files, which are spread out in different locations and are not so easy to find manually. Therefore, we highly recommend using Funter, which finds any type of file by name, including hidden files in system folders and packages.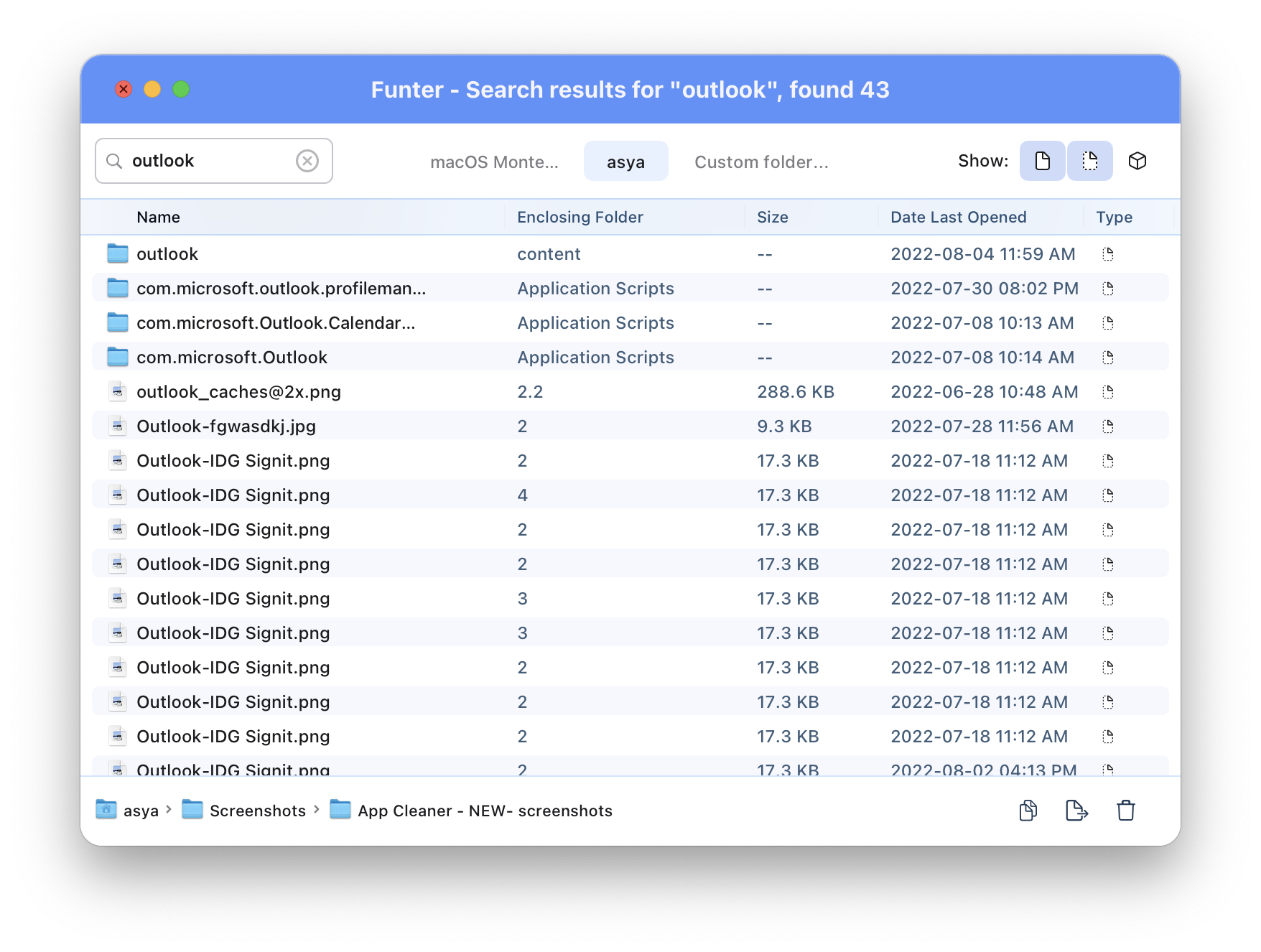 Once you've removed all the files related to Outlook, go to Trash and empty it.
As you can see, searching for service files manually may take a lot of time. The good news is that you can use the automatic method of uninstalling Outlook, which will take less than a minute! Keep reading to learn how to remove Outlook with several clicks.
---
How to uninstall Outlook using App Cleaner & Uninstaller
The automatic method requires using a special cleanup utility called App Cleaner & Uninstaller, which automatically finds all the service files of each application and allows you to remove them without leaving any remaining files.
Here is how to uninstall Outlook with App Cleaner & Uninstaller:
Download and run App Cleaner & Uninstaller. It will scan apps installed on your Mac.
Find and select Outlook from the list of apps.
Click the Uninstall button.
Review the selected items and confirm the removal of the Microsoft Outlook application.
Please note that if you have already uninstalled Microsoft Outlook by dragging and dropping the program into the Trash, you can still get rid of its remaining system files in a matter of a few clicks.
To remove the remaining files of the Outlook app, launch App Cleaner & Uninstaller → go to the Remaining Files section → Select the files related to the Outlook app and click on the Remove button. Then just confirm the removal of all selected files.
---
How to reset Microsoft Outlook
As with any application on a Mac, Outlook can have problems. If Microsoft Outlook starts working incorrectly, closes suddenly, or shows an error, you should reinstall or reset it. To reset Outlook quickly, you can use the App Cleaner & Uninstaller app. Follow the guide below to reset Outlook using App Cleaner & Uninstaller:
Launch App Cleaner & Uninstaller.
Find Microsoft Outlook in the list of applications and right-click on it.
In the context menu, select the Reset Application option.
Confirm the removal of Microsoft Outlook service files.
That's all! You have now reset the Outlook app to default settings.
---
Conclusion
The manual method of uninstalling apps usually requires a lot of time, and it never guarantees that you got rid of all the service files, which are sometimes spread all over your Mac's hard drive. That's why we recommend using a professional uninstaller, which does this job quickly, efficiently, and correctly.
Use App Cleaner & Uninstaller if you can't uninstall Outlook manually or just want to save time. You can actually download App Cleaner & Uninstaller for free right now!