In case Outlook works incorrectly on your Mac, you can try to fix it by clearing the cache. This article provides a detailed guide on how to clear the Outlook cache.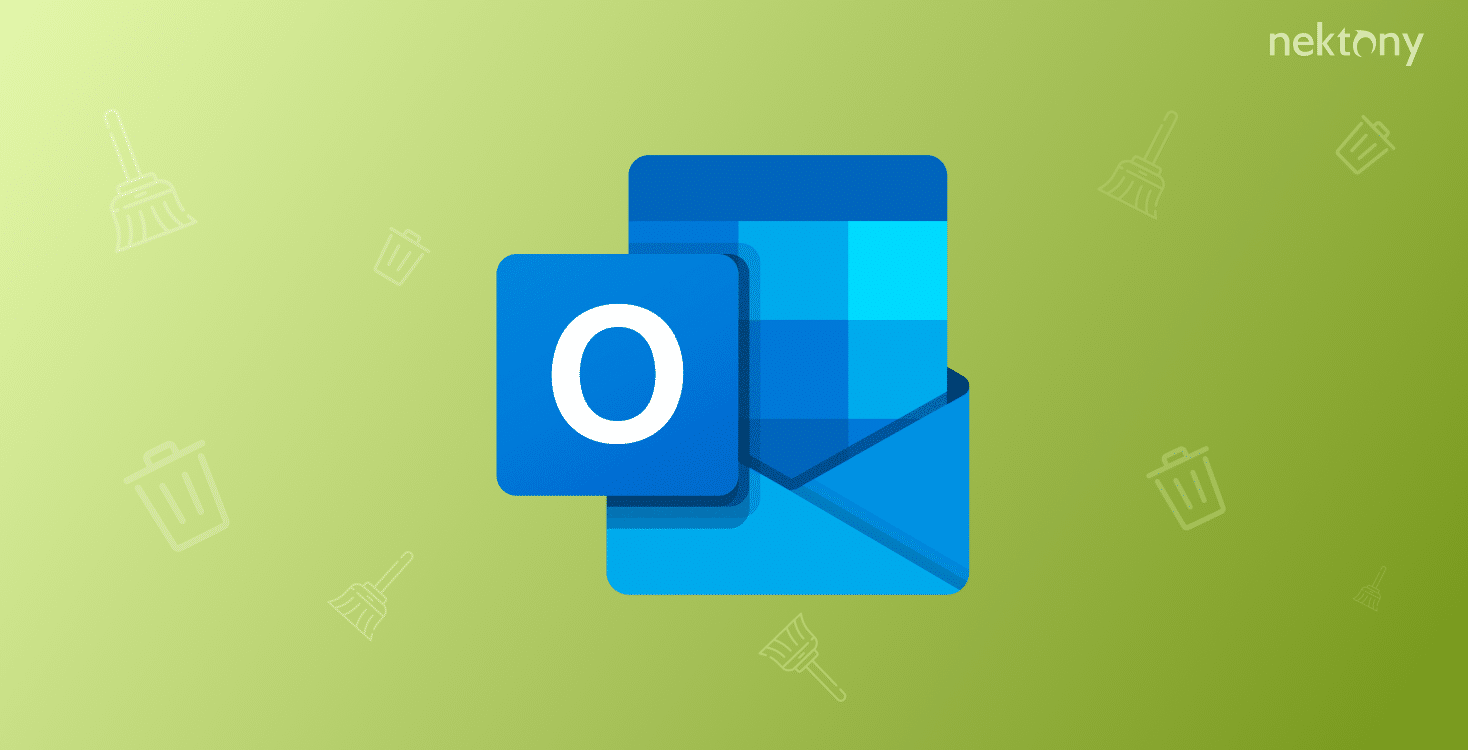 Contents:
Tip – The quickest way to clear the cache on a Mac
Below, we explain how to manually remove cache files on your Mac. However, the fastest way to remove caches of particular applications is to use
App Cleaner & Uninstaller
.
App Cleaner & Uninstaller is not only great at completely uninstalling software programs from a Mac, it also allows you to remove caches and other service files and reset applications.
You can get a free trial with unlimited features.
App Cleaner & Uninstaller
What does clearing Outlook's cache do?
Many users are afraid to clear the Outlook cache, thinking it might remove emails, contacts, or other important data. This is not true.

Caches are the temporary support files that help apps and system processes load faster. When you remove caches, the applications automatically create them again the next time you run the apps. What's more, we recommend periodically clearing cache files on your Mac to free up disk space and fix performance errors.
Thus, it's safe to delete Outlook cache files. If you face some errors with Outlook, refreshing the cache can help you fix them. You can remove Outlook cache files manually or using App Cleaner & Uninstaller. The uninstaller also allows you to remove or refresh Outlook with just a few clicks.
---
How do you manually clear the Outlook cache on a Mac?
By default, Apple stores cache files in the Library/Caches folder. But when it comes to the Microsoft Outlook cache, it's not so easy to find them. Outlook caches are stored in deeply hidden subfolders on your Mac. But don't worry, we'll explain how to find them.
Steps to manually find and remove Outlook cache files:
Close Outlook on your Mac.
Open Finder.
Press Cmd+Shift+G on your keyboard.
In the window that appears, type ~/Library/Caches and press Enter (Return).
In the Caches folder, find a folder named com.microsoft.Outlook and remove it.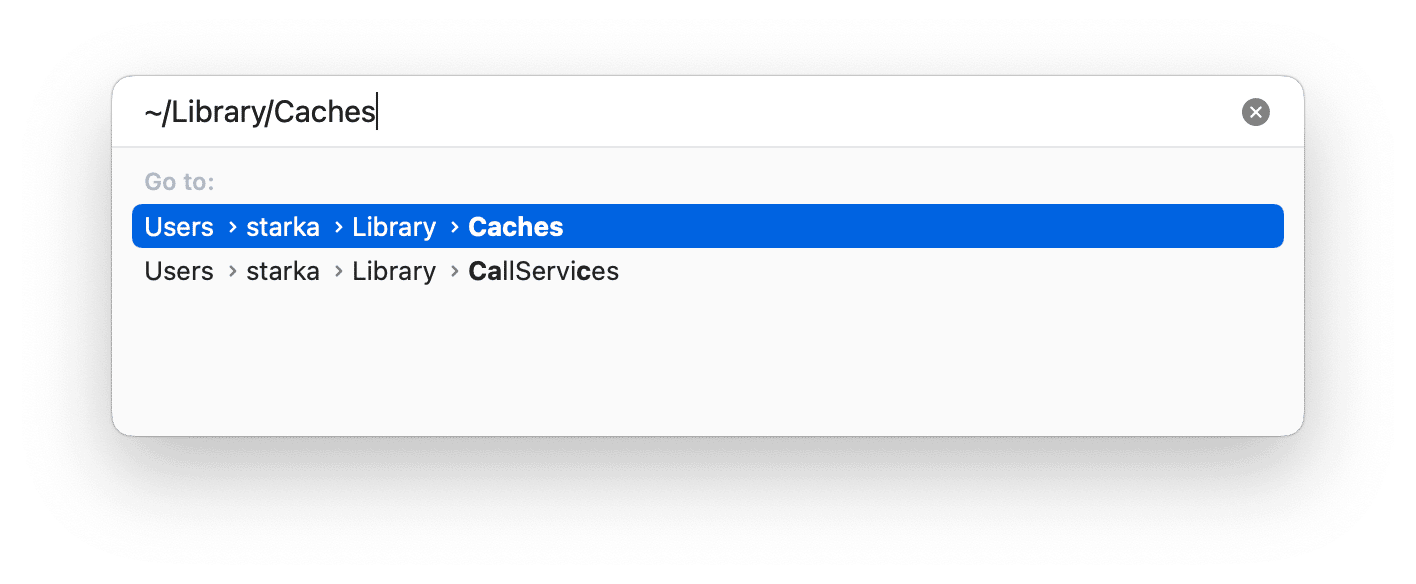 If you can't find Outlook's caches in this directory, you can use a free application called Funter that finds any file on your Mac by name, including hidden files. Here's how to use it:
Download and launch Funter.
Click the Funter icon in the menu bar.
In the search field, type Outlook and press Enter.
Scroll through the results to find the Microsoft Outlook cache.
Click the magnifier icon to open the folder in Finder.
Remove Outlook caches.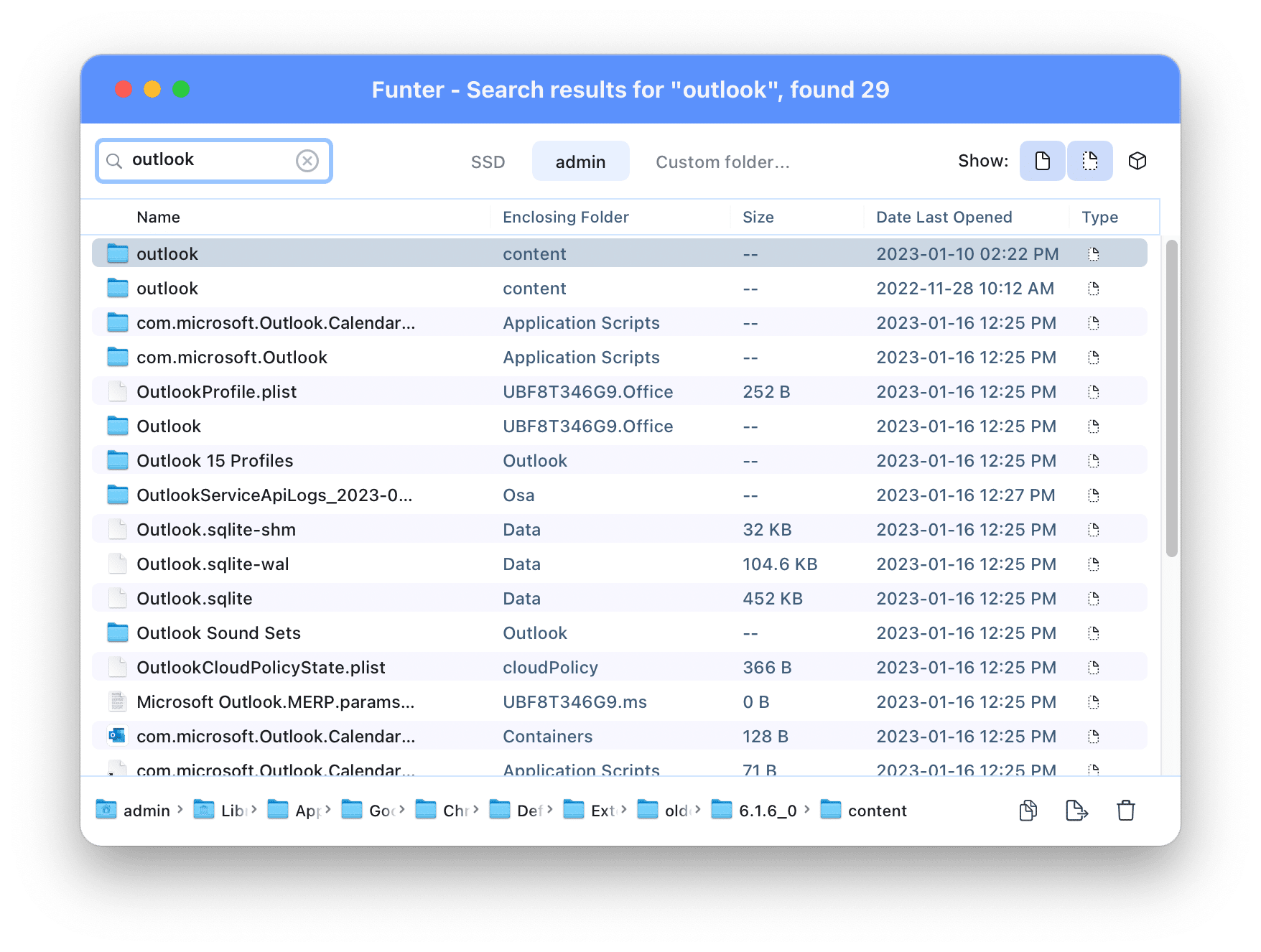 ---
How to clear auto complete cache in Outlook
Auto-complete is a helpful feature that allows you to quickly type the email address when sending messages in Outlook. When you use auto complete list, you may create numerous incorrect contacts that you'd like to remove. Here's how to delete auto complete cache on Mac:
Launch Outlook and click to create a new message.
Type the address you want to delete in the "To:" field.
Click the "X" button next to the address.
Repeat the same steps for other email addresses.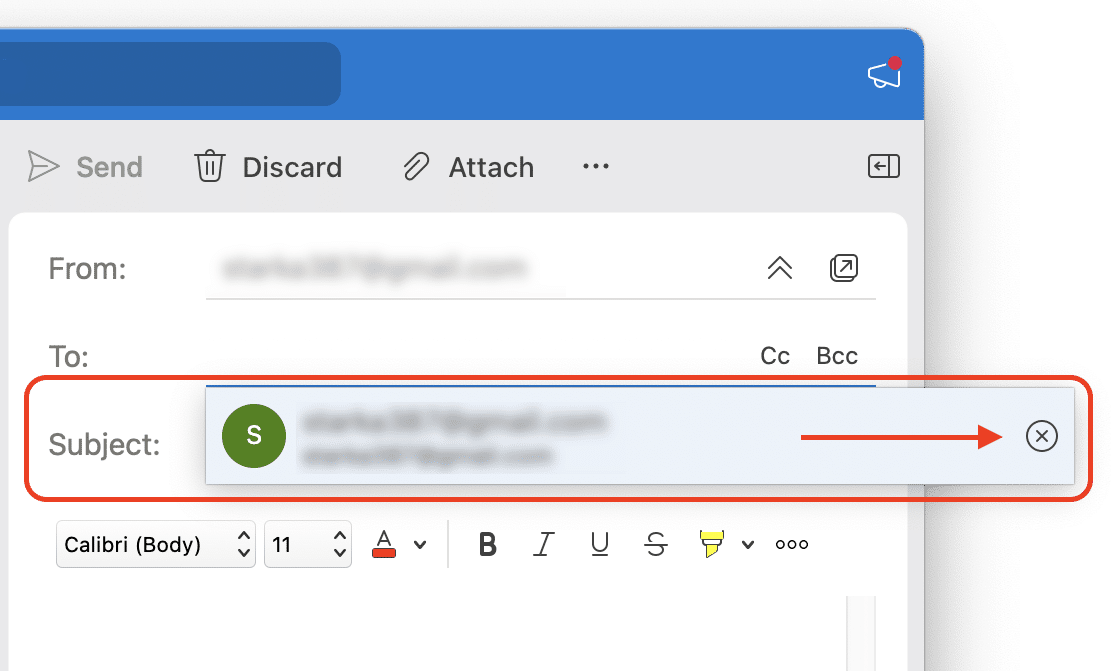 What's the quickest way to clear Outlook caches on a Mac?
One of our previous articles explained how to completely uninstall Outlook with App Cleaner & Uninstaller. With this application, you can also clean up caches of particular software programs and even reset them.
Steps to clear the cache in Outlook with App Cleaner & Uninstaller:
Download and launch App Cleaner & Uninstaller.
Switch to Expert Mode.
Find and click Outlook in the left panel.
Select Caches in the right panel.
Click Remove and confirm the deletion.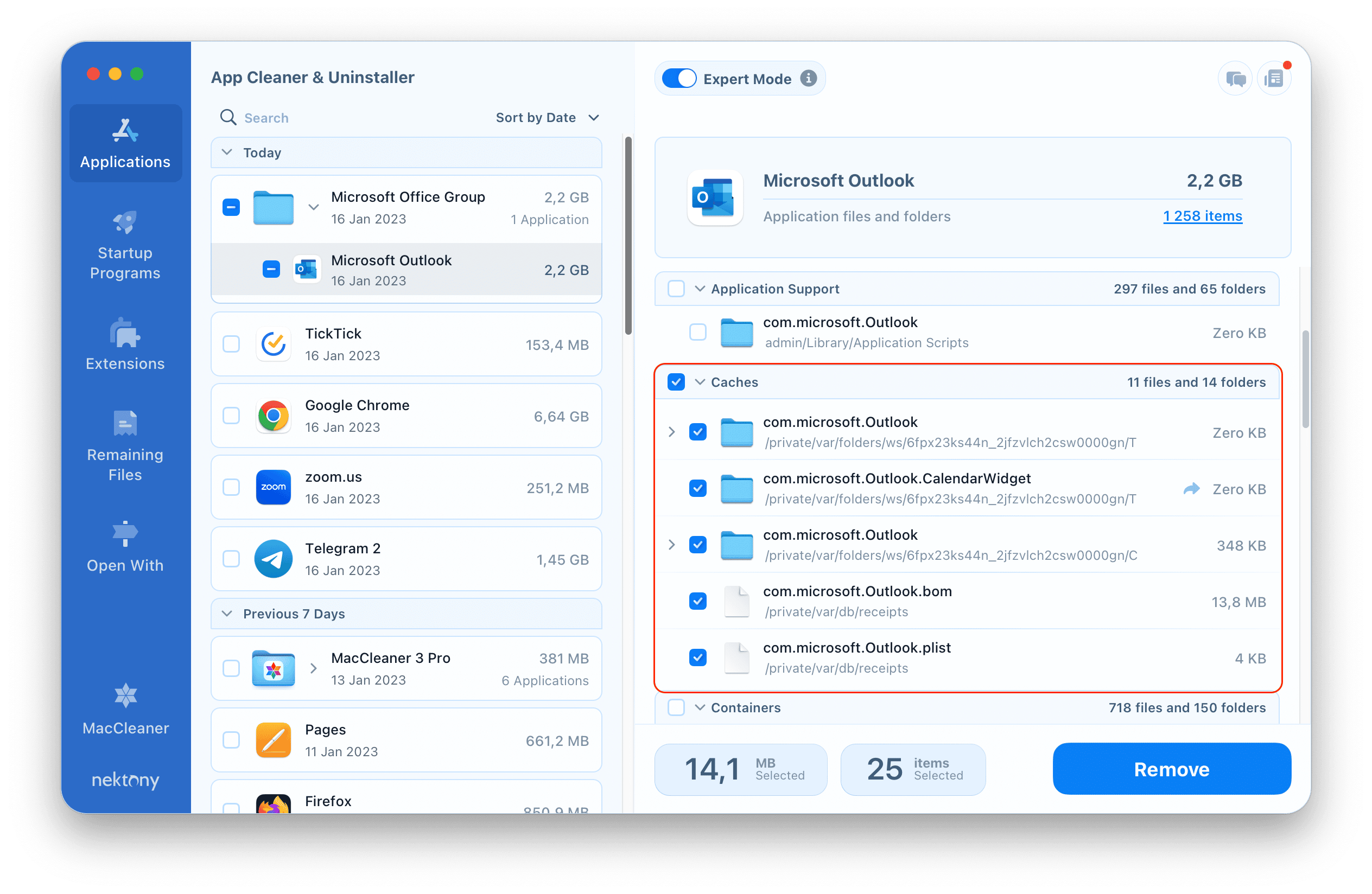 ---
How do you reset Outlook on a Mac?
With App Cleaner & Uninstaller, you can also refresh Outlook by removing all caches, cookies, preferences, and other service files. Follow the steps below:
Launch App Cleaner & Uninstaller.
Find Microsoft Outlook in the left panel and right-click on it.
Click Reset Application. The app will select all service files for Outlook.
Confirm resetting by clicking the Remove button.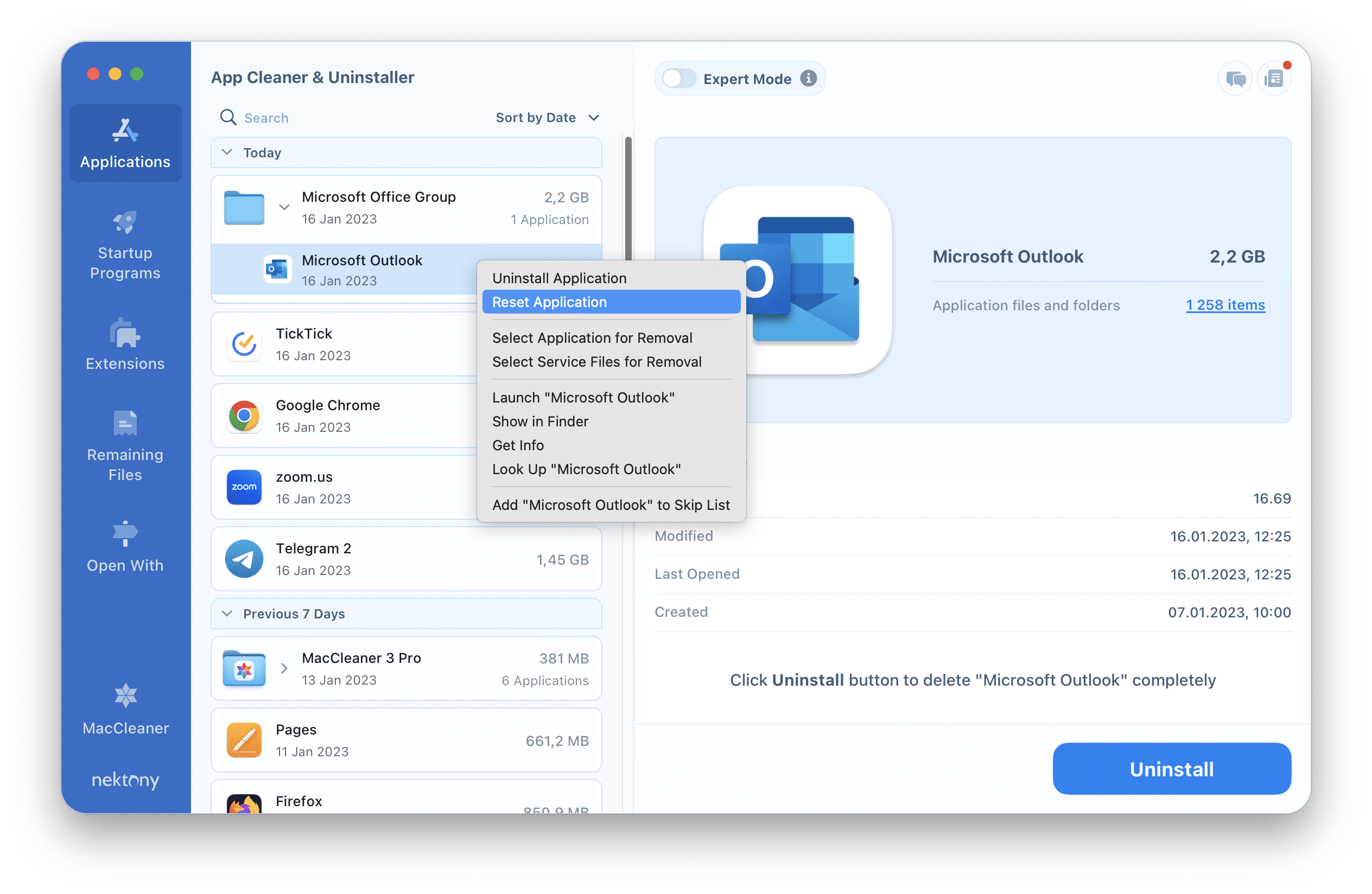 ---
---
FAQs
Does Outlook for Mac have cache mode?

The Mac version of Outlook doesn't have a cache mode for storing emails like the Windows version does. Outlook for Mac supports only Cached Exchange Mode. Because of this, synchronization can sometimes be delayed between the client and the Exchange server.
Why is Outlook running so slow on my Mac?

Microsoft Outlook might start working slowly on a Mac because of broken service files, corrupted caches, and being out of date. You can try to reinstall, reset or refresh Outlook's temporary files to fix the issue.
Where is the Microsoft Outlook cache stored on Mac?

By default, macOS stores applications' cache files in the ~/Library/Caches folder. Depending on the version of Outlook you have, you can find its temporary files in the following locations:

~/Library/Caches/TemporaryItems/Outlook Temp
~/Library/Containers/Microsoft Outlook/Data/Library/Caches
How do you cleanly reinstall Outlook on Mac?

To reinstall Outlook and reset all its settings, do the following:

Close Outlook and run App Cleaner & Uninstaller.
Select Outlook and click the Uninstall button.
Confirm removing all support files for Outlook.
Download Outlook from the Microsoft site and reinstall it on your Mac for a clean installation.
Should I clear Outlook cache?

Generally clearing cache is not obvious. However, clearing the Outlook cache on your Mac can help you resolve some issues with the app, such as slow performance, syncing problems, or corrupted data. Note that clearing the cache also means that you will lose some information, such as your recent searches, recipients, and attachments.