Latest VSD Viewer update enables new "professional" feature
We announce next important update for VSD Viewer, app that processes Microsoft Visio files on Apple devices: Mac, iPad and iPhone. Unlike previous updates, version 6.0 for iOS contains features that even Windows-based Visio viewer hasn't – displaying of object's shape data.
What is shape data?
Visio Shape Data is a special feature, that allows you to create arrays of named properties, set value for every property, add the data to an ordinary drawing in order to make it more meaningful and representative. Shape Data is widely used in: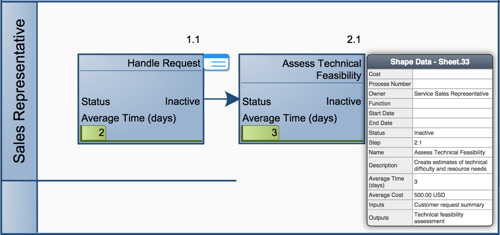 Network Diagrams to describe network hardware configuration;
Organizational Charts to add  internal information for every item – position, email, birthdate, department, phone number and others;
Floor plans and office layouts to add such properties as wall thickness, real sizes, inventory numbers for furniture;
Activity Diagrams for storing item ID, task duration, assigned resources;
In any other graphical drawing that requires displaying of additional object data.
So, Shape Data gives you an ability to make your drawing more informative – save and display additional parameters along with diagrams. Unlike MS Visio itself, VSD Viewer is able to display shape data about several objects simultaneously. See examples below:
---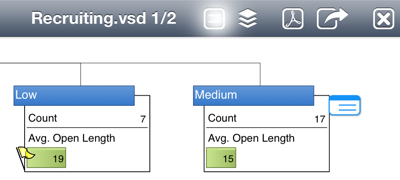 How to enable the feature?
Activating of this feature is as easy and intuitive as switching layers or navigating drawings' pages. Tap shape data menu icon (highlighted on image right), then every object containing shape data displayed with action button; there is no need to inspect object properties, the app does it for you beforehand.
Shape Data works for any Visio 2000 – 2013 file extension (.VSD, .VDX, .VSDX). Also it is possible to print drawings or convert them to PDF with currently activated shape data.
We believe this makes portable usage of Visio more informative and adds additional value for professionals as the feature gives possibility to observe complex drawings in details.
Note:  Shape Data is also available on Mac OS X version.