Disk Space Analyzer – How to Get Started
Disk Space Analyzer is a disk space analyzer for Mac, which allows you to see what is taking up space on your hard drive. Disk Space Analyzer saves you time in detecting large files, old unused files and helps you to recover valuable space by removing unwanted content.
Here's how to get started with Disk Space Analyzer.
---
Analyze your Mac disk space usage
Launch Disk Space Analyzer.
In the sidebar, you will see your Mac storage and the list of the most used folders in Finder.
Click the Play button to start scanning your Macintosh HD. While the app is scanning your disk, you will see the animated scan progress.
You can view short information about each section of the sun-burst diagram without waiting for the scan to finish. Just mouse over the sections and you will see what is the size of this file or folder and when it was last modified.
Once the scan is finished, you can click on each section and explore each folder in more detail.
---
Find the largest files
With Disk Space Analyzer you can easily find the largest files and folders. The size of each section in the sunburst diagram matches the size of the folder. The larger the section size, the larger the folder size.
In the right section, you can also see the list of the biggest files on your disk placed in descending order.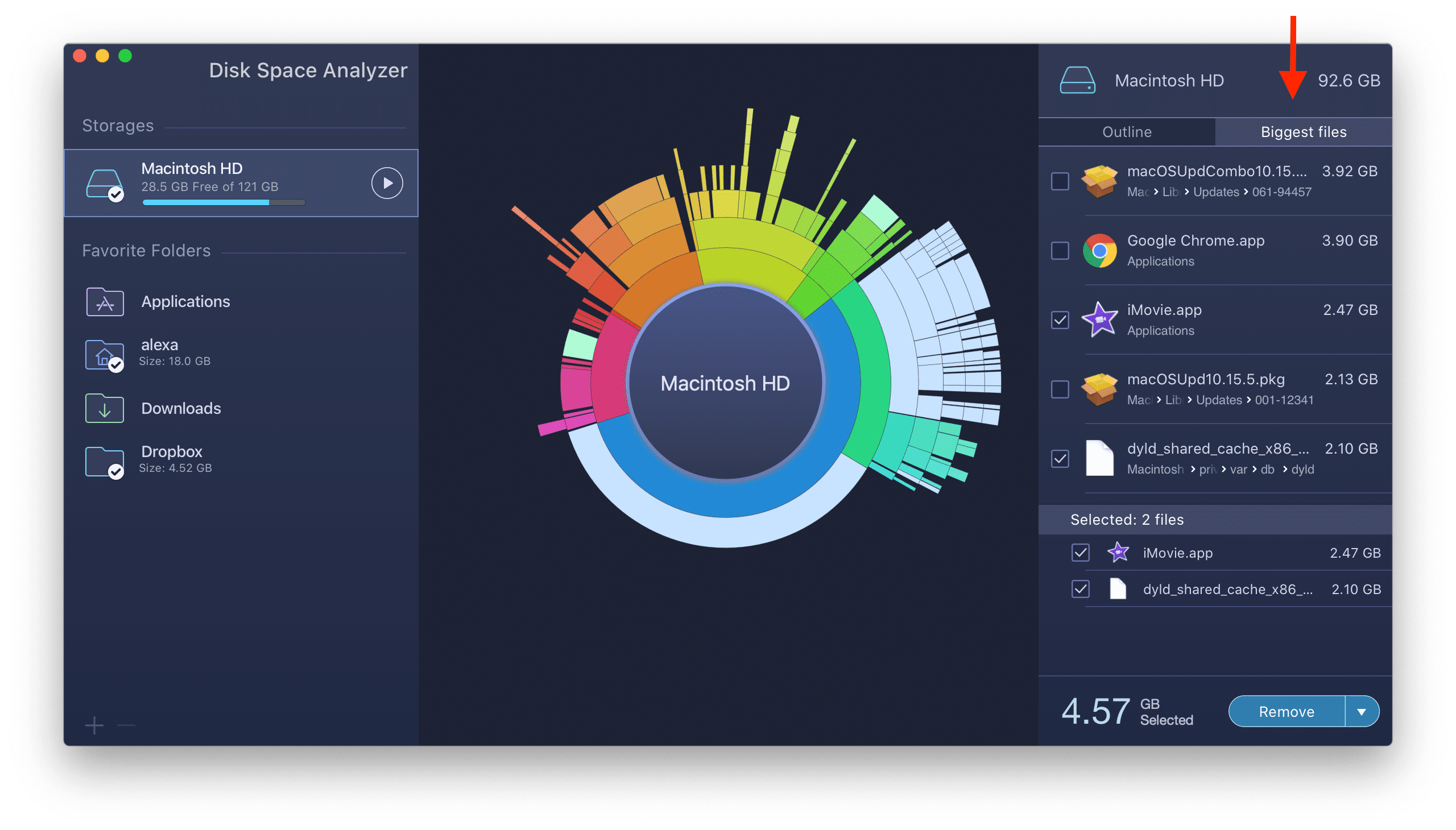 ---
Free up space on your Mac
With Disk Space Analyzer you can find big and old unused files and remove them or move them to external storage in order to free up space on your Mac.
Explore your folders and files in them.

Drag and drop rarely used items to the bottom right section. Also, you can select unwanted items right in the Biggest Files section. The selected items will be filled in a different color on the diagram.

Click to remove, move or copy the selected items.
---
Scan external storages
Disk Space Analyzer allows you to analyze the usage not only of your Mac disk, but also of any folder and external storage.
Click on the Plus button in the bottom left corner.
Add a folder or a disk.
Click to scan it.
Watch this video to see how easy it is to find and remove the largest files with Disk Space Analyzer.
Video Guide
---
Now you know how to easily analyze your disk space usage on a Mac.
Use Disk Space Analyzer to detect large and old files and free up more space on your hard drive.