Help
VSD Viewer for iOS, iPadOS and Android devices
Overview
VSD Viewer is an application designed to open MS Visio® files on iPad and iPhone.
It can help you work with a team of people, you can open the project from your iPhone/iPad whenever you want and wherever you are, when you need to complete projects.
Also, you can easily show any visual documentation to your co-workers without having to carry your notebook everywhere.
Capabilities to collaborate with MS Visio® files on iPad and iPhone:
Send a document via email
Save Visio® documents in PDF
Print document through AirPrint
Share Visio® files between iPad and computer
If you have a bunch of business documents that are in MS Visio format and you need to show them to clients, with VSD Viewer you can easily open Visio on your iPad or iPhone. Just with one tap of a finger you can get more details, if needed. This little app does the work of professional business software.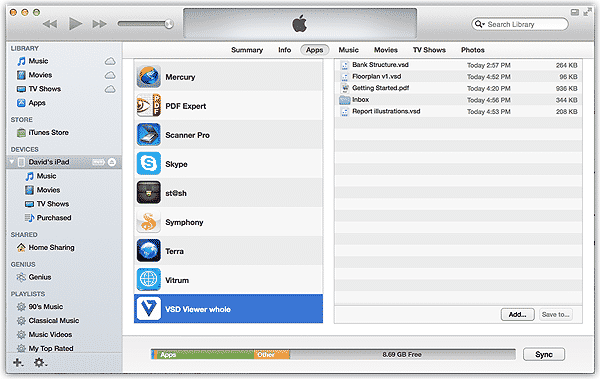 Visio® Viewer key advantages:
Mobility. It allows viewing, saving and printing charts and diagrams created with MS Visio on iPad or iPhone.
Autonomy. It does not require Internet connection to open the VSD files.
Security. It enables password protection setup on application entrance.
Using VSD Viewer enables professionals to be fully mobile by having all necessary visual materials always with them. The VSD Viewer running on iPad or iPhone really simplifies collaboration within the team and conversation with clients.
---
Options
VSD Viewer is an application that allows you to preview Visio drawings on the iPhone and iPad. It allows you to preview drawings, organize them, navigate multi-page documents, copy text and send documents to collaborators.
In line with professional requirements, it allows previewing multilayered documents
skipping hidden layers, change document presentation by switching layers visibility.
Drawings' Shape Data can be displayed on the device, printed, and saved as PDF as well.
VSD Viewer displays even complex drawings containing metafile images and OLE objects.
Advantages of using VSD Viewer
Automatic rendering of a document
Support of multi-page drawings
Possibility of text selecting and copying
Embedded File Manager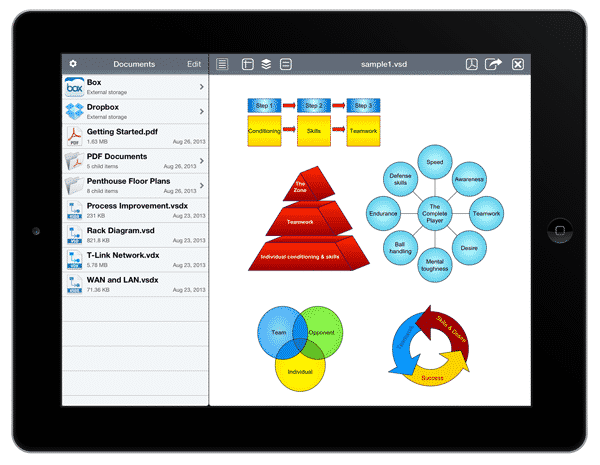 Professional support of MS Visio® drawings on iPad and iPhone:
Displaying of hidden layers and shadows.
Displaying of EMF / WMF metafiles.
Displaying of MS Visio shape data.
Operating with OLE-objects, huge BitMaps.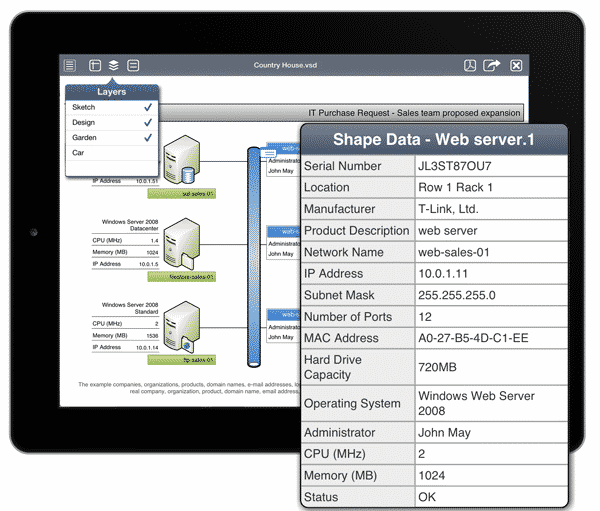 Using Visio® Viewer enables professionals to be fully mobile by having all necessary visual materials always with them. Having Visio® Viewer on iPad or iPhone really simplifies collaboration within the team and conversation with clients.
---
Files previewing
VSD Viewer allows you to open and preview Microsoft Visio 2000 – 2013 drawings on iOS, iPadOS and Android devices. To open a drawing document, use the "Open In" command, in the app that handles the drawing.
To open your Visio drawing (files with a .vsd, .vdx, .vsdx extensions), use Apple Mail, Safari, DropBox or any other application.
Click the "Open In" button and choose the VSD Viewer application to open the file.
The document will be copied to the VSD Viewer, then opened and displayed automatically.
Use the common operations of scrolling and zooming to scale the drawing to the proper size.

VSD Viewer renders complex formatted drawings with text styles, fill styles, line formatting, line arrows, text subscript and superscript. Displays EMF / WMF images, embedded OLE objects, tabulated texts as well.

VSD Viewer supports the transparency of metafiles. Enable the option if you need metafiles to be rendered with a transparent background.
VSD Viewer allows you to operate the drawing's content, by switching layers.

Use Shape Data Mode to preview drawings' Shape Data. To enable the mode click on the Shape Data icon for a graphic object to preview the data.

For drawings that might contain graphic objects or texts outside the page bound, you can enable "Extend a drawings area". Enabling this option, page boundaries are extended to place all outside elements.
---
Files management
VSD Viewer enables you to manage and organize the Visio drawings on your iOS device.
Click the "Edit" button on the File Manager panel.
To create a new folder click "Add", enter the folder name and press "OK".
To rename the file or folder, select it, then click "Rename" and enter the new name.
To move selected files, click "Move", then select the destination and click "Choose".
To send a drawing to an email recipient or other application (DropBox, Google Drive, etc) use "Open In" command.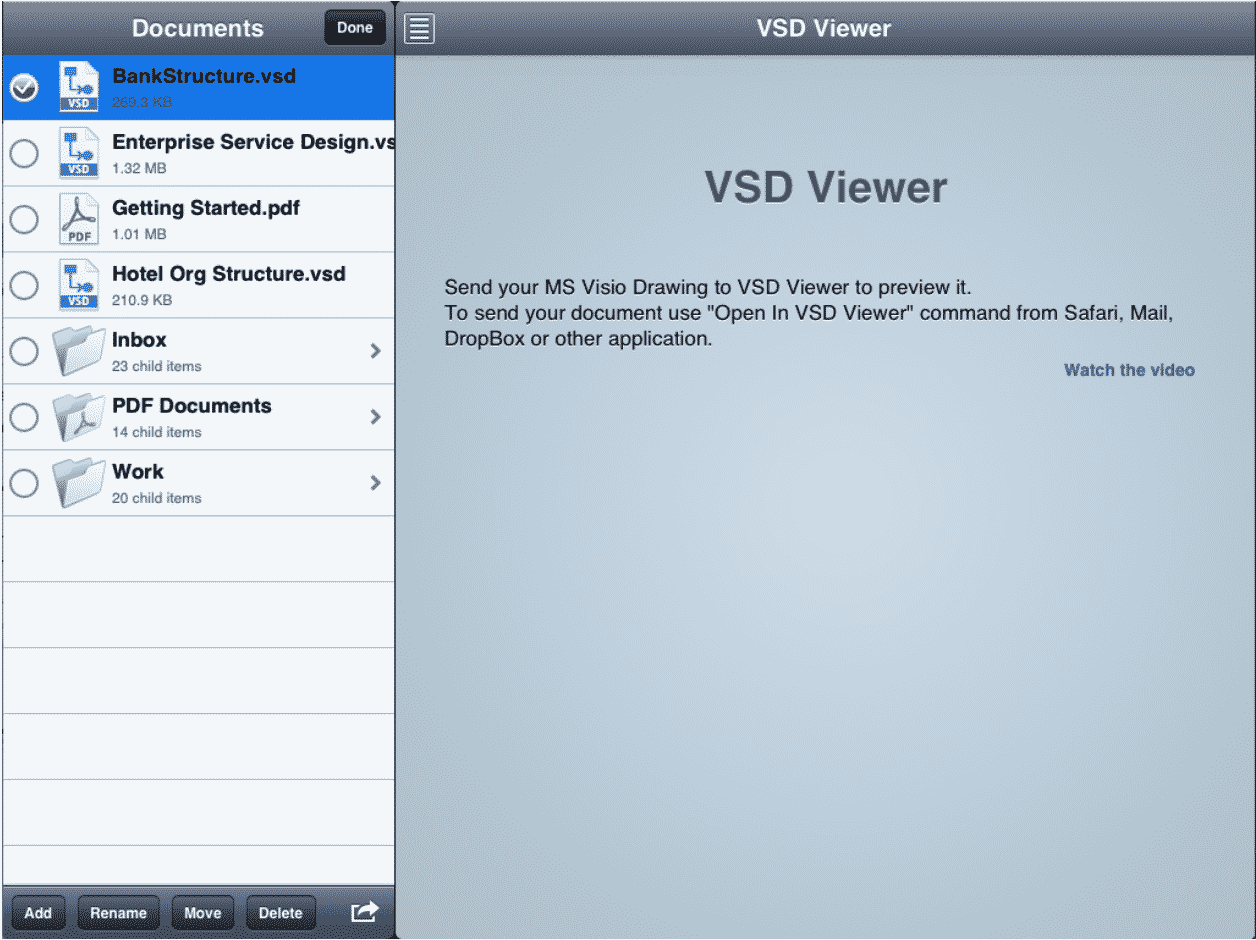 ---
Protection
VSD Viewer allows you to set a password on application entry.
Click the application's Settings button.
Step into Protection settings panel.
Enable Protection option, enter password and confirmation.
To disable protection, just turn Protection switch off.

Please, remember your password as there is no way to restore it.
Password protection restricts access to the application only. Nevertheless once your password is set, it is possible to access your drawings using iTunes file sharing.
If you need a better level of security setup PIN code for the device and disable the option to delete the app.
---
Files sharing
You can copy your Visio drawings between your iOS device and computer.
Launch iTunes and select your device in the list.
Click the "App" item at the top menu.
Select VSD Viewer from the list of applications in the File Sharing section.
Click "Add", select the drawing file and click "Open."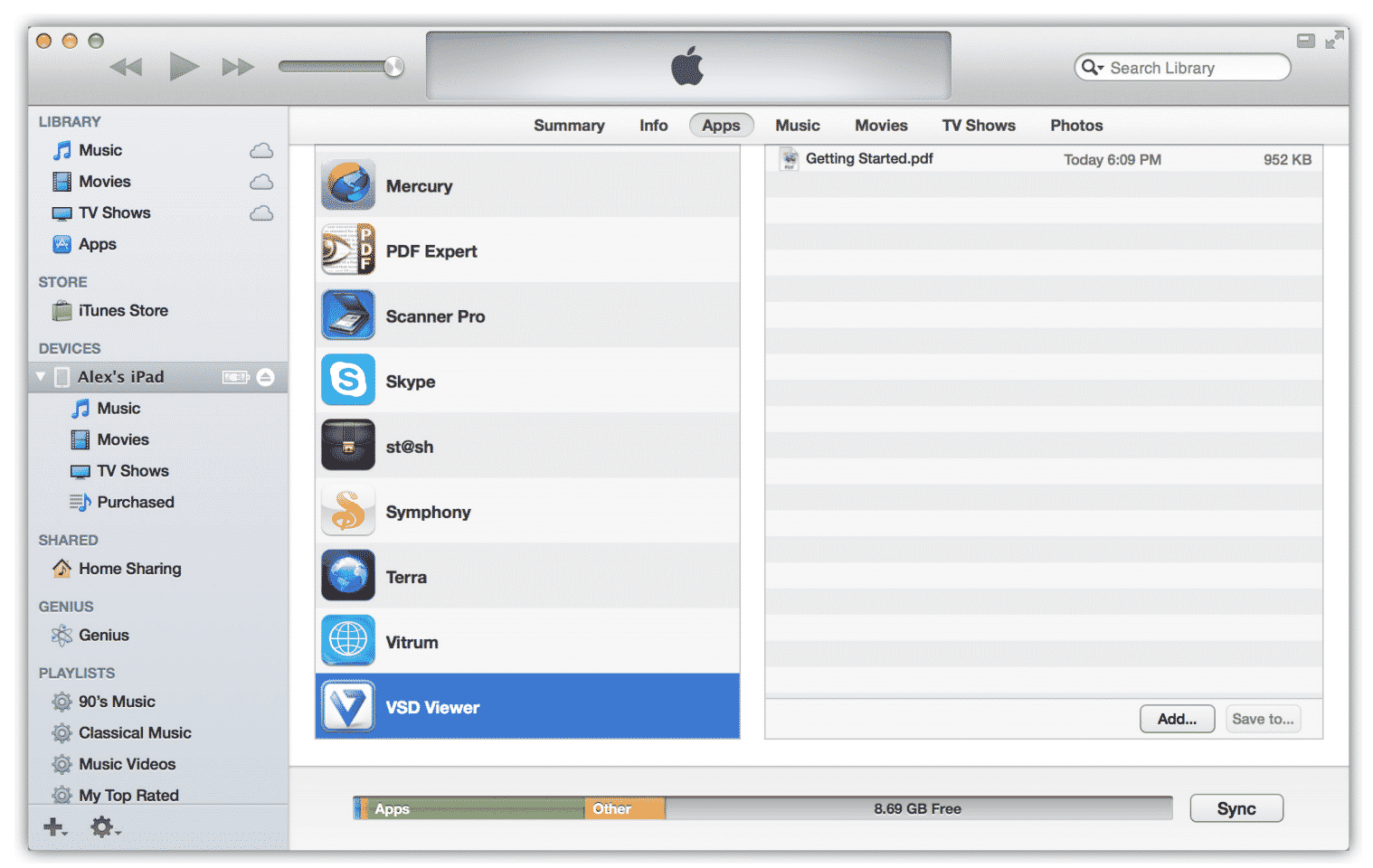 Switching on "Dropbox" and "Box" options in Preferences you will have access to your cloud file storages right from the application's File Manager.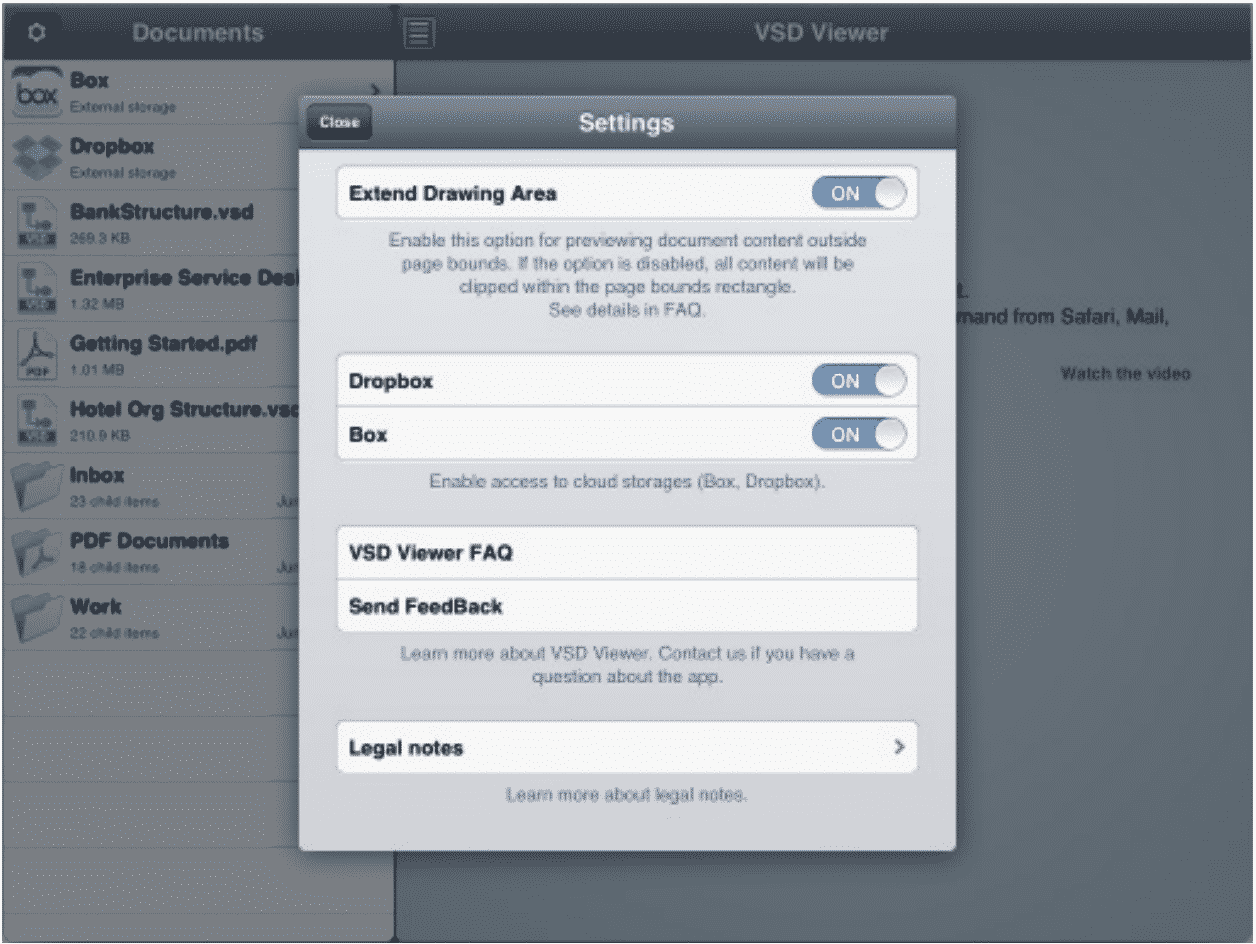 Print Visio drawings AirPrint
View your Visio drawings on a paper simply tapping the "Print" button. Note: wireless printing supported via AirPrint only.
Export Visio drawings PDF
VSD Viewer gives an ability to save Visio drawings as PDFs for further
annotation and sharing with colleagues without reference to applications.
Switch documents layers, enable Shape Data to save current view of the
document as PDF and printing.
VSD Viewer empowers professionals to communicate with graphical business and technical documentation. VSD Viewer is a perfect solution for online/outsourced teams that need to collaborate on the drawings.