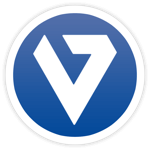 Free VSD Viewer - Visio® Viewer for Mac
Evaluation Version

VSD Viewer is a free-to-try Microsoft Visio® Viewer for Mac OS X. The application is a full-featured evaluation version that is able to display .VSD, .VDX, .VSDX MS Visio® document formats created with MS Visio® 2000 – 2013 versions.

Besides basic viewing features the App is able to navigate pages, operate with layers, export to PDF, print and even show objects shape data.
Text Displaying

VSD Viewer displays texts on Mac OS X the same way as they were created for native operational system – Windows. Various inherited fonts, line and fill colors, tabulated text in frames and tables, uncommon interspacing line heights, shape lines width and type, backgrounds, fills, even subscripts and superscripts are indistinctive to the way they look in original MS Visio®.

The application with ease renders documents with built-in Windows-native drawing objects – Metafile images (WMF/EMF) and even OLE objects as well.
Processing Layers

Secondarily, Viewer can perform operations with drawing's layers in real time.

Enabling or disabling them simply by tapping one button will promptly result on drawings displaying. Note, that objects that belong to disabled layers will be excluded and won't be visible on PDF-converted and printed documents.
Processing Shape Data

Thirdly, we included such professional feature as shape data displaying.

Similar to layers it could be enabled for all specific drawings and objects that have shape data will be displayed. Activated objects with shape data (as many at a time as needed) will be shown on PDF-converted and printed documents.
Visio® Viewer Features
Basic features
• Open and preview any MS Visio® 2000 – 2013 drawing of VSD format and VDX/VSDX file formats • Scroll, zoom and navigate documents • Navigate multipage documents • Preview documents with backgrounds • View formatted objects (lines, arrows, fill types, colors, gradients, opacity, etc.) • View objects with formatted texts (fonts, colors, styles, text subscript and superscript) • View drawings with themes • View objects with tabulated text (texts with frames and tables) • View documents with hidden objects • View objects outside page boundaries • View original dimension units • View guides for documents • Print and Save to PDF your drawings
Advanced features
• Preview drawings with layers • Switch hidden layers visibility • View documents with embedded OLE-objects • View documents with embedded metafiles - EMF and WMF • Print and Save to PDF your drawings • Preview objects' Shape Data • Enable Shape Data mode to preview assigned data • Print & Save to PDF drawings with enabled Shape Data
Download Free Visio® Viewer for Mac
Requirements: OS X 10.8 or later, 64-bit processor