Duplicate File Finder allows you to quickly locate and remove all duplicate files and folders on a Mac. Most users don't even realize how many duplicates they may have on their Macs.
Here is a step-by-step user guide that will help you to get started with Duplicate File Finder easily, and clear useless repeated data from your disk.
---
Step 1 – Launch Duplicate File Finder
Download the application from Mac App Store

.

System requirements for Duplicate File Finder:

macOS 10.12 or later
64-bit processor
35 MB free disk space

Launch Duplicate File Finder from the Launchpad. You will see its initial window for choosing which folders or drives should be scanned.
---
Step 2 – Search for duplicates
Click the green button on the left to choose folders from the Finder. Next time you click the arrow under this button and choose a folder from the drop-down menu, where recently scanned folders are displayed.
Then click the blue button on the right to start scanning the folders.
During the scanning process, you will see an animated bar chart that represents found duplicate files and folders in real time. Wait until it finishes searching for copies.
When the application completes checking the folders for duplicates, you will automatically be switched to the screen with an overview of summary results. You can review them in Bar Chart or Pie Chart mode. Here you will also find a section with smart cleanup hints and a list of the biggest Similar folders (if you have them).  Note, these options are available only in Pro mode of Duplicate File Finder.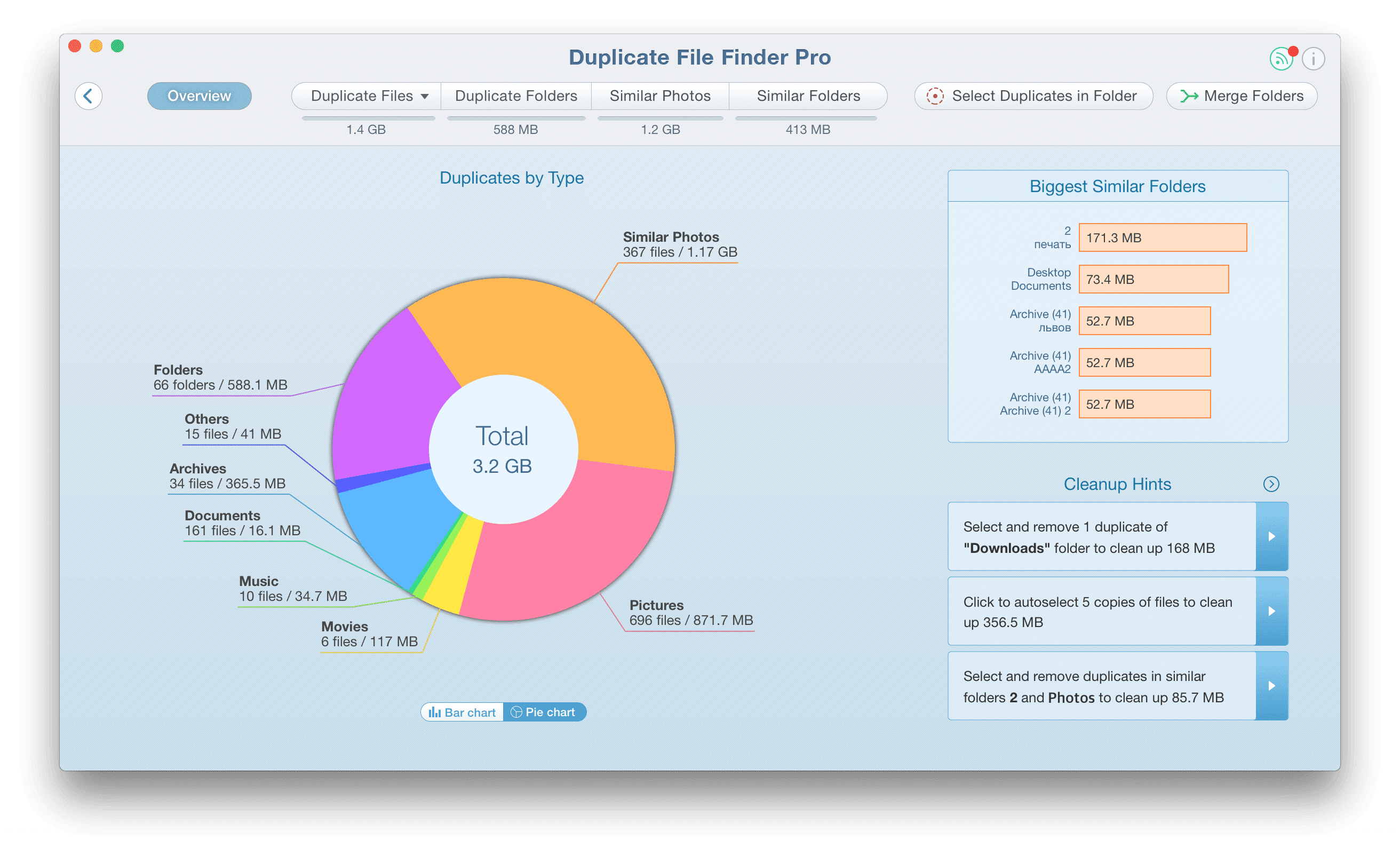 You can switch to any category from top Menu tabs (Duplicate Files, Duplicate Folders, Similar Photos, Similar Folders for a detailed review of duplicates, or go to Duplicate Files tab where you will see duplicate pictures, movies, music, documents, archives and other types of duplicate files.
---
Step 3 – Select Duplicates
In each section, you can preview the duplicates and similar photos or folders, see where they are located and how many identical or similar files they have.
Review your duplicates and similar pics, and select unneeded ones for removal. For this, tick the checkboxes near the file. In the left section, a list of selected files will appear.
What does the chain icon mean in the window?
Please note, in some cases, you can see the chain icon instead of the checkbox that makes it impossible to select a separate duplicate file. This happens when the duplicate files are located in duplicate folders.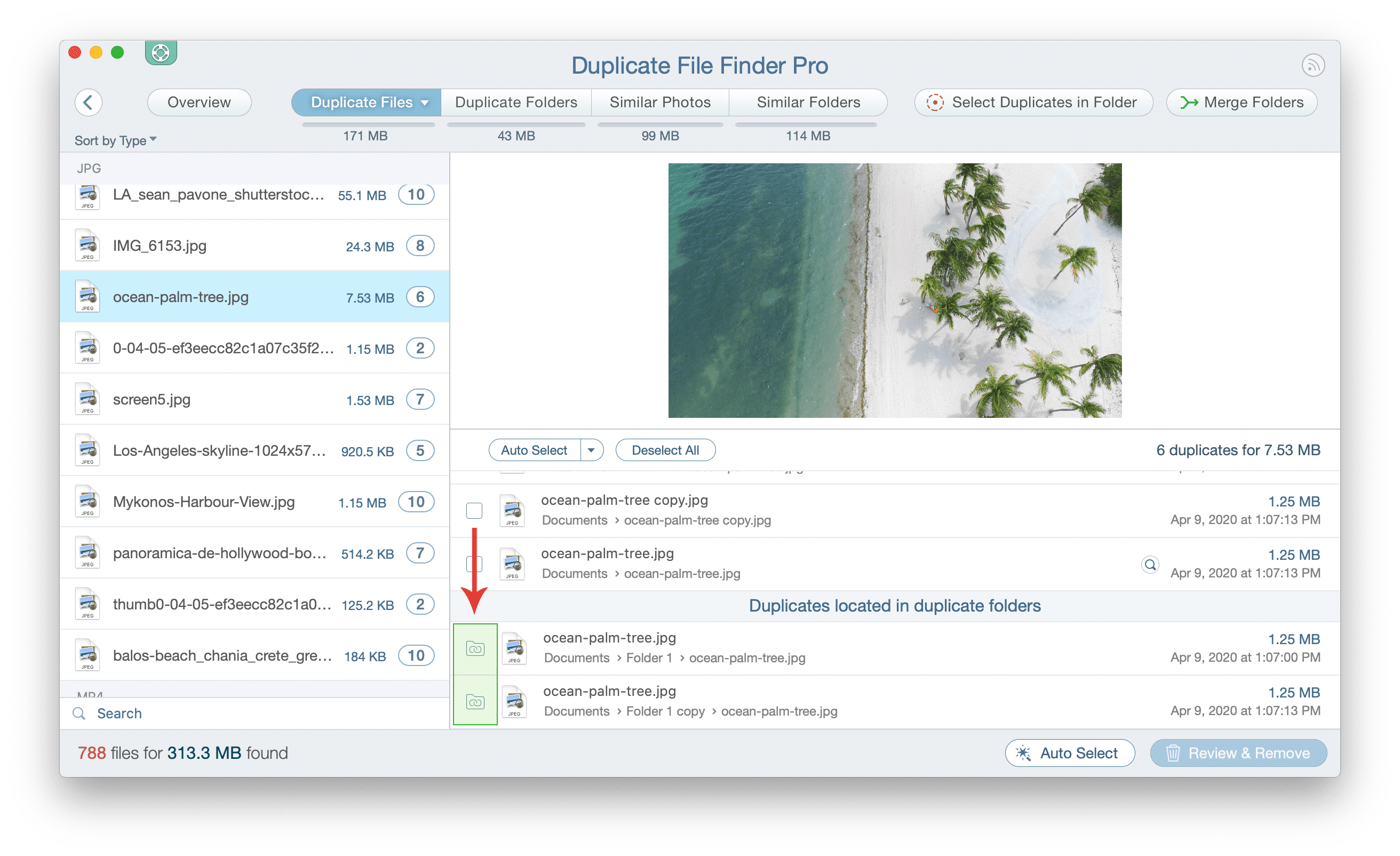 If you click the chain icon, the Duplicate Folders section will be opened. There you can see the duplicate folders which contain these duplicate files. ​You can delete the duplicate folder instead of separately deleting each duplicate file inside it.
In other words, when your duplicate files are located in duplicate folders, the application suggests you to remove the whole duplicate folder at once. The same option for duplicate files inside duplicate folders is provided in the Select Duplicates in Folder section.
---
Step 4 – Remove Duplicates
After the duplicates selection, click the

Review & Remove

button in the bottom right corner.
You will be switched to a confirmation screen with a list of all selected duplicates so that you can preview them once again and be sure you don't need them any more. Click the

Remove

button to delete them.
That's all! You have cleaned up your external drive or Mac of duplicate files and folders. If you still have questions related to the application work, visit our Help page and FAQ or contact our support team. We will be happy to assist you.
---
Related articles about Duplicate File Finder