MacCleaner Pro is the all-in-one software program that keeps your Mac digitally clean and boosts its performance. This program helps you clean up your Mac's hard drive from tons of junk files, and as a result, creates more storage space.
Here's how to get started with MacCleaner Pro.
---
How to check the storage on a Mac
Launch MacCleaner Pro.
The app will automatically scan your Mac`s hard drive and display a summary of your disk usage in detail.
A bar chart displays the types of files that are taking up space on your Mac, as well as the amount of available storage. Some of the types include:
System files
Applications
Duplicates
Documents
Movies
Music
Pictures
Archives
Other volumes
---
How to make your Mac faster
If your Mac is slow, or even worse, if it sometimes freezes, MacCleaner Pro can fix this problem. Here's how:
Go to the Speed up Mac section from the sidebar.
Here you can see categories of operations that can be run for optimal Mac performance:

Free up RAM
Disable startup programs
Reindex Spotlight search
Reindex Mail

If you want to make your Mac perform even faster, switch to the Expert mode to see Pro speed up options:

Remove Internet plugins
Disable web browser extensions
Quit heavy consumers
Select the options you want to perform and click the Speed Up button.
Note that you can view each option in more detail. For this, just click on each option and manually select the items to disable, remove, or close.
---
How to clear space on a Mac
If you want to clean up your Mac`s storage, switch to the appropriate section in the app's window:
Click on Clean up Mac in the sidebar.
You will see sets of junk files that can be safely cleaned up.
If you want to see more unnecessary files that can be removed, switch to the Expert mode.
Here you can manually select the files you want to remove. Select unneeded items and click on Remove to clean them up.
---
How to manage storage on a Mac
With MacCleaner Pro you can see the list of your documents, apps and system files taking up disk space on your Mac.
Switch to the Manage disk space section from the sidebar.
Review the files taking up the largest amounts of disk space on your Mac.
If you want to remove files, launch the appropriate PRO tool provided by the app and perform a deep cleanup.
---
How to clean up a Mac with Pro tools
MacCleaner Pro provides a set of special professional utilities for those users who want to clear even more space on their Mac computers. You can run these utilities from the Manage disk space section or go to the appropriate section from the sidebar, and launch the apps from there.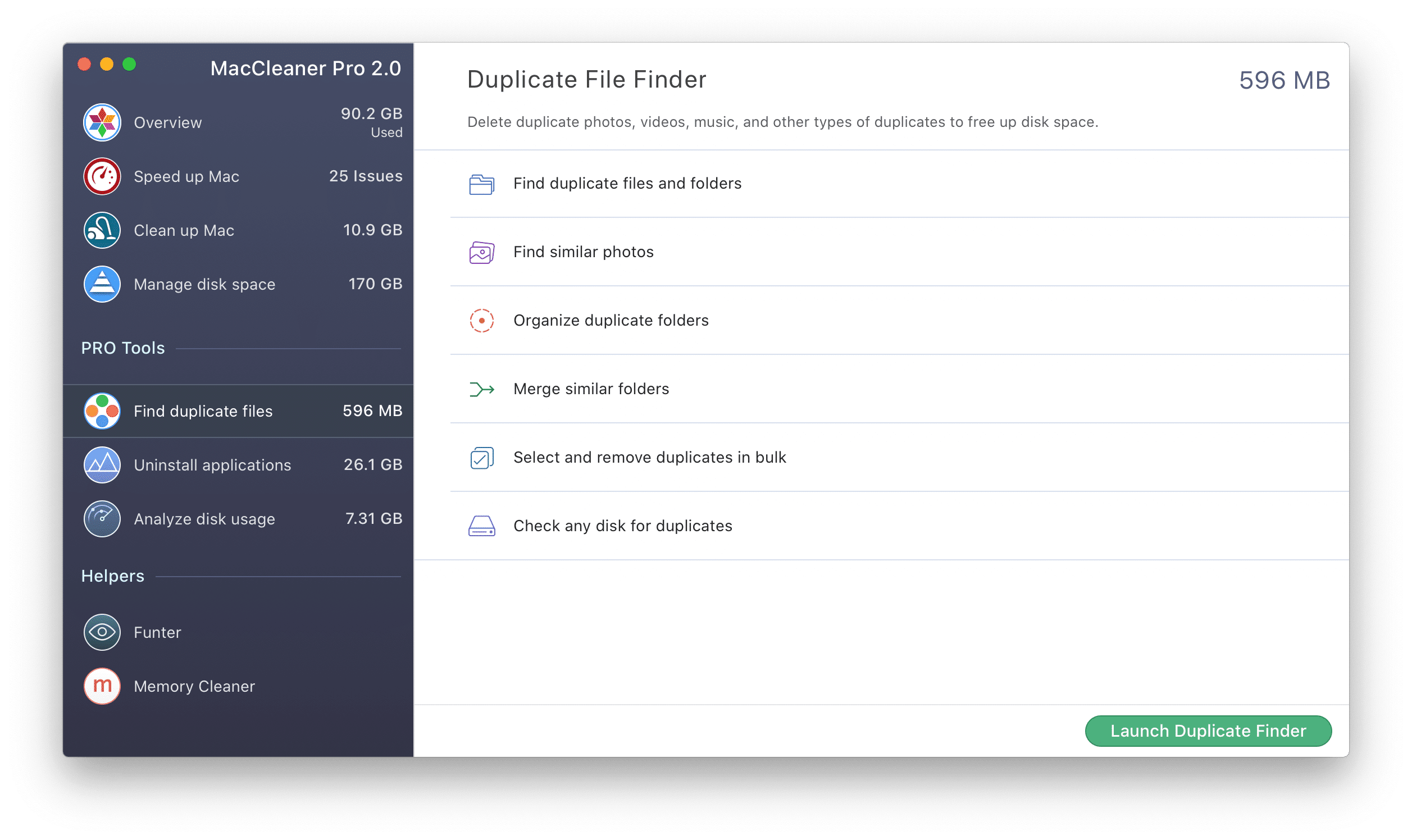 Here is a brief summary of how you can use the PRO tools to get more free space on your Mac and optimize its performance.
Duplicate File Finder – find and remove duplicate files, duplicate folders, similar photos, and merge similar folders.
App Cleaner & Uninstaller – completely uninstall applications, remove extensions and leftovers of deleted apps.
Disk Space Analyzer – find the bulkiest files and folders on your Mac, remove or move space-hogging items to an external drive.
Funter – manage hidden files on your Mac, easily show, hide, unhide, and search for hidden files.
Memory Cleaner – monitor memory usage on your system and regularly clear RAM to speed up your Mac.
---
Now you know how to quickly clean and speed up your Mac.
If you're looking for more information on how to use MacCleaner Pro and its additional tools and helpers, check out our Help and FAQ pages.