In this article, we will share two ways to uninstall Megabackup on Mac. This guide can also be used for completely uninstalling any other application on macOS. Furthermore, you can visit the Knowledge Base page, where you will find detailed removal guides for top popular apps on Mac.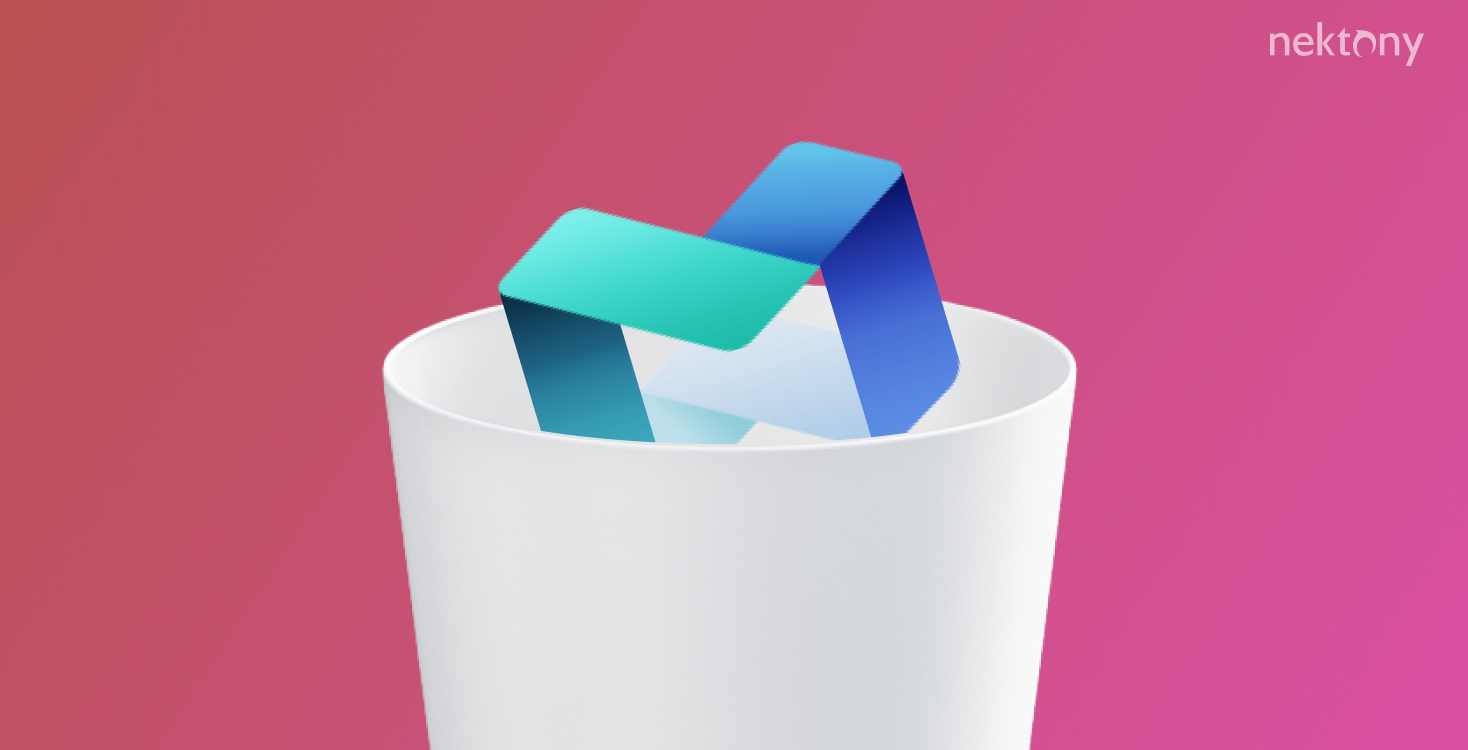 Contents:
---
What is megabackup?
Megabackup is a cloud-based software tool that allows you to make backups of your files and store them in a cloud-storage in order to access them from anywhere. Also, Megabackup provides options for folder synchronization and screenshot editing. The App runs on both Windows and Mac operating systems. Megabackup is free to download, but you need to purchase it to be able to use it. Thus, if you downloaded it but decided not to use it, follow the article. We will explain how to delete Megabackup from Mac completely and safely.
---
How to remove Megabackup from Mac manually
The most important thing you should remember about app removal on a Mac is that just deleting them to Trash folder is not enough. In this case, apps leave tons of service files on your Mac that eat up a precious disk space. To uninstall Megabackup completely, follow the steps below:
Quit the Megabackup application.
Close all the Megabackup processes that may work in the background. For this, open Activity Monitor → select MegaBackupAgent and close it.
Now you can go to the Applications folder and remove Megabackup to Trash.
Then you need to find and remove the leftovers from the app. The apps' service files usually are stored in the

Library folder

. Open Finder → in the Menu click on

Go

→ select

Go to Folder

… → in the search field type

~/Library

→ press Enter.

Here in the Library folder, you need to find and delete all files and subfolders related to Megabackup. In our case, we found the following files:

~/Library/Preferences/com.megabackup.MegaBackup.plist
~/Library/Preferences/com.megabackup.MegaBackupAgent.plist
~/Library/Caches/io.fabric.sdk.mac.data/com.megabackup.MegaBackup
~/Library/Caches/io.fabric.sdk.mac.data/com.megabackup.MegaBackupAgent
Please note
that you may have more service files, depending on actions you made using the app. Thus we recommend that you use a free application,
Funter
, which allows you to find all hidden system files on a Mac.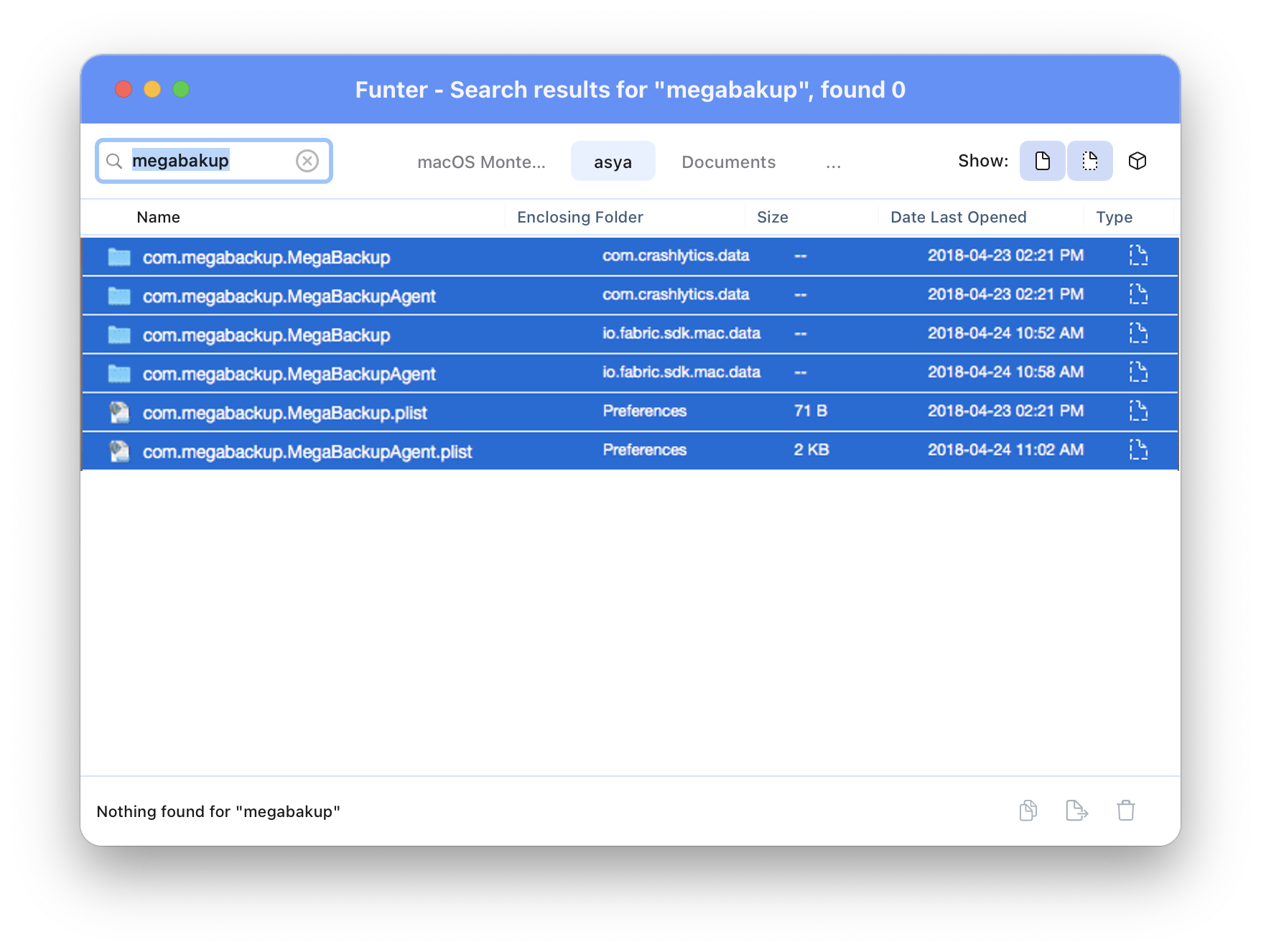 The last step is just to empty the Trash to remove Megabackup permanently.
---
How to get rid of megabackup with 2 clicks
There is another way to uninstall Megabackup on a Mac. You can uninstall the program with a few clicks using a special toolApp Cleaner & Uninstaller. The app allows you to completely uninstall any app. It automatically detects all the service files of the apps so that you don't need to waste your time and remove them manually from the Library folder. Here is how to use App Cleaner to uninstall Megabackup:
Launch App Cleaner & Uninstaller. The app will automatically scan your Applications folder.
Select Megabackup from the list of scanned apps and click the Remove button.
Confirm the removal of the Megabackup app and its service files.
That's all. As we promised, the second way is easy and quick.
By the way, App Cleaner & Uninstaller has one more useful feature – it finds all the remains of previously-removed apps. Just switch to the Remaining Files tab and find all the apps' leftovers.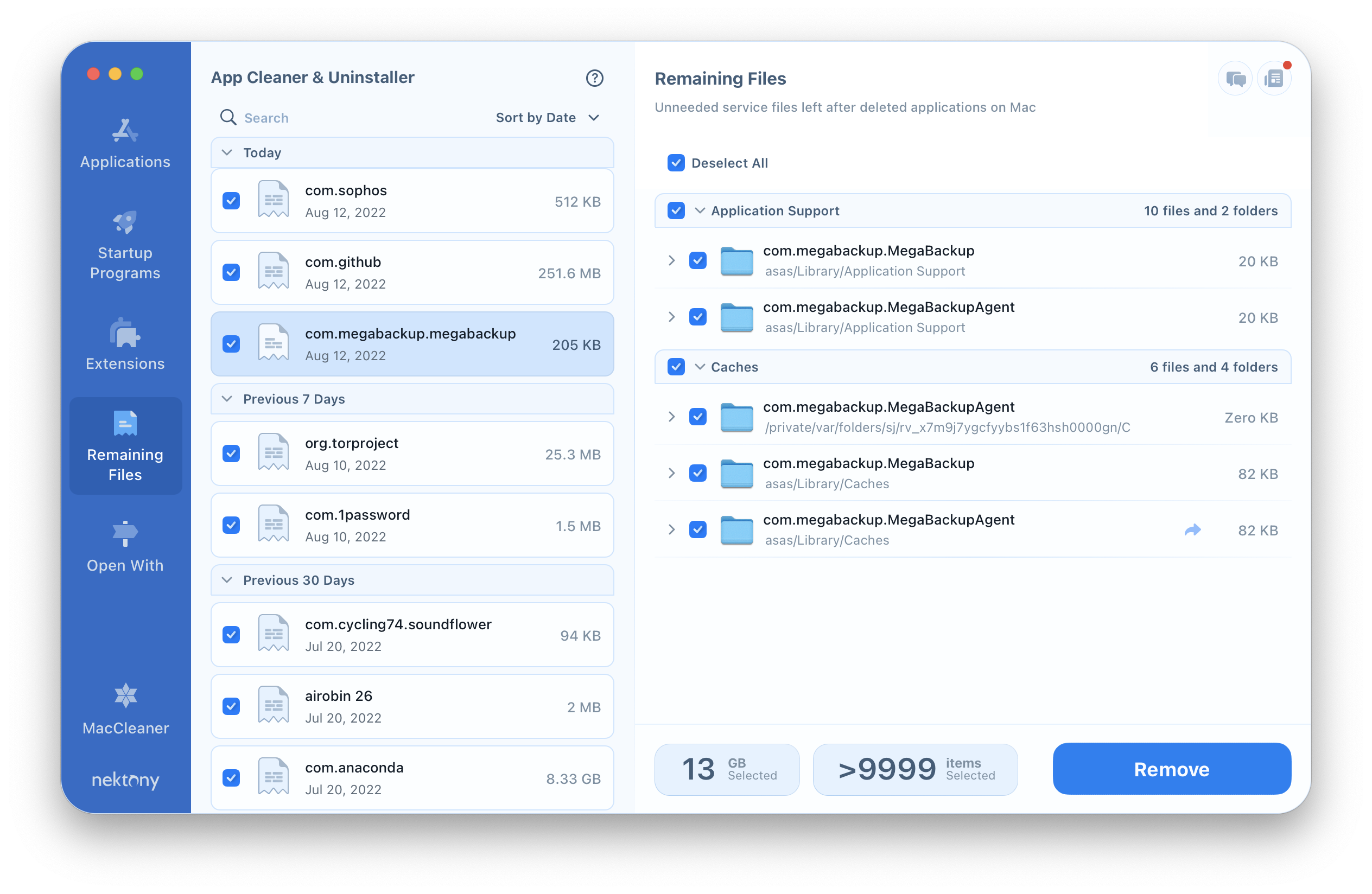 ---
Video Guide – How to uninstall application on Mac
---
Conclusion
We have shared with you two ways of correctly uninstalling Megabackup or any other app on a Mac. It's your choice which one to use. The only thing you should remember is to remove the leftovers of the apps, so as not to clutter your disk space. 
---
Articles you may be interested in: