Every Mac user knows what is on his local storage and how to free up his disk space. But things seem to be not so easy when it comes to purgeable space. In this article, we will explain what purgeable space on Mac is, should you clear the purgeable space and how to do this.
What is purgeable space on Mac
Purgeable space is a kind of space on macOS that the system can free up when needed and then download or generate files that were removed. In short, purgeable space keeps the files that you don't need but the system thinks you might need them in future.
In old versions of macOS, the purgeable space was displayed in the storage usage panel and was marked with a diagonal gray pattern.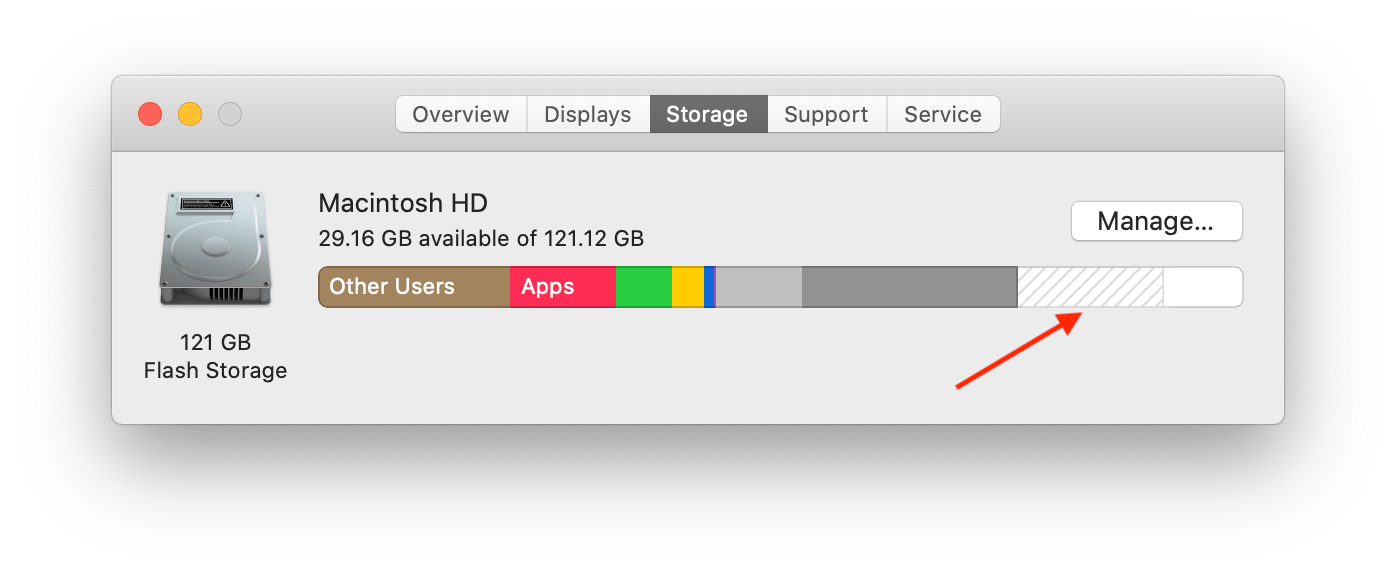 In the latest versions of macOS the purgeable space is no longer displayed in this graph.


The concept of purgeable space
The concept of purgeable space came with the release of macOS Sierra. You saw the purgeable space when the feature Optimize Mac Storage was turned on. The Optimize Mac Storage option stores infrequently used files in iCloud. However, without turning that feature on, there are other purgeable files present on your Mac.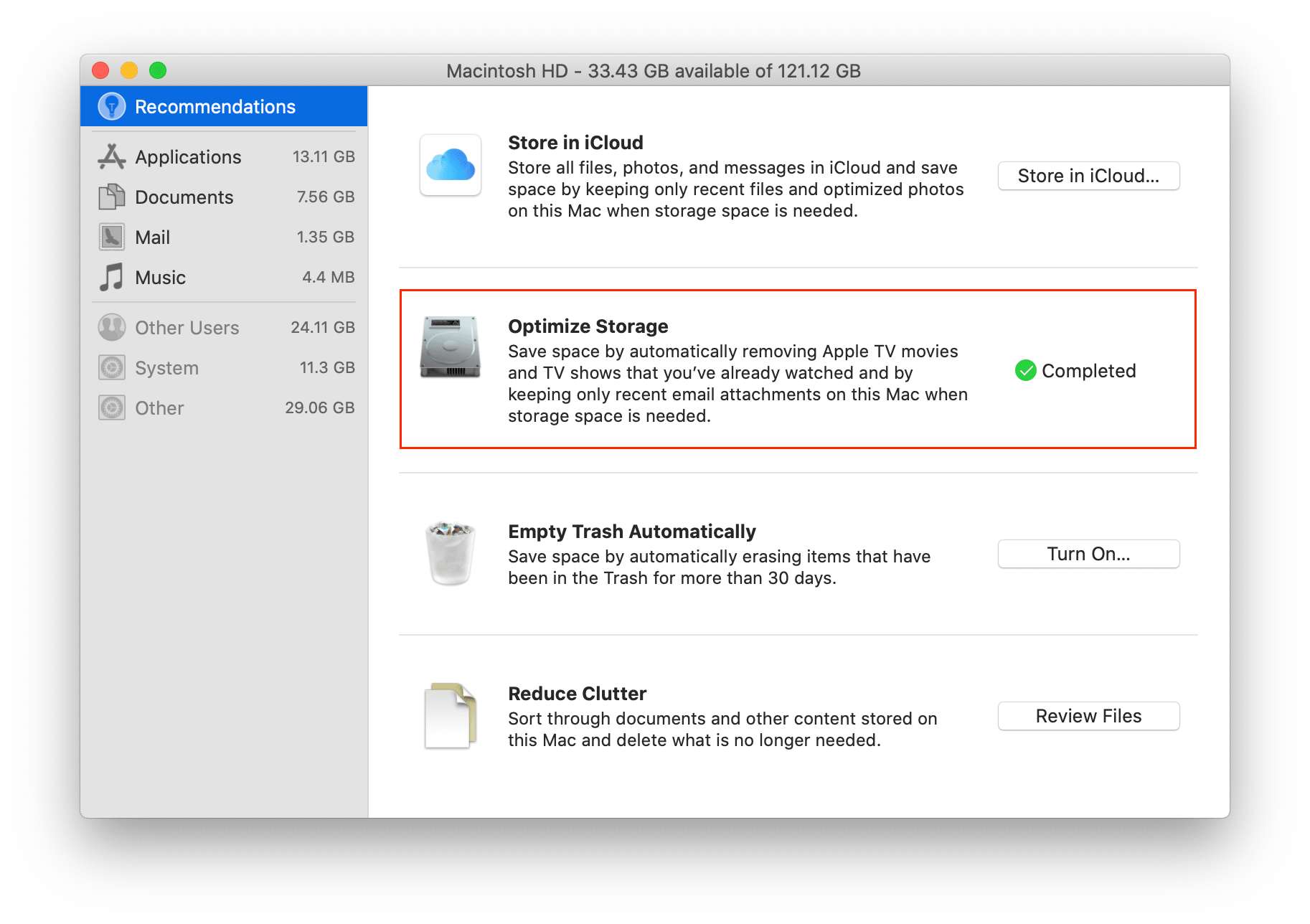 Mac disk purgeable space is the storage that your system keeps in case you want to re-download the files you removed for making some free space. Let us explain how it works.
When you turn on Optimize Mac Storage, the system makes more available space using these options:
It removes watched movies and TV shows that you can download again from iCloud.
It downloads only recent email attachments or it does not automatically download attachments at all. You can then manually download any email attachments whenever you need them.
What files does purgeable space store?
Here is the list of types of files that purgeable space can refer to:
Copies of files that are stored locally but synchronized with iCloud.
Full-resolution versions of photos that are stored in iCloud.
Unneeded cache files that can be safely deleted if needed.
Unused fonts.
Unused dictionaries.
Already watched movies and TV shows.
Reports

.
How does purgeable space work?
A number of Apple applications can delete files but effectively leave them on your disk. This is true for the Safari Browser, Apple TV, Mail and some other applications. Let us explain how it works.
There are 4 types of spaces on a disk:
Used space – the space occupied by regular files.
Free space – the space which is not occupied by any data.
Purgeable space – the space occupied by files that are marked as being deleted.
Available space – the space on the disk that you can use to store your data and which contains both Purgeable and Free space.
Imagine, the system marks a file as being deleted. Then the system moves it from used to purgeable storage. In the Storage usage panel (About this Mac → Storage), the user will see that the free space on his disk has increased. If the disk runs out of space, then the file which was marked as being deleted will be overwritten with new files. If the file which was marked as being deleted is required again, the system will change its status again and displays as not being removed. This file will no longer be in the purgeable storage category.
Should I clear purgeable space?
In most cases, you don't have to worry about Mac purgeable space and shouldn't clear it. It's just a useful feature that allows your Mac to create extra space for you when needed. However if for any reason you want to free up the purgeable space, keep on reading. We will explain how to purge purgeable space on Mac.
How to clear macOS purgeable space using Disk Space Analyzer
Disk Space Analyzer is a Mac disk space analyzer, that helps the users to clean up a disk from unneeded bulky files, as well as to see and clear purgeable space. It will take less than a minute to delete a purgeable space with Disk Space Analyzer.
Steps to delete purgeable space on Mac using Disk Space Analyzer:
Launch Disk Space Analyzer.
Click to scan your Mac storage.
Find the sector of purgeable space on the diagram.
Right-click on it and select Free up Purgeable Space in the context menu.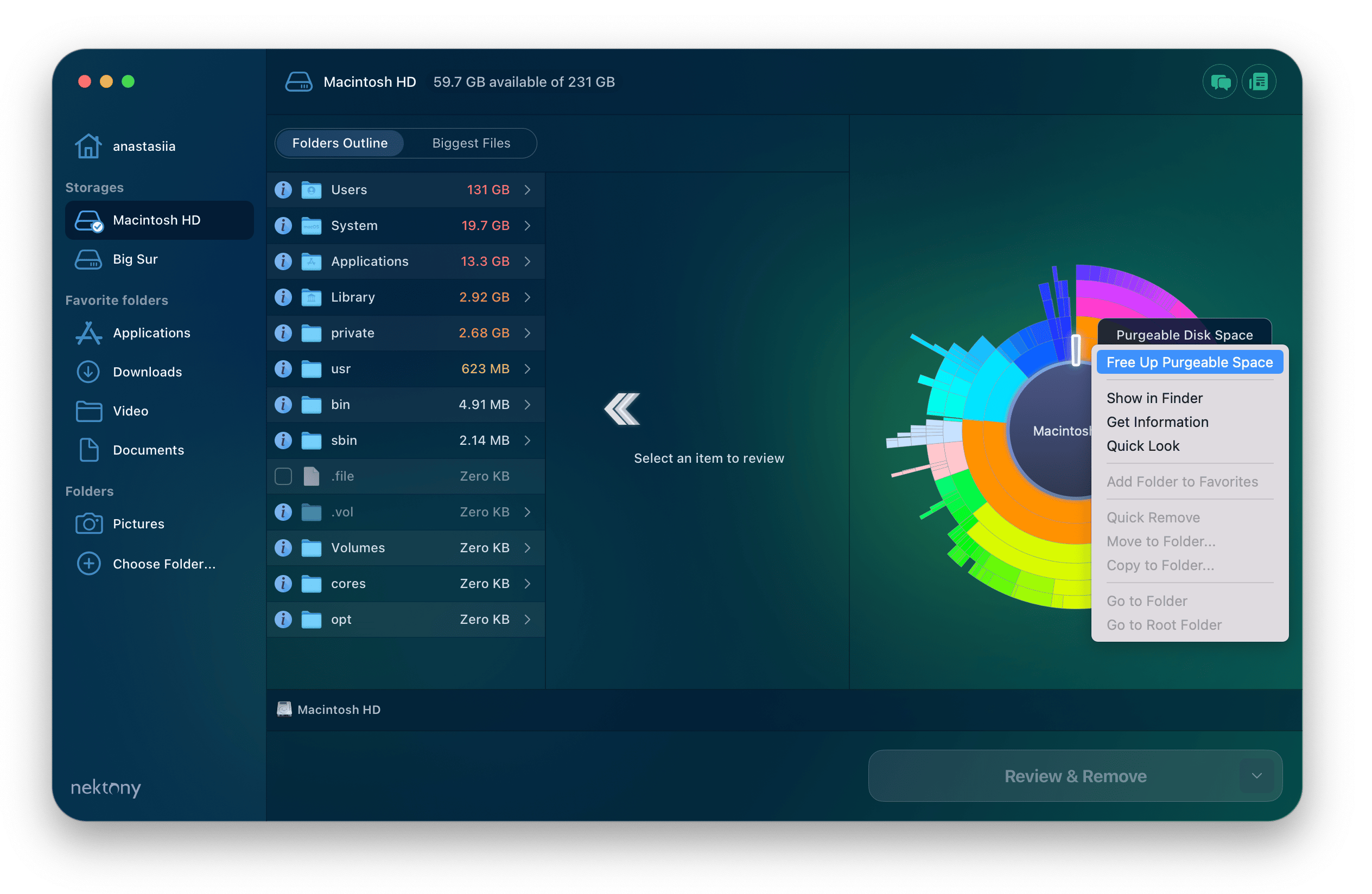 Note
Disk Space Analyzer does not clear the purgeable space itself, it just asks the system to run this process.
The system launches default Apple cleaning programs to clear purgeable space.
It might take a few seconds or a few minutes to delete the purgeable space on Mac. The time depends on the system's condition and Disk Space Analyzer cannot affect the process' speed. You can simply leave the application to continue working in the background until the purgeable space was successfully cleaned.
If you need to free up some space on your Mac, with Disk Space Analyzer you can also operate your biggest unused files – remove them or move to external storage. Read how to free up space on Mac with Disk Space Analyzer.