In this article, you will find the solution of how to convert HEIC to JPG on your Mac, as well as answers to frequently asked questions about the HEIC format.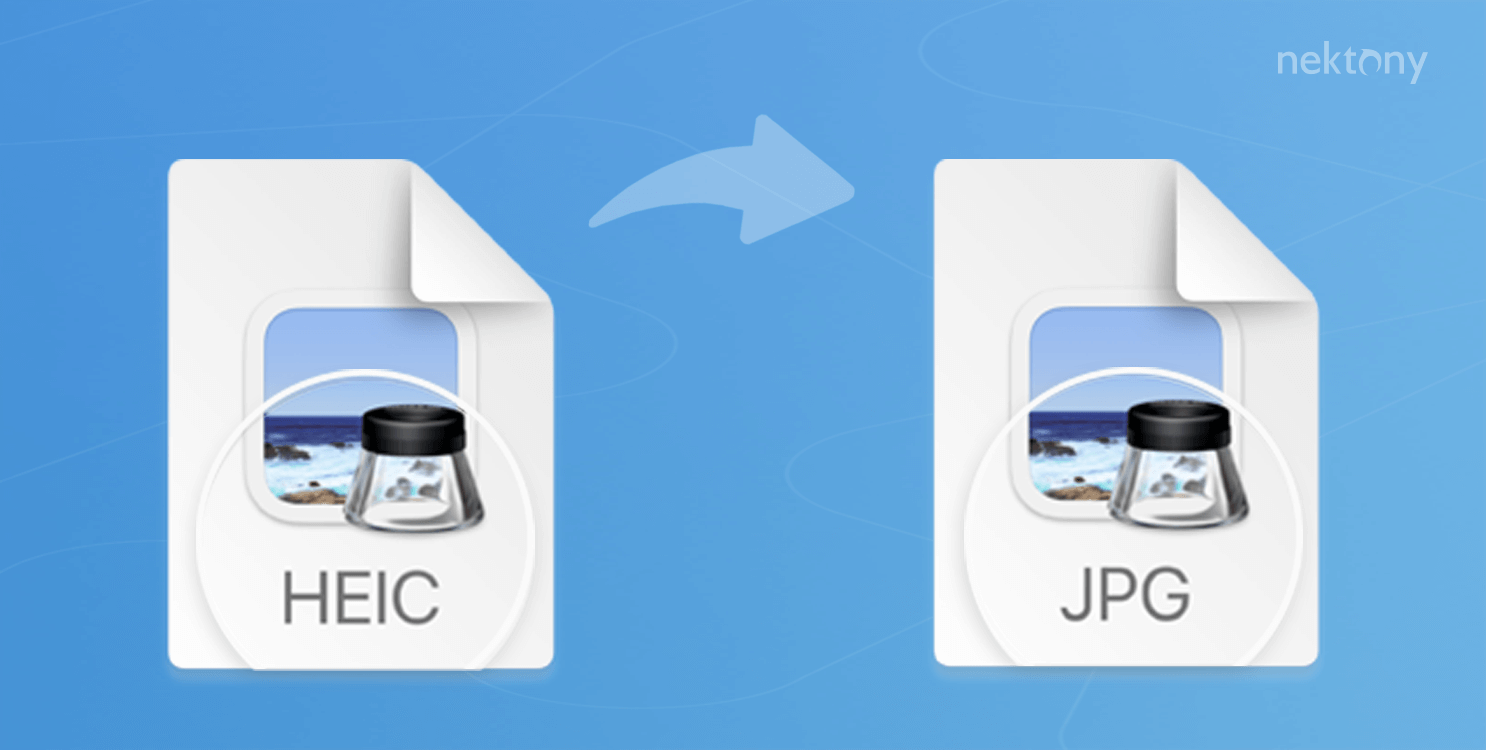 Contents:
When transferring photos from your iPhone to your Mac, you could create tons of duplicate photos on your Mac by mistake. You can find all duplicate files with a free application called
Duplicate File Finder
.
Duplicate File Finder
What is an HEIC file?
HEIC – or HEIF (High-Efficiency Image Format) – is a type of file format presented in 2015 by the MPEG team. Today, iPhone and iPad devices save photos in the .HEIC extension. The main advantage of using HEIF/HEIC over JPG is that the new media format takes up about 50% less space. It also creates images with higher image quality than the JPG standard.

The HEIC is based on the high-efficiency video compression format, also known as HEVC or H.265.
Besides the image quality and size, the ​​HEIC file has many additional features that are not available in the JPG format:
A HEIC file can contain several photos simultaneously, which makes it possible to create live wallpapers.
A HEIC file supports transparency and 16-bit color.
A HEIC file keeps the history of file changes. You can apply transformations such as rotation, cropping, titles, or overlay, and then undo the changes and restore the original version of your HEIC file.
The .heic extension does, however, have some disadvantages. It is not supported on Mac computers running any version of macOS earlier than High Sierra. Also, this format is not directly supported on Windows, Android, and some other operating systems, as well as not being supported by some photo-editing applications.
In short, opening HEIC files can be problematic on some devices. You will have to use special HEIC to JPG converters to open your iPhone images on other devices. Keep reading to learn more on how to open an HEIC file in Windows or other systems that don't support this extension.
---
How to open an HEIC file?
The variety of different file formats often makes it difficult to open specific extensions on different operating systems or in particular applications. For example, you can't open an HEIC image on Windows and Android platforms, and in some photo-editing tools. This means that you'd have to convert HEIC to JPG or HEIC to PNG to work with the file.
HEIC files are currently supported by the Apple ecosystem and are compatible with iPhone 7 and any later versions running iOS 11 and higher, as well as Macs running macOS High Sierra or higher. This means that, if you transfer your iPhone photos to your Mac, you can automatically open HEIC photos with any default Apple application like Preview.
If you are in a situation when you have to open your HEIC/HEIF files on a device that doesn't support this format, you will need to use online file converting services or applications. If you have a couple of HEIC files, you can use an HEIC to JPG converting online service. If you have tons of HEIC pictures and you don't want to upload your pictures to untrusted online services (which is important), then use file converting applications installed on your computer.
---
How to convert HEIC to JPG on a Mac?
Set up automatic HEIC conversion
Apple understands the problem of HEIC compatibility and offers a built-in conversion solution. In the iOS file transfer options, you can set up automatic HEIC to JPG conversion when transferring files via USB. When photos are uploaded to the Photos app, they will automatically be converted to the correct format.
Open Settings on your iPhone /iPad.
Find and tap on Photos.
Scroll down and find the option called Transfer to Mac or PC.
Select Automatic.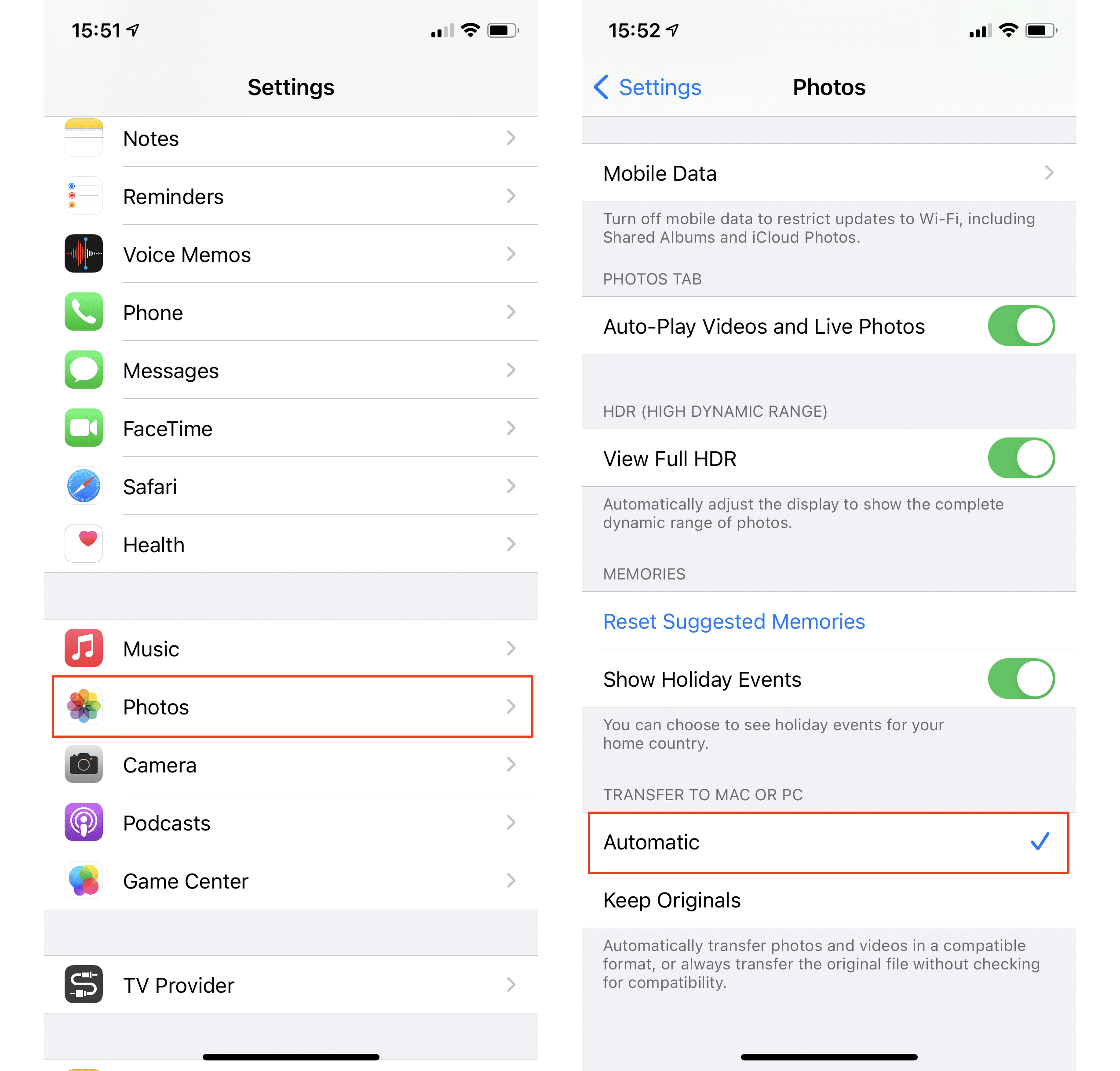 Additionally, when you send .heic images from your iPhone, Apple automatically converts them to the .jpeg extension. For example, when you attach an image to an email in the Mail application or send it through any messenger application, the system will send it as a JPG file.
Use online HEIC to JPG converting services
If you are in a situation when you've already moved your HEIC files to a device that doesn't support this extension, you'll first need to convert them. For this, you can use free online HEIC to JPEG converting services.
How to convert HEIC files with online converting services:
Upload your .heic photos to the conversion service.
The service will convert your files to JPEG. This can take some time.
Once the conversion finishes, download your photos back to your computer with a new extension.
You can Google HEIC to JPG or HEIC to PNG online services and find many solutions. Choose the one that suits you most.
Here are some popular HEIC converting apps you can use:
Note that most online HEIC conversion services have their limitations; for example, they may allow you to upload only up to 50 photos at a time or the maximum file size might be 100 MB.
Use HEIC conversion applications
If you don't want to upload your .heic photos to the Internet and you have a large number of files to be converted, then we recommend using HEIC conversion applications for your computer.
Here are some popular applications for converting HEIC on a Mac and Windows computers:
Here are the simple steps you need to do in converting software::
Download and launch any HEIC converter you like.
Upload your .heic files to the application.
Set up the .jpg extension for converting and click to start converting them.
Once the application has completed the task, click to download your .jpg files. Some applications can automatically download your files to a specified folder on your computer.
The advantage of HEIC conversion applications is that they allow you to upload as many .heic files as you need.
The applications also usually provide comprehensive options for choosing the quality and many other extension types for your files. You don't need the Internet to convert your images. And, finally, working with the apps is more convenient, quick, and safe.
---
How to take JPG photos instead of HEIC on an iPhone?
Despite the advantages of the HEIC format, you might want to save your photos on your iPhone only in the JPG format. For this, do the following:
Go to Settings on your iOS device.
Scroll down and tap on Camera.
Go to Formats and select Most Compatible.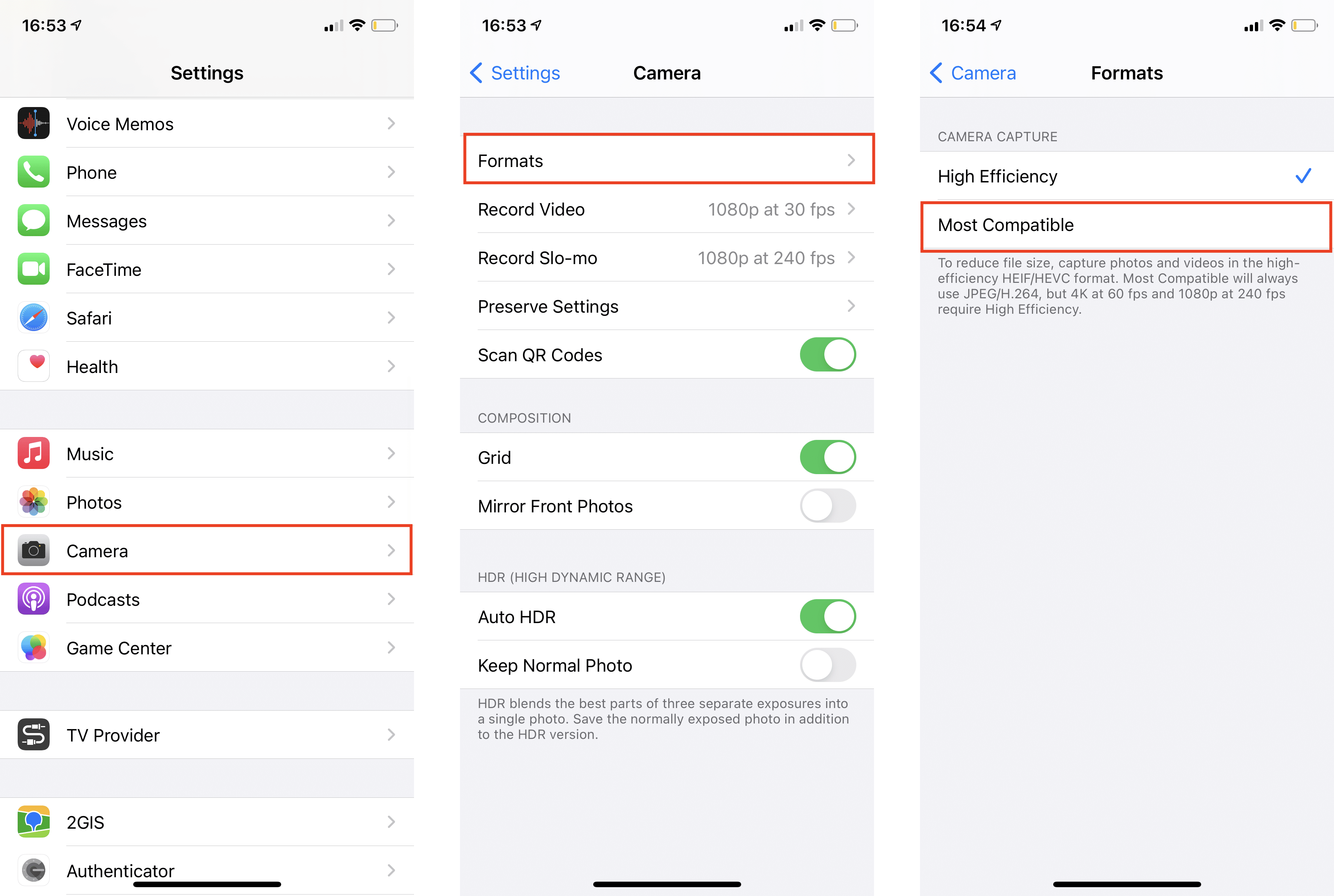 After this, by default, your new photos will be saved in JPG format.
---
Conclusion
There is no ideal solution for how you should convert your HEIC files to JPG format. You can try several methods and choose the one that works best for you. Don't forget to clean up the tons of duplicate photos that you could transfer to your Mac by mistake. You can find them on your Mac with the free application Duplicate File Finder.
---
---
FAQ
Why are my photos HEIC instead of JPG?

Since the release of iOS 11, Apple has changed the default format for photos and, now, they are automatically saved in HEIC format instead of JPG. If you want to keep them in JPG, however, you can change them in Camera Settings on your iPhone or iPad.
How do you not take HEIC pictures?

Although HEIC files are smaller and have better quality, you might need to stop automatically saving your photos in HEIC on your iPhone. To do this on your iPhone, go to Settings → Camera → Format, then select Most Compatible from the provided formats.
Should I keep HEIC or JPG?

Photos in the HEIC format have better quality. Also, HEIC files are smaller and take up less storage space on your device. Due to this, you should not change the format to JPG unless you need to open them on a device that doesn't support the HEIC format.
Is HEIC higher quality than PNG?

HEIC files have smaller sizes in comparison to common image file format i.e. PNG or JPG. However, even, the size of the HEIC file is smaller than the PNG image, it has a higher image quality.
Is HEIC Apple only?

The primary usage of HEIC format is on Apple devices. Today HEIC files aren't universally compatible. However, HEIC has become more videly used in recent years and more services, systems and software applications nows support HEIC format.
How do I convert HEIC to PNG for free?

There are various HEIC to PNG online service and software solutions and most of them are free to use. Google HEIC to PNG and use online services to convert your images. However, if you want to secure your data, we recommend that you use paid HEIC to PNG converting software applications.