According to statista.com, the number of applications in Google Play is almost twice the number of applications in the App Store. Sometimes, there are only apps for Android without analogs for iOS. That is why you may have the BlueStacks application on your Mac, which helps to launch Android apps on macOS. After some time, you may want to delete this app from your Mac. Or, if you wish to update BlueStacks to the newest version, you also have to reinstall your current edition. It this post, we want to share with you two methods to both completely and correctly remove BlueStacks.
Uninstall BlueStacks the Regular Way
In case you wish to uninstall BlueStacks on Windows, there is a special uninstaller you can find on the BlueStacks website. Using an uninstaller for an application is always a good idea. However, the BlueStacks for Mac uninstallation guide requires taking different steps.
Close the BlueStacks application → Open the Applications folder in Finder → Make a right click on the BlueStacks.app and select Move to Trash → Empty Trash.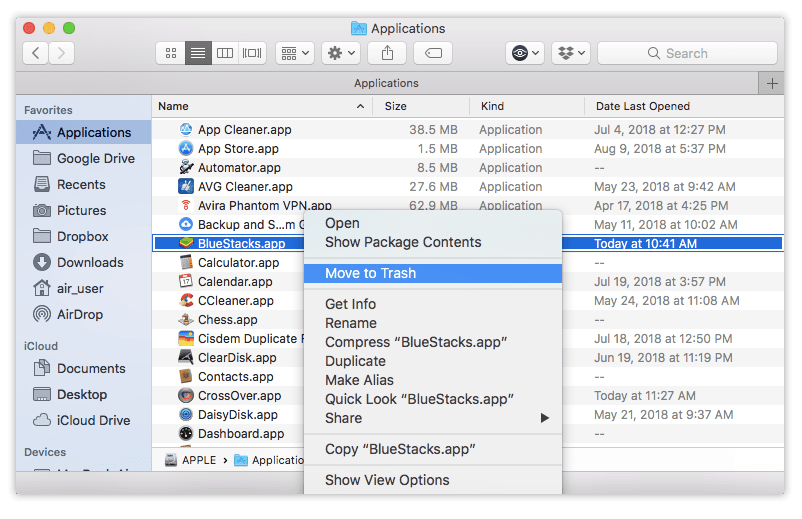 Unfortunately, this method will not give you a complete removal of the app (its service files, to be exact). Temporary files and folders, which were created during the BlueStacks usage, are still being stored on your Mac after the bluestacks.app file removal. Of course, you can find and remove all the unneeded files manually. However, they are scattered in different places on your Mac, and some of them are stored in hidden folders. You may spend much time searching for them and also, you may accidentally delete some important files. So read on to find out how to uninstall BlueStacks entirely and safely in just a few minutes.
---
Uninstall BlueStacks Completely
If you wish to remove BlueStacks with its temporary files and folders, then follow the guide below. Service files, like caches and logs, are useless without the app itself. They just take up space on your Mac. Besides, old caches and logs may affect the new version of the application, if you decided to update the app. So, if you wish to get rid of the BlueStacks application and its temporary files and folders, there is a special software called App Cleaner & Uninstaller. It helps to uninstall any app on your Mac completely.
App Cleaner & Uninstaller is a special removal software that provides a free trial for 7 days. It takes only 16.6 MB and is suitable with OS X 10.10 or later. Once you launch App Cleaner & Uninstaller, it will display the list of all installed applications on your Mac in the app's main window. They can be sorted by name, size or date. Complete the following steps to uninstall the BlueStacks Mac version entirely:
Select BlueStacks on the left side of the App Cleaner & Uninstaller window.
Review all files and folders related to the selected application. 
Click Uninstall next to the chosen app or click the Remove button in the lower right corner.
Overview the items you are going to delete and confirm the deletion.  
All deleted files and folders are now transferred to Trash. So, you can put them back or remove them completely.
You can notice in the pictures that the bluestacks.app file takes up 292.4 MB only, while its service files take up 1.96 GB.
App Cleaner & Uninstaller also helps to manage user and core extensions installed on your Mac. Open the Extensions tab, overview and handle extensions. You can disable or remove Launch Agents and Login Items. Here you can delete old installation files and your browser extensions.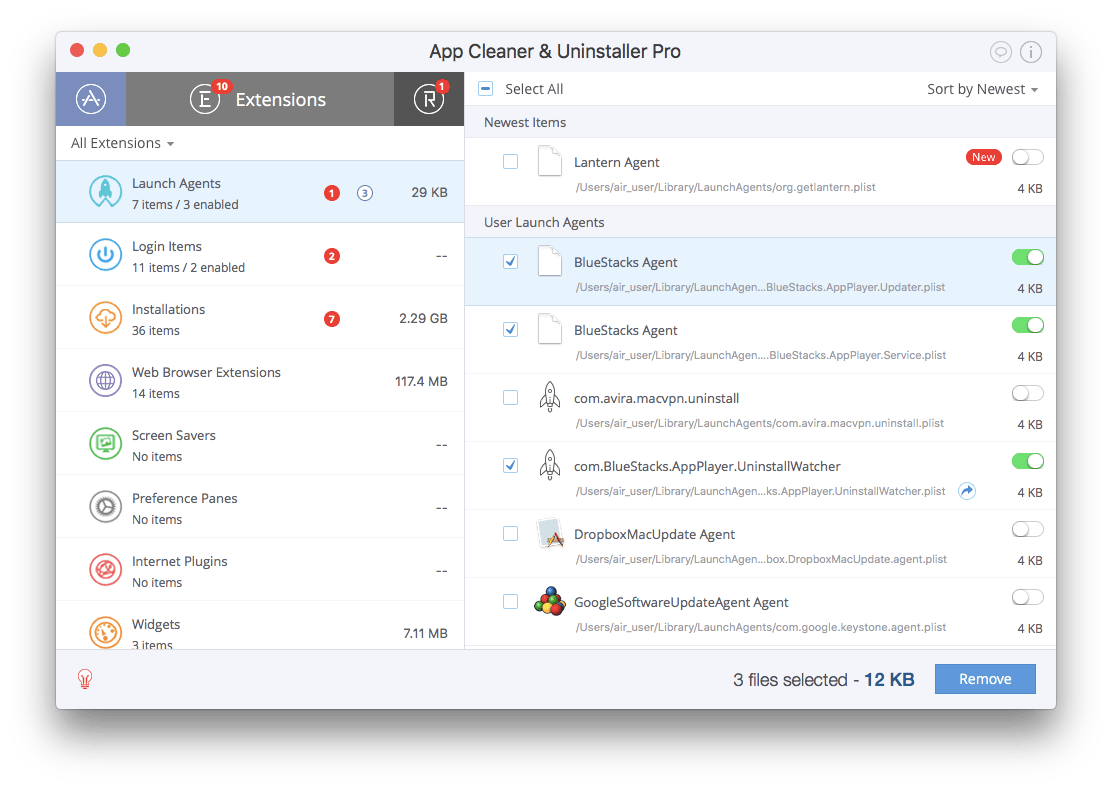 Download Free Trial
---
Conclusion
From time to time we have to uninstall applications, either to update them or remove them forever. Not all apps have a native uninstaller. The usual method of dragging and dropping apps to Trash does not remove the applications' leftovers. So, to save your time and to uninstall any application correctly, we recommend using App Cleaner & Uninstaller.
---
Articles you may be interested in: