IntelliJ is a special program for software developers. If for some reason you downloaded this app but now you don't need it anymore, read this article to learn how to delete IntelliJ on your Mac correctly and completely. In this post, we will share with you two methods of IntelliJ uninstallation. One of them is a universal method, which you can also use to remove any other application from a Mac.
Contents:
---
Delete IntelliJ Mac Version – Method 1
The first method is simple and comprises three steps. You just need to complete all the steps manually and carefully. This step is important because you are going to open the hidden Library folder. The Mac OS X 10.7 Lion, the Library folder, is concealed to exclude accidental removal of the critical files that are needed for applications to operate.

However, hidden service files of deleted apps are no longer needed and should be removed after the deletion of the app. So, complete the next three steps to uninstall the IntelliJ Mac version on your device:
Remove the executable file. It could be IntelliJ IDEA.app or IdeaIC.app. Go to the Applications folder → select the .app file → make a right-click on it → select Move to Trash. Sometimes it may ask to enter your password and click OK to confirm the deletion. 
Then delete the service files of the IntelliJ application, which are stored in the Library. For this, open Finder → click Go in the menu bar → select Go to Folder from the drop-down menu. In the appeared window type ~/Library/ and click Go.  

Here, in the Library folder, find and remove the subfolders, which are related to the IntelliJ app. Look for the following subfolders:

~/Library/Application Support/IntelliJIdea2018.2 

~/Library/Caches/IntelliJIdea2018.2

~/Library/Preferences/IntelliJIdea2018.2 

~/Library/Logs/IntelliJIdea2018.2

Note:

that instead of IntelliJIdea2018.2 you may have another product name and version. So, using this tutorial, consider this fact and look for 

~/Library/<subfolder>/<your IntelliJ product><your version>

 on your Mac.

Empty the Trash bin to complete the IntelliJ uninstallation.
---
Uninstall IntelliJ on Mac – Method 2
The second method allows you to complete the same steps automatically. You do not have to search and delete IntelliJ and all its useless service folders step by step. App Cleaner & Uninstaller will do it for you. This universal software was designed especially for Mac users. App Cleaner & Uninstaller helps to remove more than 1000 applications from your Mac. Complete the following steps to uninstall IntelliJ on your Mac with App Cleaner & Uninstaller:
Launch App Cleaner & Uninstaller. Select the IntelliJ application and click on the Remove button.
Review the items you are going to delete and click Remove. 
Empty the Trash to uninstall the IntelliJ application completely.
We advise rescanning your applications via App Cleaner & Uninstaller after the deletion of the apps to check if there are any remains left. It is helpful in case the app creates additional service files as a protective measure. So, press the Command+R shortcut to rescan and switch to the Remaining Files tab. Here, in Remaining Files, you will see the leftovers of previously-uninstalled apps. Select the item you want to delete and click to Remove. Then empty the Trash bin.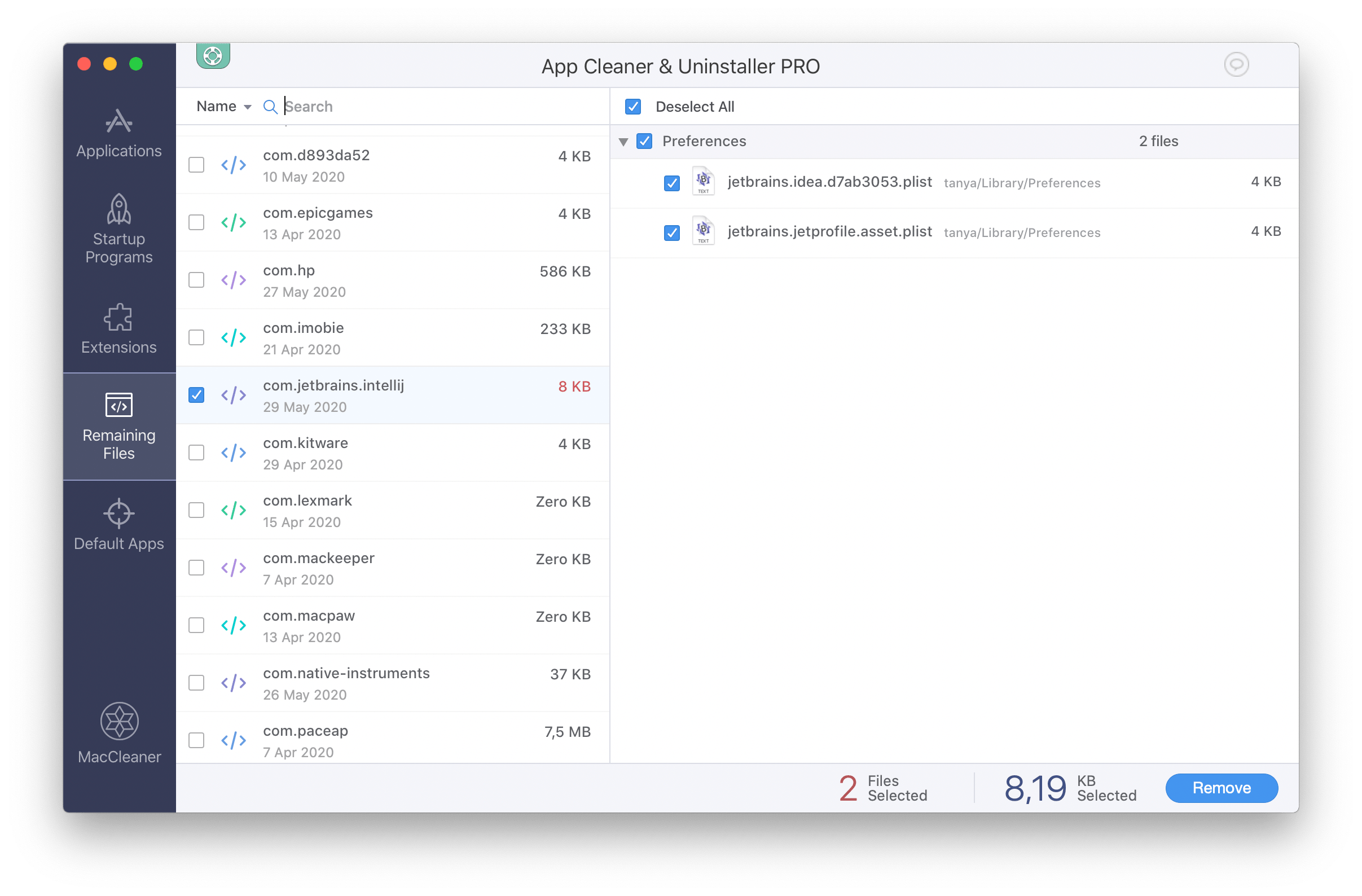 Hence, if you used the manual method of uninstalling apps on your Mac, check whether any remains were left on your Mac. App Cleaner & Uninstaller will help you to remove all leftovers completely.
---
Conclusion
Even if you are not a computer geek but want to get rid of an unneeded application, you can now do it correctly, thanks to this post. Furthermore, you can use the special software tool App Cleaner & Uninstaller to delete apps.