TeamViewer is an application for remote control, desktop sharing, and web conferencing between iOS and macOS devices. If for any reason you need to remove TeamViewer from your Mac, follow this article. We will share two different methods on how to uninstall TeamViewer completely and correctly.
Contents:
Uninstallation notes and methodology used in this article
To completely uninstall any application from Mac, including TeamViewer, you have to remove all support files that they have created and stored on Mac's hard drive.
Before writing this article, we checked the official TeamViewer's macOS uninstall instruction and discovered that this method does not remove TeamViewer completely and leaves some support files on Mac's hard drive.
We used a free application from Nektony called Funter to check Mac for TeamViewer remaining files.
In this article, we will provide steps on how to completely uninstall TeamViewer from Mac manually and with the help of App Cleaner & Uninstaller.
How to manually remove TeamViewer from Mac
To completely uninstall TeamViewer from your Mac, first you need to uninstall it using the appropriate option in its Preferences and then manually remove the applications' support files.
Open TeamViewer's Preferences. For this, go to the TeamViewer menu and select Preferences.

In the Preferences window switch to the Advanced tab, scroll down, and find the Uninstall option. Enable deleting also configuration files and click the Uninstall button.

TeamViewer will be uninstalled from Mac, however, this is not the last step.
Find TeamViewer's remaining files. By default, applications store their support files in the hidden ~/Library folder. To open the ~/Library folder in Finder press the Command+Shift+G shortcut and in the appeared search field type ~/Library and press Enter.


Check each subfolder and remove from there all files associated with TeamViewer:

~/Library/Application Support/TeamViewer
~/Library/Caches/ com.teamviewer.TeamViewer
~/Library/Preferences/com.teamviewer10.plist
~/Library/Preferences/com.teamviewer.TeamViewer.plist
~/Library/Logs/TeamViewer

After removing all TeamViewer's support files don't forget to empty the Trash bin.
Note!
You might have more or less remaining files. It depends on the period of time you used the applications, the preferences you used, and other parameters. Moreover, some files might be located not in the Library folder and it can be almost impossible to find them manually. You can use a free application called
Funter
from Nektony to
find hidden files
by their name. However, we recommend that you use
App Cleaner & Uninstaller
which automatically finds and deletes all support files of each application installed on Mac.
---
How to uninstall TeamViewer using App Cleaner & Uninstaller
App Cleaner & Uninstaller is a special utility that allows you to delete apps completely and safely in just a few clicks. Even if you have already manually uninstalled an application, it will find all of its remaining files.
Steps on how to completely remove TeamViewer from Mac:
Launch App Cleaner & Uninstaller.
Select TeamViewer from the list of apps.
Click the Remove button and confirm the uninstallation.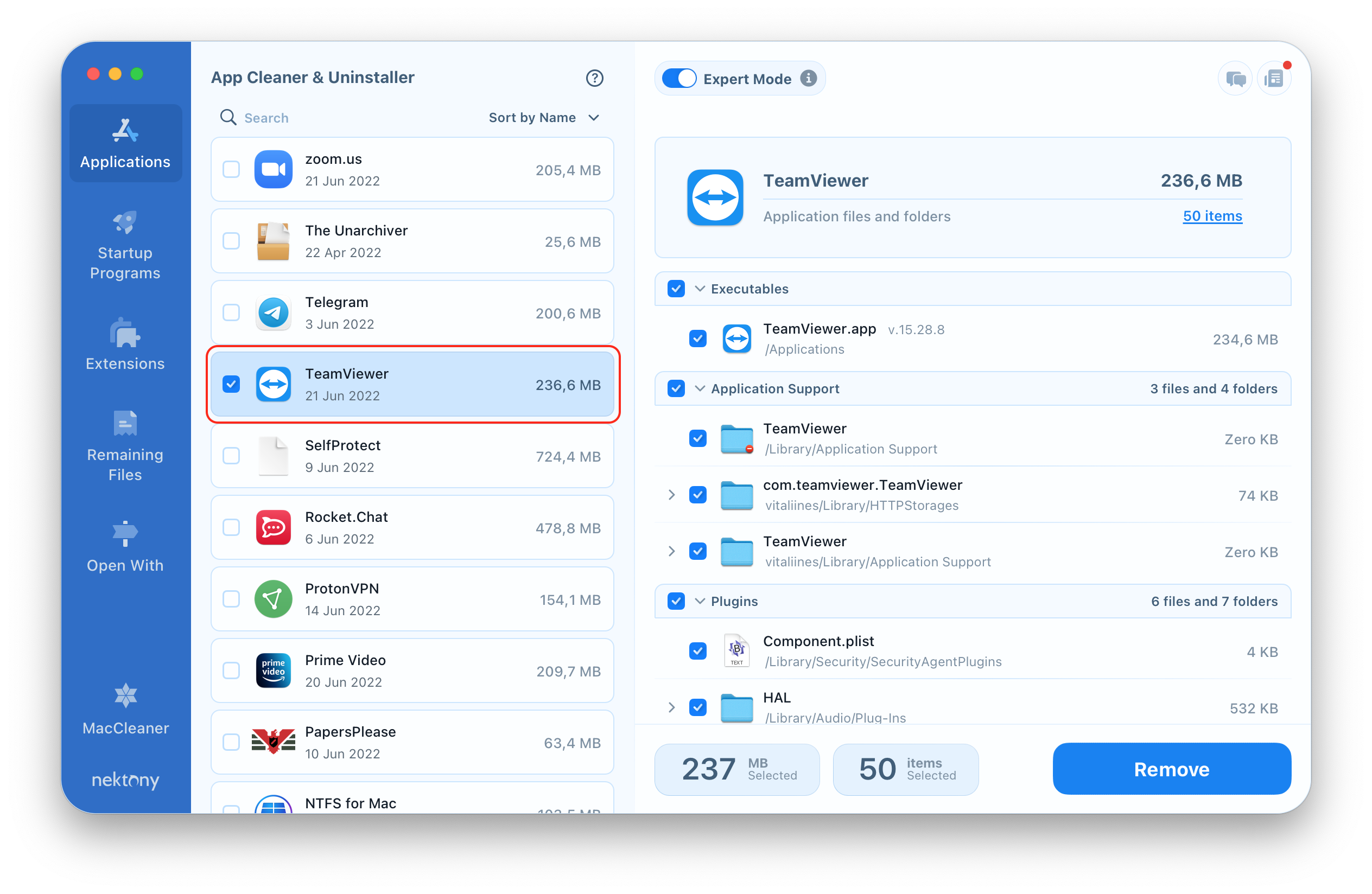 If you have already uninstalled TeamViewer using another removal method, switch to the Remaining Files tab and remove its leftover files. In our case, we found 1,5 MB of files left after using the first method of the application's uninstallation.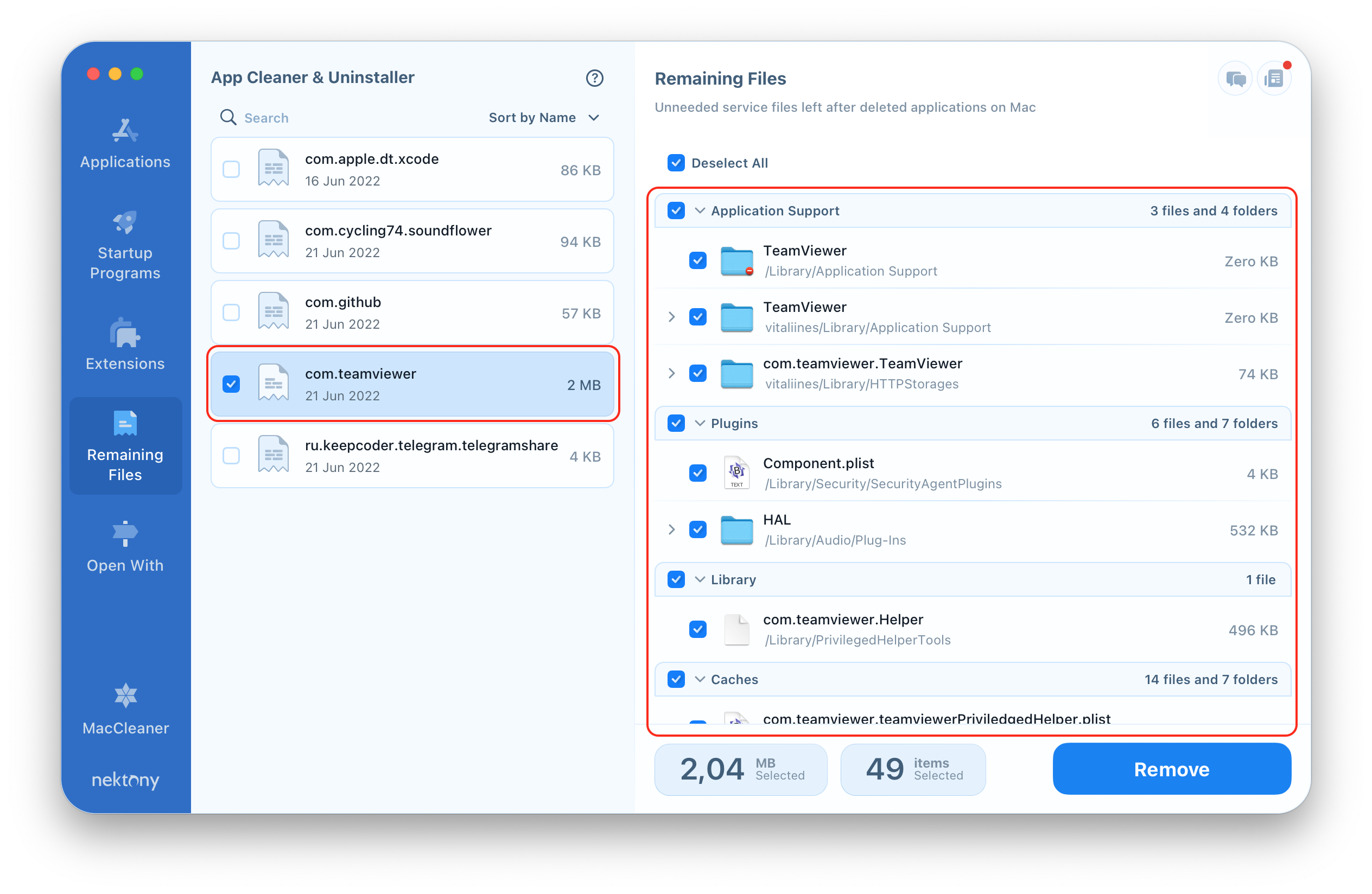 The best thing about App Cleaner & Uninstaller is that you can try it out absolutely for free!