How to free space on iPhone or iPad
It's always a problem, when you want to free up space on iPhone. Unlike Mac that have lots of different apps that can
scan your hard drive
,
clean up caches and logs
,
manage service files of applications
,
delete duplicates
and so on, iOS users have to do everything manually. There is nothing more simple than squander iOS device storage by taking photos, texting and installing games. So, learn the next tips to free up space on your iPhone or iPad.
---
Clear Space on iPhone
1. Delete unwanted apps
Of course, it's not a new tip. Nonetheless, there is a way how to do it quickly without inspecting each app screen and folder. Go to Settings → General → Storage & iCloud Usage → Manage Storage and you will see all your apps in a plain list sorted by the size they take. Scroll and select ones you don't need anymore, click and press the button "Delete App". Much easier, isn't it?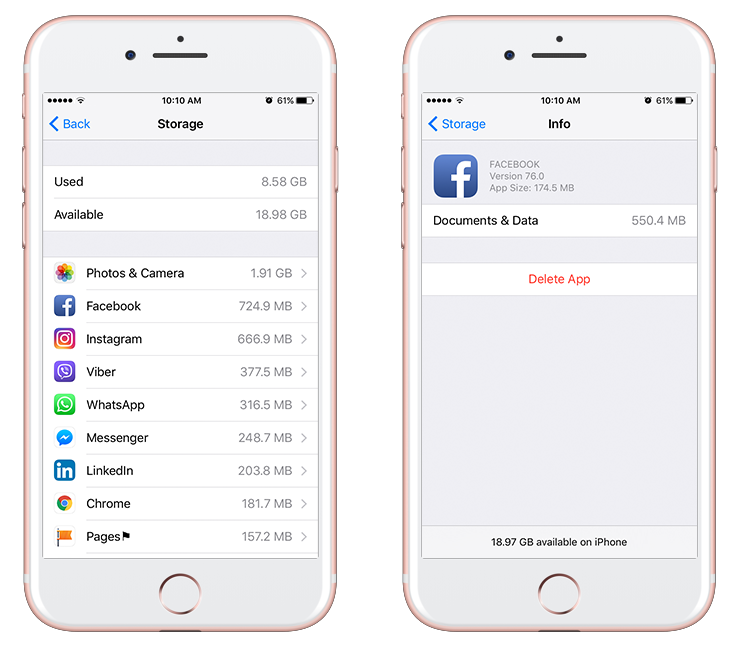 ---
2. Reinstall Social Networks.
Social networks apps don't take much space being installed, but once you launch them, they cache your friends profile pictures, their statuses and user data. As a result, they can store gigabytes of additional files.
---
3. Cleanup Photos in Messengers.
The same story about messengers. Delete and reinstall the apps, because some of them save messages forever and ever. Note: You can predefine storing settings in iMessages. Got o Settings → Messages → scroll till "Keep Messages" and choose another available option instead of "Forever": 1 year or 30 days.


---
4. Manage iCloud and Apple Backups.
Sorry, Apple, but we don't need your security services as much as you want us to. In fact, if you google for "free up space on iPhone", you will find a guide by Apple about iCloud and Backup issues. So:
For iOS 8 or later, tap Settings → iCloud → Storage → Manage Storage.
In earlier versions, tap Settings → iCloud → Storage & Backup.
In this section you can delete seperate apps or the whole backup.
---
5. Delete or Transfer Voice Memos and VoiceMail if you have ones.
Apple's Voicemails & Voice Memos can quickly take up space if you never delete any of them. You can individually delete every VoiceMail in the app. Voice Memos can be managed on Mac in iTunes.
---
6. Don't double save photos.
Sometimes we take 4-5 photos to choose the best one or even use burst. Don't forget to delete others. Such situations can be easily managed within Moments overview screen in Photos. Where pictures are separated by data and place they were taken. That's easy.

P.S.  If you need to quickly free up space on iPhone, use a free application Phone Cleaner for Media Files, designed to find and remove the largest photos and videos and duplicate photos from your device.