Most people use Google Earth Pro to track distance measurements, quickly navigate coordinates, browse places and so on. However, since Google Maps has the same features as Google Earth Pro, you may decide to remove the Google Earth application. In this article, we will share two ways of how to uninstall Google Earth on your Mac correctly.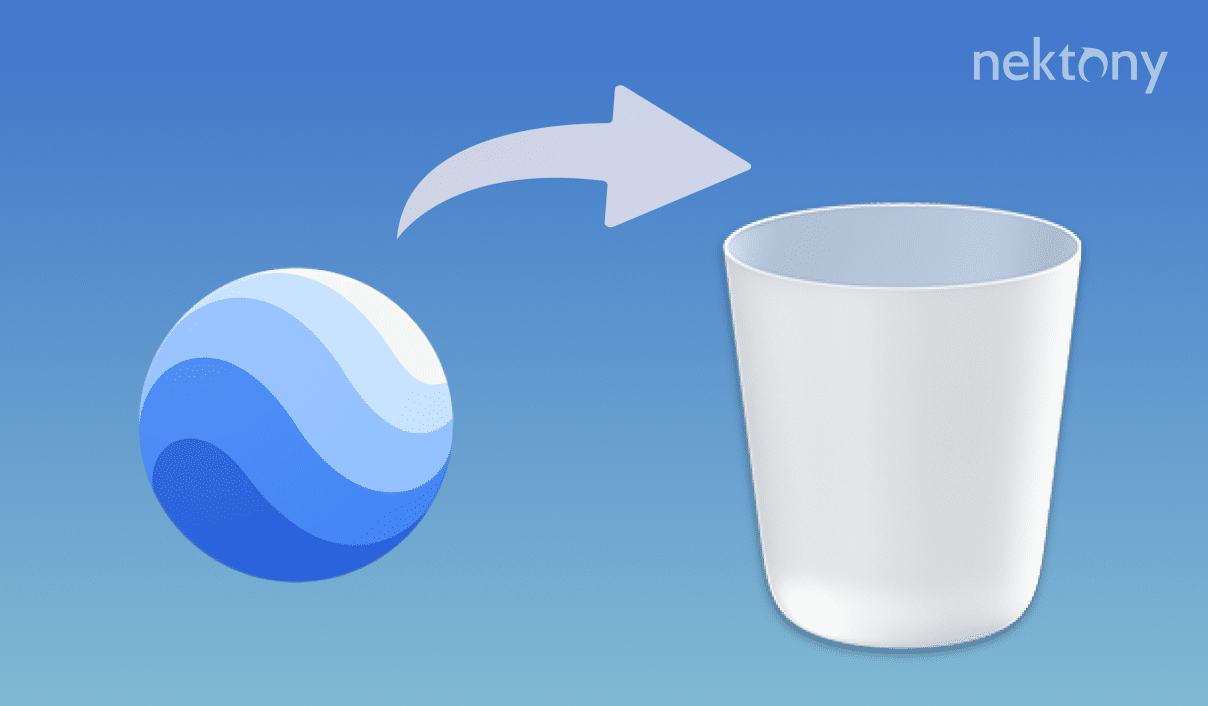 Contents:
---
How to uninstall Google Earth manually
The uninstalling of Google Earth on Mac requires following the same steps as removing any other program. First, you need to delete the app file, and then delete the Google Earth cache and its other service files. Let's take a closer look at these steps.
Open the Finder and go to the Applications folder. Find there the Google Earth executable file and move it to Trash.

Now, let's find the service files of Google Earth. By default, Apple stores them in the Library folder. Use the Command+Shift+G key shortcut to navigate the ~/Library directory.

Then go to the Application Support folder and remove the Google Earth subfolder from there.

Here in the Library, you will also find some folders, like Caches, Cookies, Containers and others. Sometimes some apps' service files might be spread out in different folders. That's why we recommend that you check the following locations for unneeded files related to Google Earth:
~/Library/Application Support/…
~/Library/Caches/…
~/Library/Logs/…
~/Library/Preferences/…
~/Library/Cookies/…
~/Library/Containers/…
You can also use a free software tool Funter to find all service files. Just type the app's name and get the results. Please be careful when you remove service files. Make sure you delete only those which are related to the Google Earth app.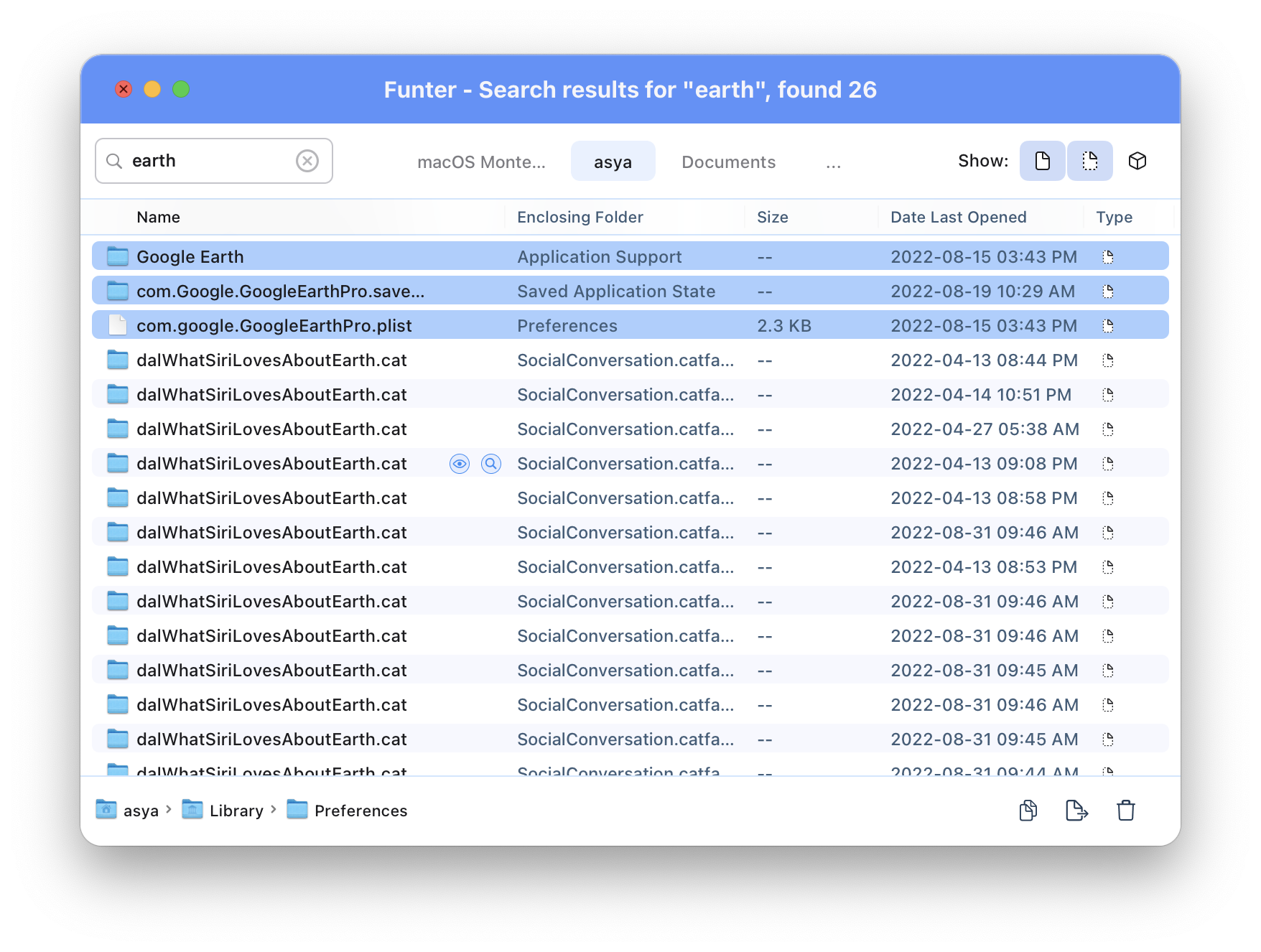 As soon as you find and remove all the service files of Google Earth, go to the Trash folder and empty it.
That's all! That was the manual way of app removal. Now let's move to a quicker way to uninstall apps on Mac completely.
---
How to uninstall Google Earth using a removal tool
It's much easier to use special software tools specially designed to uninstall programs on Mac. For example, you can use a special utility App Cleaner & Uninstaller which allows you to remove Google Earth as well as the Google Earth plugin with several clicks. Here's how the app works.
When you launch App Cleaner & Uninstaller, you will see a list of your apps on your Mac. You can order them by size, name and date of use, or you can navigate using the search field.
All you need do to uninstall Google Earth is to select it, click the Remove button and then confirm your deletion.
If you need to uninstall the Google Earth plugin, web extensions or other additional tools, switch to the Extensions tab, find and remove items related to Google Earth. Simply select the unneeded items and click to Remove it. Please be careful with Core extensions and be sure you know what are you doing. Removal of important items may damage your system.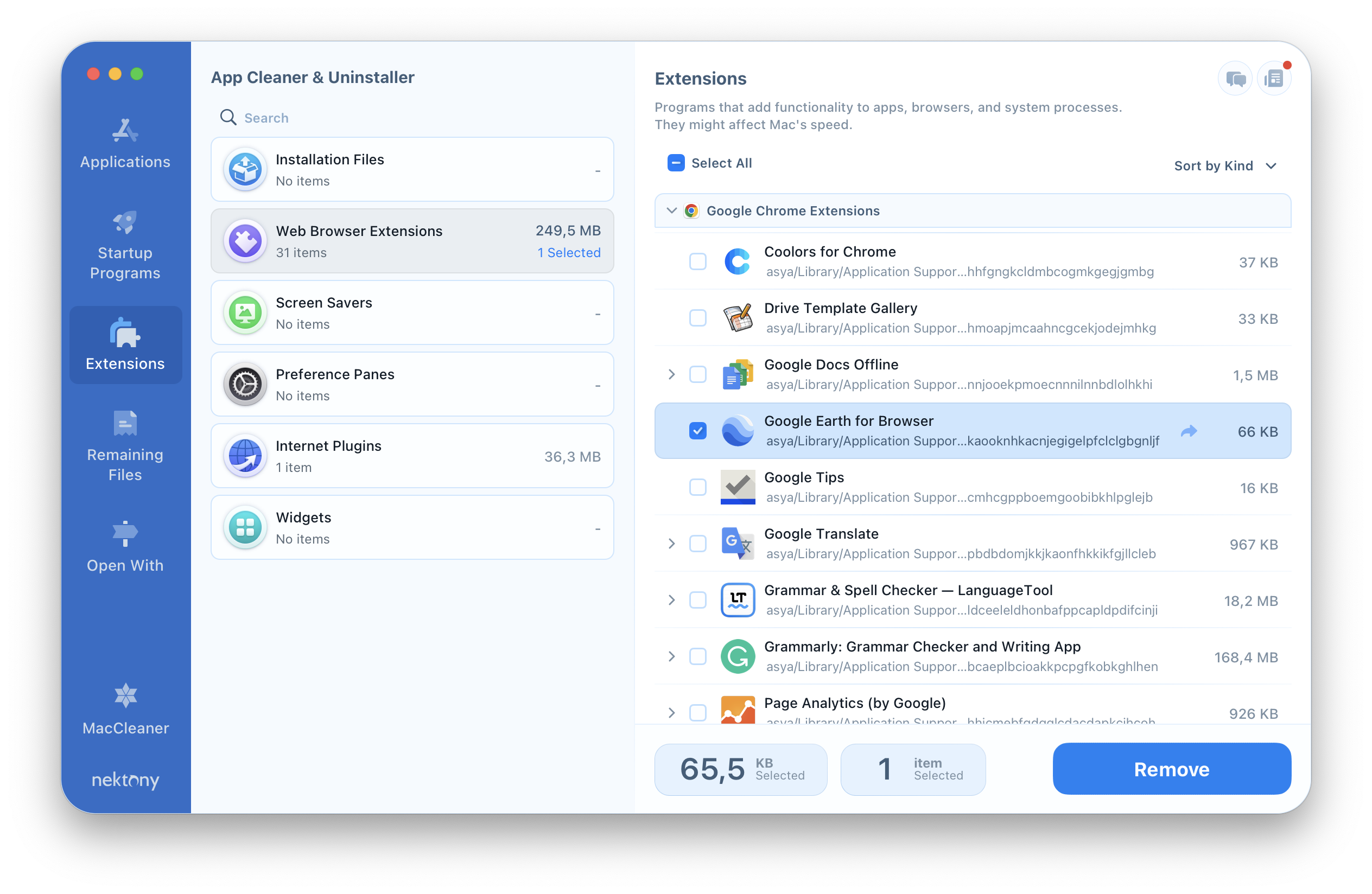 ---
Conclusion
You can use any way convenient to you to remove the app. The only thing you should remember is to always delete the leftovers of removed apps so as not to clog your hard drive with junk files.
---
Articles, that you may be interested in: