This article explains how to uninstall Little Snitch from your Mac correctly so that no leftovers are left behind. We will share two ways to remove the app: using Little Snitch's native uninstaller and using a universal Mac uninstaller. You can use either method that suits you best.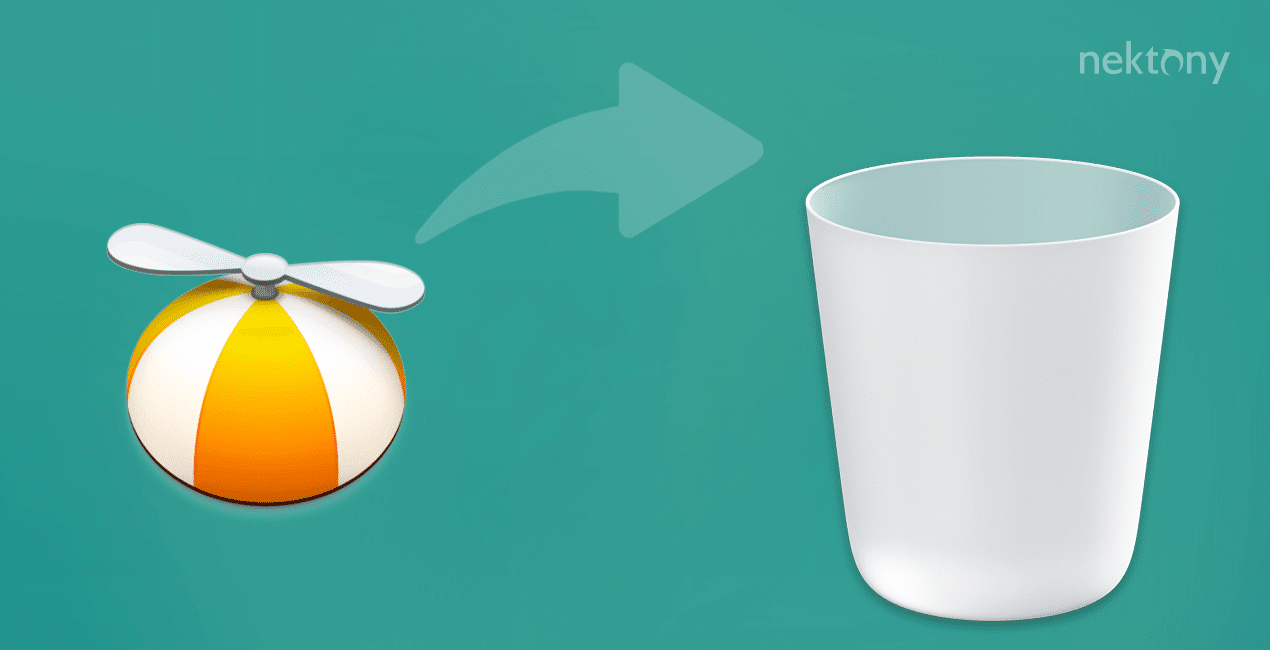 Contents:
Tip 1 – The quickest way to completely uninstall Little Snitch from your Mac
If you don't have time to explore this removal guide, use
App Cleaner & Uninstaller
from Nektony to quickly and completely uninstall Little Snitch from your Mac. This uninstaller finds all of the support files of each application installed on your Mac and helps to get rid of apps entirely and with the click of a button.
App Cleaner & Uninstaller
---
What is Little Snitch and should you uninstall it?
Little Snitch is a firewall that provides your Mac with a safe connection and lets you control the inbound and outbound traffic. The application can show every IP your Mac connects with and notifies you when a new connection is made. It's a great way to protect your Mac from attacks; however, for most users, the application can be too complicated to use, which might be one of the reasons you might want to uninstall Little Snitch. Also, if you notice some issues with the app, reinstalling it can help you solve them.

Important notes about uninstalling Little Snitch from Mac
Before writing this article, we checked the official Little Snitch removal guide, which says that all you need to do to uninstall the app is to drag and drop it into the Trash. However, this doesn't uninstall Little Snitch completely with all of its support files.
Applications' support files are usually stored in the hidden Library folder. We will explain how to get to the Library and find temporary files.
We will explain how to find and remove application service files manually and how to do this automatically with a universal uninstalling tool.
Please, be careful when you remove service files manually. Deleting important macOS system files might damage your system.
---
Uninstall Little Snitch using its native uninstaller
Depending on which version of Little Snitch you use, the removal steps slightly differ. However, for both versions, you will have to check your Mac for the Little Snitch temporary files. So please, read the guide to the end to entirely uninstall Little Snitch from your Mac.
Steps to delete Little Snitch v.4 from Mac:
Open the "LittleSnitch-4.0.5.dmg" file.
Double-click and choose the Little Snitch Uninstaller. Also, you can find the uninstaller file in the following location: /Library/Little Snitch/Little Snitch Uninstaller.app.
In the window, select "Also remove rules and settings" and click the Continue button.

Click the Restart Now button to finish the app removal from your Mac.

For the Little Snitch v.5, follow these steps to uninstall it:
Quit Little Snitch.
Stop all Little Snitch processes working in the background. For this, open Activity Monitor → select Little Snitch → click to close them.
Go to the Applications folder and move Little Snitch into the Trash.
Empty the Trash and restart your Mac.
How to remove Little Snitch leftovers
According to the Little Snitch removal guide, the uninstaller file for version 4.0 uninstalls the application completely. However, if you check your Mac, you will find its remaining files in your Library folder. Follow the steps below to find Little Snitch support files of any version:
Open Finder.
Press Command+Shift+G.
In the search field that appears type ~/Library and hit Go.

Here, find and remove all files and folders associated with Little Snitch. Check the following directories:

~/Library/Application Support
~/Library/Preferences
~/Library/Launch Agents
~/Library/Launch Daemons
~/Library/Caches
~/Library/Logs
~/Library/Logs/Diagnostic Reports
~/Library/Application Scripts

Once you have removed all of the support files, don't forget to empty your Trash to entirely get rid of Little Snitch.
Another way to find Little Snitch leftovers is to use a free software called Funter, which allows you to find hidden files on your Mac. Just launch Funter, and in the search field, type Little Snitch and press Return. You will see the list of all files matching your query.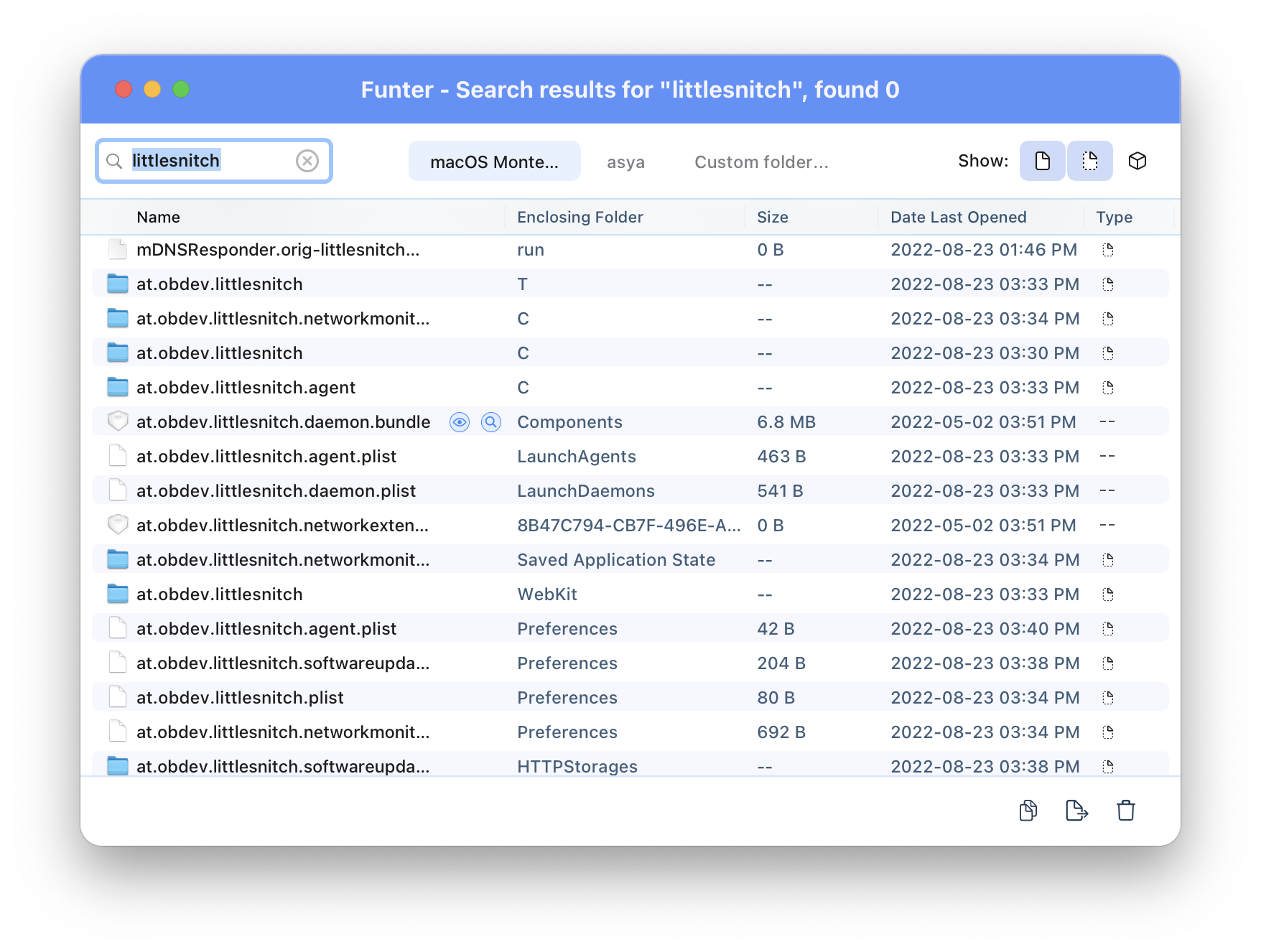 You can download Funter using this link.
It's not convenient to search for and delete every single file manually. Also, some files might be spread in the deep debris of your Mac's hard drive, and there is no guarantee that you have absolutely removed all of the leftovers. If you don't understand what the files in the Library folder are used for, it's better not to touch them. Deleting important system files might cause issues with your system. That's why we recommend using a special tool App Cleaner & Uninstaller, which allows you to safely remove apps with all of their support files and with just a few clicks.
---
How to uninstall Little Snitch using App Cleaner & Uninstaller
App Cleaner & Uninstaller is designed to uninstall applications from your Mac completely and safely. This software finds all the service files of each application automatically, so you don't have to waste your time doing this manually.
Here are the steps to uninstall Little Snitch from your Mac using the App Cleaner & Uninstaller:
Download and launch App Cleaner & Uninstaller.
Select Little Snitch.
Click the Uninstall button.
Confirm the removal of all files associated with Little Snitch.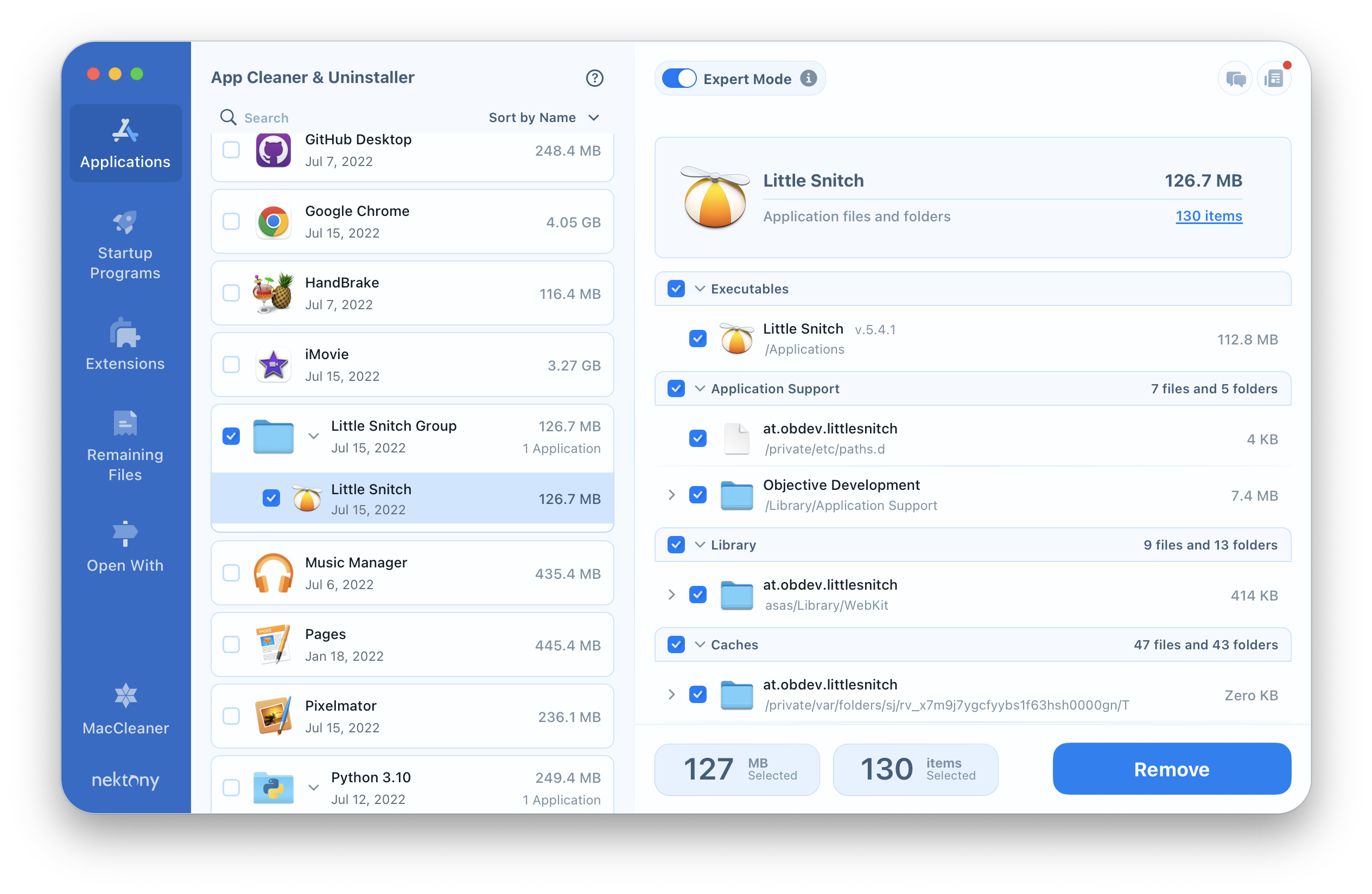 Now, Little Snitch is completely uninstalled. Just don't forget to empty your Trash.
If you have removed Little Snitch manually, switch to the Remaining Files section to find its support files left on your disk. Select and click to remove them.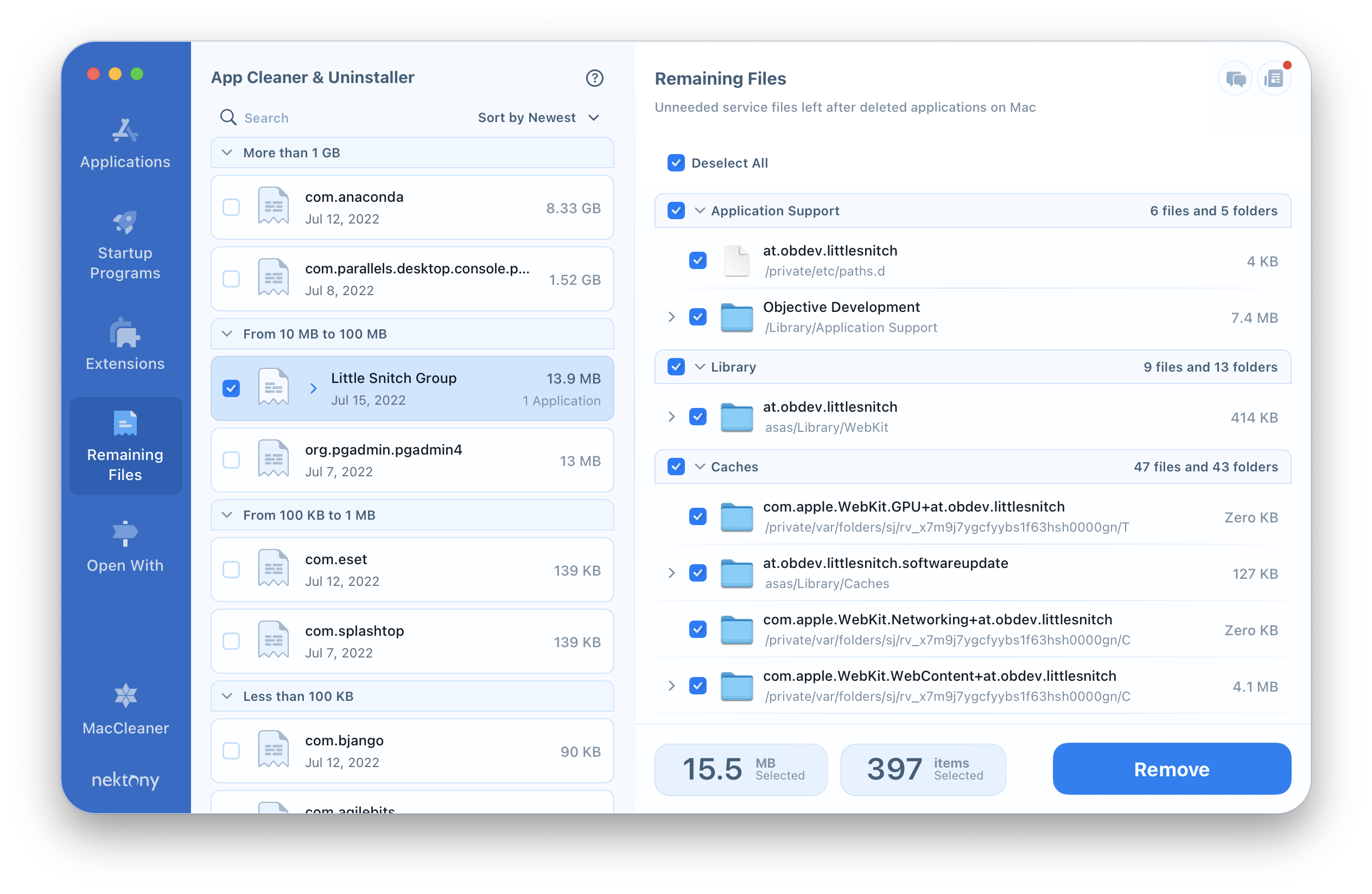 App Cleaner & Uninstaller helps you save time; it can uninstall Little Snitch and other applications with their supporting files in just 2 clicks.