Phone Cleaner User Guide for iOS
Clean up a storage on iPhone or iPad
Phone Cleaner is an utility that allows you to clean up to 60% storage in 2 steps.
Fast cleanup provides a possibility to scan a storage for the largest media and remove them.
Deep cleanup allows to scan synchronously your Mac and iOS device to find images that present on both devices
and offers to delete duplicate from iPhone or iPad.
How to find the largest photos and videos
1.Launch Phone Cleaner on iPhone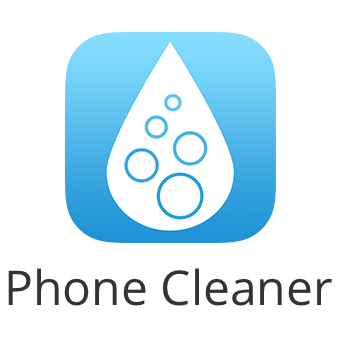 Give to Phone Cleaner access to your Photos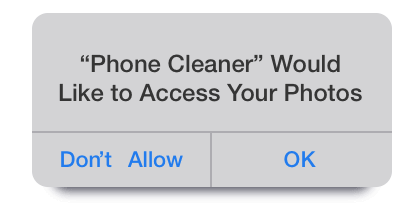 If in some case you didn't confirm access at first launch, you can change it in settings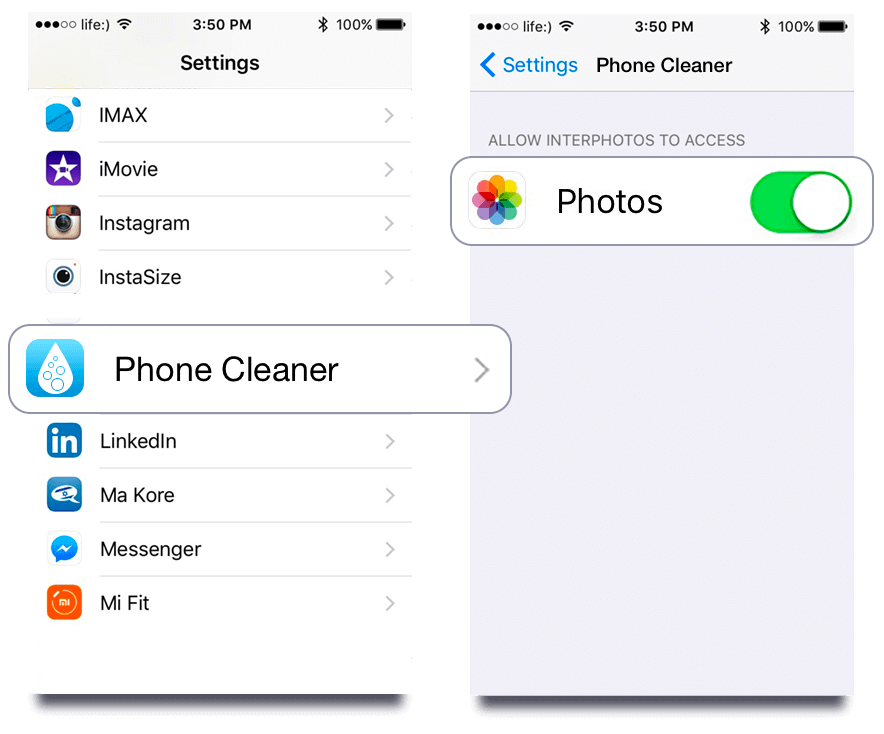 2.Press Fast Cleanup to find photos and videos of the biggest sizes.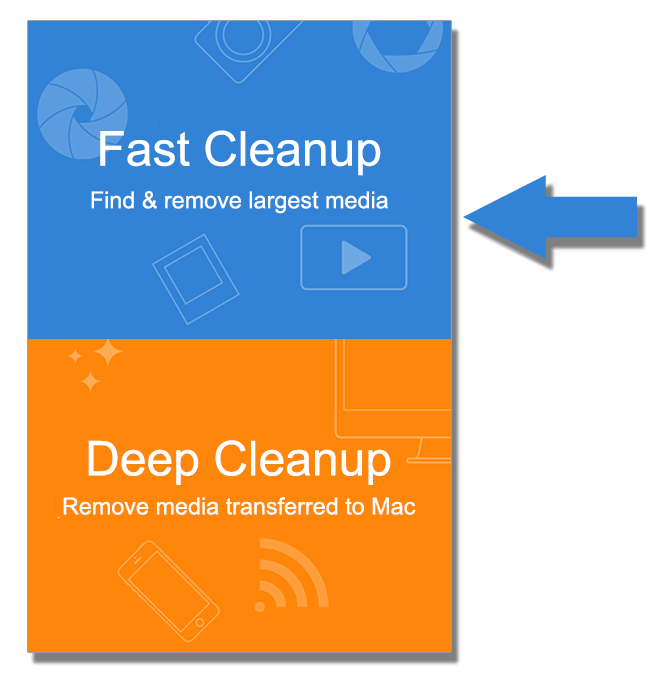 3. Scan your iOS storage memory for the largest media files. A list of videos and photos will be shown in descending order of size. Select the files you want to delete. You can do it in variable ways:
Select the files in a Gallery.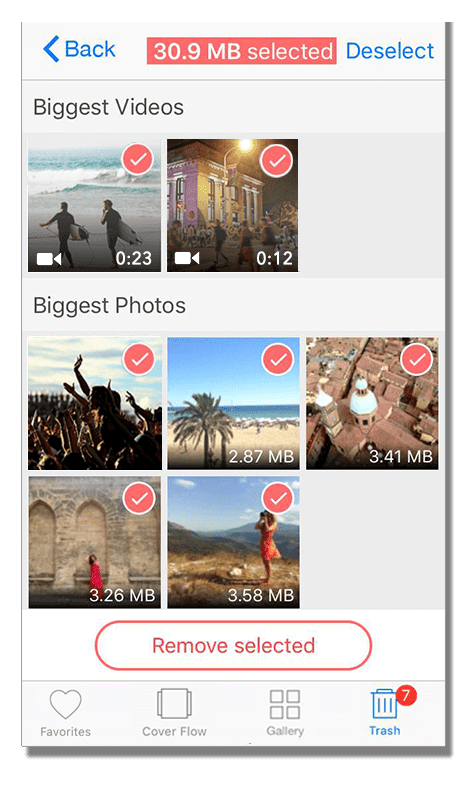 Preview and select files in a Cover Flow. Swipe left or right to show next or previous file. Swipe down to move the file to a Trash.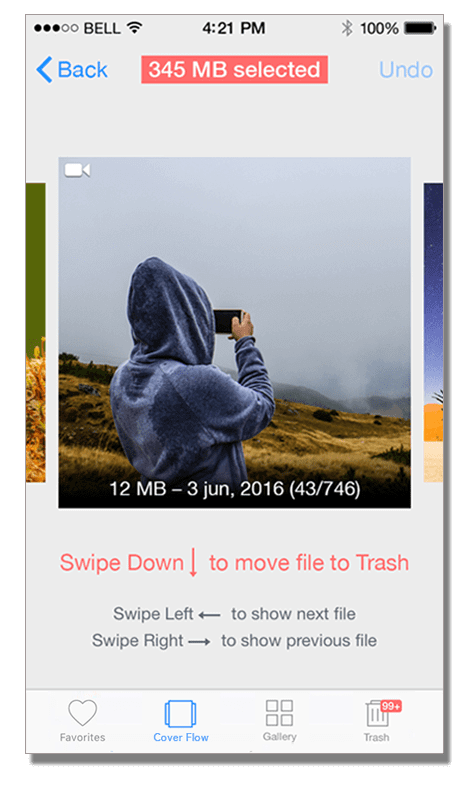 4.Go to a Trash section and click Remove selected. A pop-up window will appear to confirm your action. Click Delete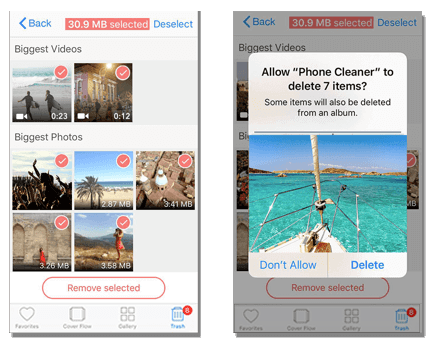 5. When removing process is finished Phone cleaner will show how much memory is cleared in your storage.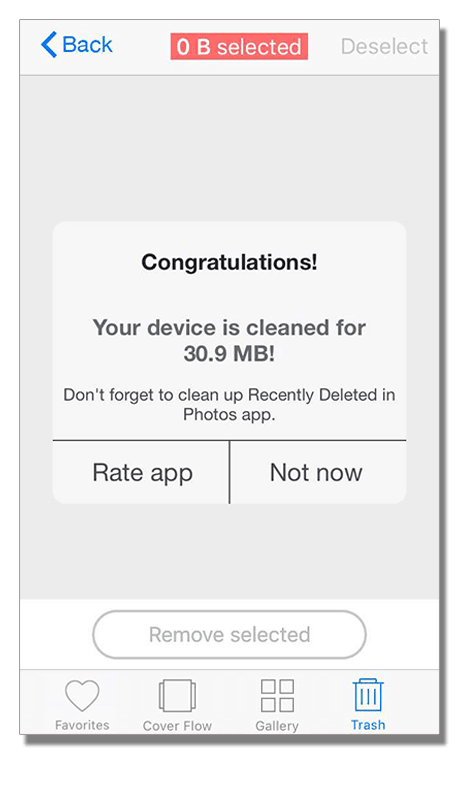 Note: the removed files go to Recently Deleted folder in Photos app. Don`t forget to delete them decisively.
How to clear files on iPhone that have duplicates on Mac
1.Press Deep Cleanup section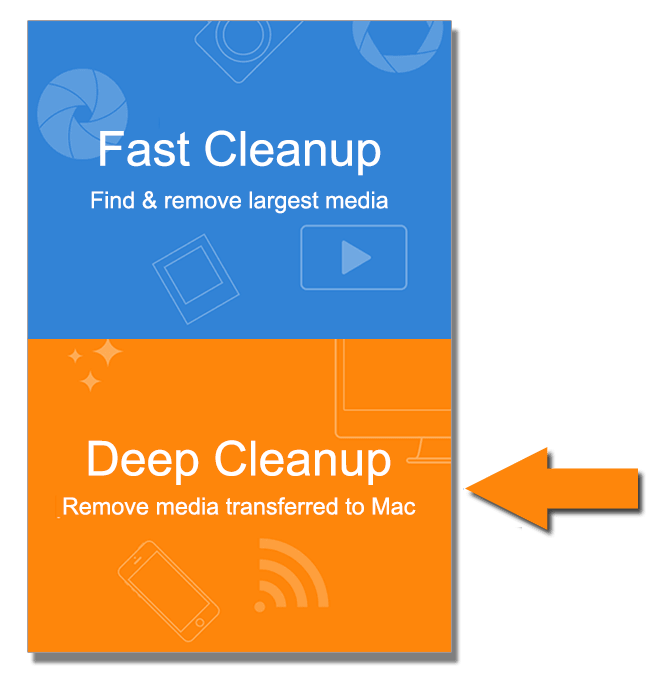 2. Launch Phone Cleaner on iPhone and Mac. Make sure Wi-Fi is turned on.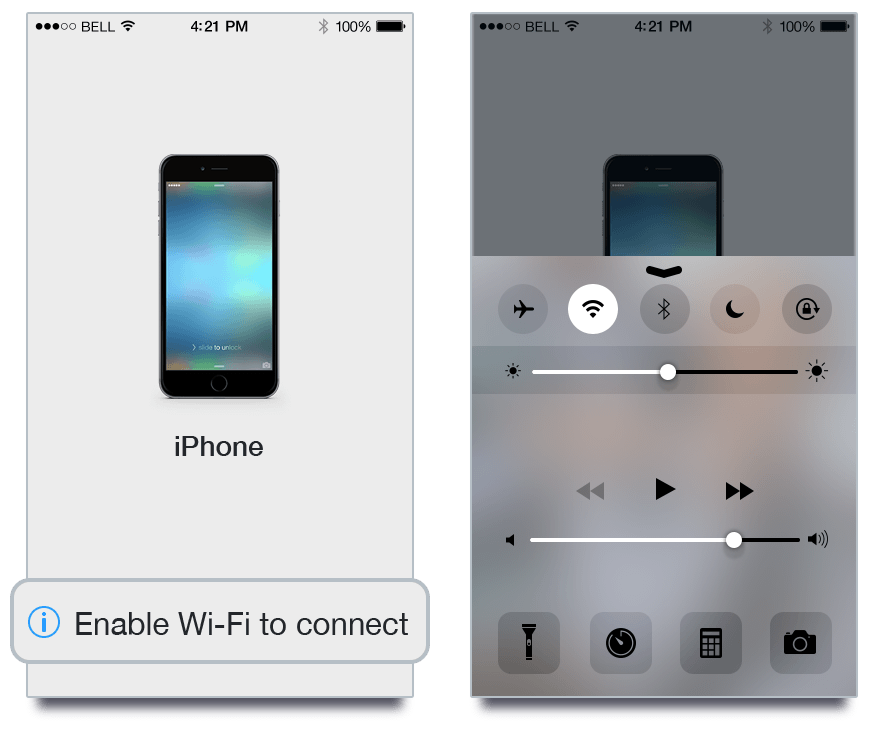 3.Connecting Devices
Press Find Duplicates if you have one Mac with launched Phone Cleaner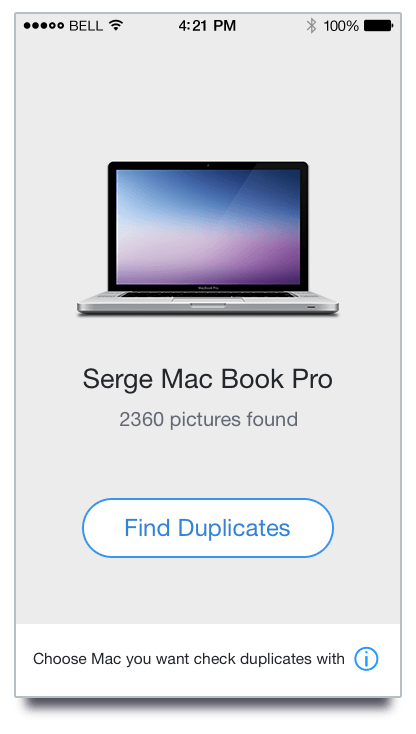 if you have more than one Mac with active Phone Cleaner – choose one you want to scan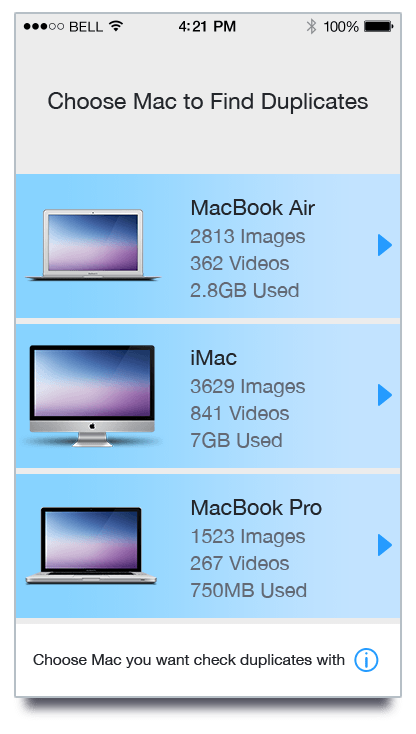 Allow access on your Mac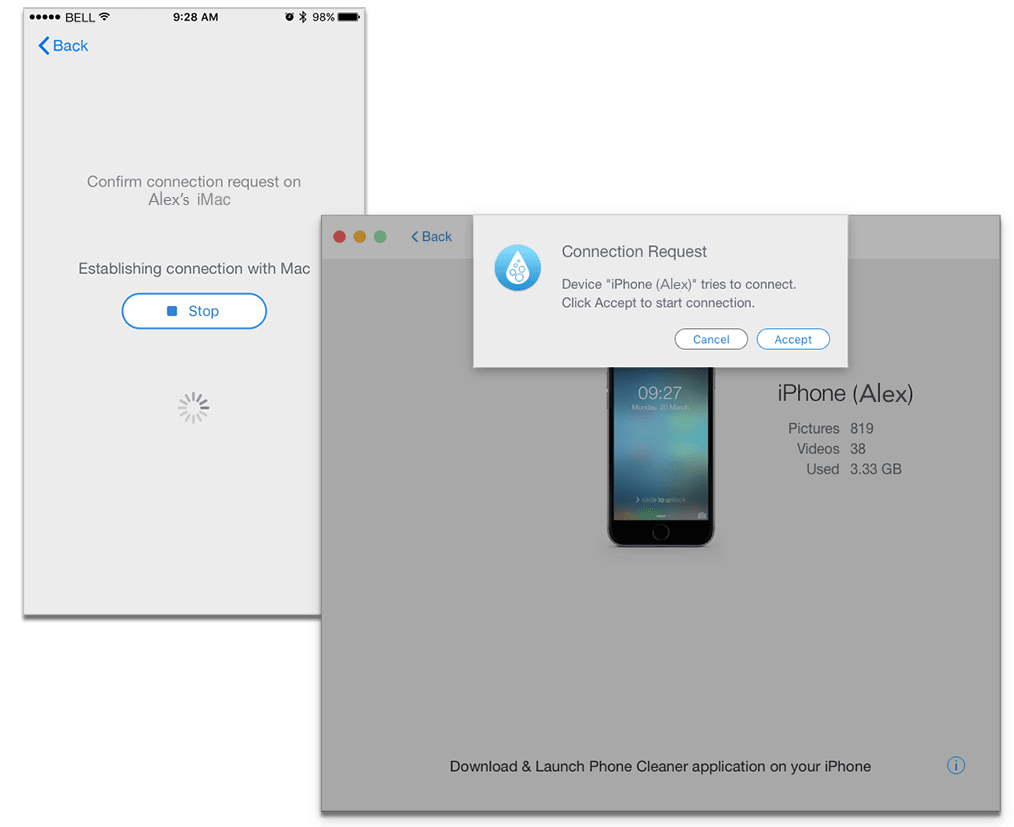 4.Scanning
In this step application scans Mac and iOS device. It will take some time. Wait until scanning ends.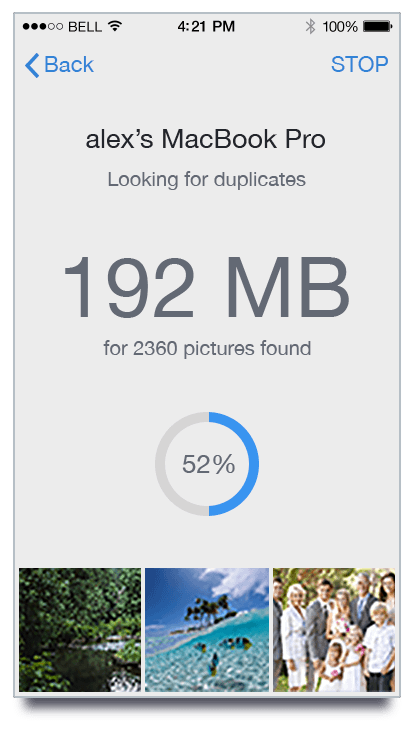 5.Remove Duplicate Files
Photos will be removed from your iPhone (iPad) only and remain on your Mac
Select and remove images you want to delete. Also you can use such features like select all items and images preview (by pressing on them with select mode off)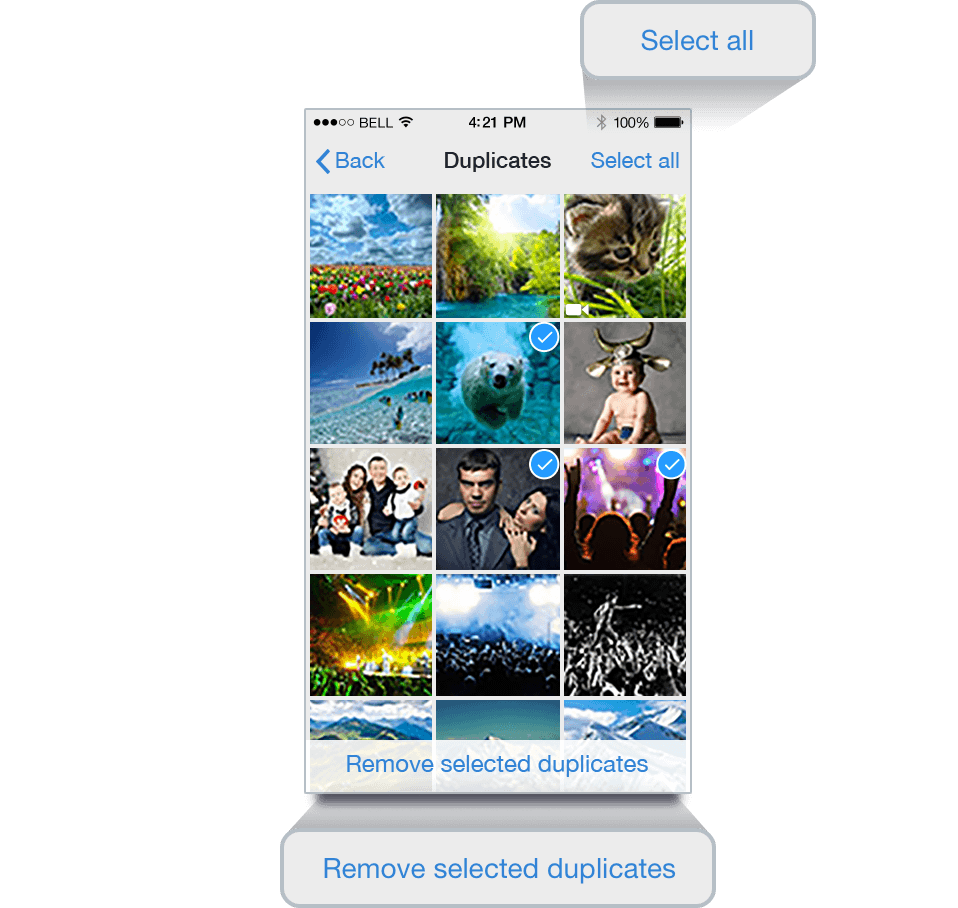 Once again we will remind that Phone Cleaner delete images from iOS device ONLY. After uninstallation photos will go to Recently Deleted album. If you need to delete them immediately – clear it.