Statistically, a typical Mac user is more likely to work regularly with rich multimedia content, such as HD video, high-quality audio, and high-resolution photos, than a common PC user. At the same time, working with high-quality content requires lots of hard drive space and proper organization. If you have a large collection of media files, you probably already know that it tends to grow and eventually you face a dilemma: to buy a new hard drive or eventually do things in order on existing volumes. The Recipe from experts sounds similar:
Inventory
Archiving (including external drives)
Ridding of unnecessary files
Inventory software for Mac
But don't waste time sorting files and folders manually. Using the special applications, such as Disk Expert from Nektony, is the easy way to inventory your hard drive. It is the choice for owners of a large and very large photo, video, and music collections, seeking to keep drives free of unused media files. It is a fast way to perform disk space analysis and organization on your Mac. The program scans hard drive (or any other supported drive) and generates a colorful chart (sunburst diagram) representing your hard drive usage so you can get a birds-eye view of what's taking up most of your coveted hard drive space. This visual representation helps to identify the largest files and take further steps for optimizing the content of the drive and freeing up disk space.
If you have a large collection of media files, you probably already know that it can be difficult to find a specific video file, or photo unless you happen to remember the file name and can search for it. Disk Expert seamlessly integrates with familiar macOS system tools, so you can always preview a file using QuickLook and get detailed information about it with one or two clicks.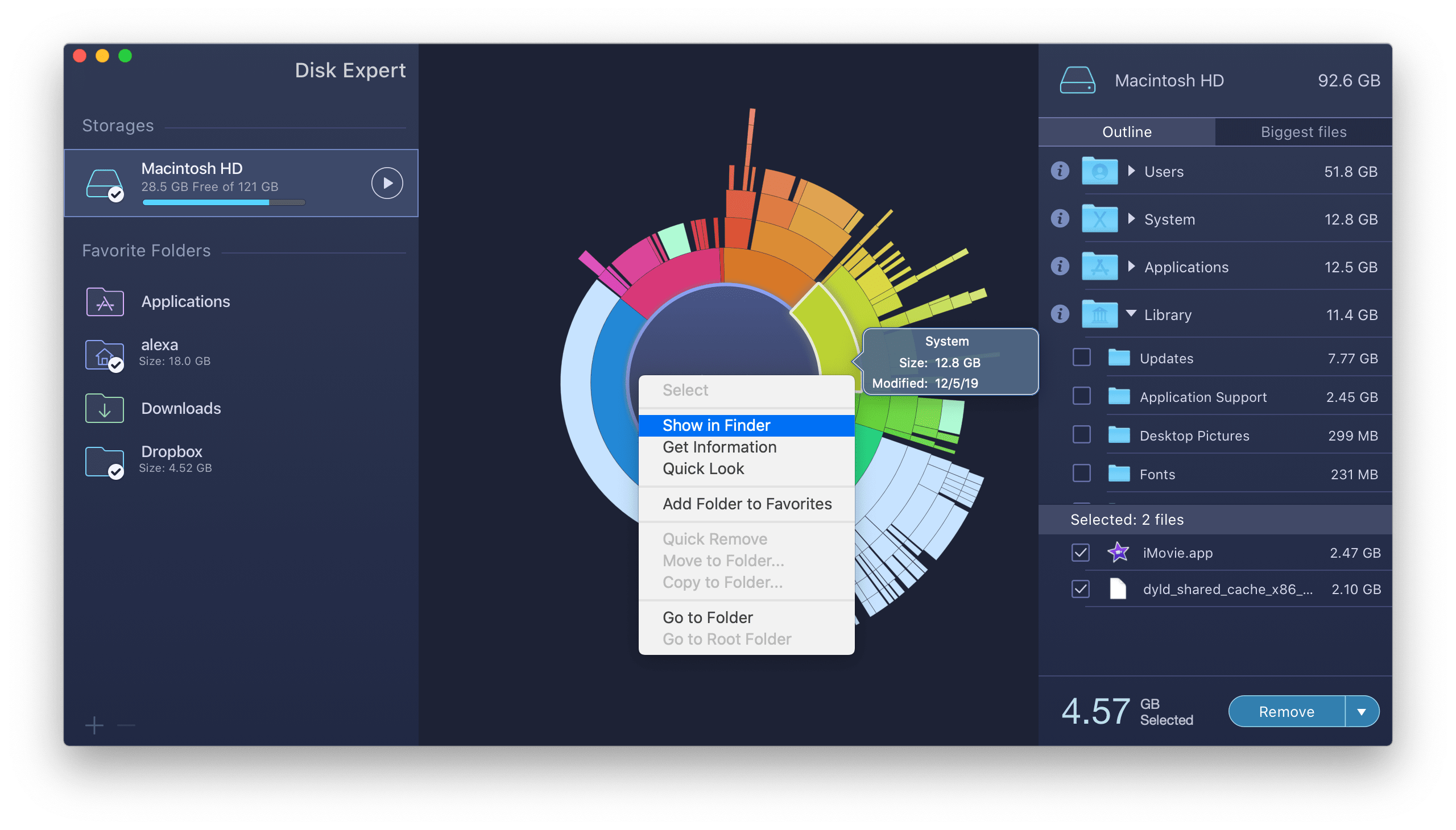 The program allows users to manage the files shown on the chart immediately after they appear on the screen and not wait until the end of the scanning and analysis process. The speedy core of the program makes full-disk analysis a matter of just a few minutes.
So, using this efficient diagnostics solution you can identify the bulkiest files on the hard drive and move them, if necessary, along with rarely used files. Another option would be to archive them or create a backup copy of "disk space eaters". You can do this, using HDD volumes, CD and DVD discs, removable USB drives; SMB shared external drives and, even, mounted DMG's.
Disk Expert
---
Related Entries: