Disk Expert is a fantastic tool that helps Mac users to cleanup their Hard Drive in several minutes in the fast and intuitive manner. With Disk expert there is no need to spend much time searching for places where superfluous files and folders are hiding. Although to perform cleaning process you need to check all the hard drive, it doesn't take much time. Generally, you need around 20 seconds per 100 Gb to scan ordinary drive and half a minute if it is a system one. After scanning your hard drive or custom folder will look similar to this: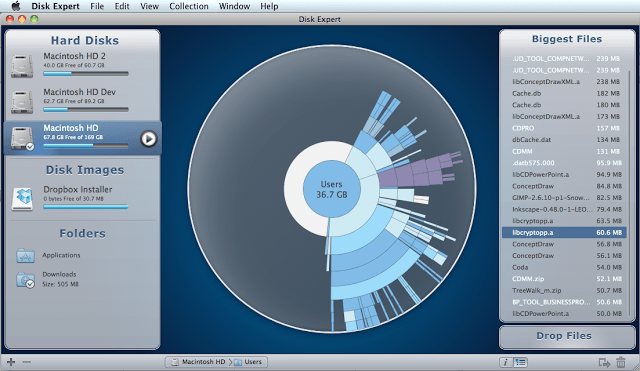 How does Disk Expert show Disk usage
Center of the diagram is a hard drive itself; adjacent sectors are root folders and files. Every next sector represents subfolder or subfile. If you click on a sector it will be placed in the center position and only its items will be displayed by the same algorithm. You can drag and drop files & folders from the diagram to "Drop Section" to the right. From "Drop Section" they can be transferred to specific folder or just Trashed.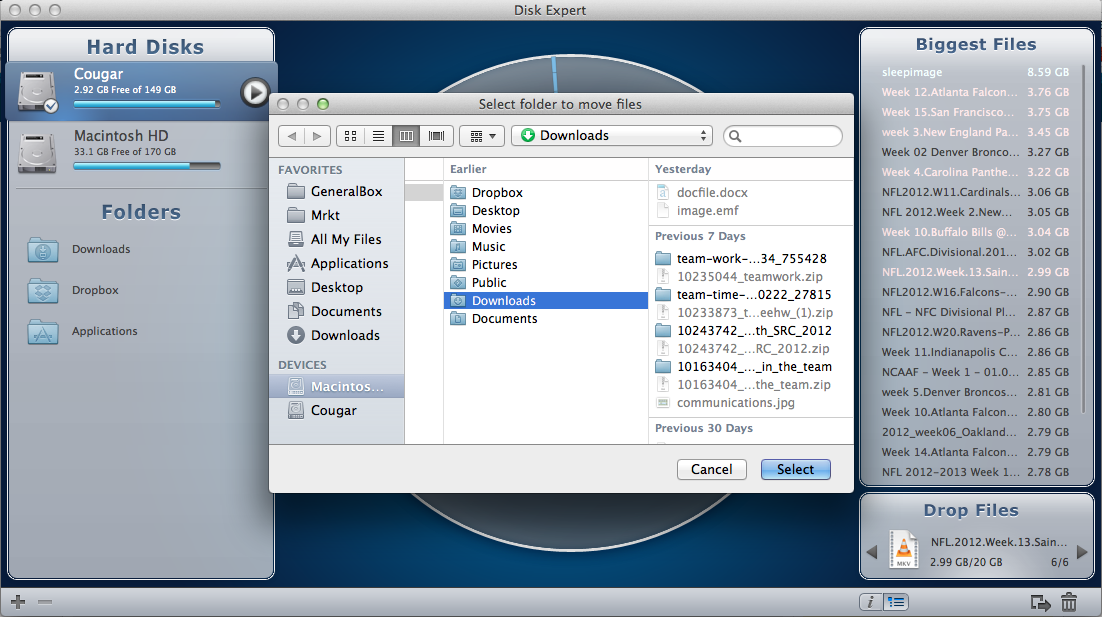 As well on a right side there is a list of 25 biggest files for a selected folder, that safes much time. There is no need to search for large files, Disk Expert does it for you. The list updates automatically for every new folder it  explores during disk scanning. In a case if you click on an item it will be highlighted both on a diagram and list, respectively after moving of any item into a "droplist", it will be marked with a red color.
File & Disk Management
Disk Expert also can be used for organizing disk space. Icon to move items is located in the bottom right, next to the one that moves files to the Trash. After deleting or moving of the files sunburst diagram will be updated, there is no need to perform scanning repeatedly. Also there is no need to switch between Finder and DE to check whether you need this file. Simply use quick look ( + Y) option and preview file right from the program. You also can check information about the file ( + I) or perform its individual deletion.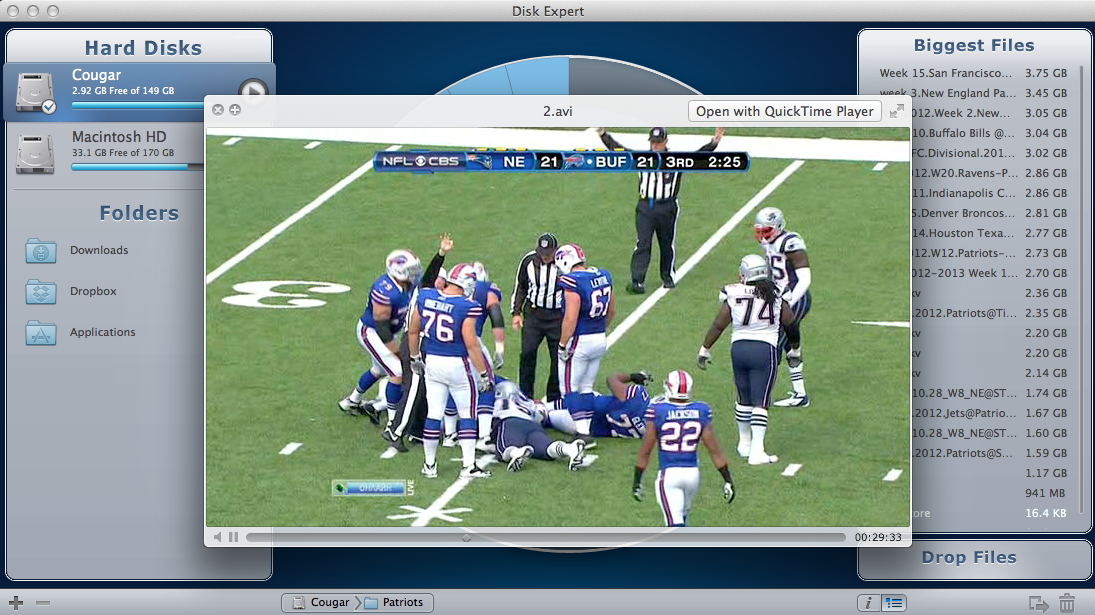 Supported Drives
Disk Expert supports all volumes (HDD volumes, CD and DVD discs, removable USB drives, mounted Disk Images and SMB disk images) and displays even hidden system items. See on the video.
NOTE: As well as user data Disk Expert shows hidden and system, i.e. Libraries, Cashes, Application logs, Mail Accounts, Software Updates, etc. If you launch scanning of startup disk, they will be marked with a white color. Please be sure about that you trash files absence of which would not harm your computer.
---