Apple has announced the latest version of OS X operating system, which is called macOS Sierra. Let`s learn what the main innovations are for Mac.
MacOS Sierra Features
Picture in Picture
The main feature of the new macOS is voice control support via a virtual Siri assistant. Voice Assistant can send messages, and search for photos and music. It has even learned how to find and play video in a small window. This function is proudly called 'Picture in Picture'. The ability to play video on top of other applications was previously available only on the iPad. Now Mac owners can also benefit from it. The function even works in full-screen mode.
Face recognition technology
Along with the update to iOS Photos 10, Apple has added the ability to use all the new functions and applications on the Mac. Now, searching and organizing photos is much easier. There is a special 'Memories' tab in the program, which is similar to the functionality of Google Photos Assistant. Moreover, you can search and sort images by faces.
Auto unlock
The ability to unlock your Mac using Apple Watch is another interesting innovation. To wake up your computer, just lift the display cover or move the mouse and syncing will do the rest. You will no longer need to enter a password when you have Watch.
Support for the web
One of the indirect features of the system is Apple Pay support for the web. It`s available to pay for purchases online by using a bunch of Mac + iPhone / Watch. To confirm payment just touch the Touch ID on your phone or double-click on the side button of Apple Watch.
New clipboard
Apple presented the new clipboard that works with the iPhone and Mac. The function allows you to copy and paste images, text and videos on both devices. According to Apple, it is a new level of withdrawing cooperation. As an example, it showed the ability to copy a recipe with the ingredients to Mac and insert it directly into the iPhone shopping list.
Access to desktop and folders from any device
iCloud Drive now works differently. Once again, Apple has looked at its cloud service, and this time Apple took it seriously. Now, Desktop and Documents folders on the Mac can automatically be copied to the cloud so all the saved files on the Mac will be available on other devices as well. It`s convenient, however, quite expensive.  Free storage capacity is limited to 5 gigabytes. A new automatic storage cleaning system is also available. It backs up infrequently used files in iCloud, helps to find the trash and cleans the cache.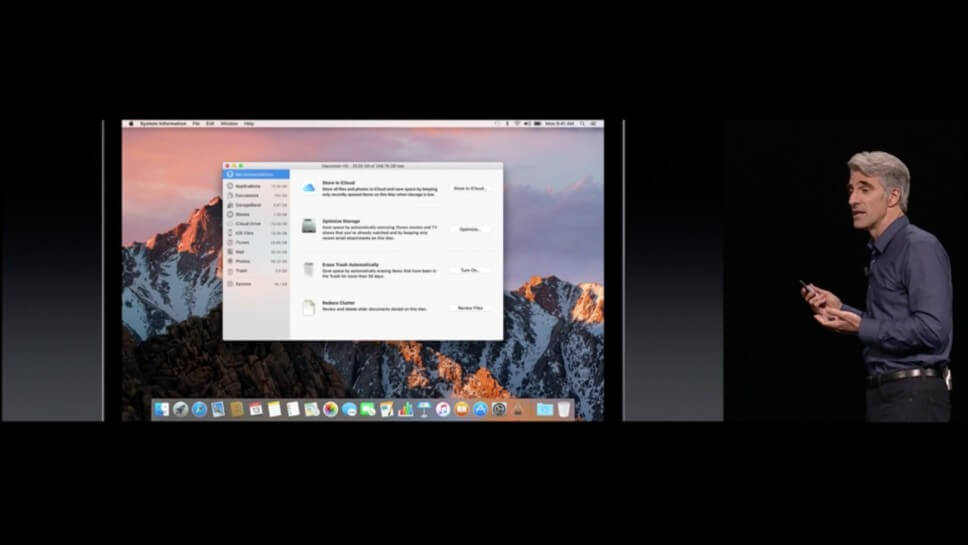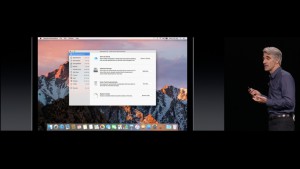 The beta version of macOS Sierra now is available for developers. A full release of the system is planned for the autumn, however, Apple hasn't given the exact date.
To summarize, we agree with Craig Federighi (Apple's senior vice president of Software Engineering) who said that macOS Sierra makes your Mac smarter and more helpful than ever.  To be fair, there are lots of new features, which will come to all users in the fall as a free upgrade. There seems to be nothing really revolutionary, however, everything is going to be more logical, convenient and user-oriented. Let's look at new pre-release versions.