Minecraft is a popular computer game in which gamers can realize their most incredible architectural fantasies. It is possible to install special mods to diversify the game. However, if too many mods were used, the game might stop running and you will have to reinstall it. If you are looking for a guide on how to delete and reinstall Minecraft or how to completely uninstall Minecraft from your Mac, you are on the right page.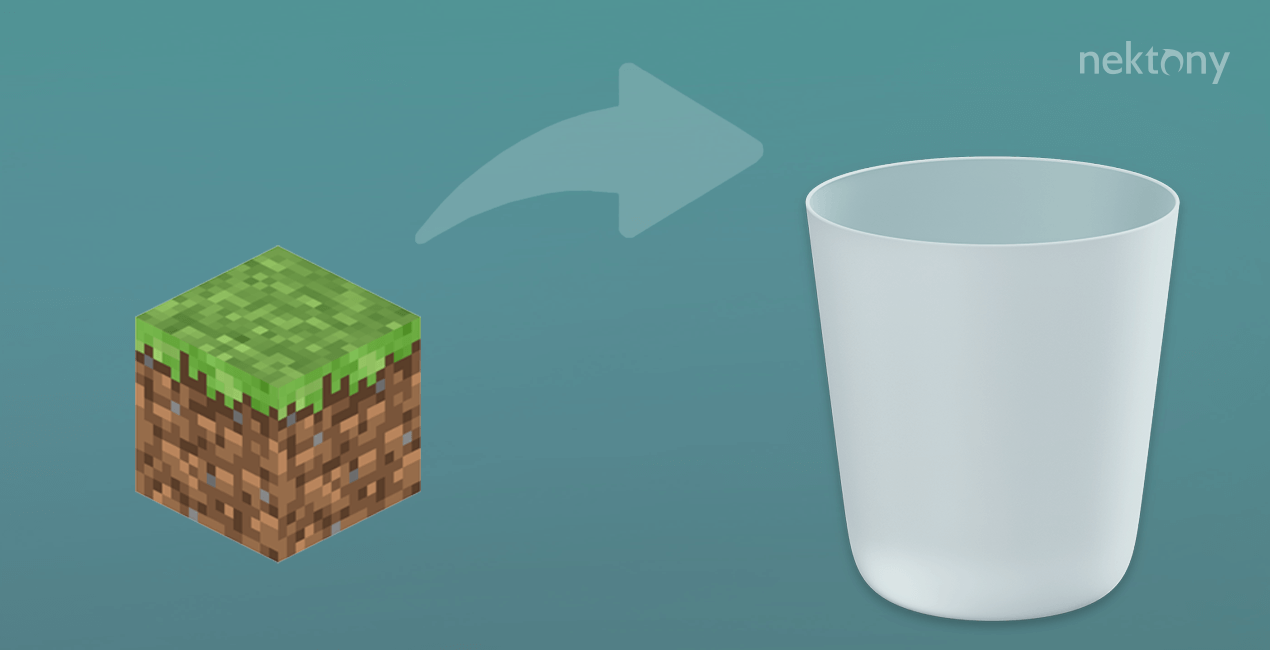 Contents:
Important notes and the methodology used to uninstall Minecraft from Mac:
Uninstalling Minecraft on a computer does not delete the Minecraft account.
To uninstall Minecraft from Mac completely, you need to remove the application and all of its service files as well.
Before writing this article, we checked the Minecraft help center for the guide on how to uninstall it on macOS. In fact, after uninstalling Minecraft from Mac using the official guide, we discovered its remaining files on a Mac.
We used App Cleaner & Uninstaller from Nektony to check Mac for Minecraft's remaining files.
In this article, we will provide a complete guide on how to manually or with the help of App Cleaner & uninstaller completely remove Minecraft from Mac.
How to delete the Minecraft account
If you need just to reinstall Minecraft to solve some errors, then move to the next part of the article. You shouldn't delete your account.
If you want to completely remove Minecraft and you are not going to play the game anymore, then you can delete your account. This will disassociate your data from the game developer. However, note, that you will not be able to purchase games from the Mojang services using this account anymore. Also, you can't register a new account again using the same email address you used for the previous account.
Here are the steps on how to delete a Minecraft account:
Log in to your Minecraft account setting page.
Go to the Settings.
Scroll down and find the Delete your account section.
Click on Learn how and then click on Request account deletion.
You will get an email with a link to delete your account. Click on it.
Answer the security questions and enter your password to confirm deletion.
Click on Deactivate my account.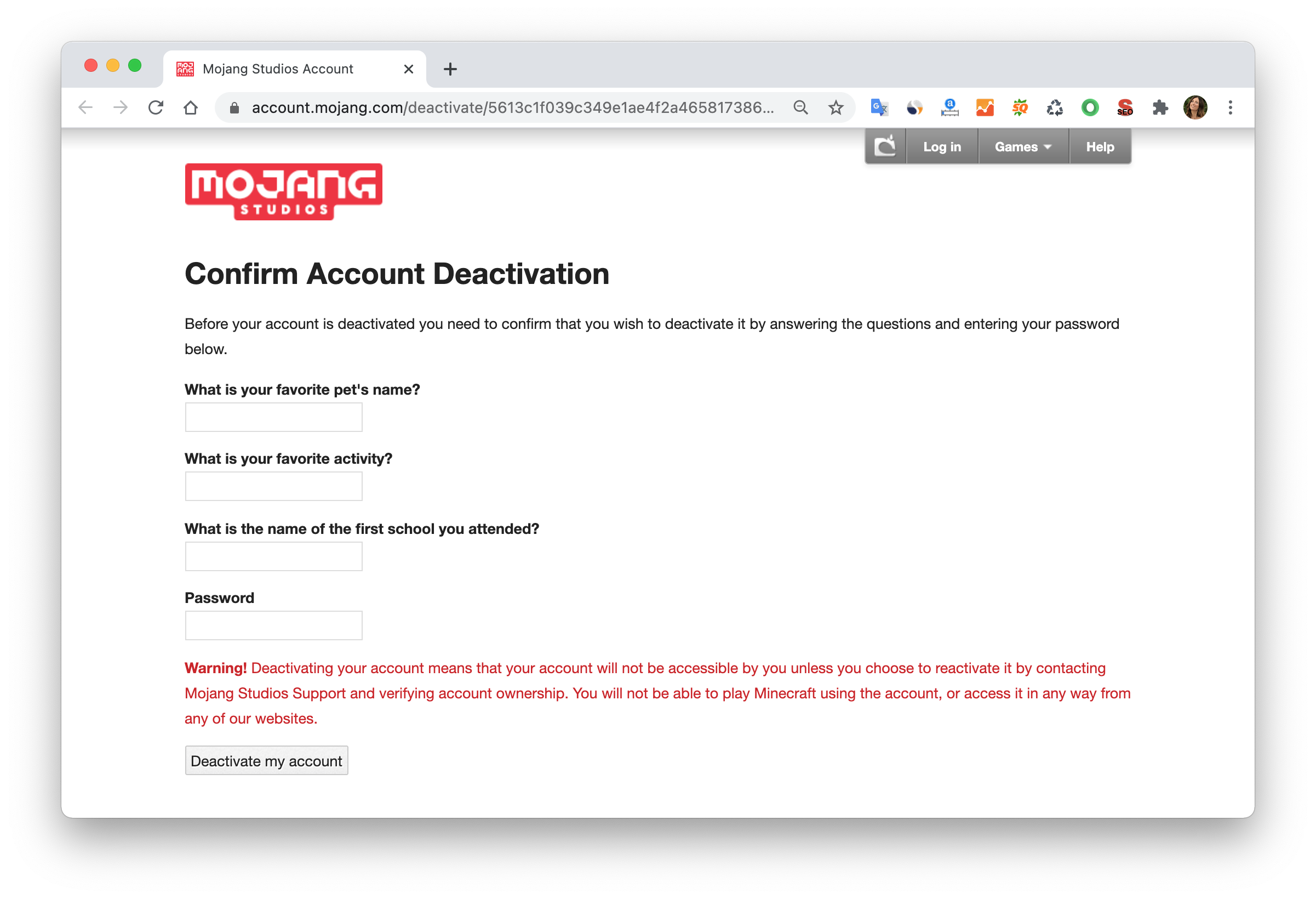 ---
How to manually uninstall Minecraft from Mac
To delete Minecraft completely you first need to remove the game's executable file, then find and remove its service files.
Follow the steps below to manually uninstall Minecraft:
Go to the Applications folder and remove Minecraft.

Navigate the ~/Library folder. You can go there using the Finder's menu options or using the Command+Shift+G shortcut. It will open the "Go to the Folder" search field.
Navigate the ~/Library folder.

Find and remove all files and folders associated with Minecraft. You will find their caches, preferences, logins, and other support items. Check the next subfolders for the Minecraft leftovers:

~/Library/Application Support/minecraft
~/Library/Caches/com.mojang.minecraft
~/Library/Saved Application State/com.mojang.minecraft

Once you remove all of Minecraft's support files, empty the Trash.
Note:
The removal method described above is a complete uninstalling procedure for any application on Mac. You might agree that it's quite inconvenient when you need to uninstall apps often. That's why we are going to share a quicker way to complete the uninstall process – with the help of a special tool called
App Cleaner & Uninstaller
.
---
How to uninstall Minecraft with App Cleaner & Uninstaller
App Cleaner & Uninstaller allows you to remove Minecraft or any other software completely in the fastest and easiest way. All you need to do is open the app and it will scan the Application folder, then select the app you want to uninstall and click Remove.
Steps on how to completely uninstall Minecraft on Mac:
Launch App Cleaner & Uninstaller.
Select Minecraft.
Click on Remove and confirm the uninstallation.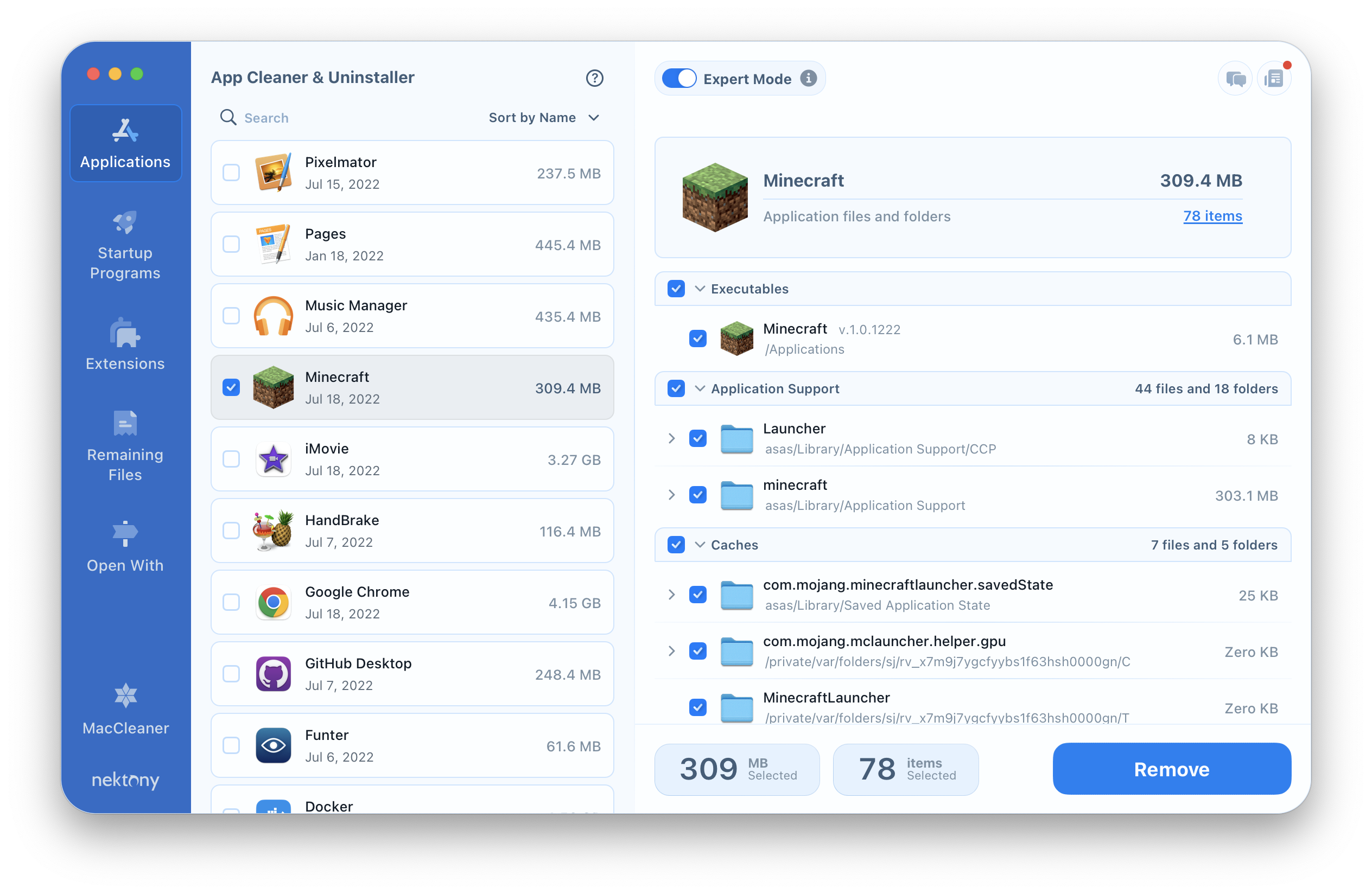 App Cleaner & Uninstaller allows you to remove all service files with the executable items. As you can see, you can uninstall apps completely in just a few clicks.

---
---
Frequently asked questions about Minecraft
Is Minecraft free?

Minecraft provides a free trial. The trial period depends on the device you use. After the trial period ends you will have to pay $20 to $30 for the base game.
How do I install Minecraft?

To install Minecraft download the game client from the official website and create your account to be able to buy and play games.
Do I need Java for Minecraft?

The latest version of Minecraft does not require Java installed on your computer. You can play Minecraft without Java.
How much RAM do you need for Minecraft?

Minecraft can run on computers with 2GB or less of RAM. However, for better performance, it requires at least 4GB of RAM.