Discovering countless duplicate files is something almost every Mac user is faced with. If you are a music lover, you may be downloading dozens of songs from iTunes every day. If you are a photographer, you transfer hundreds of photos from your photo camera or smartphone to your Mac. It may also happen that you copy documents, folders, archives and other files by accident, and forget to delete them.
No matter how accurately you keep your files on the computer, as practice shows, most people cannot imagine how much disk space they lose because of duplicate files.  Luckily, this problem can be easily solved with an application Duplicate File Finder. Moreover, we have prepared for you cleanup tips that will help to make the duplicates cleanup process as easy and fast as possible.
---
A short Duplicate File Finder guide
Before learning about the promised tips for using Duplicate File Finder, let's take a quick look at the application.
Duplicate File Finder helps check your Mac for duplicate files. It is free to download and can be used as a duplicate music files finder, duplicate video finder or scanner for any other identical docs and folders.
When you launch Duplicate File Finder, you will be amazed at how intuitive its interface is. It's so easy to find identical files.
Drop the folders or drives you want to check, and click the
button.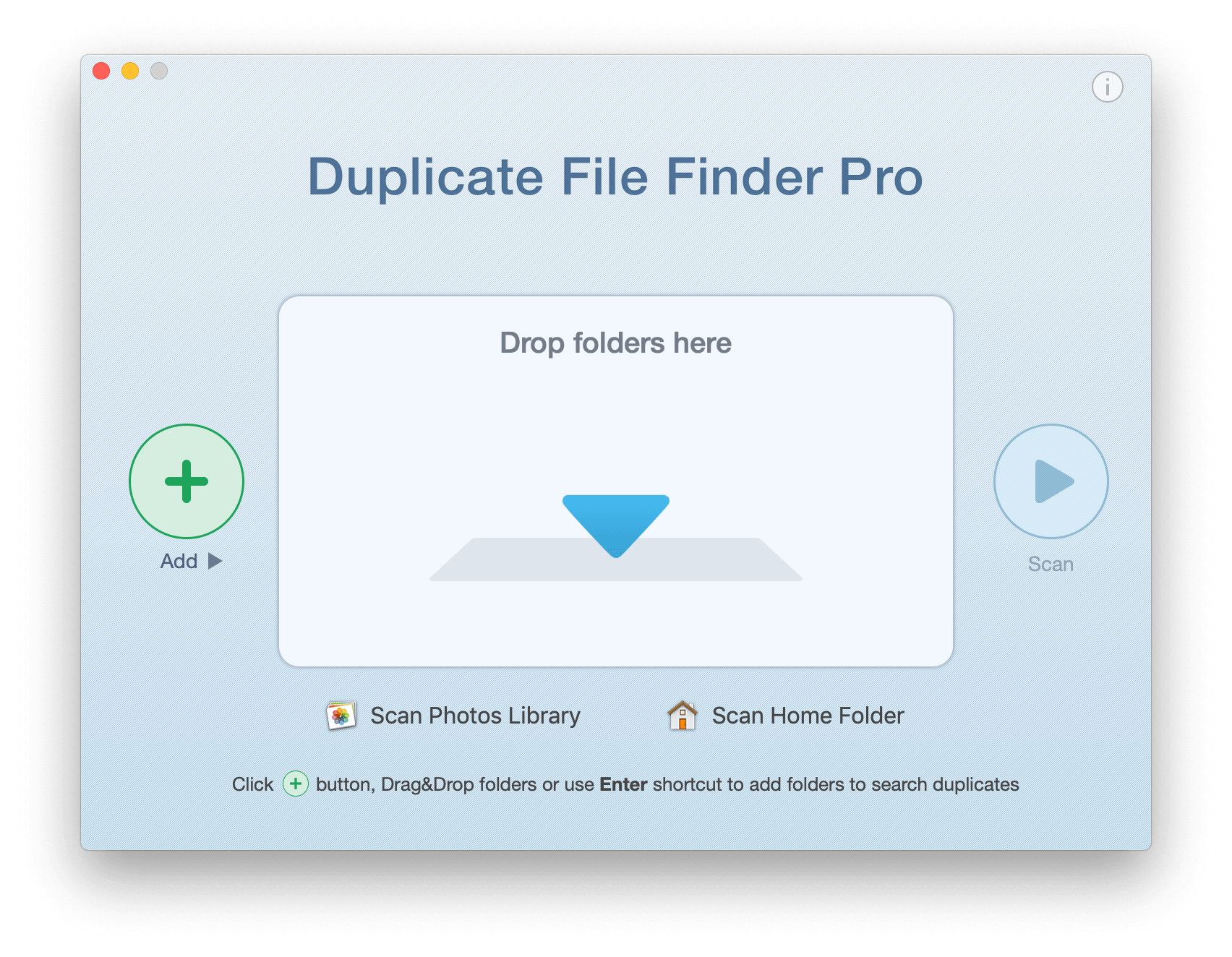 Review the found duplicates.
Select the iterative files and click
.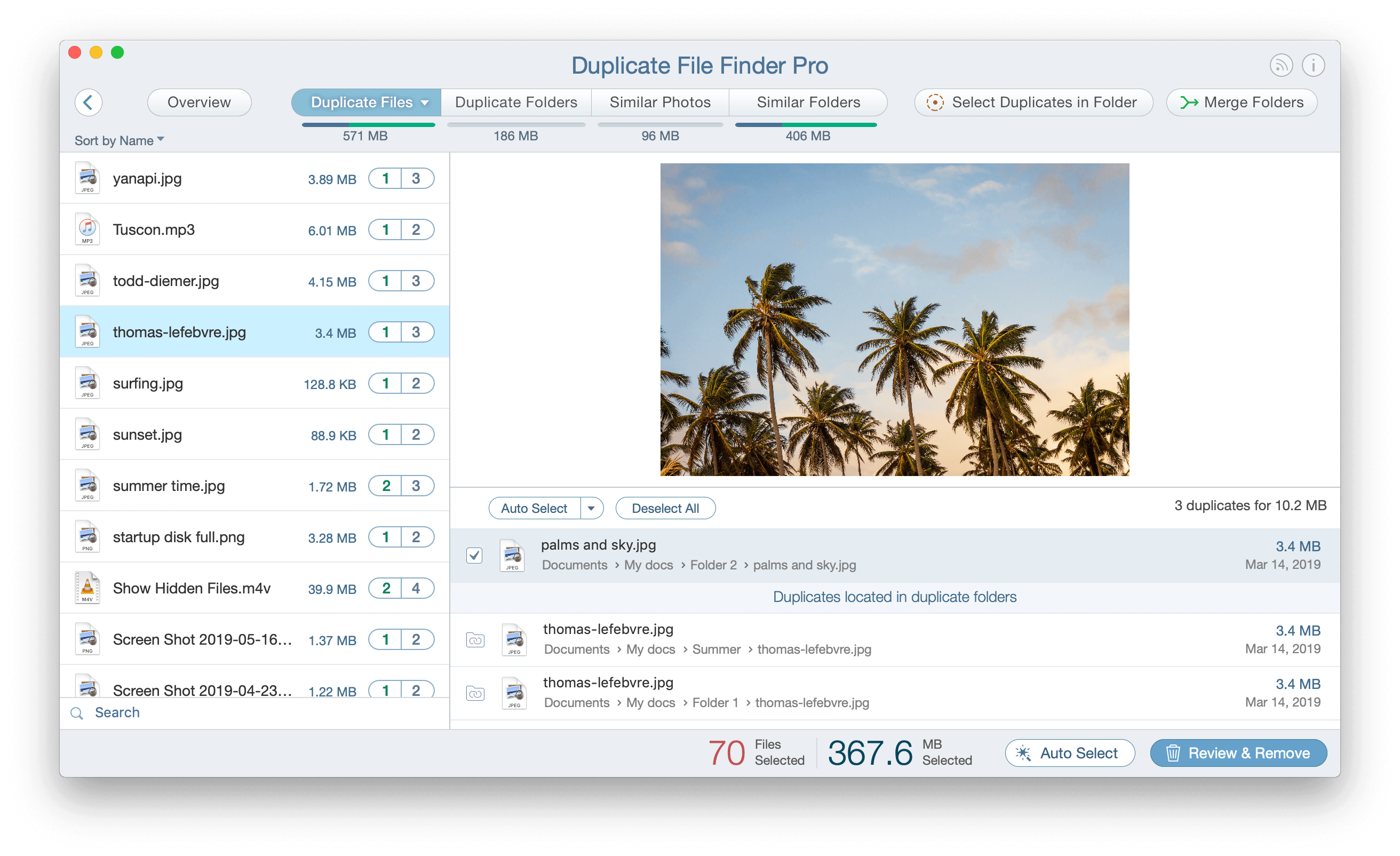 Confirm deleting the duplicates.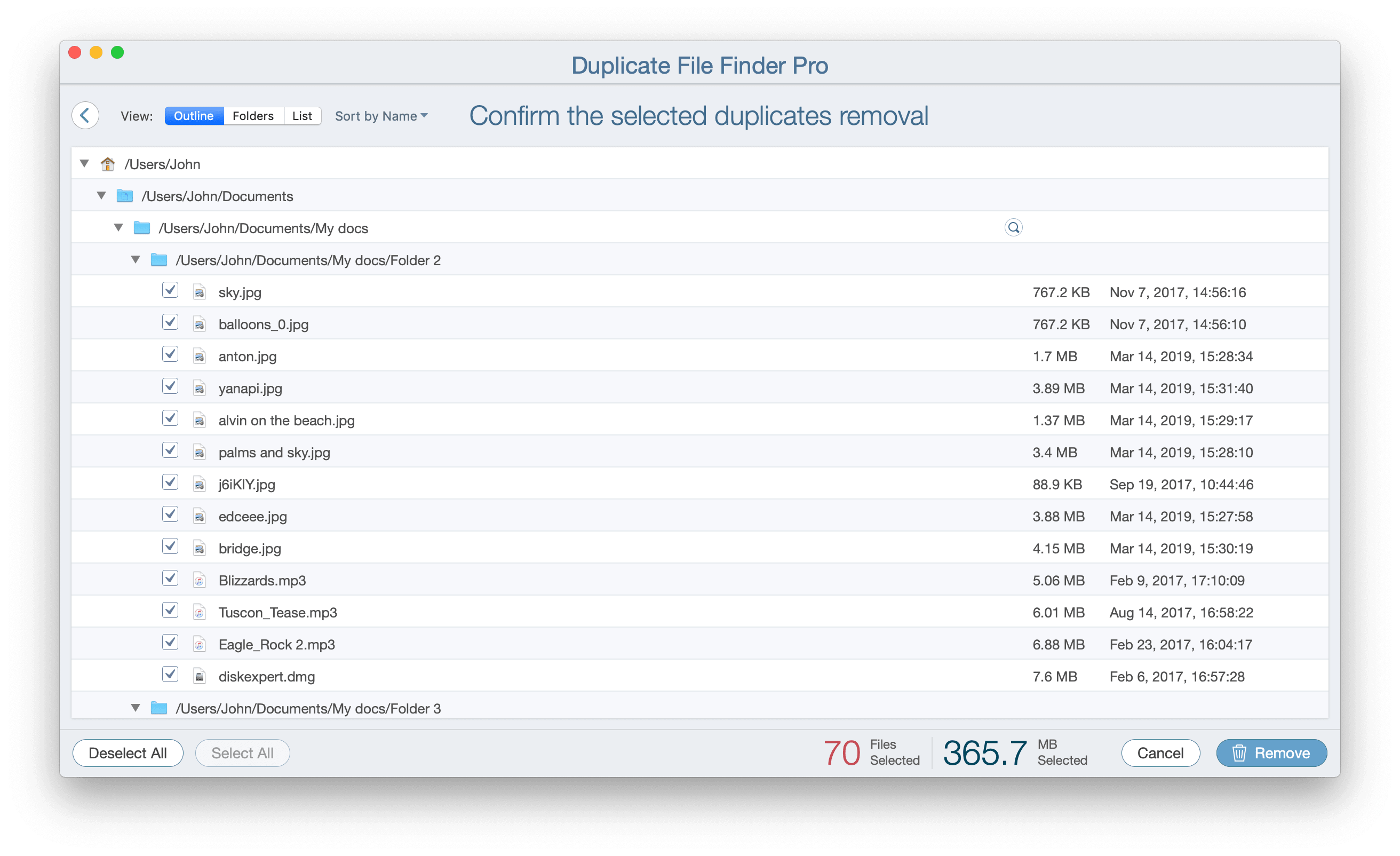 ---
Scenarios for removing duplicate files
There are three possible common scenarios for removing duplicate files from Mac with Duplicate File Finder:
1. Find duplicates for a particular file.
Select one or several folders to scan → when the scanning is completed, switch to the Duplicate Files panel → enter the filename in the filter (all other files and folders will be hidden) → select your file → preview its duplicates → remove unneeded duplicates. If you need to find a specific file among all the duplicates quickly, you can also use the filter option "Sort by name."
2. Find and remove biggest duplicates to free up disk space.
Take a look at Cleanup Hints (list of quick tips to select and remove the biggest duplicate files). Even if you are working with this duplicate file software for the first time, you will find it extremely helpful.
3. Find duplicate files and remove them one by one.

Scan the folder(s) → switch to any category and preview your duplicate files → select duplicates one by one, previewing them → click the Review & Remove button. This is the longest way.
However, you may prefer to preview each file and decide which ones to delete.

---

Tips to quickly select and remove duplicates

If you have a huge number of duplicates, you may be confused as to how to select them. But don't worry, there are some useful features that will make your task easier, faster and smarter.

1. Use cleanup hints

In the Overview tab you will find smart cleanup hints that suggest which duplicates should be removed and which ones should be kept. Use these tips when you are not sure about your initial duplicates.

---

2. Use the Autoselect button

If you'd like to select the duplicates automatically, use the Autoselect button. Read in our previous article how to operate the Autoselect option. This feature will be helpful when you have several folders with duplicates and you know exactly from which folder you want to remove files. So you don't need to review each file separately. Autoselect will do it for you in just one click.

---

3. Sort your duplicate files

If you need to quickly free up some space on your disk, you can use the "Sort by…" option. For example, sort your duplicates by size and first remove the biggest files. Or, if you know the name of your duplicates, sort the files by name and quickly get rid of them.

---

4. Skip the scanning of some folders

If you open the app's Preferences, you will see the Skip List tab. Here you can choose which folders, files and extension types which the scan should skip. As a result, you save time as you scan files and select duplicates from hundreds of duplicate items. Note, if you change the Preferences, they will work with the next scanning assignment.

Note: if you are not sure about your folders' content, you should review the selected duplicates before deletion. The application doesn't delete any file without your confirmation. It is an obvious option, so be attentive to this popup message.

Nevertheless, if you have deleted files by mistake, don't worry. That is understandable with many of our users, so when you delete duplicates, by default the files go to Trash. If you need to recover your files, just go to Trash and use the Put back command from the context menu.

At the same time, note that this option can be changed in the app's Preferences.

If you want to have the possibility of recovering files from Trash, do not change the default settings. If you want to remove duplicates permanently and skip moving the files to Trash, tick the appropriate option. And one more important point to note: if you remove duplicates from an external drive, you should know that the files go to the Trash of this drive, not to the Trash of your Mac operating system. That means that the drive needs to be connected in case you want to restore the deleted duplicates.

---

5. Select Duplicates in Folder

If you have a big number of duplicates, it might take a significant time to review each file and select unneeded copy in a specific folder. That's why the application provides a special feature, which will help you to complete this task much faster. Click the Select Duplicates in Folder button. You will see a new window with a list of your folders and detailed information about how many duplicate and unique files each of them has. Mark the folders in which you want to select the duplicates and click to remove them.

---

6. Merge Similar folders

This option would be helpful for you if you need to quickly organize your files and folders that have some duplicates and some unique items. When you merge folders, the application moves or copies unique files from one folder to another. As a result, you get two duplicate folders so that later you can just remove an extra duplicate folder. 

---

Benefits of Duplicate File Finder Pro

Once again, Duplicate File Finder is free to download and allows you to find and remove duplicates in the fastest and most reliable way. This is an awesome utility when it comes to searching for "space eaters" on your Mac, i.e. duplicates. With this smart and fast duplicate detector, it will take less than a minute to get rid of all unneeded files on your internal or external drives. And with in-App Purchase mode you have the benefit of even more features:

Remove duplicate folders
Remove duplicates in similar folders
Select duplicates in particular folders
Merge scanned folders
Recover removed duplicates
Remove unwanted similar photos

---

More about Duplicate File Finder